2020 CJ Cup Picks & Predictions: Expect Xander Schauffele to Light Up the Leaderboard
Credit:
Gregory Shamus/Getty Images. Pictured: Xander Schauffele of the United States.
The 2020 CJ Cup has moved to Las Vegas for this year, but there are still plenty of big names across the board.
Jason Sobel broke down his favorite picks for nearly every bet ahead of Thursday's start.
Check out Sobel's full analysis for each bet below.
If it still doesn't feel like Masters season – you know, with the NFL and college football in full swing, MLB playing for the pennants and the NBA Finals just completed – then maybe the next two weeks will help, with many of the game's top players competing in the Asia Swing* as we start to develop some more insight into which ones will be contenders in a November to Remember.
(*Note: This year's Asia Swing is taking place in Las Vegas and Los Angeles. Because 2020.)
I fully expect that these next two tournaments – this week's CJ Cup at Shadow Creek and next week's Zozo Championship at Sherwood CC – should shine a light on which players will have their best stuff heading into Augusta, offering at least a little bit of a preview into the year's final major.
Let's not get too ahead of ourselves, though.
This week's tourney is a limited field in a no-cut event on a world-class course. And if you thought it's tough for the commoners to get a tee time at Shadow, just check out the pros who had to ask for one:
How deep is this week's CJ Cup field? These guys all needed sponsor exemptions: Tommy Fleetwood, Brooks Koepka, Shane Lowry, Justin Rose, Rickie Fowler, Sergio Garcia, Ian Poulter, Jordan Spieth and Keegan Bradley.

— Jason Sobel (@JasonSobelTAN) October 12, 2020
Of course, Twitter was outraged over a selection process that would force guys such as Tommy Fleetwood and Brooks Koepka to pen handwritten letters to the tournament director pleading for a chance to tee it up. (At least, that's naively how I'd like to believe these things happen.)
It's all there in the fine print, though: In addition to five players from the KPGA, three Korean players from the OWGR and one player from the Asian Tour, the field is filled from the top-60 on the previous season's FedEx Cup points list. All of which led to the most star-studded exemption list we've ever seen.
I covered the first iteration of The Match two years ago at Shadow, but I'll admit it's difficult to ascertain which type of players should be a good fit for this track, other than that those who practice their 93-yard shots from a mat near the practice area to the 18th green should own an advantage during playoff holes.
As such, this is a good week to maybe let the tourney breathe a little bit, then make some live plays after the first or second round. If you're intent on making some pre-tourney plays, though — and let's be real; if you're reading this right now, I'm guessing you are — this might be the right time to choose a few players you think are overdue for a big week, or those who won't enjoy Vegas so much that it impacts their performance, or those who tend to play some of their best golf in upper-echelon, smaller fields.
Hmm, wonder who I'm referencing in that last one? You won't have to wait long, as that guy heads up my selection list for this week.
Outright Winner
One player to win the tournament.
Xander Schauffele (+1400)
Maybe it's a cliché at this point to blindly pick Schauffele at a limited-field event, but history shows this should be right up his alley. The truth is, he checks a couple of those aforementioned boxes, as he's also overdue for a victory, having failed to win since the opening week on the 2019 calendar (despite what it says on his OWGR bio for having the lowest 72-hole score at this year's Tour Championship).
Xander is hardly ever a poor idea for a pick, but for whatever reason he tends to focus better when he knows he's going heads-up against the world's best players. Throw in the fact that he recently mentioned his girlfriend's parents live in Vegas and he's strongly considering moving there, and his comfort level could be through the roof this week. 
[Bet now at DraftKings and get a $1,000 bonus, including a $500 risk-free bet]
Other OADers
Potential selections for one-and-done options.
Abraham Ancer (+4500)
Joaquin Niemann (+6600)
Two of my favorite plays prior to last week's Shriners Hospitals for Children Open, Ancer and Niemann finished fourth and T-13, respectively – and didn't do anything to remove themselves from my list this week.
I like each for top-10 plays and for DFS, but more specifically, they're the types you want for OAD pools: You aren't "wasting" a top-five player you'd rather use in a bigger event, but you also aren't plunging into the bottom of the barrel for a guy simply guaranteed to make a paycheck.
Top-Five
One player to finish top-five.
Justin Thomas (+275 for top-five)
Yes, he's the defending champion – and no, that shouldn't have any bearing on this pick whatsoever. Vegas is some 6,300 miles away from Jeju Island, where JT won two of the last three editions of this tournament.
There was a little period there – from the PGA Championship through the first two FedEx Cup playoff events – where it seemed like Thomas was just off his game a bit and it showed in the results, with nothing better than a T-25 in those three starts.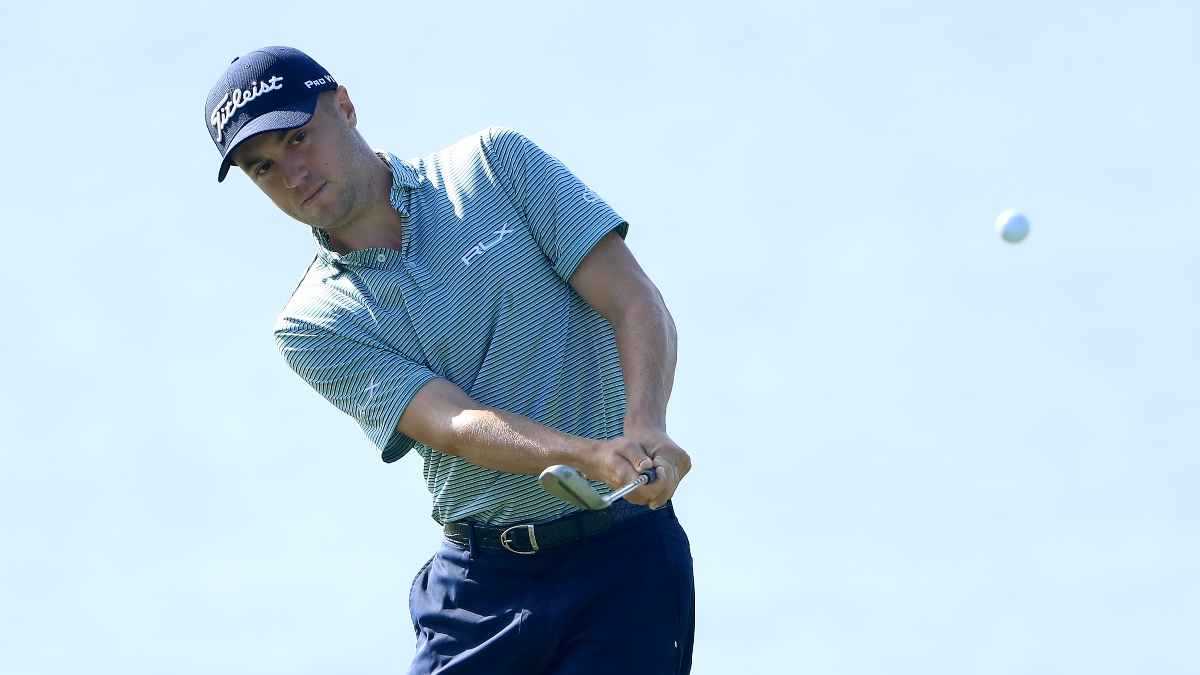 He appears to have righted the ship, though, and for a guy who tends to step on the gas pedal during the fall months a little more than his cohorts, this could be another nice week for him. 
[Bet now at DraftKings and get a $1,000 bonus, including a $500 risk-free bet]
Top-10
One player to finish top-10.
Sungjae Im (+350 for top-10)
If that tournament logo looks familiar, it might be because it's the same one we see on Sungjae's hat every week, as CJ (a Korean-based company) is one of his main sponsors. That rationale alone shouldn't be a reason to back him, but his current form should.
Im produced positive numbers last week in strokes gained tee-to-green, off the tee and with his approach shots. With results of 13-28-22-12 in his last four starts, he hasn't been cashing top-10 props, but he's right on the verge and he's trending in the right direction. 
[Bet now at DraftKings and get a $1,000 bonus, including a $500 risk-free bet]
Top-20
One player to finish top-20.
Adam Long (+400 for top-20)
I originally had Dylan Frittelli listed as my top-20, considering he usually plays well on tough courses and Shadow Creek could play tough this week. But then – BURIED LEDE ALERT! – I heard that the course was closed for overseeding until this week and should be soft, which will lead to lower scores.
Enter Long, who has played some of his best golf in birdie-fests over the past few years. He posted rounds of 63-64 at the 3M Open and rounds of 64-65 at the Corales Puntacana event, so the lower the scoring, the more he'll be on my radar. 
[Bet now at DraftKings and get a $1,000 bonus, including a $500 risk-free bet]
DFS Free Bingo Square
A safe plug-and-play option for DFS.
Matthew Wolff
Wolff's legitimacy as a world-class talent continues to rise on a weekly basis, as he now owns a pair of top-four finishes at majors in addition to last week's playoff loss in the past two months.
Perhaps one of the more impressive aspects of his game, though, is that not only is his ceiling high, which we've known since he turned pro last summer, but his floor is similarly high, as well, which is a great sign for a young player – and exactly what we want from a plug-and-play option in this format.
DFS 'Dog
A lower-priced option for DFS.
Brendan Steele
I've often written this during small-field, no-cut events, but it might be even more relevant this week: Once we reach the weekend rounds, at least two-thirds of the field will seemingly be out of contention for this title.
Some of those guys might pack it in just a bit, knowing they're guaranteed a paycheck – and this could be especially true in Vegas, where there's, uh, more to garner your attention than just golf. Other players, though, will continue to grind, knowing that, say, a T-19 could be hugely beneficial over a T-37 at some point down the line.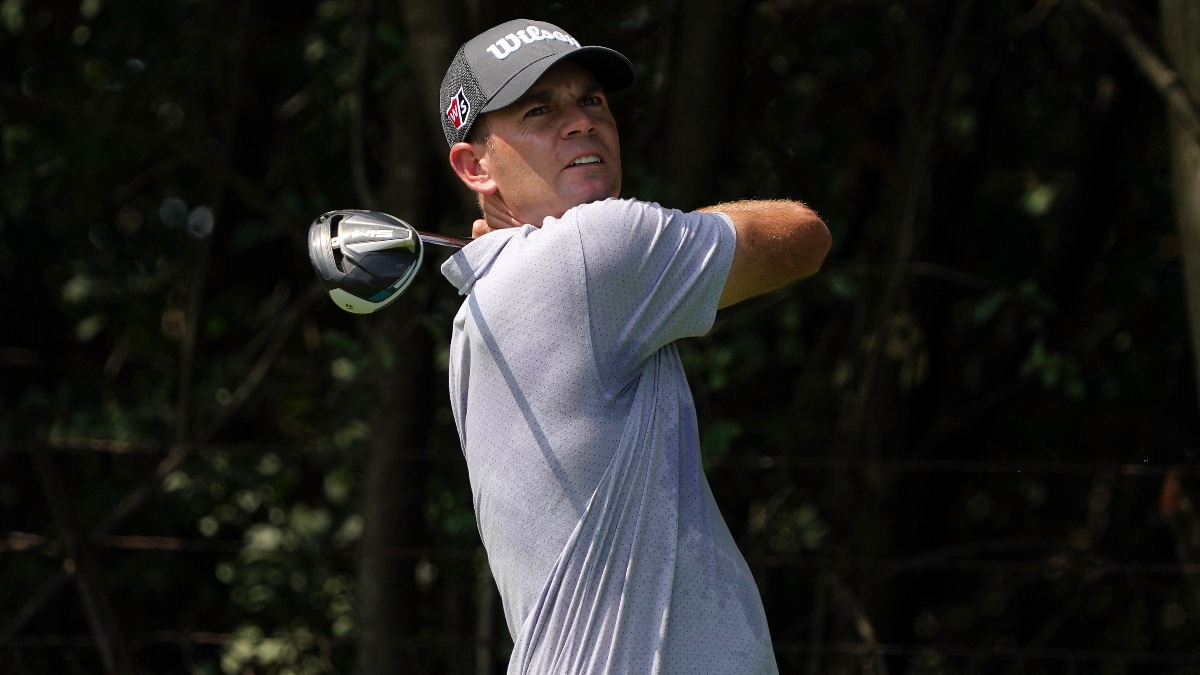 Whether the money or points helps a guy get into a major or a WGC event or leads to some other spoils, you want someone who keeps getting after it. It's something that Steele himself has often told me and knows all too well. That's not to say he can't contend this week – he certainly can – but either way, I want my lineup loaded with players whose give-a-heck meter isn't empty on the weekend and Steele is one of those guys.
First-Round Leader
One player to post the low score Thursday.
Daniel Berger (+3300)
Even though he's a South Florida native, Berger just oozes the persona of a Vegas type of guy.
He also oozes the persona of a guy who can go uncommonly low when the conditions present themselves, as they might this week. In his last eight starts of the 2019-20 season, he broke 70 in the opening round on five occasions, including a 65, a 66 and two 67s.
In such a star-studded field, it might be easy to forget about a guy like Berger, who hasn't played since the U.S. Open, but this could be a good week for him – and it'll hopefully start with a great opening round.
[Bet now at DraftKings and get a $1,000 bonus, including a $500 risk-free bet]
Matchup Man
One player who should beat comparable players.
Jason Day
If there's a player whose results have defied logic over the past six months, it's Day. Heading into the Workday Charity Open back in July, he'd gone MC-WD-MC-MC-46-MC in his previous six starts.
That week, though, he finished T-7, then followed with a T-4, a T-6 and another T-4 in his next three. Just as we assumed he was on the precipice of winning, he took a turn in the other direction, going MC-64-38-MC in his next four, culminating with a second-round 72 last week to miss the weekend.
There appears no reason to hop aboard Day's bandwagon this week, which is maybe why we should like him again. I'll be overly cautious and recommend him only in head-to-heads against one other player, but don't be surprised if he defies logic once again. 
The Big Fade
One top player to avoid at this tournament.
Brooks Koepka (+2500)
Look, we've learned our lesson over the last few years: If you want to doubt Koepka, do it at your own risk. He hasn't played in nine weeks, though, and there are at least a half-dozen players with higher odds whom I'd play over him if they were the same price.
I think it's great that Koepka is returning from that lingering knee injury and hope he's 100% healthy for the Masters, but I wouldn't treat this week as much more than a rehab start, meaning he's a non-factor for me in the betting market.
How would you rate this article?