Sobel's 2020 Honda Classic Picks: Is Daniel Berger's Form Worth Betting?
Credit:
Chung Sung-Jun/Getty Images. Pictured: Daniel Berger
Looking for betting picks for the 2020 Honda Classic? Jason Sobel has broken down the whole board to find value.
The tournament begins on Thursday, February 27 at 6:45 a.m. ET, and will be played at PGA National.
Check out which golfers Sobel is picking to win outright, as well as his bets for top-5s, top-10s, a first-round leader and more.
Maybe we can't quite smell the azaleas yet, but the commencement of the PGA Tour's Florida Swing should have us at least thinking about the Masters, as the year's first major is now just seven weeks away, so go ahead and plug Magnolia Lane into your car's GPS just to get ahead of things.
There are plenty of checkpoints on the journey through the 12-month-long golf calendar, from the official starting point to the West Coast Swing to the beginning of the majors, but this week's checkpoint isn't a minor one, as the collective eastward move tends to shift the balance of power to those who play their best golf in the Sunshine State.
For bettors, this isn't just a checkpoint. It's a time to reset.
Crushed it on the West Coast? Congrats, but that's over now and you can't rest on what's been working. Got crushed on the West Coast instead? Good news, as that, too, is over and the new part of the schedule is time for a renewal to get right leading into major season.
Just as no professional golfer will consider his season anything but incomplete to this point, neither will any bettor. Whether we crushed the West Coast or got crushed, we're still looking to improve starting with this week's Honda Classic.
With that in mind, I've crunched some numbers to analyze which top players have fared the best in these four upcoming Florida-based events over the past five years.
A quick preamble before we start: I've limited "top players" to the current top-25 in the world ranking, just because, well, there has to be a cutoff somewhere. Five years is also admittedly arbitrary; for example, Tiger Woods has played the Arnold Palmer Invitational just once, finishing T-5, despite the fact that we're well aware of his career dominance at Bay Hill. And obviously, some players in the top-25 – Jon Rahm is a glaring example – haven't been pros for five years, let alone elite players, so their results will be similar skewed.
Even so, this list should at least offer some insight into which big talents bring their best stuff to the Florida Swing, which should come in handy over the next month.
What have we determined? Well, only three of these elite players – Rory McIlroy, Paul Casey and Rickie Fowler – have won more than once during the past half-decade in Florida, and none have won more than twice. Of those you might not have realized heat up during the Florida Swing, both Adam Scott and Tommy Fleetwood have consistently piled up strong finishes, suggesting they should be players to watch in coming weeks. Fleetwood happens to be the betting favorite at PGA National.
As for the other side of things, Shane Lowry has the most Florida starts without a single top-10, while Tony Finau has the most missed cuts – eight of 'em in just 13 starts.
Keep all of this in mind for this week's festivities at PGA National, where three of these aforementioned players have won in the past five years and three others have finished runner-up.
That said, though, this isn't usually a spot where the chalk pays out. I'll be at the Honda throughout this week, providing coverage from site, but until then, here are my pre-tourney picks, with plenty of off-the-radar selections on the board.
---
Odds as of Monday and via FanDuel. Get up to a $500 risk-free bet at FanDuel today or see more offers and reviews for the best online sportsbooks.
---
Outright Winner
One player to win the tournament.
Daniel Berger (+2900)
Shooters shoot and if we don't keep firing away at Berger, we're bound to get burned. My first repeat outright winner pick of 2020, I had him at the Waste Management Phoenix Open, where he finished T-9, then followed up with a T-5 the next week at Pebble Beach, his most recent start.
So we've got recent form, we've got a player due for a victory and we've got a bit of course history, with a playoff loss here five years ago at what is essentially a home game for him. More than anything, though, we've got a narrative: Some players say they like sleeping in their own bed and playing in front of family and friends, but deep down, it's difficult – either there's too much pressure or too many distractions. Other guys thrive in trying to "show off" for the home crowd. That fits Berger to a T.
Let me re-tell a little story that I wrote a few years ago: When Berger was 13 years old, his father, Jay – once the seventh-ranked tennis player in the world – brought him to the pro shop at The Dye Preserve, hoping one of the pros could help his son's burgeoning golf game. Matt Doyle was an assistant then and brought him out to the range to hit balls for 5-10 minutes. He instantly saw that Daniel had some talent. Wanting to see if he could bring it to the course, he asked the kid if he wanted to play 18 holes. Daniel's response? "What are we playing for?" The bemused Doyle, fresh off being a touring pro, deferred to the kid. "Let's play a $20 closeout," Daniel said. When Doyle asked, "Are you good with that?" the teen countered, "Are you good with losing to a 13-year-old?" Berger didn't win the match, but he did break 70, make an eagle and get the attention of the pro who would that day become his swing instructor.
Anyway, that's a long story which shows Berger's proclivity to play his best golf when he's motivated, when he's challenged and when he wants to show off. There's no better place for that to happen than at this tournament.
Other OADers
Potential selections for one-and-done options.
Tommy Fleetwood (+1200)
I don't know if it says more about Fleetwood or the state of the game's most elite level or the not-so-secret formula behind the OWGR, but it's fairly fascinating that he's ascended to a consistent top-10 player without having ever won a PGA Tour event – yet.
If – or should I say when – he's going to win his first, it very well might come on a track like this, where ball-striking (and even more specifically, ball-flight) is so important. In his one and only start here two years ago, he finished solo fourth, breaking par in each of the final three rounds in tough conditions. Even though Viktor Hovland once again proved the theory fallible last week, I'm never really a fan of betting a tourney favorite who's never before won on that given circuit.
For OAD pools, though, Fleetwood remains a tough guy to slot into a position, so this one could work perfectly.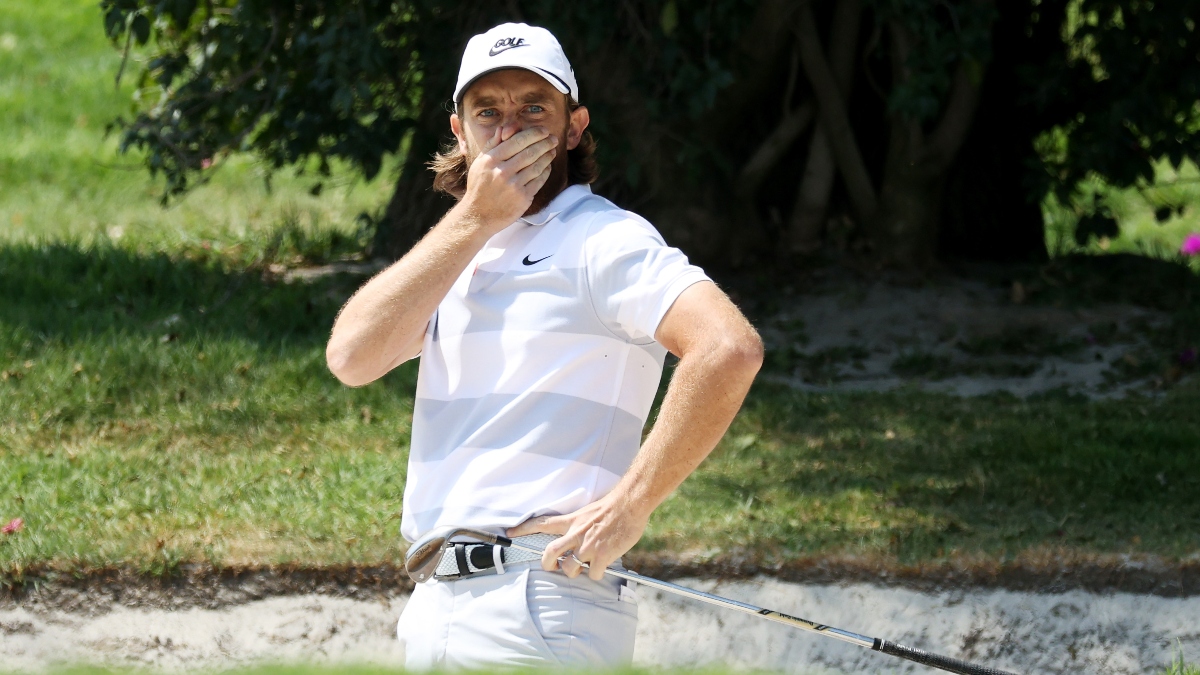 Emiliano Grillo (+5000)
I've been a fan of Grillo's game for a while and had expected him to break through to the next echelon by now, but in order to explain why he hasn't, we have to address the elephant in the room: He's not a good putter. OK, he's downright awful.
Last season, he ranked 185th out of 188 qualified players in stroked gained putting. This season, with more players qualifying so far, he's down to 226th. So, why pick him here? Just as Riviera negates the putting stats because everyone tends to miss shorties there, PGA National does the same for a different reason – putting is less important, since players tend to miss a lot more greens.
Put it this way: If every player found every green in regulation, Grillo would be among the biggest fades, but if every player must get up and down, that tends to negate putting just a bit, making him a stronger option.
Tom Hoge (+13000)
Want to go wayyy off the grid with your OAD pick? I can almost guarantee you won't see the Hoge's name amongst any of your fellow competitors, but as Justin Bailey wrote in his FantasyLabs course breakdown, iron play and scrambling will be two of the more critical metrics this week.
Hoge ranks well in both areas and while he doesn't have much history of success in Florida, he does own top-25 results in four of his last five starts, suggesting he might be maturing into a much better player than he's ever been at this point in the schedule in previous years.
Top-Five
One player to finish top-five.
Sam Ryder (+2200)
Fresh off a T-3 in Puerto Rico last week – his third career top-three finish on the PGA Tour – Ryder could be on the verge of a breakthrough very soon. He's a guy I've been touting for a while now, one of the few non-superstars inside the top-20 on last season's all-around ranking, which proves there aren't many holes in his game.
Even though he's never played this event, he checks all the boxes, from being a solid wind player to putting well on Bermuda greens. This might feel like we're chasing last week's success, but I can see a back-to-back performance not unlike Talor Gooch on the West Coast last year, when he parlayed one top-five into another at a big price.
Top-10
One player to finish top-10.
Bo Hoag (+1900)
This tournament is a great one for going against the chalk – and a top-10 bet on Hoag at this price certainly qualifies. I've got two reasons for it: The first is admittedly narrative-ish, as Hoag is from Columbus, growing up right near Jack Nicklaus' childhood home. With Nicklaus' connection to this event and Hoag's connection to Nicklaus, don't be surprised if he owns a little more motivation than usual.
The second reason is perhaps more rational: Hoag's first career top-10 on the PGA Tour came last month at the Sony Open, on another wind-blown, ball-striker's course. There should be a slight correlation between these two events. There are plenty of other safer top-10 bets in the field this week, but if you want an off-the-radar pick who could result in a nice ROI, Hoag feels like a nice play.
---
Looking to bet the 2020 Honda Classic? Check out FanDuel. Get up to a $500 risk-free bet at FanDuel today or see more offers and reviews for the best online sportsbooks.
---
Top-20
One player to finish top-20.
Russell Knox (+340)
In his first start at this event in 2014, Knox finished T-2, then followed up with a T-3 the next year. I can only imagine how many people were burned the following year, when his course history led to "only" a T-26 result. Since then, he's gone straight downhill at this event, finishing MC-MC-51st in his last three starts, but that could serve to move him off a lot of radars entering this week's edition.
Seeking more distance off the tee, he'd posted eight consecutive top-40 results (including three top-20s) before missing the cut in his last two. If the wind blows this week, though – and it's supposed to – Knox should be in play once again.
DFS Free Bingo Square
A safe plug-and-play option for DFS.
Rickie Fowler (DK $10,800; FD $11,700)
I went back-and-forth on this decision – between Fowler and Brooks Koepka, which seems like a mismatch on at least four weeks during the year. This isn't a major, however, and on non-major weeks, Koepka can hardly be classified as a "safe" option in any format.
Sure, he finished in a share of second place last year, but that was preceded by four results outside the top-25 – and yes, while he's a different (read: better) player now than he was during those first four, I just can't bring myself to highlight him as a chalky option when he's frankly a massive wildcard. Fowler fits this designation better, having won this event three years ago and posting three other top-10 finishes, including a share of runner-up with Koepka last year.
Even though his form isn't great – he finished 37th-MC in his last two starts on the West Coast – he hasn't played in a month and Fowler has shown a propensity for playing well after lengthy breaks. That win here in 2017 came fresh off a three-week layoff.
DFS 'Dog
A lower-priced option for DFS.
K.H. Lee (DK $7,000; FD $8,500)
I was tempted here by the likes of Bud Cauley, Matthew NeSmith and Denny McCarthy, but Lee has the potential to be lower-owned than all of 'em and a better overall play.
He's got that intersection of form and history that we like, having finished T-13 at the Genesis and T-14 in Puerto Rico the past two weeks and T-7 here at the Honda last year. With ranks of 25th in driving accuracy and 37th in scrambling this season – two stats which should be important this week – he's a guy who could pop at the back end of a lineup.
First-Round Leader
One player to post the low score Thursday.
Chase Seiffert (+11000)
The truth is, I like this Florida native for the entire week, but he especially seems to pop during Thursday rounds. In a dozen opening rounds this season, he's broken 70 eight times, good for a scoring average of 68.92 which currently ranks 18th on the PGA Tour.
The fact that he's making his debut in this event is slightly concerning, but the glass-half-full perspective is that he also doesn't have the scar tissue of playing brutally difficult rounds on this track over the years.
Matchup Man
One player who should beat comparable players.
Brian Gay
Being a forty-something who can't bang it out there with the young bucks isn't exactly a recipe for success on the PGA Tour, but there are still certain tracks where strokes gained experience and grit might one-up anything off the tee. That should be the case here, as last year Vijay Singh and Jim Furyk were each inside the top-10 on the final leaderboard.
Granted, Gay doesn't have the kind of career pedigree as those two, but he's still an accurate player who can get red-hot on Bermuda greens. Last year's T-20 was his best finish at this tourney since 2003 and few players should see a bump from the West Coast Swing to the Florida Swing like him. Prior to posting a T-38 and four MCs on the left side of the country, the University of Florida product finished T-3 in Bermuda and T-14 at Mayakoba. Expect him to be as excited as anyone in the field to be back on the East Coast this week.
The Big Fade
One top player to avoid at this tournament.
Justin Rose (+2000)
Two weeks ago, I listed Rose as my fade for the Genesis Invitational, based largely on the fact that while he'd had some success at Riviera, he stopped playing there for a few years and, well, there must've been a reason. Even though he started strong, he wound up finishing T-56 for the week. I feel very much the same way about Rose at this one. In 2010, he finished solo third at the Honda; in 2012, he was T-5; and in 2013, he was T-4. He skipped it the following year, then MC'd in 2015 and hasn't been back since. Much like in L.A., I feel like Rose is searching for something right now and just trying to play a different schedule to see if he can find it. I'm inclined to ignore that streak of three top-fives and remember that there must've been a reason he stopped showing up.
Off Tour
My favorite non-PGA Tour play of the week.
Clement Sordet (+1400) Top-Five Finish at Oman Open
As you've undoubtedly already noticed, plenty of big-name European Tour regulars are in the Honda Classic field this week. It's an easy play: These are guys who traveled to play the WGC in Mexico last week and many of whom will stay in the U.S. through the Masters – or stay here to try and qualify, as the case may be. From Tommy Fleetwood to Erik Van Rooyen to Shane Lowry, there's a lengthy list of top-flight Euro players who aren't currently playing the Euro Tour. Hell, even defending Oman Open champion Kurt Kitayama, an American, is playing the Honda instead.
What we're left with on the Euro circuit this week is a few big names and a whole lot of value. On track which played brutally difficult last year, with 7-under taking the title for four rounds, I like a guy with some course history and the little-known Clement Sordet fits that profile. Three years ago, the Frenchman won a Challenge Tour event here; last year, he was one of four players to finish in a share of second place. He also owns some form, finishing 42nd-19th-16th-28th in his last four worldwide starts.
I don't know that I'd throw a bunch of money at him to win outright, but a top-five bet on a guy who might be one of the few who actually likes this track seems like a smart play.
How would you rate this article?