Ryder Cup 2021 Betting Picks & Predictions: 5 Props to Bet for USA vs. Europe
Credit:
Ben Jared/PGA TOUR. Pictured: Jon Rahm.
There is no golf event that can match the levels of energy and intrigue that surround the Ryder Cup. With the 2020 playing of the Cup postponed by a year due to the COVID-19 pandemic, this weekend is carrying more anticipation than any other recent competition.
It has been three years since the Europeans claimed victory on home soil in Paris and a lot has changed in the golf world since that day. Jon Rahm has emerged as the unquestioned top player alive, bolstering an already strong European Team. Team USA is as talented as ever, yet the rifts in relationships among the American ranks have only grown deeper.
Europe has won or retained the Ryder Cup in 12 of the last 17 meetings, including seven of the last nine and four of the last five showcase events. The USA has a more talented team and will set up Whistling Straits to its advantage.
Amidst all of the dramatic wrinkles, there are plenty of opportunities for bettors to find value. The match play format allows sportsbooks to get awfully creative in drawing up prop bets. In those markets, there are a ton of intriguing plays that caught my eye.
Europe (+200) to win Day 1 & Day 2 Fourball at DraftKings
The conventional wisdom surrounding international team golf argues the Americans are less equipped for the team formats, particularly foursomes (alternate shot). Fourball should at least give Team USA members a chance to play their own ball and score individually. In recent Cups, that hasn't been the case.
Foursomes:
'08
🇺🇸: 4.5
🇪🇺: 3.5

'12
🇺🇸: 5
🇪🇺: 3

'16
🇺🇸: 5.5
🇪🇺: 2.5

Fourball
'08
🇺🇸: 4.5
🇪🇺: 3.5

'12
🇺🇸: 5
🇪🇺: 3

'16
🇺🇸: 4
🇪🇺: 4

Singles:

'08
🇺🇸: 7.5
🇪🇺: 4.5

'12
🇺🇸: 3.5
🇪🇺: 8.5

'16
🇺🇸: 7.5
🇪🇺: 4.5

Total:
4-somes: 🇺🇸 15-9
4-ball: 🇺🇸 13.5-10.5
Singles: 🇺🇸 18.5-17.5

— No Laying Up (@NoLayingUp) September 20, 2021
Going back a few years, the Americans have more than held their own in foursomes, but four-ball has been much closer. In theory, playing better ball on a course set up by captain Steve Stricker should allow America's bombers like Bryson DeChambeau, Brooks Koepka, Tony Finau and others a chance to pile up birdies.
Alternatively, Europe's team is not lacking for players capable of going deep with the driver. In fact, Europe boasts four of the top 10 players in the world (Rahm, Rory McIlroy, Viktok Hovland and Sergio Garcia) in the last three months in Strokes Gained: Off the Tee, per DataGolf, compared to just three for the Americans (DeChambeau, Kopeka and Patrick Cantlay).
Birdies or better per round, PGA Tour events since beginning of 2021

Team USA: 4.40
Team Europe: 4.03

— Justin Ray (@JustinRayGolf) September 20, 2021
Adding in the seeming disinterest and discontent among Koepka and DeChambeau, Europe looks plenty strong in fourball, certainly strong enough to wager on at +200 each day.
Most Points Won — Jon Rahm over Justin Thomas (-110) via DraftKings
This year, Rahm has emerged as the world's best golfer. In a team event, that doesn't necessarily mean he'll dominate (just peek at Tiger Woods' career Ryder Cup record).
It does mean European captain Padraig Harrington would be silly to sit Rahm for any of the four sessions on the first two days. Barring a respite to keep Rahm fresh, there's no reason he shouldn't be the tentpole of Europe's strategy in the team sessions.
Thomas could be used in the same way. In his three prior appearances in team play (the 2018 Ryder Cup and the 2017 and 2019 Presidents cups), he has yet to sit on the bench during any team session. He's played all 12 opportunities in those three events, including four matches together with longtime friend Jordan Spieth at the 2018 Ryder Cup. That team is likely to be trotted out plenty again this weekend.
If both play all or nearly all of the available sessions, Rahm has to be considered a slight favorite to outperform Thomas. He's outplayed his competition at every turn, while Thomas has been less consistent. Over the last six months, according to Strokes Gained numbers from Data Golf, Thomas has ranked just 107th in the world in putting.
The only reason for hesitation in betting on Rahm's point total this week? His golf ball. Rahm is the only member of Team Europe to use a Callaway ball. You'd assume one of his teammates would be prepared for the switch in alternate shot, yet that can bring a learning curve.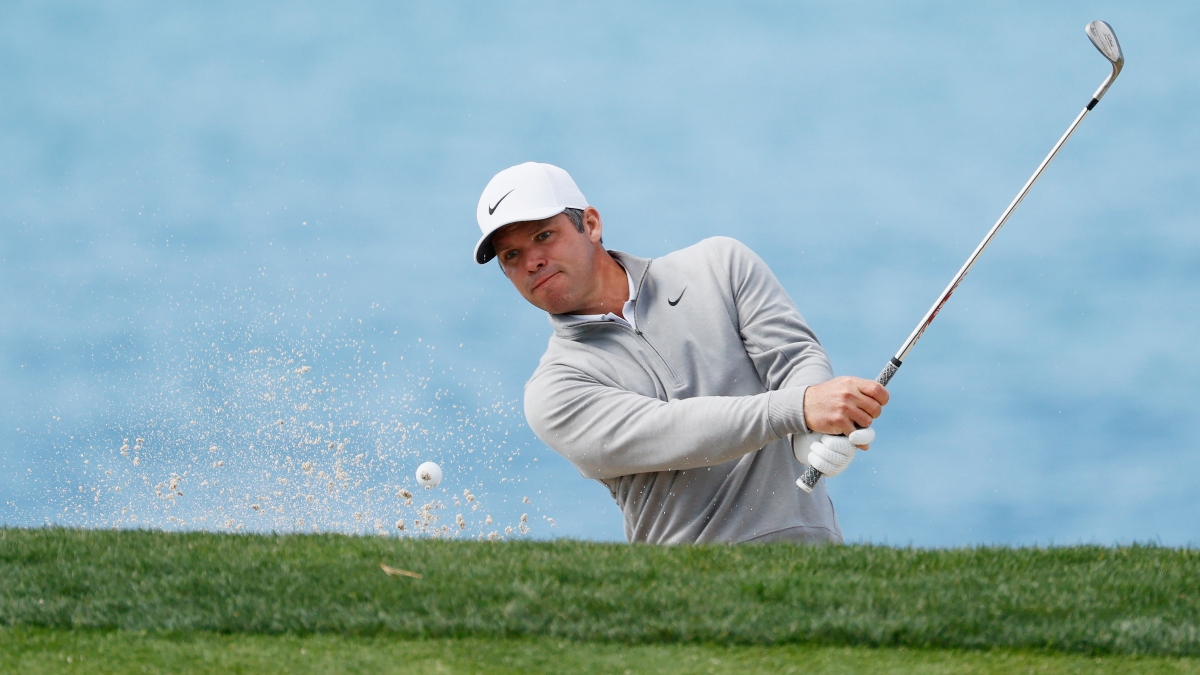 Most Points Won — Paul Casey over Collin Morikawa (-110) at DraftKings
It's become clear in recent months that either Collin Morikawa is battling an injury or his game is simply out of sync. He was reported to be fighting a back injury earlier this summer and claims it is no longer an issue. If he is healthy, his play hasn't rebounded yet.
The analytics at DataGolf show Morikawa has gained more strokes on approach shots per round than any player since 2004. However, in the past three months, he ranked 40th in that statistic and his putter also went cold during that time frame.
Meanwhile, Casey has been as dependable as ever, continuing as one of the world's best ball-strikers. I'd likely favor many of Europe's better players in a matchup with Morikawa, but DraftKings choosing Casey to square off with Morikawa made this bet an easy one to choose.
Tony Finau — Top USA Point Scorer (+1000) at DraftKings
Stricker will be setting up the course to favor his long hitting, birdie-making stars. With Koepka fighting an injury (and dropping a few on-brand sound bites about his excitement for the event) and DeChambeau appearing more focused on next week's World Long Drive Championship than the Ryder Cup, someone like Tony Finau looks well suited for the course and tournament format.
DataGolf pegs Finau as the fifth-best fit for Whistling Straits and he finished in the top 10 when the PGA Championship visited the course during the 2015 season. Finau carries a somewhat strong 3-2-3 record in team events in his two appearances. That said, he's a good wager to lead his team in scoring.
Lee Westwood to Gain Winning Point/Half point (+3300) at Parx
At a certain point, when betting this event, you need to commit to not only leaning toward a winning side, but a narrative or script to play out throughout the week. Needless to say, dabbling in contradictory sides of the props market is a dangerous game.
If you can't tell from the four picks above, I'm slightly leaning toward a European win here in the states. Maybe not enough to bet the Euros outright at the range they're currently being offered, especially not with a rooting interest in the home team, but enough to be intrigued by some of the more exotic props that emerge from a European win.
This bet is an interesting one with quite a few layers. First, you have to be leaning toward one team's chances to win the Cup. Second, you have to find a player you favor to win or halve his singles match. Lastly, you need a little luck or divine intervention for the timing to work out for that player's match to be the deciding factor.
So if I'm leaning toward a European win, why not Westwood? He's cooled off after a hot start to the year, but has made seven cuts in a row. It's unclear why he'd have the second longest odds in this market. He is just 3-7 in his career in singles, obscuring an overall winning record in Ryder Cup play.
Westwood is the type of veteran Ryder Cup player Europe would love to have in position to earn a big point on Sunday. At these odds, he's worth a flyer.
How would you rate this article?
This site contains commercial content. We may be compensated for the links provided on this page. The content on this page is for informational purposes only. Action Network makes no representation or warranty as to the accuracy of the information given or the outcome of any game or event.