2021 Travelers Championship Picks: Our Best Outright Bets, Longshots and Props at TPC River Highlands
Credit:
Hunter Martin/Getty Images. Pictured: Austin Eckroat
After a riveting U.S. Open, the PGA TOUR shifts its focus to TPC River Highlands for the 2021 Travelers Championship. And you gotta admit, it's a pretty fun change of pace to go from the rugged scoring conditions at Torrey Pines to the short, score-able confines we will see this week in Connecticut.
Check out our favorite outright bets, sleeper picks and props for the 2021 Travelers Championship below:
Outrights
Justin Rose (+7000)
Wait, the same Justin Rose who just posted rounds of 78-77 to miss the cut by a mile at the U.S. Open? No. Well, yeah. But not really.
Instead, I'd prefer to consider this play the same Justin Rose who MC'd by six strokes in Tampa, then finished T-8 at the PGA in his next start. Or the same Justin Rose who was injured and out of form before the Masters, then led after 36 holes and finished in seventh place. Or the same Justin Rose whose last two PGA TOUR wins came without much warning from previous results.
The point is, he owns a bit of a track record for turning things around in a hurry. I think his scores from Torrey will have most bettors looking elsewhere, but there's some definitive value in jumping on him when logic says we should least expect it.
After a weekend that yielded 16 birdies at last month's PGA Championship, I had Rose firmly in the crosshairs for a victory soon. I'm not ready to give up on that notion yet, especially at an inflated number this week that is twice the price as a guy like Scottie Scheffler or Tony Finau.
Harris English (+5000)
I started my card this week with Harris English. He was third at the U.S. Open last week and in contention late at the Palmetto Championship, so the game is where it needs to be to compete in this field.
English doesn't have great results here, but he was seventh here in 2014 when he opened 66-64. So if the game is right, he can find his way around TPC River Highlands.
Paul Casey (+1800)
There are a multitude of factors that point to Paul Casey being an excellent bet to win the Travelers Championship this week.
For starters, the Englishman absolutely loves TPC River Highlands. In his past six starts at the course, he has four top-five finishes with two of those being runner-ups.
It's no surprise that Casey plays well here when you consider his strengths. It is a shorter course, so his relative lack of distance off of the tee won't hurt him, and his approach play has been fantastic of late, ranking second in the field in his past 24 rounds.
The 43-year-old has also had indisputable success on Pete Dye course, ranking fifth in the field in Strokes Gained: Total on Dye tracks.
Admittedly, we are paying a premium this week to bet a golfer who doesn't win all that often, but coming off of back to back top-10 finishes at major championships Casey is knocking on the door looking to add to his three PGA TOUR wins. There is no doubt that TPC River Highlands is the right course at the right time for Casey to bust through and hoist the trophy.
Patrick Cantlay (+1600)
Boom! So, THIS is what it feels like to hit on an outright! Sure, Jon Rahm was the favorite at the U.S. Open, but who cares because he actually won and I'm off the schneid.
Turning our attention to the Travelers Championship, it presents as a spot to invest in a guy on the edge of the spotlight if you do at all. Even John Wayne didn't go undefeated in shootouts. This field resembles more of what Bubba Watson took down in 2018 and who Chez Reavie beat in 2019, and that makes sense since we're back into a familiar groove in 2021.
TPC River Highlands yielded a first-time winner from 2010-2013 but all the last seven were former winners on the PGA TOUR. That's a representation of the expanding depth of the field over time. So, I tossed out all non-winners among my considerations.
This leaves an assortment of suitors, none more attractive than any other. However, while he's smack dab in the center of the spotlight, Cantlay loves himself TPC River Highlands. He famously carved out a 60 as an amateur here in 2011, and since 2018, he's gone T15-T15-T11 with a scoring average of 67.42 on the par 70. He's also a two-time winner this season – most recently at Muirfield Village – and he's atop the FedExCup standings.
Patrick Reed (+2300)
The buying signs I look for with Patrick Reed are nearly jumping off the page this week.
Most of the time I tend to avoid Reed on courses with penal rough because he tends to spray it off the tee, but over the last 12 rounds he ranks 23rd in this field in fairways gained. Pair that with scorching iron play that ranks ninth in this field and Reed's lights-out short game and this could have the makings of a runaway win.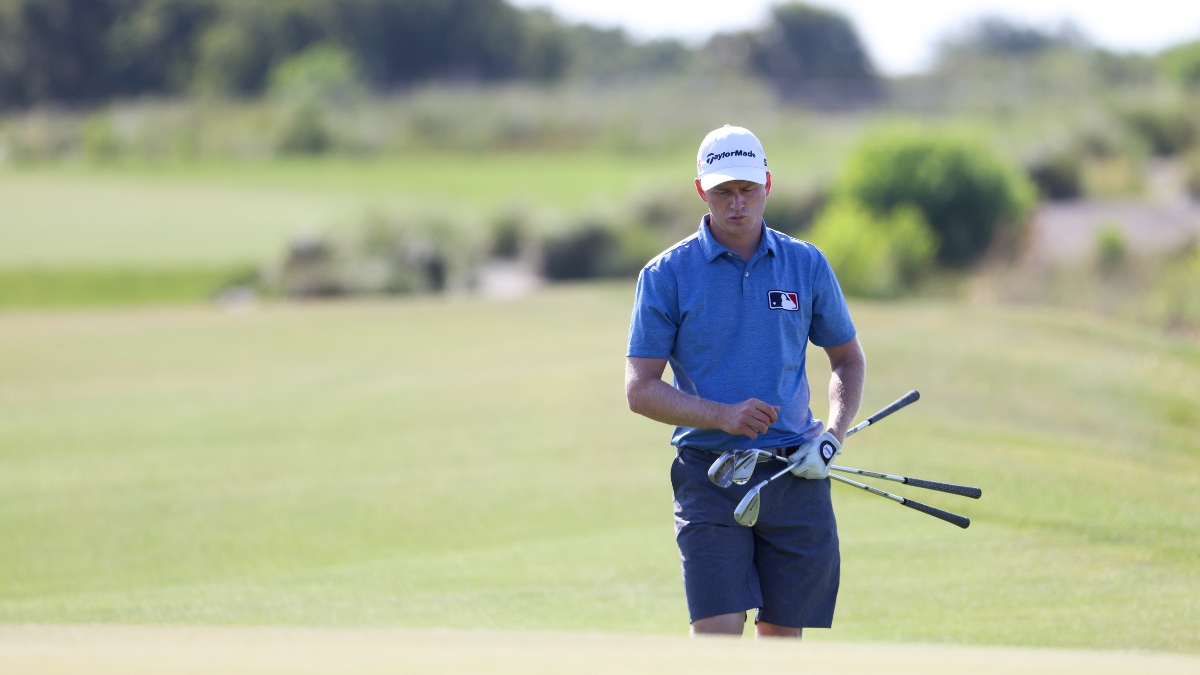 Longshots
Jason Sobel
Adam Long (+22500)
All of the top players in this week's field are, of course, making the cross-country trip from the U.S. Open. There's no doubt that at least some of 'em will be in the mix this weekend, but there's also a notion that a lot of these guys will simply be wiped out after a grueling week, which leads to a handful of intriguing sleepers who didn't compete at Torrey Pines.
Among those on my personal list: Talor Gooch, Richy Werenski, David Lipsky, Nick Taylor, Harry Higgs, Satoshi Kodaira and Vincent Whaley, but if I'm going to take a shot on one guy, let's make it a, uh, Long shot.
Long is a streaky player who can go low when he's feeling it — and he just might be this week, fresh off a pair of top-30s in his last two starts.
Josh Perry
Austin Eckroat (+31000)
Eckroat is a recent PGA TOUR U grad who finished seventh and 13th in his first two Korn Ferry starts. He was also 12th at Mayakoba in one of his two starts on the PGA Tour this season. Eckroat is probably more of a top-20 play now, but I'd expect him to be on the TOUR next season. He's got more than enough game to get through the Korn Ferry Finals in a few months and move forward.
Matt Vincenzi
Rickie Fowler (+6500)
Let's get this out of the way: Rickie Fowler is a fan favorite who is often over valued in the betting market. However, I don't believe that is the case this week.
Fowler has shown flashes of returning to form of late with finishes of eighth (PGA Championship) and 11th (Memorial) in two prestigious events. In those two starts, he has gained an average of 4.4 strokes from tee to green. More importantly, Fowler has seemed to regain his exceptional putting stroke, which historically has been the predominant strength of his game.
With most golfers, I would look at gaining a significant amount of strokes on the green as a potential reason to avoid betting them, but not Fowler. This is a golfer who wins a golf tournament with his hot putter, and it's back.
This is a reasonable number on a golfer who can absolutely contend at TPC River Highlands.
Rob Bolton
Aaron Wise (+8500)
I haven't defaulted to my top Sleeper at PGATOUR.com because it rarely aligns with the objective here, but Wise is, well, wise.
He's been scattering leaderboard appearances all season, including a T9 at Muirfield Village in his last start. He'll need the putter to cooperate to have a chance this week, but he'll among the leaders in setting up scoring opportunities, and that's all we can ask.
Bryan Berryman
Kyle Stanley (+14000)
This one isn't for the faint of heart, as it is guaranteed to lead to elevated blood pressure as the tournament progresses this weekend. From a tee-to-green perspective, Kyle Stanley is a tremendous fit for TPC River Highlands. He ranks third in Strokes Gained: Approach and fifth in fairways gained over the last 12 rounds. His issues around the greens are obvious, but that's why we're getting such a good number on him.
Stanley is another one of those guys that can win IF he just holds pace with the field in Strokes Gained: Putting. It's a tall order, but worth the risk given the recent hot stretch of ball-striking. If you're adventurous enough to join me, I recommend pairing him with a top-5 each way in case he finds himself in contention and flames out down the stretch.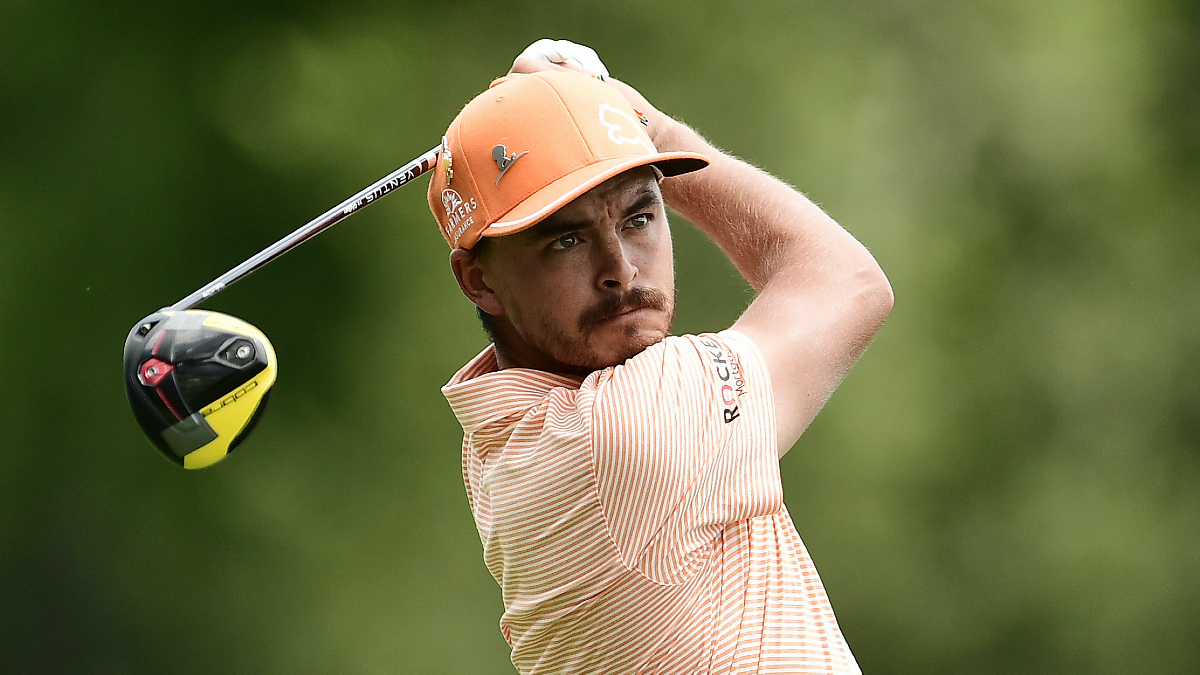 Props & Matchups
Jason Sobel
Rickie Fowler Top-10 Finish (+600)
I considered burning my whole damn preview to the ground this week and picking Rickie to win outright, but uncommon sense won out in the end.
Like Rose, Fowler is a guy I've written about recently and have targeted for improving results, even after finishes of 8th-11th in his last two starts. If he can't get motivated coming off a week in which he failed to qualify for a major, that'll be a surprise. I think he'll be a factor on Sunday afternoon, but I'll cautiously play him here for a top-10.
Matt Vincenzi
Harris English Top-5 Finish (+700)
After a rough few months, Harris English has been stringing together some very promising results of late. He most recently posted a 14th-place finish at Congaree followed by a third-place finish at the U.S. Open last week.
TPC River Highlands is a course where approach play will be the most important factor, and English was brilliant in that category at Torrey Pines; gaining 4.6 strokes on the field.
I am expecting the resurgent English to get into contention for the third consecutive week.
Rob Bolton
Marc Leishman (+115) over Cam Smith
I'm calling the bluff here.
For the second consecutive tournament, Leishman has presented as an underrated value pick. My experience begs that the house knows something I don't, but it's usually the other way around when it happens, so I'll attach emotionally to this matchup. He finished 64th at Torrey Pines, so, in full disclosure, the house got that one right.
Smith has scuffled in his last three starts. While a small sample size, it's his first mini-slump in a long, long time. So, something will give here. Either he'll rebound on a track where he's done nothing special (no top 30s among two paydays in four starts) or he'll stay stuck in the mud as he's profiled many times before at this time of year.
Bryan Berryman
Rickie Fowler Top-5 Finish (+1400)
In recent interviews, Rickie has pointed to the resurgence he's had with the putter as the reason for his recent success. The numbers back up the claim, as he's gained 8.3 strokes putting in just his last two events. His finishes in those events… 8th at the PGA Championship and 11th at Memorial. He gained over 6 strokes on approach in those two events as well.
If the Rickie of old truly is back on the greens, I love this number for a top-5 finish.
How would you rate this article?
This site contains commercial content. We may be compensated for the links provided on this page. The content on this page is for informational purposes only. Action Network makes no representation or warranty as to the accuracy of the information given or the outcome of any game or event.