2021 U.S. Open Odds, Picks & Predictions: Outrights, Sleepers, Longshots, Props & Matchups for Torrey Pines
Credit:
Ezra Shaw/Getty Images. Pictured: Adam Scott
The 2021 U.S. Open begins Thursday at Torrey Pines as Bryson DeChambeau looks to defend his title.
We break down all our U.S. Open picks and favorite bets below, including outrights, matchups, props and more.
We're targeting a handful of golfers in the mid-tier, including Paul Casey and Patrick Reed.
One of the best betting events on the sports calendar has arrived.
The U.S. Open always features a world-class field playing on a tough course, making it a whole lot of fun to watch, but more importantly to bet. Torrey Pines will be the site for the 2021 edition of the tournament and the field couldn't be more stacked.
Jon Rahm is the betting favorite at +1050 to win the tournament, but the top of the board is a real murderers' row as Bryson DeChambeau (+1500), Dustin Johnson (+1500), Xander Schauffele (+1500), Brooks Koepka (+1900), Jordan Spieth (+1900), Rory McIlroy (+2100), Patrick Cantlay (+2200), Tony Finau (+2200) and Justin Thomas (+2250) are all sitting under +2500.
Check out below for our favorite outrights, longshots, props and matchup bets for the 2021 U.S. Open:
Outright Bets
Paul Casey (+4500)
At these odds, this one might seem like a bit of a stretch, but consider that Casey actually owns a shorter pre-tourney number than Hideki Matsuyama before the Masters (60/1) or Mickelson before the PGA Championship (250/1). At 43 – he'll turn 44 next month – Casey is playing some of the better golf of his career. It's not just the week-in, week-out results which have me optimistic for this one, though; it's the fact that he's continued to show up for majors, finishing 2nd-17th-26th-4th at the last four, the second of which came at last year's U.S. Open. While he ranks "only" 37th in driving distance on the PGA TOUR this season, Casey's strength isn't just about bombing drives.
Those Popeye-like forearms should be enough to hit some quality shots from the gnarly rough. Having spoken with Casey in multiple post-round interviews during the festivities at Kiawah, I can easily see him drawing some late-career inspiration from Mickelson, which should be a real thing this week.
In a year that's already seen some major championship surprises to varying degrees, don't be afraid if another one is lurking at Torrey Pines.
Patrick Reed (+2900)
I'll look to this year's Torrey Pines champ, Patrick Reed, at +2900 for my favorite outright bet. This track has been a happy hunting ground for Reed. In addition to his win, he has a sixth-place finish and has never missed the cut in four starts. Reed's also got a strong U.S. Open record, finishing inside the top 15 in four of his last six outings.
He's not among the bombers, so he'll need his short game to be completely dialed in if he's to contend. That's been the case for a few months now. He hasn't lost strokes around the green since March and has gained strokes putting in 11 of his last 13 events.
Rory McIlroy (+2100)
This number falls in the auto-bet category for Rory McIlroy. He has rounded back into form over his last several events, jumpstarted by his win at the Wells Fargo at the beginning of May. Even as Rory fell short of his lofty expectations at the PGA Championship, he was still fantastic tee to green. In fact, McIlroy has gained more than four shots on approach in each of his last three events, which is a great sign for him coming into the week. He has long been known as the best driver of the ball in the game, and if he can dial that in just a touch better this week, he will be in position to contend for his first major since 2014.
While much of the focus this week will be on Jon Rahm and his success at Torrey Pines, Rory also has a strong history on this course. He has two top-5 finishes in three trips, and all three of his appearances have resulted in top-20 finishes.
The combination of great form, a course that clearly fits his game, and a rare strong number make Rory McIlroy stand out to start the week.
Brooks Koepka (+1900)
This one is pretty simple: Bet Brooks Koepka at major championships.
Yes, he missed the cut last week at Congaree. But missed cuts haven't meant much in terms of predicting success for Koepka in the past. His second-place finish at last month's PGA Championship followed two consecutive missed cuts. His win at TPC Scottsdale in February was more of the same.
Throw the stats out the window. Koepka knows the recipe to winning U.S. Open Championships: He will keep the ball in the fairway, hit greens in regulation, and there is a strong chance he will be in the mix one way or another on Sunday.
Shane Lowry (+5000)
Remember to shop around, because the numbers on Lowry vary pretty wildly from sportsbook to sportsbook. The case for the Irishman is simple, he's simply too talented and battle tested to be priced around guys like Matthew Wolff or Harris English at a major championship. He's been in extremely good form of late, posting a T-6 at the Memorial and a T-4 at the PGA Championship. Lowry also has two really strong finishes at Torrey Pines, so I have no worries about him handling the length of this course.
His U.S Open resume is solid but not spectacular, but he does have a pair of top 10's at this event in both 2015 and '16. He's always been pretty strong around the greens, which is true of most major champions, however, it's his ball-striking that's been the catalyst for him of late. He ranks 15th in that department over his past eight rounds in this field while sitting fifth in SG: Tee-to-Green in the same time frame. Lowry shows up regularly in big time fields and getting 60/1 on a former major winner in this spot feels like a slam dunk bet.
Jon Rahm (+1050)
Nothing has changed since TOBWMRA for Torrey Pines. Sorry, that's "The Outright Bets We Made Right Away." I'm as used to that now as I am Rahm as among BNTHWAM, er, Best Never To Have Won A Major.
On second thought, one thing is different, and it isn't his line since Monday. His rhetoric in response to what happened at Memorial has reinforced my endorsement.
Collin Morikawa (+2550)
It doesn't need to be said, but the 2021 U.S. Open at Torrey Pines looks like it will be a difficult test. Videos that have surfaced from the course have shown a long course with very thick rough, meaning errant shots will be punished severely and the winning score will likely be single digits under par.
I'll be looking for players that consistently hit fairways and greens, play cerebrally to avoid the big numbers, and don't try to overpower golf courses on their way to victories. A few names come to mind when I think of this type of player, but none measure up to the run of consistency that Morikawa has been on of late.
Over the last 24 rounds, Morikawa ranks 1st in greens in regulation, 1st in Strokes Gained: Approach, 2nd in double bogey avoidance, and 11th in fairways gained. His last four starts have resulted in three top-10 finishes, highlighted by his recent runner-up at Memorial where he lost in a playoff to Patrick Cantlay. In these four tournaments, he has gained over 30(!) strokes on approach against the field. He is absolutely dialed in right now, and fits the mold of a U.S. Open champion.
The only crack in Morikawa's game is his putter, which ranks 71st in this field over the last 24 rounds. However, he did gain 5.4 strokes putting in his last showing at Memorial, snapping a streak of four tracked events in a row with negative putting performances. I'm not ready to say that the putting issues have been resolved, but knowing he's coming off a positive performance on the greens can only help his confidence with the flat stick.
I believe Morikawa's game is in peak form, and he will be in contention come Sunday with a chance to win his second major.
Longshots
Jason Sobel
Jason Kokrak (+7000)
We can debate whether 70/1 is worthy of "sleeper" categorization, but however you view it, I wanted to list Kokrak here, because I think he's hugely underpriced.
When he won his long-awaited first career title at Shadow Creek last year, it was a nice story, if not one which was overdue. When he won again last month at Colonial to become just the third player with multiple victories this season, he earned some much deserved attention, but perhaps not enough.
Kokrak is still undervalued in the marketplace, being priced as a player who's surprisingly won a few titles, rather than one who's becoming more consistent – and a closer – before our very eyes. Results of T-37 (2016) and T-53 (2017) before two years of failing to make the field, then a T-17 last year not only parallel his development, but mirror how this event has started suiting him better.
Jump on this value while you still can, because it won't be around much longer.
Josh Perry
Chan Kim (+75000)
The one sleeper I'll be watching this week is Chan Kim, who can be found as high as 750/1 on FanDuel. He's not going to win but is worth a look in the place bet markets as a top-20 or top-40 play or as a first-round leader if he gets a good tee draw.
Kim is usually one of the longest hitters, if not the longest, in Japan and just blew away his U.S. Open qualifying field in California to get into this event. He was also 23rd in the PGA Championship, where he gained almost six strokes ball striking. He's got five wins in Japan, including two majors in the Far East, on courses that aren't really set to cater to the bombers.
The Arizona State alum played a lot of amateur golf on the West Coast, as well. While he's still unknown over here, he's the type of player who could pop up and have a good week.
Chris Murphy
Max Homa (+10000)
While Max Homa has arguably become more well known for his social media presence than his golf at this stage, he has also shown to be quite the player as well. Earlier this year he went through the West Coast Swing with a number of impressive finishes including nabbing his second career TOUR win at the Genesis Invitational.
The field at the Genesis was one of the best non-major fields of the year, showing that he can compete and even win against the best players in the world. He now comes in to the U.S. Open off of a sixth-place finish at the Memorial, and back out to a preferred West Coast course.
Homa showed that when he plays well, he can really run hot, and he may be warming up heading into this week. I expect to see a quality performance from Max and he is simply mispriced as his peak game is class above the other players in this range.
Matt Vincenzi
Adam Scott (+9500)
Adam Scott hasn't been playing his best golf of late, but this number is simply too enticing to resist. Torrey Pines will certainly play a lot different this week for the U.S. Open, but Scott did finish 10th at the Farmers Insurance Open this year and has excellent course history including a second-place finish here in 2019.
At this stage of his career, the Aussie probably isn't winning any birdie-fests but he can still grind as well as anyone when he is on his game. Scott also putts much better on POA greens and the putter has been a bright spot lately; gaining strokes on the field in six of his past seven events.
If he can get his historically excellent tee to green game going, he has a real chance to contend at Torrey Pines.
Landon Silinsky
Webb Simpson (+5500)
The disrespect for Simspon has gotten out of control. I get that he hasn't played Torrey much in his career as he usually skips the Farmers every year, however, we're still talking about the No. 12 player on the planet and former U.S Open winner at 55/1 odds. It's also not if he's in bad form, as he's posted three top-12 finishes in his last four starts.
He ranks 15th in this field in total strokes gained over his past 24 rounds, including 13th in SG: Around-the-Green and 15th in putting. He putts well overall on poa and we know his short game is a major strength. He seems to get penalized by the public for not being the longest off the tee at long courses like Torrey Pines, however, he's one of the best long iron players on TOUR and knows how to keep the ball in the fairway. I'll gladly take my chances at this price.
Rob Bolton
Marc Leishman (+8500)
As it concerns the 20 slotted in my Power Rankings at PGATOUR.com, the Aussie easily has the longest odds. He's my No. 15 but DK has him tied for 35th-longest on the board.
It looks like a misprint, which is why I'm touting him here. As I noted, it's likely due to middling form, but that's OK. One Leishman's trouble is another man's treasure. Yet, it's not like he's been mired in a slump that would make the Arizona Diamondbacks blush. He lit up for a T5 at the Masters, partnered with Cameron Smith to win in NOLA and finished T21 at the Nelson, all within his last five starts.
There's also the matter of his track record at Torrey Pines. He's sixth in all-time earnings at the Farmers with a win in the first edition of Rees Jones' renovation in 2020 and a pair of runner-up finishes.
Bryan Berryman
Corey Conners (+7500)
It's been a frustrating year for Conners bettors. There have been multiple times where I thought my commitment to the cause was finally going to pay off, but the Canadian just couldn't keep it together on Sunday.
We've seen plenty of flashes of the tremendous talent that Conners possesses, none more recent than the PGA Championship where he led the tournament by two strokes after the first round. We all know the deal with him though, he is a ball-striking machine who struggles on and around the greens.
Over the last 24 rounds, he ranks 11th in this field in Strokes Gained: Approach and is 13th on TOUR in total driving, which will be a huge asset on a course that demands both length and accuracy off the tee.
From a stats perspective, it all lines up for Conners. However, the same question remains; will he be able to make enough putts to win the tournament? Given how well he has been striking the ball, I'm willing to take one more gamble on the putter at this number.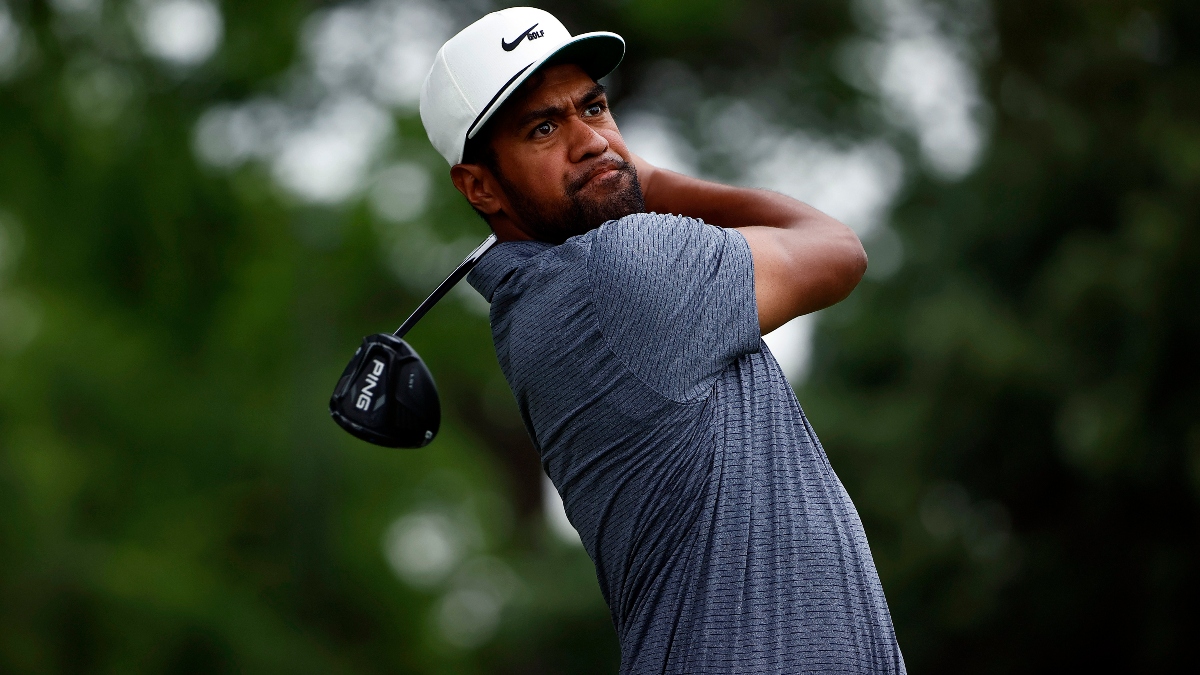 Props
Jason Sobel
Tony Finau Top-10 Finish (+205)
There are plenty of reasons not to list Top-10 Tony (aka Top-Five Tony) at the top of any list of fave picks for this week's event – 140 of 'em, actually, the number of events since his lone victory at the 2016 Puerto Rico Open – but it's similarly impossible to resist the potential upside.
Since the beginning of 2018, he's finished top-10 in 9-of-13 major championship starts. That number is more than either Brooks Koepka or Xander Schauffele, perhaps the two players best known during these past few years for the ability to rise to the occasion at the biggest events. If you want to fade Finau as an outright, I can certainly understand that, but don't ignore him for prop bets and other formats.
I've always liked how his game matches up with Torrey and it could – finally – all come to fruition this week.
Josh Perry
Chan Kim (+300) & Cameron Young (+500) Top-40 Finish
My favorite props for this event will mostly be focus on bombers near the bottom of the board, as I'm hoping the U.S. Open tradition where length trumps all hold up on Torrey Pines.
Both Kim and Young hit the ball a mile. Kim is second in driving distance in Japan this year, while Young is ninth on the Korn Ferry Tour.
Kim is a West Coast guy who played college golf at Arizona State, so he's got plenty of experience in California. He proved as much during his qualifier just south of Los Angeles, finishing as the medalist in the 90-man field that produced just five entrants into the event.
Young actually qualified for the Farmers at Torrey this year and played well on the South Course, gaining 3.5 strokes tee-to-green in his round there. A bad round on the North Course did him in and he missed the cut. Luckily, it's just the South Course at the U.S. Open.
Chris Murphy
Jason Kokrak Top-10 Finish (+600)
One name that I jumped on before this week was Jason Kokrak. He is playing the best golf of his career and a big part of that is the huge improvement he has made with his putter. He now has a more complete game to bring to the table every week, and he is the exact type of fit I am looking for at Torrey Pines.
Kokrak is long, but accurate off the tee, is sharp with his approach play, and as noted above has shored up his putting. He also comes into the week with a big boost of confidence having taken down Jordan Spieth in Texas a few weeks ago at the Charles Schwab. I wouldn't be surprised to see him truly contend, but this Top 10 at +600 has plenty of value for him to post a solid finish.
Matt Vincenzi
Viktor Hovland Top-5 Finish (+500)
Viktor Hovland has all of the physical tools to be part of golf's class of "super elites". While it's still extremely early in his career, he hasn't quite had his breakthrough big win on TOUR…yet. The U.S. Open at Torrey Pines feels like a perfect place for that to change.
In his most recent start at Torrey Pines, Viktor Hovland finished tied for second place — although he was well behind the winner, Patrick Reed.
The Norwegian has the ideal skillset to contend at the course: Hitting it long and straight off of the tee. His penchant to post big numbers certainly worries me; but if he can limit the damage and avoid the huge mistake, then I think he can get in contention this week.
Landon Silinsky
Adam Scott Top-40 Finish (+115)
Getting plus-money in this spot is extremely enticing to me. In the seven cuts Scott has made at the U.S Open since 2011, he's finished inside the top-40 in six of those, and the one where he did not he finished T-45. What this means is, we're almost getting plus money on Scott simply making the cut.
There's more good news here, as the Aussie also finished T-10 and T-2 his last two trips to Torrey Pines. It looks like everything is lined up for this to be a plus-EV bet. You can even get him at +175 to top-30 which is also something I like. Scott is 20th on TOUR in driving distance this season and is a grizzled veteran that's being overlooked.
Let's take advantage of that this week.
Rob Bolton
Make-the-Cut Parlay: Shane Lowry, Cam Smith and Matt Fitzpatrick (+175)
You knew that I wasn't going to advise something other than a parlay for the U.S. Open.
At 75 percent better than even money, the objective here is to multiple the investment. All three of these internationals are automatic. I just wanted to make sure that you didn't overlook them.
Bryan Berryman
Scottie Scheffler Top-10 (+360)
Scheffler is a player that is going to break through for his first career win very soon. His ability to hit the ball both long and straight off the tee, and rack up birdies in bunches puts him in the conversation for one of the best players on TOUR without a win.
Scottie leads the PGA TOUR this season in total driving, which is a stat that I am paying close attention to this week. On a course that will play over 7,600 yards, that has thick rough looming off any missed fairway, the ability to hit it long and straight will give him an excellent advantage.
While he may not win (though I did place a bet on him to do so), I do like his chances to crack the top 10.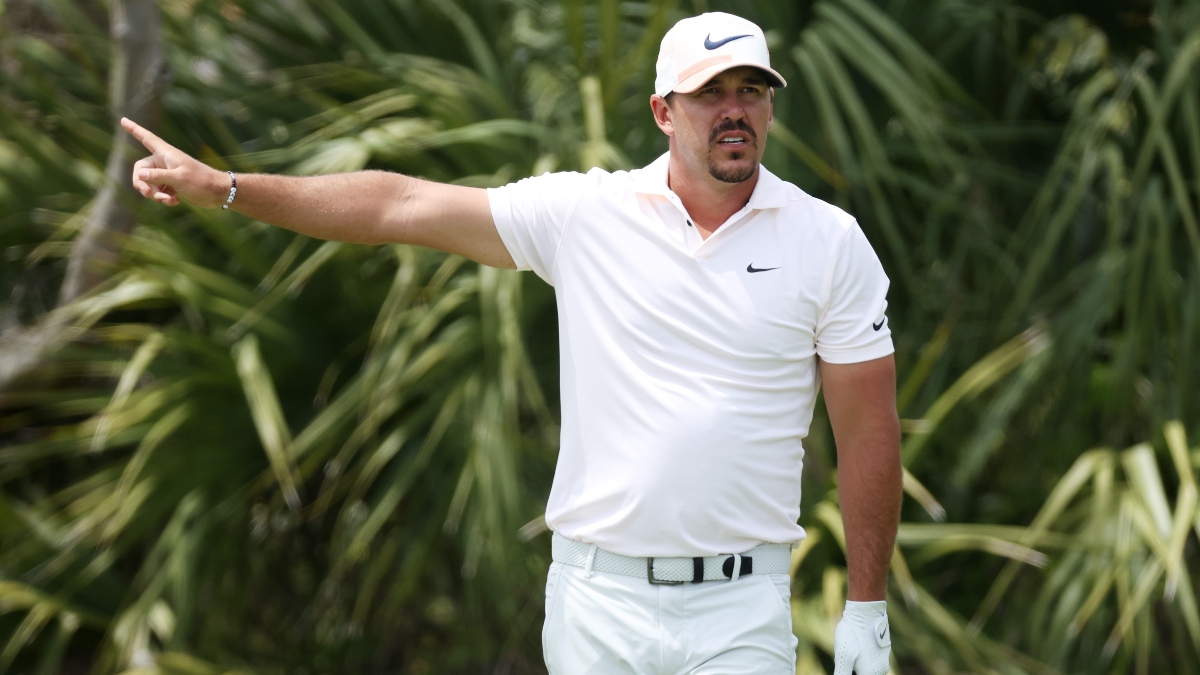 Matchups
Jason Sobel
Brooks Koepka (+100) over Bryson DeChambeau
Bryson claims to be living rent-free inside Brooks' head, while Brooks has imposed his Michelob Ultra Army of frat-bro followers to prove otherwise. It should all equate to millions in PIP windfalls for each player later this year, but at some point they've gotta settle this feud inside the ropes. Even though they're not paired together, books are offering plenty of Brooks-Bryson props, including a no-juice, even-money head-to-head on PointsBet.
Can each of these players get into contention this weekend? Might we even see them in a final pairing well into primetime TV for much of the country? It's certainly possible. This event fits a specific skillset – and it's a skillset that fits both of these guys. If I can only pick one, though, I'll go with Koepka. Each player is capable of winning, of course, but those intangibles – the ability to find his A-game for the biggest events – is what I like about Brooks this week and where I think he owns an edge over Bryson.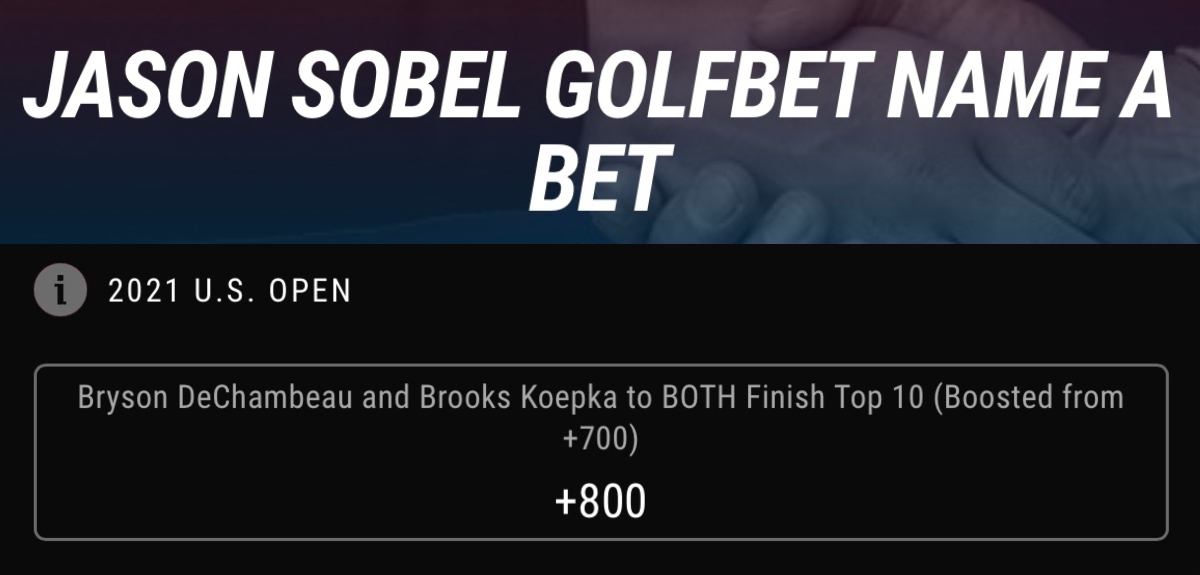 Jason Sobel's PointsBet Promo
Chris Murphy
Scottie Scheffler (-126) over Shane Lowry
Scottie Scheffler is a name that has really grown on me this week in the build up. I have actually added him to my betting card all the way up to a win, as I really like his upside in this event.
He is a player that fits the mold in being long and straight off the tee, ranking first on TOUR in Total Driving this year. I think that will be one of the biggest benefits to him this week as he begins to come into his own this season having played deep into the WGC-Matchplay and putting himself in contention on Sunday at the Memorial as well. While Lowry has really struggled in the U.S. Open of late, with only one top-30 in his past four trips to the event, this bet is more of a byproduct of my positive outlook for Scheffler than anything against the Irishman.
Matt Vincenzi
Brooks Koepka (+145) over Jon Rahm
Jon Rahm certainly has everything going for him this week, but things don't always go according to script on the PGA TOUR. I simply can't ignore getting this much value on Koepka to beat Rahm this week. -180 implies that Jon Rahm wins this matchup 64% percent of the time; which in my opinion is far too high.
Landon Silinsky
Joaquin Niemann (-152) over Phil Mickelson
After winning the PGA Championship, Mickelson was on a clear hangover at the Charles Schwab, losing strokes tee-to-green in both of his opening rounds en route to missing the cut. While the U.S Open is the one elusive major that Lefty has yet to capture, I do not think Torrey Pines at this stage of his career is going to be the place he gets it done. He's never really had success at this course over the past decade, missing four of his past nine cuts with one withdrawal mixed in as well.
Niemann on the other hand is coming off his first missed cut of the season at the Memorial, so I would expect that quickly rebounds this week. He's made both his cuts at Torrey in his career and is coming off at T-21 at last year's U.S Open at Winged Foot. This is basically a bet on Niemann making the cut and Mickelson not. Regardless, I do not expect Phil to have a strong week and getting -152 on the young Chilean is decent value.
How would you rate this article?
This site contains commercial content. We may be compensated for the links provided on this page. The content on this page is for informational purposes only. Action Network makes no representation or warranty as to the accuracy of the information given or the outcome of any game or event.