2022 Masters Recap: 10 Takeaways for Scott Scheffler, Rory McIlroy, Tiger Woods, More
Credit:
Andrew Redington/Getty Images. Pictured: Scottie Scheffler.
AUGUSTA, Ga. – It was a week that began with a buzz echoing throughout the loblolly pines here at Augusta National, as Tiger Woods made his long-awaited return to professional golf and the late-Monday afternoon galleries at the Masters looked like those usually reserved for Sunday.
Take nothing away from Scottie Scheffler in what was an uncommonly dominant performance, but in the end, this tournament took on inverse pyramid proportions, concluding with tepid golf clap for what turned out to be a back-nine coronation.
Let's get to my 10 takeaways from the week, one which will forever be remembered for Scheffler's supremacy.
1. This was the first start for Scheffler as the No. 1-ranked player in the world. Even before this week, he deserved that position, for as much as anyone deserves a position spit out by an algorithm.
Being No. 1, though, and being the "best" player aren't necessarily one and the same. I'll admit that prior to the Masters, despite his three victories in five starts, I thought Jon Rahm was still "better" than Scheffler – whatever that means. Collin Morikawa and Justin Thomas, too. Granted, that's such a nebulous term and each of us could translate it in a different way.
After this week, though, there's no different translation for which player holds this position. Just as the No. 1 ranking remains flexible and can change hands at times throughout the year, so can our assessment of who the best player is.
For now, though, there's absolutely no debate: Scheffler is the best player in the world, however you define it, whatever parameters you put on that description.
2. I wrote this after Scheffler's previous three recent wins, but it's worth revisiting in the wake of his fourth.
The most impressive thing about these triumphs is that they've occurred in four completely different tournaments on four completely different courses.
Scottie's heater has ranged from golf's biggest party amidst the masses at the Waste Management Phoenix Open, where he needed to make plenty of birdies to clinch it; to the Arnold Palmer Invitational, perhaps the most brutal conditions this side of the U.S. Open; to the WGC-Dell Technologies Match Play, which is obviously a completely different format; to this week's Masters, a whole different animal from any other tournament all year. He's like the Rusty Griswold/Nick Papagiorgio of golf: "Put in a dollar, win a car. Put in another dollar, win a car."
It's one thing for a player to continue winning tourneys on similar types of tracks, but this was just the opposite. I've often believed the world's best players separate themselves from the next tier because they can win anyplace, anytime. That's the epitome of what we've learned about Scheffler over the past two months.
3. There's a lot to like about Scheffler. The thing I like most about him, personally, is his on-course persona.
For years, fans have bemoaned the world's best player, from Tiger Woods to Jon Rahm, maintaining that these guys often didn't look like they're having a good time on the golf course. Now, I've always defended the players in this situation; they're doing a job and trying to win tournaments, not win us over.
That said, I love Scheffler's reaction when something goes wrong. Many players will slam a club down, glare at their caddie, maybe mutter a few choice words. Scheffler? His go-to move is a laugh. It's almost as if he hits so few poor shots and misses so few putts that he's a little embarrassed when he does it. It even happened on the final green.
After his third putt on the final green still wasn't in the hole, his caddie, Ted Scott, sort of gave him a little pep talk and a smile crept across his face. I don't think we would've seen the same reaction from some of those previous No. 1-ranked players.
4. I'm not sure there's been a more predictable low final round in Masters history than the one posted by Rory McIlroy, an 8-under 64 to tie the lowest Sunday total ever. (One of the producers for "Hitting the Green," the afternoon SiriusXM PGA TOUR Radio show I host with Michael Collins, texted us Sunday morning asking who we thought would shoot the day's low score. We each immediately and simultaneously replied back: "RORY.")
Look, we've all had fun with the Rory backdoor finish narrative. I'm guilty of it. During the final round, I tweeted this: "Rory McIlroy going for that backdoor Masters victory." And this: "Years from now, archeologists will dig up Rory McIlroy's Wikipedia page and the world will think he had a great week at the 2022 Masters." Oh, and this, too: "If Rory McIlroy once misread a clock and got his Ryder Cup tee time wrong, he should try to misread a calendar and trick himself into believing every major championship Thursday is already Sunday."
OK, so maybe I'm more guilty of preserving the narrative than others.
Time for some real talk, though: As I've said and written over the years, often in regard to Rory, there should be no such negative connotation for a "backdoor" result. I prefer my elite-level golfers playing their best golf on Sundays, not Thursdays.
Sure, every shot counts the same; every stroke matters during the week. It would just be nice to see Rory play with the same freedom for all four rounds. It's almost as if he plays his way out of contention, then takes a big exhale and decides to step on the gas pedal once it's too late.
If there's a criticism for Rory here, it's not that he saves his best golf for the end; it's that he never seems to play his best golf at the beginning.
5. It's hard not to love what Cameron Smith said to Amanda Renner of CBS after what was undoubtedly a heartbreaking loss. He sounded ultra-confident in the moments after the final round, boasting that he will win a green jacket at some point in his career. That's a bold play, but I wouldn't exactly bet against him, either. Smith has now finished top-10 in three of the last four Masters, with a runner-up and this week's share of third place.
It's always a bit disingenuous to refer to a single player as the "most competitive" or any other analytical opinion that can't be proven, so I'll refrain from comparing him to any of his peers and instead just maintain that Smith is very competitive. He's the type of guy who loves getting into the heat of the battle and who thrives in these situations.
My pod partner on Links & Locks, Ben Everill, who's an Aussie like Smith, has spent plenty of time around him and continually tells me (and everyone who listens to the pod) about Cam's competitive spirit and how much he relishes these situations. The rest of us are starting to see it, too.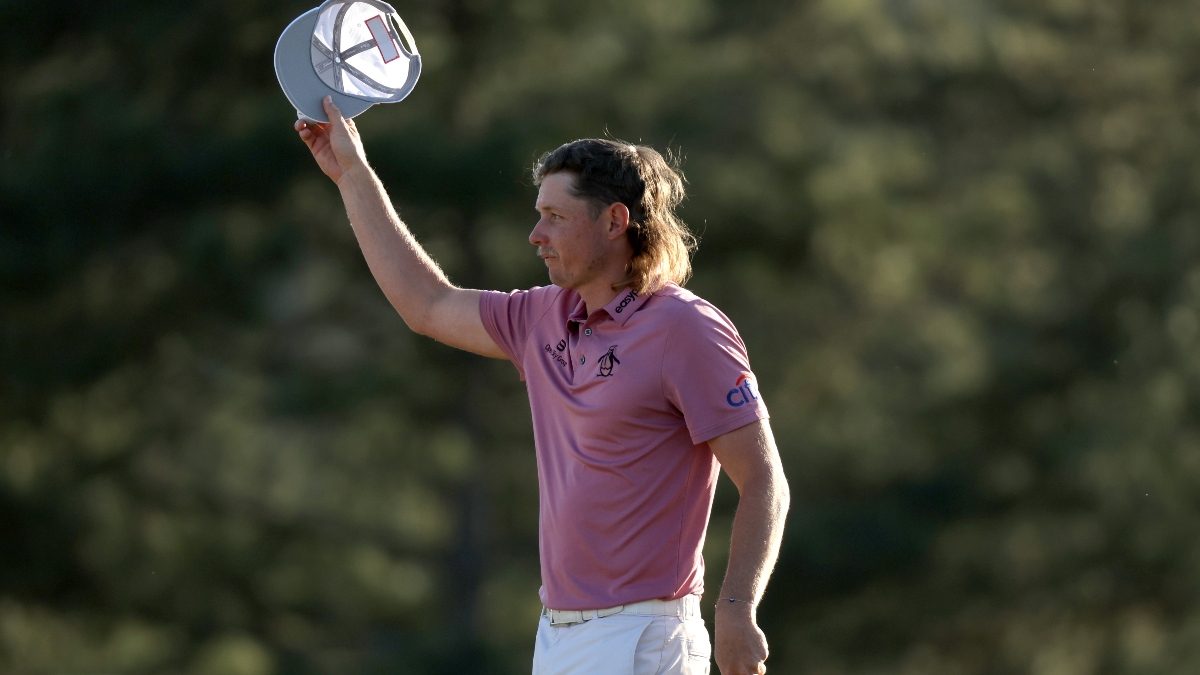 6. The theme of the week for Tiger Woods, in his return after nearly 17 months away from competition, was gratitude.
Before the Masters started, following each round and once he was finished on Sunday, he repeatedly spoke about how thankful he was to not just be playing golf again, but competing in this event.
When I asked him about this after the final round, he said, "I don't think people really understand. … It's one thing to play with my son at a hit-and-giggle, but it's another thing to play in a major championship. It's been a tough road, and one that I'm very thankful to have the opportunity to be able to grind through it."
That wasn't, however, my favorite quote from Tiger this week. Instead, that came after Thursday's opening round of 1-under 71, when Ian O'Connor of the New York Post asked him this question: "I realize you only define victory one way and that's winning the tournament, but was this the equivalent of a victory to you, just showing up and being able to compete like you did?"
Tiger initially responded with just a single word: "Yes." From being around him and interviewing him throughout the week, I'd venture to say that Woods felt more pride simply competing this week and making the cut than he did after some of his in-prime major championship victories.
For a player who's always insisted that he's only playing an event to win – a claim he echoed once again early in the week – it was a welcome contrast to hear him take away a massive moral victory from this week.
7. After the final round, Woods told Sky Sports that he'll definitely compete in this summer's 150th Open Championship on the Old Course at St. Andrews. That doesn't mean we won't see him at either next month's PGA Championship or July's U.S. Open – he just wouldn't commit to either of them yet – but it confirms a common suspicion that Tiger might be looking ahead to the year's final major as his next chance of climbing a leaderboard at a major.
It makes sense, too: If there's one course in the world where a 46-year-old with a bad leg and bad back can contend, it's one which doesn't have too much undulation and where experience can play a massive factor.
8. Augusta National is an absolute beast of a golf course, which makes it so delicious when the 12th hole, little ol' Golden Bell, wreaks havoc on the world's best players every single year.
We saw it with Jordan Spieth, of course, six years ago, when he went from leading to trailing in the blink of an eye. And with Tiger Woods, out of contention two years ago, but posting a 10 for the first time in his career.
The biggest victim this time, based on the circumstances, was Smith, who put one into the tributary of Rae's Creek and carded a triple bogey to double his deficit from three strokes to six, essentially crushing his title hopes. What a brilliant hole.
9. Let's not heap too much praise on Augusta National – at least from the course perspective. The big news coming into the week included lengthening the 15th hole to 550 yards for the first time.
The result? Not a single player made an eagle this week. While making the hole longer might've been a necessity, this likely wasn't the desired result, as a majority of players simply hit lay-up shots with their second, essentially rendering it a short par-3. That's obviously not what the powers-that-be wanted and it's certainly not what the fans wanted – either those on the course or those watching from home.
I don't know what the solution is here. Maybe use the back tee box when there's a tailwind and play it shorter when there isn't? I don't know, but I wouldn't be surprised to see more changes next year.
10. Perusing through Scheffler's bio after the victory and buried amongst the minutiae toward the bottom, I happened to come across this nugget: "His favorite golf course is Southern Hills."
Yes, the same Southern Hills which will host next month's PGA Championship.
I've also had him pegged for a little while at the U.S. Open, especially after we witnessed him win that tough test at the Arnold Palmer Invitational in early March.
Look, I'm not saying he's going to head over to St. Andrews with a chance for the grand slam. I'm just saying it's not entirely inconceivable.
How would you rate this article?
This site contains commercial content. We may be compensated for the links provided on this page. The content on this page is for informational purposes only. Action Network makes no representation or warranty as to the accuracy of the information given or the outcome of any game or event.