2023 PGA Championship Recap: 10 Takeaways Including Brooks Koepka, Michael Block, LIV, More
Credit:
Photo by Darren Carroll/PGA of America via Getty Images. Pictured: Michael Block (left) and Brooks Koepka (right).
PITTSFORD, N.Y. – What a week, what a tournament, what a list of storylines.
Without further ado, here are my 10 takeaways from the 105th PGA Championship.
1) I don't have verifiable data on this, but I'm fairly certain that anytime over the past half-decade that Brooks Koepka wasn't the consensus choice to win a major championship, he's either won or come damn close.
That's not to suggest nobody saw this one coming, especially after his runner-up finish at the Masters, but he tends to win 'em when we're perhaps least expecting it. That close call in Augusta notwithstanding, we can be forgiven this time, especially since just one year ago, Koepka himself was questioning his future, notably in a scene from the Netflix series, "Full Swing."
But if those previous four major titles were claimed with a chip on his shoulder while proving everyone else wrong, this one was about proving something to himself.
"This is probably the sweetest one of them all, because all the hard work that went into this one," Koepka said after the win. "This one is definitely special. This one is probably it for me."
In related news, just in case this victory on a US Open-type setup has you scurrying for the futures market to play him for next month's US Open, he's already 14/1 — a price that's probably getting shorter by the minute.
2) There's been discussion over the past few months that perhaps Koepka had some buyer's remorse, that he signed with LIV when he was unsure about his long-term health and now wishes he could return to the PGA Tour. I don't know that and until he admits it, I'll assume it's just a rumor.
The truth is he's probably gamed the system perfectly. It's no secret he cares way more about majors than any other event.
"It's how your legacy is defined," he told me this week. "The way I see it, when everyone is done playing, it's how many majors you've won, not anything else. So try to win as many as you can."
Well, if the non-majors don't mean much more than prep for the big ones, why not play the non-major schedule that comes with a nine-figure paycheck as opposed to the one where you've got to earn every dollar? I understand why fans of the game are still discouraged by the disruption of LIV, but it's tough to criticize a player for what was essentially a business decision – especially when he's still eligible for the tournaments that matter most to him.
3) Speaking of LIV, one of the biggest questions over the past year was: What's going to happen when a player from that league wins a major? Now that it's happened, my definitive answer to that question is … uh, not much.
I think we all would've felt differently had a LIV player won last summer, right in the middle of the maelstrom that disrupted the professional golf world. Maybe we would've felt differently even just a month ago, if a LIV player won the Masters. Or even this week, if that LIV player claiming the trophy was Phil Mickelson. (More on him in a minute.)
The victory for Koepka, though, doesn't feel like some sort of symbolic triumph for LIV, just as Jon Rahm's Masters title didn't feel like a win for the PGA Tour as a whole.
One more thought on LIV that the haters aren't going to enjoy: While there have been plenty of detriments to this divorce, it's somehow made the majors feel even more special, knowing that we'll only see the game's best players facing each other four times each year.
4) In interview sessions both before the tournament started and after he'd finished the final round (though admittedly, prior to Koepka winning), U.S. Ryder Cup captain Zach Johnson attempted to push aside any and all questions about the potential of having a LIV player on this year's roster.
Well, he'd better start preparing for the possibility.
With the victory, Koepka moved into second place on the points list, with the top-six players at the end of the PGA Tour season automatically qualifying. Even if he were to drop out of a qualifying spot, Johnson would be hard-pressed to add him as a wild-card selection for a number of reasons, not the least of which is that the PGA of America runs the U.S. side of the Ryder Cup and, of course, also runs the PGA Championship.
While that's happened before, it would be near impossible to argue Koepka isn't one of the best dozen American players. Keeping him from the festivities in Rome would only seem like unnecessary bias.
5) OK, I promise: Just one more LIV-related note before we move on.
This should've been a week where we collectively celebrated Phil Mickelson, no matter what tour he plays. The winner of this tournament in 2021, he skipped last year's edition making him a kinda/sorta defending champion this week. Adding to that, he made the cut for a 100th time at a major, the kind of achievement that deserves a massive cake, if not hearty congratulations from those who enjoyed watching it along the way.
While some of that still took place — although I'm admittedly not sure about the cake — much of the celebration was deflected due to Mickelson doubling down on recent social media comments which suggest we're only at the tip of the iceberg of the push-and-pull between LIV and so many of the game's other entities.
"I guess it's because I know some things that others don't," he coyly said after the final round, failing to divulge any specific details. "I just want to make sure everybody's held accountable."
Whereas it essentially felt like business as usual with Koepka winning a major between LIV starts, Mickelson seems intent on continuing the disruption within the game's highest level. It's hard not to miss the old Phil. The one who didn't have so many axes to grind on such a public platform.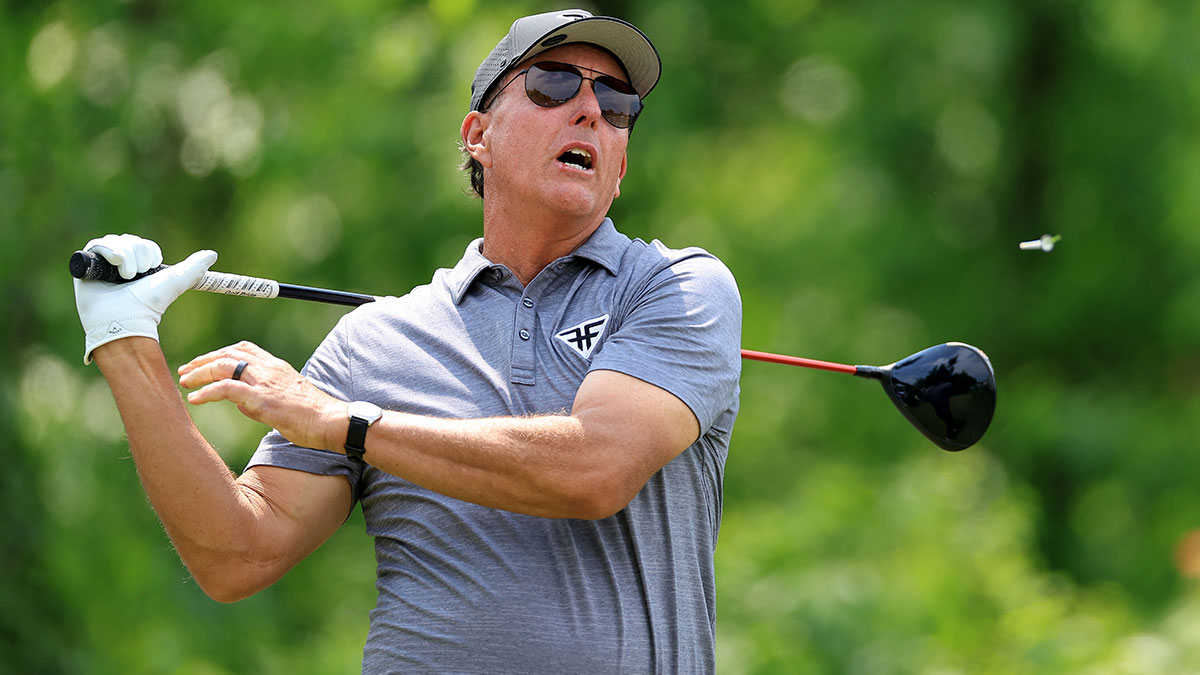 6) Finally, we can move on to the other biggest story of the week.
Michael Block was one of 20 PGA club professionals who qualified for this week's event, but the only one to make the cut, the only one to play with Justin Rose and Rory McIlroy on the weekend, the only one to make a hole-in-one and the only one who finished top-15 to solidify his spot in next year's field and the only one who made $288,333 for the week.
I had the opportunity to interview Block for our SiriusXM PGA Championship Radio coverage after each round and the guy absolutely reveled in the limelight — especially on Sunday, when he told me he didn't know he'd made the ace until McIlroy told him. He also had no idea that his unbelievable up-and-down for par on the final hole would clinch a place in next year's field.
Anyway, you won't have to wait a year to watch him play again. He has already accepted an invitation to this week's Crowne Plaza Invitational and should have plenty more offers coming his way.
Summer Block Party, indeed.
7) Meanwhile, Block's final-round playing partner had one of the more curious performances we've seen.
Certainly, this T-7 finish was a massive improvement over missed cuts at the Masters and Wells Fargo Championship in his previous two starts, but McIlroy never quite had his best stuff. In fact, when I spoke with him following the second round, he hinted that he was optimistic about the weekend, considering he believed he'd played pretty poorly, yet was only five strokes off the lead.
While he showed signs of stepping on the gas pedal over the final 36 holes, it felt like every two steps forward were followed by one step back. I'm honestly not sure if I come away from this performance with more optimism or pessimism for McIlroy in the remaining two majors, but again, at least we should feel better about him now than a month ago.
8) I've often gotten a sense that Viktor Hovland is just a happy-go-lucky kind of guy who doesn't allow his scores or results to dictate his mood, which is a healthy way to live life as a professional golfer if you can do it. Perhaps that's why it was so jarring to watch him give a few interviews in the moments after the final round was over, when he seemed more dejected than I would've thought he'd be.
Nothing wrong with that, of course. He'd put his full effort into keeping pace with Koepka throughout the day, only to hit the exact same shot from the fairway bunker on 16 as Corey Conners one day earlier, which resulted in double-bogey that essentially crushed his title hopes.
He probably doesn't want to hear it in the moment, but I've always been adamant that close calls and near-misses in major championships have a more positive long-term impact than never getting there in the first place. This one will sting for a little while, but the next time Hovland is in contention at a major – and that next time should come soon – he'll be able to draw on yet another experience of being in that moment.
9) The other runner-up finisher, Scottie Scheffler, probably isn't leaving Rochester with such a bad taste in his mouth, as he essentially lost this tournament on Saturday, not Sunday. Granted, that's not the result he wanted, but Scheffler is starting to put together an impressive resume of big-time finishes in big-time events.
And this one only helps enforce an opinion I had prior to this week: Jon Rahm might still have the highest ceiling of any player (and maybe Koepka is a close second), but Scheffler owns the highest floor, as evidenced by his 14 consecutive top-12 finishes dating back to last year. That's an incredible tally, proving that he really doesn't have any off weeks.
10) Ten years ago, I covered the PGA Championship at Oak Hill. I know, because I remember Jason Dufner coming away victorious and I searched for a few things I'd written that week. Other than that, though, I have little recollection of the week, which means Oak Hill didn't leave much of an impression on me back then.
Fast-forward to this week and I can guarantee I'll remember plenty about this one, as the redesigned course showed out through four different seasons over four days. Really, it looked more like a US Open setup than a PGA Championship, and the only way I'd be alright with the latter never coming back here again is if the USGA somehow convinces the powers-that-be that June is a more palatable time of year for having a major championship in this area.
Either way, there's already a long line of major sites lined up for the year's second and third events, but here's hoping it won't be long before the game's best players return to this beast of a venue.
How would you rate this article?
This site contains commercial content. We may be compensated for the links provided on this page. The content on this page is for informational purposes only. Action Network makes no representation or warranty as to the accuracy of the information given or the outcome of any game or event.