2023 U.S. Open: Stick With Wyndham Clark on Sunday in Los Angeles
Credit:
Via Richard Heathcote/Getty Images. Pictured: Wyndham Clark of the United States reacts to his birdie putt on the 18th green during the third round of the 123rd U.S. Open Championship at The Los Angeles Country Club on June 17, 2023 in Los Angeles, California.
You can't close out a movie without a good script, and Hollywood looks to have saved its big finale for Sunday.
Pre-tournament favorites Scottie Scheffler and Rory McIlroy skyrocketed up the leaderboard late on Saturday, creating hole-out eagles and impressive birdies to move into the penultimate group behind Rickie Fowler and Wyndham Clark.
I always track where the eventual winner entered Sunday after each event before capturing the title, and it presents this hard-to-rationalize answer for anyone sitting outside of five-under on the board. It has been 38 tracked tournaments for me since someone has won a contest from both outside the top five and more than five shots back of the lead, which makes me believe your winner will end up being one of these names.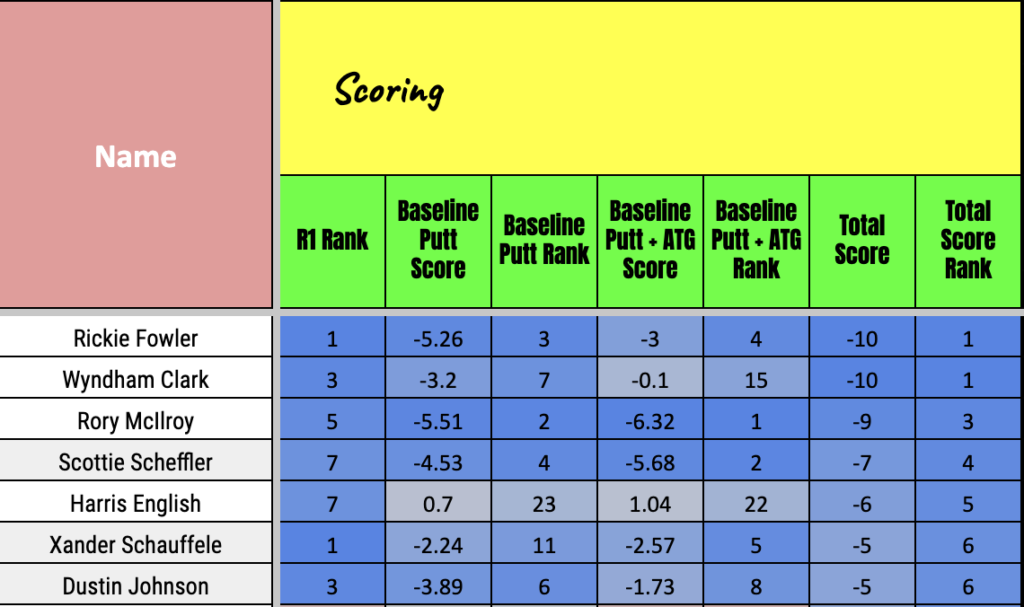 If you are making wagers on golfers further than that list, you might want to save your money. However, let's talk a little about what the numbers like entering the final round of the 2023 U.S. Open at Los Angeles Country Club.
If you haven't already, you can find me on Twitter @TeeOffSports. There, I will provide a link to my pre-tournament model, a powerful and interactive data spreadsheet that allows user input to create custom golf rankings. That sheet is released every Monday, so be sure to check it out and construct your own numbers from my database of information.
U.S. Open Final Round
It's going to have to be a come-from-behind week for me to post a winning card at the U.S. Open because of the uneventful nature of my head-to-head wagers. Not many breaks have occurred in that market sector over three days, but as I always say, you only need one quality area of your card to salvage where you might be lacking elsewhere.
I am hoping that solution for me comes in the outright zone after successfully honing in on Wyndham Clark. I understand there are some questionable data returns for a golfer who is overachieving his ball-striking by nearly nine shots over three days (not ideal). Still, this board seems to take a turn for the worse quickly when you realize that most of the win equity sits in four spots with Clark, Fowler, Scheffler and McIlroy.
If pricing out the names where they should land, my numbers believe McIlroy is the deserving favorite because of his consistent output in ball striking (a total where he trails only Scottie Scheffler). I mentioned on a few Action Network podcasts earlier in the week that I wouldn't be surprised if McIlroy got himself into the final group and didn't close. It is hard to go back on that answer when we are only looking at about +200 for him to get the job done in round four, although the data is strongly pushing us in that direction.
Scheffler, on the other hand, brings in many of the high upside projections that you would want to see from three shots off the lead. I think the price is hard to stomach because books know everyone is going to want to back him, but I get the intrigue.
And then there's Fowler, who has been a steady producer near the top of the leaderboard throughout the event. I wouldn't discount the possibility that this is finally his moment. However, because all those answers land as close as they are for me, I don't see a point in shifting and will stand pat on my card and keep rolling with my 100/1 ticket on Wyndham Clark.
Do I believe he is the most likely winner? No. But I don't see a point in forcing action for the sake of saying I found a way to hit the winner. If Clark gets it done tomorrow, we will celebrate in style. Otherwise, I don't want to chase.
Pending Card Left:
Wyndham Clark 100/1 
Tom Kim -115 over Min Woo Lee (Full)
Wyndham Clark Top 40 +120
Andrew Putnam Top 40 +225 (Ties In Full)
Russell Henley Top 20 +333
Denny McCarthy 58th or Better
Russell Henley 57th or Better
How would you rate this article?
This site contains commercial content. We may be compensated for the links provided on this page. The content on this page is for informational purposes only. Action Network makes no representation or warranty as to the accuracy of the information given or the outcome of any game or event.