Tiger Woods Props to Bet at Torrey Pines
Credit:
© Kyle Terada-USA TODAY Sports
Few places on the PGA circuit have suited Tiger Woods quite like Torrey Pines.
Woods returns to the course where he's won eight times for his first start of 2018 this week at the Farmers Insurance Open.
Whenever Tiger tees it up, the books tend to give a much wider array of betting options than during the standard PGA tournament.
With over a dozen lines posted, I'll take a look at a few of my favorite props that I'll be targeting this week.
Tiger to make the cut (+110)
As I mentioned, Tiger has won here eight times. It's one of his favorite spots on tour. So it's hard to imagine that he'd be an underdog to make the cut here.
But those are the numbers that we've been given with the yes bet coming in at +110, while missing the cut sits at -140. All we have to go off is his exhibition run at the Hero World Challenge, but during those four days, Tiger looked healthy. If he is healthy this week, he'll be able to maneuver around this course without much difficulty in relation to the field. To back the no side here, you're betting that he's not anywhere near 100%. When Woods is playing well, he's nowhere near the cut line.
Tiger birdies over/under 6.5
If I think Tiger makes the cut, then I definitely think he'll make seven birdies in four rounds. The over is listed at -110, while the under is at -120.
It's no surprise that if the book thinks he's missing the cut, it will also be siding with the under here. Tiger missed the cut here last year by four shots while dealing with his back problems. But even during the worst performance of his career at Torrey Pines, Woods carded five birdies. If his "F" game is good enough for five, I think he's more than capable of reaching the over with even a below average showing.
Tiger to win in 2018
I'm not sure if Tiger will have the game to actually take down a golf tournament this year. But the prop Bet DSI has posted is one of the most mispriced lines I've ever seen. They've posted Tiger Woods at 17-1 to win any tournament on the PGA or European Tour in 2018. The "no" side comes in at -4000. The line is so mispriced that I needed to call their customer service to confirm what I was betting on and make sure it wasn't Tiger to win the FedEx Cup or Race to Dubai.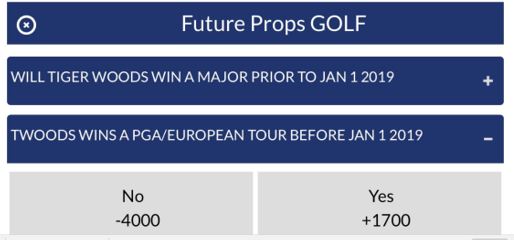 Bovada has the same bet up with No at -275 while Yes is +200. This gives bettors the rare chance to play both sides to reduce risk and maximize profit. The amounts are up to how each individual feels about Tiger. Bovada is taking a max bet of $250, and Bet DSI is at $100 for this props.
If you do max out on both sites, the $250 bet on Bovada will return $90.91 if he never wins. But you'd lose the $100 on Bet DSI. So you'd risk losing $9 if he doesn't win all year.
If Tiger wins, you'd get the $1,700 minus the $250 from Bovada and bring back $1,450.
In other words: At the current numbers, there's a risk of losing $9 to return $1,450 if both bets are maxed out. You either lose the $9 or win the $1,450.
We always talk about shopping around for the best lines in football or basketball to find an extra half point here or there in the spread. But with golf, the difference of opinion can be astronomical. Those differences provide a great chance to lock in a profit.
Other props
I won't be jumping in with anything else, but there are quite a few other Tiger options as well.
Tiger to win a major: Yes +3000; No -7000
Tiger Top 5 at the Farmers: Yes +750; No – 1000
Tiger to withdraw from the Farmers: Yes +450; No -700
Tiger to hit his first fairway: Yes -180; No +145
Tiger total bogeys at the Farmers: Over 7.5 -130; Under 7.5 +100
Tiger's highest score on any hole at the Farmers: Over 7 -130; Under 7 +100
Whether you think Tiger is ready to roll or he'll flame out, there's an option for everyone this week.
Joshua has spent the last five years writing about sports and the last 10 years betting them, mostly on golf. He's one of approximately five people who will watch the PGA over the NFL in November. Follow him on Twitter @JoshuaPerry22
Photo: © Kyle Terada-USA TODAY Sports