Sobel: Rory's Big Miss and Other Notes From Round 1 of the British Open
Credit:
Ian Rutherford-USA TODAY Sports. Pictured: Rory McIlroy during the first round of The British Open at Royal Portrush Golf Club.
J.B. Holmes is your leader through 18 holes at the 2019 British Open, while pre-tournament favorite, Rory McIlroy, got off to a rough start at Royal Portrush.
Jason Sobel analyzes an eventful first round at the Open Championship.
The Open Championship has returned to Northern Ireland this week for the first time since 1951 — and just in case anyone was skeptical about the venue, we were quickly introduced to a stage whose beauty is only overwhelmed by its brawn.
It took me until just 6 a.m. ET on Thursday to tweet the following about this brilliant track:
It's only Thursday morning and I'm already in love with Royal Portrush as a host course. The give and take, the push and pull. Good shots rewarded, poor shots punished to the fullest extent. This is going to be a fantastic theater for the next four days.

— Jason Sobel (@JasonSobelTAN) July 18, 2019
Well, just one small quibble. OK, maybe a big one.
Internal OB should never exist on a golf course that owns the property where it's marked (and isn't otherwise inhibited), let alone just right of the first fairway at a major championship. The setup at Royal Portrush actually includes a few instances of this, but it was the spot on No. 1 which drew the most attention Thursday, when native son Rory McIlroy was forced to reload after his opening tee ball.
I'll get to some of the pleasant surprises we witnessed during the day, but let's start with the tribulations of the pre-tournament favorite, whose week to remember immediately devolved into a day to forget.
---
Tiger Woods has often insisted he still gets first-tee jitters, that if a player feels some butterflies, then it just means he cares.
Rory McIlroy cares a lot.
It was shocking last year, when he started his closing march for the career grand slam by pushing and popping up his opening tee shot in the final round of the Masters.
That was nothing compared with the monstrosity that occurred Thursday morning. With The Open being held in Northern Ireland for the first time in 68 years, with the nation's hopes for a homegrown man to win the Claret Jug on their soil resting on his shoulders, McIlroy pushed an iron so far off the first tee that it landed out of bounds.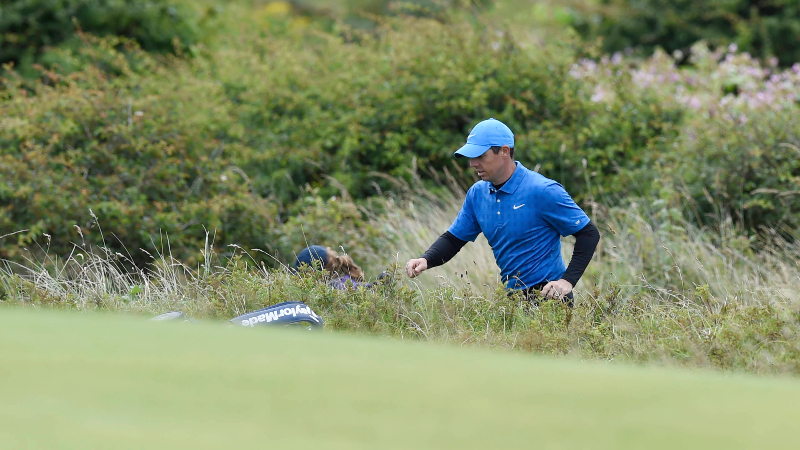 Apparently it's hard to swing with all those hopes on your shoulders.
Rory started with a quad, ended with a triple and in between missed a putt that would've been an easy gimme in any match. The end result was a 79 that was equal parts disappointing and shocking.
He'd waited a lifetime to play a major at home and the crowds had waited that long to watch him. It was all gone in a minute. Even if he claws back for a nice Friday score, it's impossible to envision him getting back into any sort of contention at this event, which is a shame — for him, and for the fans.
---
If you're scoring at home …
Rory, age 16: 61
Rory, age 30: 79
Imagine needing one stroke per hole in a match against your younger self.
---
It was a nightmare round for McIlroy, but major respect to him for not just agreeing to a post-round interview, but actually saying something honest and thoughtful, as he usually does.
"It was almost as if that first tee shot settled me down a little bit, like, 'Well, can't really start much worse than this, so we might as well keep the head down and keep going,'" he said. "I thought I showed some resilience in the middle of the round, made some birdies and got it back a little bit. But whenever you play your first and last holes in a combined 7-over-par, it's going to be a pretty tough day."
---
Players I find impossible to figure out, because they can play terrifically or terribly, independent of previous form: Louis Oosthuizen, Si Woo Kim, Scott Piercy.
And I'll throw J.B. Holmes right near the top of this list, too.
Here's what Holmes has done so far this year: Missed the cut in two of his first three starts, won at Riviera, missed the cut in seven of his next 12 without a top-20 finish, and now he's on top of the Open Championship leaderboard after a 5-under 66.
I mean, that kind of play deserves one of those Ron Burgundy memes.
"You ate the whole wheel of cheese? How'd you do that? I'm not even mad, that's amazing!"
---
Three months ago, Shane Lowry opened with a 78 at the Masters. He started slightly better at the PGA Championship, posting a 75, then matched that number in the first round of the U.S. Open.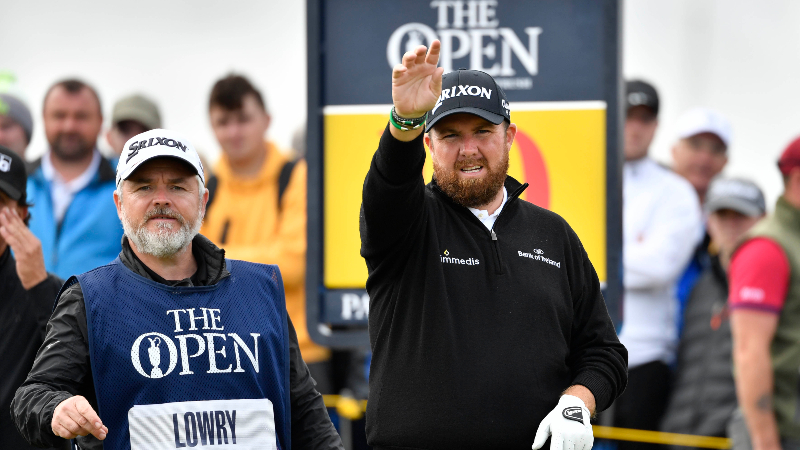 That's an opening scoring average of 76 at the three previous majors this year, which should have left zero expectations for him on Thursday.
So of course, he shot 4-under 67 to grab the early lead from the morning wave.
That's not quite Holmes-level head-scratching, but it's not too far off.
---
OK, one more mind-bender: Since winning the Masters two years ago, Sergio Garcia has played 10 majors. He's missed the cut seven times and has no top-20s.
There was little to suggest this week would be any different, especially after he opened with a 2-under 69 at last month's U.S. Open and admitted, "This game doesn't feel good at the moment. But it's as simple as that. We go through some of those stretches and, unfortunately, I'm picking the wrong part of the year to go through one of those."
Apparently, July is a much better part of the year for him than June.
Garcia posted a 3-under 68 on Thursday, which flies in the face of his current trend in majors, but does follow a long-standing trend at this specific tournament. He owns 10 career top-10s at this one, including two runner-up finishes.
In the classic case of "something's gotta give," I like Sergio to continue his strong links play as opposed to reverting to his recent major performance.
---
Jon Rahm has received some pointed criticism lately. Not for his on-course emotion or his inability to win a major (yet).
No, it was for his Wimbledon wardrobe.
Rahm said the outfit wasn't his choice, but I'll echo what I said on our Action Network podcast earlier this week: If you're the world's 139th-ranked golfer, you can't wear that to Wimbledon (or anywhere else). Those are superstar threads right there — and Rahm's game is good enough that he deserves to wear 'em.
He gave back a few late in the first round to close at 3-under 68, but he's certainly in the mix for this title. In fact, if you like his chances, those two late bogeys might've raised his odds enough to take a chance on him.
---
Tiger Woods and Phil Mickelson combined to take 154 swipes at the ball on Thursday.
That is … not good.
I don't have any doubt that either of these guys — especially Tiger — can still contend at a few future majors, but if we ever needed the ton-of-bricks realization that their primes have past and we're now living in the Rory-Koepka-DJ-etc. generation, this felt like one.
---
The line of the day? Unsurprisingly, it came from Graeme McDowell, the most quote-worthy man in golf.
The man who grew up playing Royal Portrush was cruising along until late in his round, making bogeys on 15 and 17 that still kept him at 1-under.
He sprayed his drive on the final hole, though, and just after looking for it for the allotted three-minute interval, the ball was found — too late.
When asked what he thought of the recent change that limits the amount of time to look for a lost ball from five minutes to three, McDowell said, "I thought it was a hell of a rule until about 12 minutes ago."
How would you rate this article?