Sobel: Burning Questions After Gary Woodland's U.S. Open Win
Credit:
Michael Madrid-USA TODAY Sports. Pictured: Gary Woodland kisses with the championship trophy after winning the 2019 U.S. Open golf tournament at Pebble Beach Golf Links.
From Gary Woodland's rise to Brooks Koepka falling just short, the final round of the U.S. Open had plenty to offer.
Jason Sobel has eight important questions following Woodland's Father's Day victory.
PEBBLE BEACH, Calif. — What a week.
Gary Woodland wins, Brooks Koepka struts and USGA officials can take the front exit of 17-Mile Drive with their heads held high after a well-produced U.S. Open.
Let's get right to some burning questions following a really intriguing tournament.
What's the ceiling for Gary Woodland?
While searching for something else earlier this week, I actually came across a Q&A piece from 2014 very similar to the one you're reading right now in which I predicted Woodland would have a big year and make the Ryder Cup team. That never happened, but he should be a near-lock for this year's Presidents Cup squad, his first time representing the U.S. in a team event.
I think he's the kind of player who can make each of the next handful of American rosters and challenge in more majors. But let's remember: He's 35, not 25.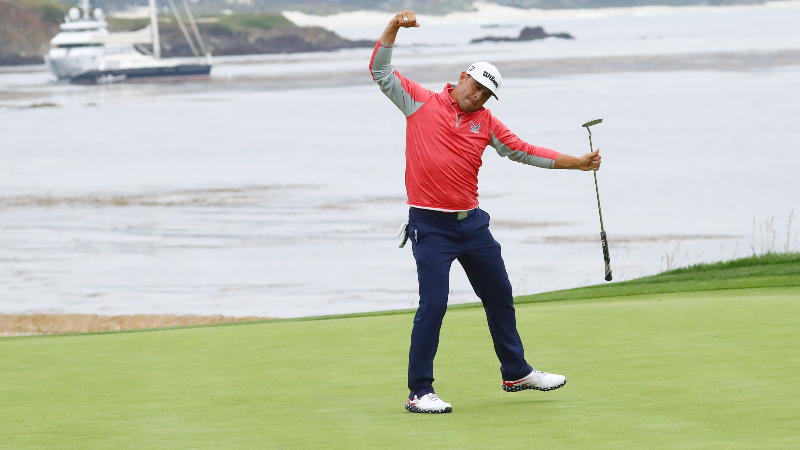 Not to rain on his victory parade, but any notion that this win will somehow open the floodgates is wishful thinking, tinged with a heaping dose of recency bias.
He certainly has the talent to win another one — I've always thought of him as a PGA Championship type of guy, which was the only major he'd finished top-10 before this week — but let's not expect a Koepka-like run anytime soon.
Was there a secret formula for Woodland?
Well, maybe … but it wasn't exactly a secret. Last year, as part of my series on favorite betting stories from PGA Tour players, Woodland told me about the buddies' trip he took to Pebble Beach, and how he had to take it easy on a couple of pals, so he didn't take $32,000 off of 'em.
After his win Sunday night, I asked Woodland about this trip and whether it helped him this week.
"It was three years ago, I believe," he said. "It was some insurance guys. Where I come from, there's a lot of insurance companies. They were coming out on a trip and I tagged along with them. They had clients here and I played some golf with their clients. When we played Pebble, it was three of my best friends and we went out and had a lot of fun. They played scramble, me and my other buddy [played] shamble. I hit driver on almost every hole, which was different, but I had a lot of fun, put it that way. … It definitely helped me be more comfortable. I tried to put myself back into that situation a little bit to get out of the moment, I guess, the big picture, what was going on this week."
Did he have any other specific inspiration?
Hey, glad you asked. Immediately after his post-round press conference, Woodland got a chance to speak with Amy Bockerstette, who'd been watching the entire final round from Ponte Vedra Beach.
As you'll recall, Amy played the 16th hole at the Waste Management Phoenix Open with Woodland during a practice round. She got up and down from a greenside bunker, and the ensuing video immediately went viral, easily the best feel-good moment of the year in golf.
What you might not know is that Gary and Amy have stayed in contact ever since. She sent him a get-well video when he withdrew from the Wells Fargo Championship with an illness and another singing happy birthday to him when he turned 35.
The two caught up over the phone after his victory on Sunday:
How will Brooks Koepka ever recover from this loss?
Yes, that's a tongue-in-cheek question, though the very serious answer is that he'll go to the gym tomorrow morning, then the range and work even harder on his game moving forward.
If you're keeping score, he now owns three wins and two runners-up in his last six major starts, which is, well, and I hate these comparisons, but, you know, it's just … Tiger-esque.
There, I said it.
If there's a next step for Koepka, it could be that he starts winning non-major events on a regular basis. We all know he enjoys playing with a chip on his shoulder. There's a narrative that he can't win the other ones, which is silly, of course.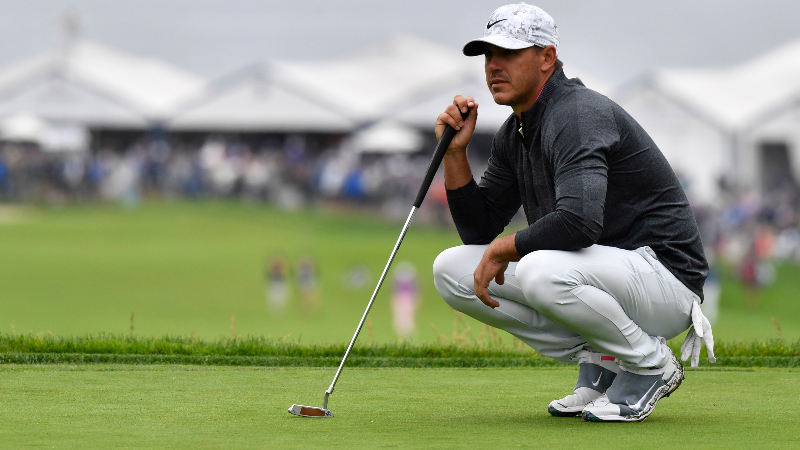 But whenever he's challenged on something, he delivers. If he wants to prove people wrong, he can start this week in Hartford.
Who is the favorite for next month's Open Championship?
Prior to Sunday evening, that honor belonged to Rory McIlroy by the slimmest of margins, as he'll return home for the tourney at Royal Portrush.
But after the final round — surprise, surprise — the market has corrected to show Koepka is indeed now the favorite.
As well he should be. The truth is, until he shows some cracks in the armor, he should be the favorite at every major championship moving forward, until the time enough wagers on another player moves the numbers.
Who needs a major the most?
Let's face it: No world-class golfer "needs" a major. It's not like they'll be gasping for air if they don't claim one; they'll still wake up every morning curled up on a huge pile of money. (I presume.)
But if we arrange this question to ask which elite-level player would most benefit from a major soon, I think there are some obvious candidates.
Rory McIlroy could use one to alleviate the five-year drought he's endured. Jordan Spieth could probably use one, but I think he'd take a win anywhere right now. Xander Schauffele probably deserves one the most, consistently playing his best golf in the big ones.
But to me, this one is a no-brainer: Rickie Fowler is still searching for that breakthrough. He's now played 37 career majors and owns 10 top-10 finishes, including three runners-up.
He gets asked about it literally all the time, and gets criticized for not winning one literally all the time. I'm not sure if his jump from a first-round 66 to a second-round 77 was caused by any internal pressure, but it's got to be weighing on him now.
Don't be surprised if he makes a strong run next month — and I still think it's inevitable that he'll get one at some point in the not-too-distant future.
Was this U.S. Open setup too easy?
People have already looked at all the red numbers on the leaderboard and simply come to this conclusion. I'll admit it: The course was a little soft and the rough wasn't nearly as gnarly as I remember it in the two previous U.S. Opens I've covered here.
Really, though, the USGA just mirrored the annual strategy of the R&A. They set the course up they wanted they wanted it to play, then let weather conditions dictate the scoring.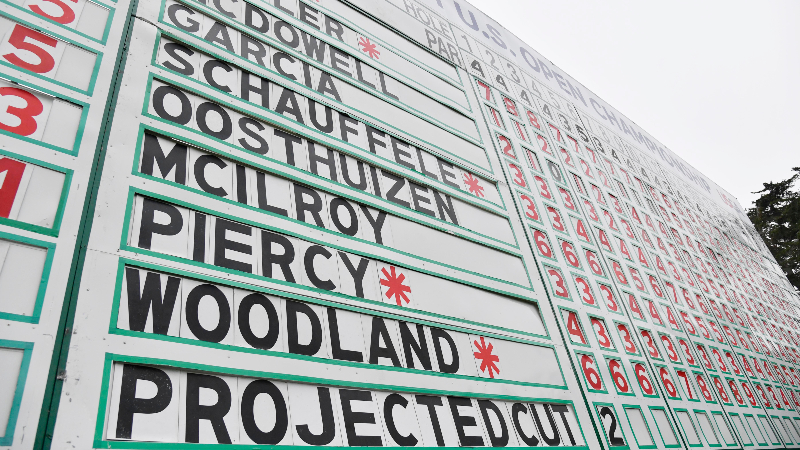 Think about it this way: If the rough was brutal and the greens were Shinnecock-slick, then the wind started blowing 30 mph off the Pacific, the prevailing narrative would've been that the USGA ruined Pebble Beach.
After all the criticism they've had recently, they couldn't afford this. So they erred on the side of caution and what we witnessed was a fair course that rewarded good shots and penalized bad ones.
As for all those red numbers, if you don't like seeing 'em at a U.S. Open, here's a fun trick: Just consider two of those three par-5 holes to be par-4s instead. Call the course a par-69.
In this scenario, Woodland would've won at 5-under, Koepka in second at 2-under and nobody else under par. If that makes you feel better about this setup, then go for it. It's all just a mind trick anyway.
What should we expect from Viktor Hovland?
By the time you're reading this, the kid who was low-amateur at both the Masters and the U.S. Open, finishing T-12 on Sunday, will have turned professional, making his debut this week at the Travelers Championship.
By all accounts, he's going to be very rich, very soon. I can't imagine it's going to take him very long to start climbing leaderboards in PGA Tour events.
That said, he's going to have plenty of company, too.
Hovland's teammate at Oklahoma State, Matthew Wolff, will also turn pro and play in Hartford this week, as will Justin Suh and Collin Morikawa, each of whom turned pro a few weeks ago. There's a lot of big-time talent about to get some at-bats with the big boys.
Right now, Hovland looks extremely ready. But don't be surprised if we're talking about one of these other up-and-coming studs pretty soon, as well.
How would you rate this article?