Ryder Cup Form Rankings: How All 24 Golfers Are Playing Entering Event
Credit:
Kyle Terada-USA TODAY Sports. Pictured: Rory McIlroy and Tiger Woods
The 2018 Ryder Cup takes place Sept. 28-30 in Paris.
We ranked all 24 competing players based on their recent form.
Tiger Woods is the top-ranked player for the U.S., while Justin Rose leads Team Europe.
SAINT-QUENTIN-EN-YVELINES, France — What a short memory span we collectively have.
Two years ago, Jordan Spieth and Patrick Reed appeared eminently pedestrian at the Tour Championship, finishing T-17 and T-24, respectively, then teamed to earn 2.5 points as mainstays in all four partnered sessions at the Ryder Cup.
Rory McIlroy won that season finale, but lost in his first match and his last one, the latter a pivotal decision against Reed when he admittedly played terrifically at times but still couldn't secure a point.
---
>> Sign up for The Action Network's daily newsletter to get the smartest conversation delivered into your inbox each morning.
---
Brandt Snedeker was outside the top half of finishers at that preceding tourney, then posted an unblemished 3-0-0 record.
Phil Mickelson was similarly well off the pace in Atlanta, then went 2-1-1, including an epic match against Sergio Garcia that ended in a halve.
Matthew Fitzpatrick finished top-10 in three of four starts before the Ryder Cup and failed to post a single point.
Get the message yet?
On the heels of this past week's Tour Championship, with the Ryder Cup upcoming, many observers have attempted to translate results at East Lake into what could potentially happen at Le Golf National.
They'll insist that Tiger Woods is ready to dominate for the U.S. team, while Reed, Bubba Watson and Mickelson — languishing in the final three spots in the field — are destined for failure.
They'll maintain that McIlroy and Justin Rose are clearly in form, but when the pressure is greatest, as it was Sunday, they'll falter under that spotlight.
Recent history, though, suggests there's little correlation between performances at these two events.
Even so, when trying to handicap specific players for this week's competition, we can examine past Ryder Cup performances, previous results (if applicable) at Le Golf National and, yes, recent form.
The last of those certainly isn't a make-or-break going into the event, but without much else to analyze, it's worth taking a look at where the dozen players on each team rank in terms of current form.
TEAM USA 
1. Tiger Woods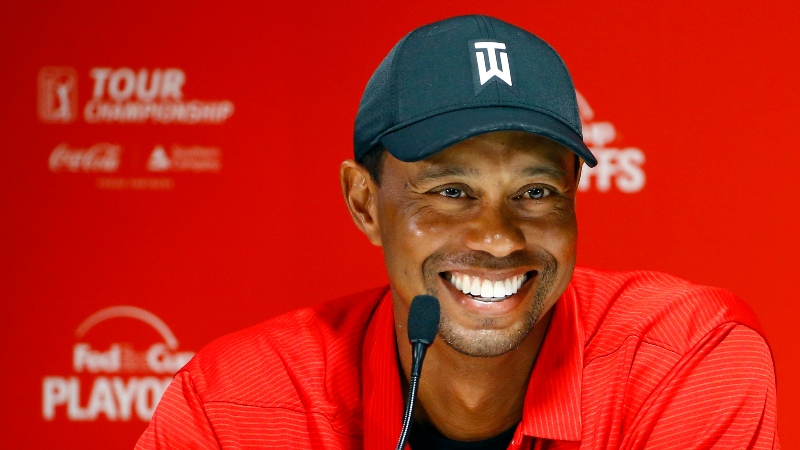 What, like you thought he wouldn't actually top this list? Not only is Tiger in form after his first win in five years, he seems to be gaining momentum as the long season wears on. Can't be a bad sign entering this week.
2. Justin Thomas
It's been a whole month and a half since his last win, but JT hasn't exactly been struggling since then, with four finishes of 12th or better in his past five starts.
3. Tony Finau
What a FedEx Cup playoff run for Finau, who looked a bit gassed at the finale, but still strung together three really strong tourneys before that.
4. Bryson DeChambeau
He won the first two playoff events, then avenged some poor early week play this past week and assuaged any fears about his game by posting scores of 66-67 on the weekend.
5. Dustin Johnson
Is DJ ever out of form? He might not be playing his best golf as of late, but it's certainly far from poor right now. And really, his "poor" is better than most others' "good" anyway.
6. Webb Simpson
A win at The Players and top-20 finishes at the four majors proved this was a different Simpson than ever before; top-six results in three of his past five starts don't hurt, either.
7. Rickie Fowler
Just a few weeks ago, he would've been considered a question mark after missing the first two playoff events with a partially torn oblique muscle, but two strong performances have shown he's healthy again.
8. Brooks Koepka
If there's anyone averse to falling into the form trap, it's Koepka. He has won three majors in the past two years without ever being among the favorites at any of 'em.
9. Patrick Reed
Since winning the Masters, it's been a good-but-not-great year for Reed, who finished 28th at the Tour Championship this past week.
10. Jordan Spieth
He's the only player on the U.S. roster who failed to make the season-ender. But that might turn out to be a blessing in disguise for Spieth, who undoubtedly spent the week prepping hard for the Ryder Cup.
11. Bubba Watson
If it's not Augusta National or Riviera or TPC River Highlands, Bubba has struggled more often than not. A return to France — out of his comfort zone and where he once antagonized the local flavor — could spell trouble.
12. Phil Mickelson
Sure, he finished dead last at The Tour Championship, right on the heels of being close to dead last at the BMW Championship, but Lefty will up the motivational level and effort as he tries to help the U.S. team win on European soil for the first time in his playing tenure.
TEAM EUROPE
1. Justin Rose
No, he didn't play his best golf down the stretch in his past two starts, but Rose rose to No. 1 in the world and became a FedEx Cup champion. He won't be an easy out for the Americans this week.
2. Rory McIlroy
Maybe he faded under the glare of a spotlight in the same final pairing with Tiger on Sunday afternoon. Maybe that was just a coincidence. Like he did in so many other events this year, he showed more positives than negatives but still left plenty of room for improvement.
3. Tommy Fleetwood
With top-25 finishes in seven of his past eight starts, Fleetwood will be a rookie on this team in name only. In reality, he's already one of the most talented players on the roster.
4. Jon Rahm
Ditto those Fleetwood comments. Rahm has been quiet for most of this summer, but recent results show an ascending performance level, going from MC to 43rd to 24th to 11th in his past four starts.
5. Francesco Molinari
He's cooled off since those three wins and two runners-up of midsummer, but the sweet-swinging Italian is still posting some solid results, and this host venue should seemingly play to his strengths.
6. Paul Casey
He remains one of the world's most consistent performers, rarely great but just as infrequently below average. Fresh off a T-11 at the Tour Championship, he should be in his usual solid form entering this week.
7. Thorbjorn Olesen
Strong recent run of form is only downgraded a bit because it came against less-elite fields in European Tour events, but it was a good idea to get in one final start before this week, as he finished T-20 in Portugal.
8. Tyrrell Hatton
In his past five starts, all against strong fields, Hatton never finished better than 10th and never finished worse than 29th. That's not quite as good as his run at the beginning of the year, but obviously much improved from a string of MC in the early part of the summer.
9. Alex Noren
Course fit is an obvious advantage for Noren, who won on this course nearly three months ago. Since then, though, the usually consistent player hasn't finished better than T-17 in a half-dozen starts.
10. Henrik Stenson
Playing through injury, the big Swede has struggled to regain the form that led him to being the most accurate driver and best ball-striker for much of the PGA Tour season.
11. Ian Poulter
His past four results have been purely mediocre, but Poulter is another player for whom form is but a myth before the Ryder Cup, where he'll play with more inspiration and passion than he had at any of those individual events.
12. Sergio Garcia
He's 12th on this list only because there are only 12 players on the roster. It's been a putrid year by Sergio's standards, as he missed the cut in all four majors. If there's a silver lining, though, it's a T-7 finish in Portugal this past weekend – his best finish anywhere in the world in more than six months.
How would you rate this article?