Tiger vs. Phil II: PGA TOUR Veteran Jamie Lovemark Breaks Down All 18 Holes at Medalist Golf Club
Credit:
Brian Rothmuller/Icon Sportswire. Pictured: Jamie Lovemark
By Jamie Lovemark
PGA TOUR veteran Jamie Lovemark estimates he's played Medalist Golf Club, host venue for this weekend's Champions for Charity match, at least 15 times over the years. We asked him for a hole-by-hole breakdown of the course and he delivered, eschewing a phone call in favor of writing his own analysis.
Even though he added the postscript, "Please God, edit this if you use it," we can honestly say Lovemark didn't need much editing. These are his thoughts on all 18 holes we'll see this Sunday.
---
Tiger-Phil II Odds: Tiger Woods & Peyton Manning vs. Phil Mickelson & Tom Brady
Confused by these odds? Learn more here.
**Link your PointsBet and Action accounts so your Tiger-Phil bets automatically sync over to the app.
---
No. 1: Par-4
The first hole is a simple opening hole that will play downwind … dead straight par-4 that requires a fairway wood or long-iron off the tee, then a 9-iron or wedge to a relatively flat green.
No. 2: Par-4
Pretty strong dogleg right … the ideal tee shot fades off a small pot bunker at the 300 yard mark … the ball will land in a blind area, so the tee shot isn't super comfortable … look for a driver or 3-wood to start, followed by a mid-iron into a flat green.
No. 3: Par-5
The first par-5 on the course is quite straight, but a fade off the tee suits the visual … palm meadows line the left side, so don't be surprised to see a lost ball if someone misses the fairway to the left … there's a long bunker off the side of the fairway … finding it isn't terrible, but it'll cost a chance to go for the green in two … this green is the smallest on the course, so it'll be hard to keep it on the surface in two, but a miss left is an easier chip than from the bunker to the right.
No. 4: Par-3
A great mid-range par-3 with severe fall-offs on both sides … the wind will be straight across from right to left, so it'll be important to find the right distance into the green with a low point in the middle.
No. 5: Par-4
This is a cool dogleg left which favors a tee shot around 280 yards, unless a player wants to take driver over the corner … doing so, though, doesn't gain much, since the hole isn't that long … look for a 3-wood off the tee, then a wedge to a green that's narrow with the front half quite sloped.
No. 6: Par-4
Long slight dogleg that's very wide off the tee and will play downwind … guys will be left with a mid-iron into a simple green … par is not a bad score here.
No. 7: Par-5
A long iron into this par 5 is doable with a good drive between two long fairway bunkers … they're shallow, though, so it's not an awful place to be … the wind will be straight left to right as they're hitting into the green, which is protected by two small bunkers … this is definitely a birdie hole.
No. 8: Par-3
An awesome long par-3 that'll play straight into the wind … a long-iron will have to miss bunkers and water to the right … left isn't an easy chip with the green running away from the player who's playing from below the level of the surface … it's a narrow green, especially being into the wind with a long-iron.
---
Best Tiger-Phil Promos!
---
No. 9: Par-4
The last hole on the front-nine will play straight into the wind … this is a slight dogleg to the left … the fairway is quite generous, but if you do miss it there's a chance the ball might be lost … a mid- to long-iron will be played into a green that is subtle, but protected by a bunker to the right … par is a good score.
No. 10: Par-4
A cool par 4 that will play into a right-to-left wind … guys can hit anything between driver and long-iron, depending how aggressive they want to be … a miss to the right with driver will be in the hazard; a miss to the left with driver will most likely be in the palm meadows … hitting the fairway is vital, because even with long-iron it'll be a 9-iron or wedge into a sectioned-off green … there should be some good looks at birdies.
No. 11: Par-4
A great risk-reward short par-4 that plays 300 yards to the front (from the tips), but it's a blind shot over trees and palm meadows … left is dangerous, as a drive might clip a tree and turn into a lost ball … a small miss right is fine, leaving a long bunker shot to a narrow green, but a bigger miss right will find the pine straw with little chance for birdie … players can also hit a long-iron to the right, then sand wedge if desired.
No. 12: Par-3
A mid-iron par-3 with the green sitting diagonal left to right to the players … a front pin obviously plays shorter, but the target is smaller and requires a better shot … any pin further back, players can feed it in via slope to the left with a fading ball flight.
No. 13: Par-5
A long par-5 that starts to turn right at about 310 yards … if there's any chance to reach the green in two, the drive needs to be pounded down the ride side … miss it to the right and it's palm meadows and trees … if players get a chance to go for it in two, they best avoid the long greenside bunker, as it could leave a 50-yard bunker shot … the green is sloped, but they should have good looks at birdie here.
No. 14: Par-4
A really fun dogleg left that is only around 290 yards to the front of the green … however, the tee shot will have wind in from the left and water creeps left of the green, so if a ball is moving left it'll be a long carry … a bail-out right of the green is a fine miss that should leave a doable pitch, depending on pin location … they can also play a long-iron to the right and a sand wedge into the green … a back pin would make the wedge shot tougher than expected, as it'll be straight into the wind with a slope short of the hole.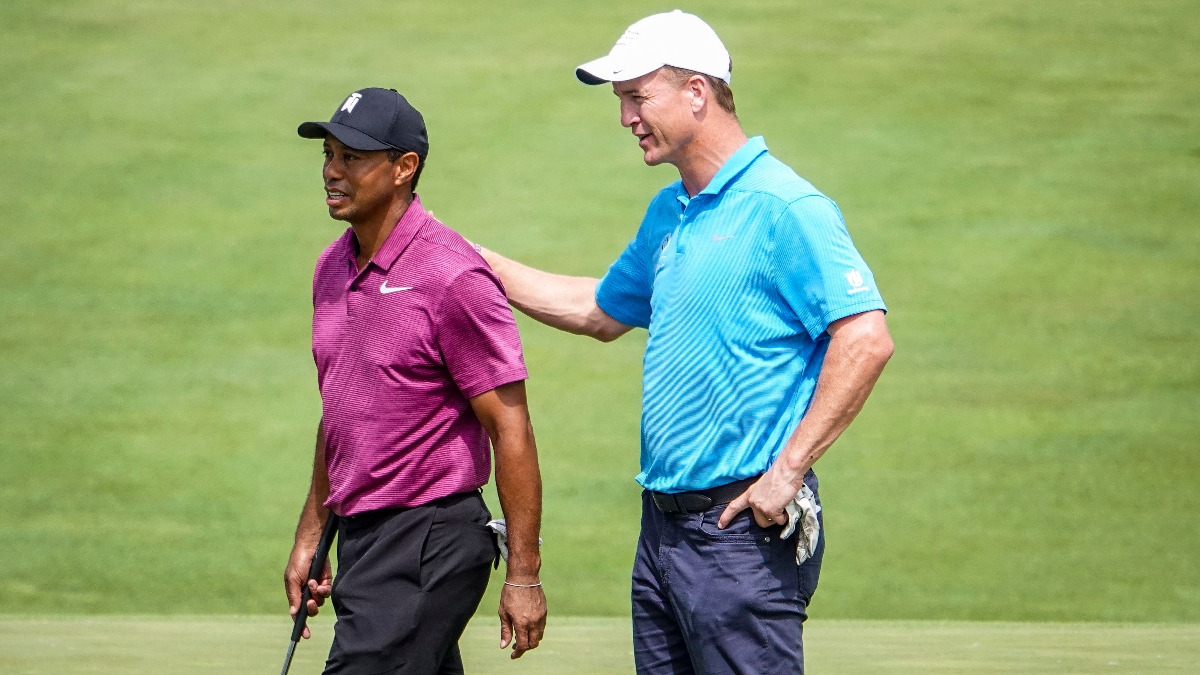 No. 15: Par-4
A great, long par-4 that turns left off the tee, but the wind should help turn the ball along the shape of the hole … water comes into play left off the tee with a decently big miss, but look for guys to be hitting a mid-iron into a pretty flat green … par is a good score here.
No. 16: Par-3
There are tons of tee options here, all the way up to 240 yards … I'd expect a hole that'll be somewhere in the 200 range … straight downwind will make it play shorter, but certain sections are blind, so it'll be tough to feel it out … water short left shouldn't be in play, but a long bunker left could be.
No. 17: Par-4
A tee shot where a lot could happen, depending how far back they play it … the goal is to keep it short of the large bunker at the dogleg right, so they can go for the green in two … if the tee is moved up, they'll have to pinch it between the bunker and the water, which is about 20 yards wide … the hazard to the right is definitely in play, but if they keep it right it'll make the blind second shot much shorter … this second shot is tricky, because you can't see the surface … sneak one going right with the wind off the left and the ball could bound into the water, but if they end up short left they'll have a brutal chip if the pin is anywhere left … there's a high chance they'll be chipping their third shots on this hole.
No. 18: Par-5
A really tough finishing hole that has a tee at 520 yards if they choose to use it … there's a touch of a dogleg right, but the wind will be pumping left to right … there's also a steep hill down the left side of the fairway … guys will be trying to have it start on that hill and fall to the middle … there's mostly water to the right with a few small bunkers … a front-left pin could create a lot of action with a slope behind it being usable … back pins aren't super hard, but the crosswinds make it difficult to get the correct distance, especially with mid-irons, which they may have depending on tee.
How would you rate this article?