How Good of Golfers Are Tom Brady & Peyton Manning? TOUR Pros Handicap the Former NFLers in Tiger vs. Phil II
Credit:
Michael Reaves, Getty Images. Pictured: Peyton Manning
Earlier this year, on an episode of the ESPN+ show "Peyton's Places," host Peyton Manning and his guest Tom Brady facetiously attempted to gain entrance into Jim Nantz's estate for the sole purpose of playing his personal replica of Pebble Beach's famed seventh hole, only to be denied by the owner. "Take your One Shining Moment, Jim," Manning tells him, "and shove it up your Amen Corner." The two quarterbacks were soon shown gaining access through the entrance by correctly guessing the code. (It was, "Hello, friends." Of course.)
One month later, at a little nearby golf tournament called the AT&T Pebble Beach Pro-Am, Manning nearly holed an approach shot for eagle. The video quickly showed up on social media and one tweeter replied that Brady would've made it. Brady himself doubted it, though, with tongue fully planted in cheek. "Peyton is the better golfer right now," he tweeted. "He's had much more practice these past few years."
This should serve as valuable information if we're seeking insight into what the banter might resemble for Sunday afternoon's "Champions for Charity" match, when Manning will pair with Tiger Woods against Brady and Phil Mickelson at Medalist GC.
If we're trying to parse how the quarterbacks might perform, though, we'll need to dig a little deeper.
---
Best Tiger-Phil Promos!
---
Tom Brady's Golf Game
Perhaps no story better illustrates Brady's hyper-competitive nature and will to win than this one, from that same Pebble Beach Pro-Am six years ago, his lone appearance in the star-studded field.
Fresh off a 26-16 loss in the AFC Championship game to the Denver Broncos – ironically led at the time by Manning – the then-New England Patriots quarterback had exactly 18 days to prepare for his 11:22 a.m. opening round tee time at Spyglass, and according to his partner that week, he wasn't exactly spending that entire time working on his wedge game.
"He hadn't even played coming into it," recalled Ricky Barnes, who earned the pairing in part because his father, Bruce, had once been a punter for the Patriots. "On the first tee at Spyglass, our first day, he was like, 'What [handicap] did they give me?' I told him, '9.' He goes, 'Oh, I like my odds.'"
We can make some obvious errors in judgment while trying to assess the golf game of anyone based on rounds from a half-dozen years ago, let alone someone fresh off the rigors of an NFL season. But here's what we do know: Brady currently plays to an 8.1 index at renowned courses Riviera CC and The Country Club, each of which has held its share of historic golf moments, and recently joined Seminole GC, which hosted last week's TaylorMade Driving Relief skins match.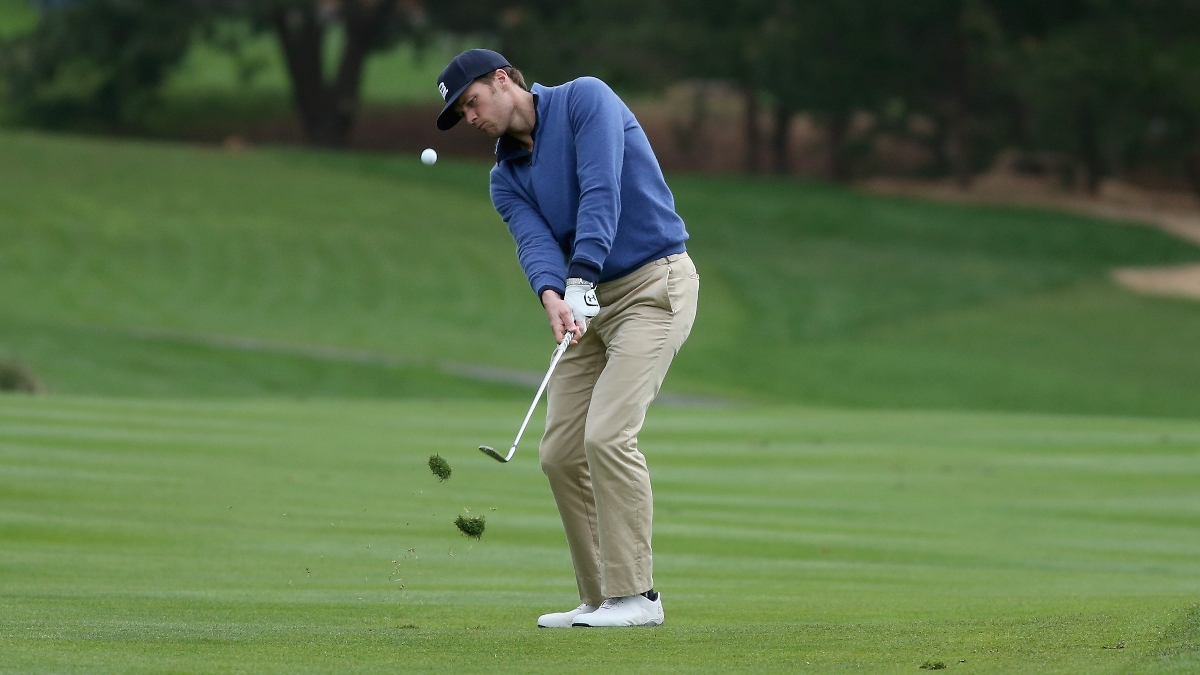 His most recent 20 listed scores, beginning one month after that Pebble Beach Pro-Am in 2014 and concluding with a single round last month, range from 82 through 106 – that last total on a course with a 69.3 rating, no less, a score of 25 strokes above his handicap average.
Listen to Barnes, though, and he'll insist the new Tampa Bay Buccaneers signal-caller is no reverse sandbagger with a vanity handicap.
"I would say he's more like a 4-6 [handicap] once he gets going," said Barnes. "You know when you play with a guy and think, if they were able to put all their focus in, they could grind down and get to a 1-2 handicap? That's him – a really athletic guy with an athletic swing. You point to a spot to hit it and he just trusts you."
Barnes has an interesting theory for why Brady's soft touch around the greens exists. "Guys who are quarterbacks, they have the feel, the hands, they're used to throwing touch passes and outs and slants. On pitch shots and chips, that's where they're pretty crafty."
If we're grading his on-course qualities, though, Brady's greatest asset is an intangible one – especially in partnered matches.
"He and I were a team," Barnes recalled. "I made a birdie at Monterey our second day, then he made a net birdie and I made another one for three in a row. He came over and gave me a pretty solid high-five. I was like, ok, we're competing now. The third day, playing Pebble, you could see all those competitive instincts kick in."
---
Tiger-Phil II Odds: Tiger Woods & Peyton Manning vs. Phil Mickelson & Tom Brady
Confused by these odds? Learn more here.
**Link your PointsBet and Action accounts so your Tiger-Phil bets automatically sync over to the app.
---
Peyton Manning's Golf Game
There is a decidedly more comprehensive body of work for Manning's golf game, at least when it comes to competing in the public eye. He played alongside Tiger Woods during the Wednesday pro-am for the 2005 Bay Hill Invitational. They paired again four years later at the Quail Hollow Championship pro-am. Then again during each of the last two years prior to the Memorial Tournament.
Assessing his own game after the most recent of those appearances, Manning admitted, "I hit some bad shots today," before also telling a reporter, "I did birdie 18, I'm glad you saw that, so that's all you really need to know. And I hit a good drive on 1. What happened between 1 and [18], it's really not important."
For a quarterback who has enjoyed a post-career surge as a self-effacing pitchman, this analysis is completely on-brand. Others who have teed it up with him, though – including his partner for this week's match – maintain that he owns plenty of game.
"He's gotten so much better," Woods said last year. "When we first played, he was just kind of starting out in the game. But now that he's retired, he can play a lot more golf. That's been pretty cool for me to be able to play with him throughout the years. To know what he's gone through [physically] and see him get ready for the season and what he's been able to accomplish after all those surgeries. To walk around greatness like this, it's always fun."
Even if Manning's game has improved, it still might never be as impressive as the list of clubs to which he belongs.
He (somewhat) famously gained membership into Augusta National three years ago and has competed on multiple occasions in the club's Jamboree event with another member – some guy by the name of Jack Nicklaus. ("Peyton is probably a 5 or a 6 [handicap]," the six-time Masters champion said recently. "We played in it, I think, twice and we had a chance both times. I choked coming home.") He also belongs to Castle Pines GC and Cherry Hills CC (both in Colorado), The Honors Club (Tennessee) and is an investor in Sweetens Cove, a nine-hole cult favorite of many golf purists.
Listed as a 6.4 index, Manning's last 20 scores are less dispersed than those of Brady, both in totals and duration, with scores ranging from 78 to 88 in the five-month period between last May and September.
"He's gone through some pretty serious injuries and operations and surgeries," Luke Donald, who partnered with Manning at this year's Pebble Beach Pro-Am, said on this week's Action Network Podcast. "I think that's limited his athletic ability a little bit, but you can still tell how competitive he is. When he had a chance to make a net-birdie or a net-eagle, he was grinding. You just never lose that. People who have been at the top of their game so competitive; they want to win, they want to excel."
In fact, Donald, a former No. 1-ranked player in the world, is probably one of the few PGA Tour pros who's played with both quarterbacks, as he and Keegan Bradley were defeated a few years ago in a match against Brady and Michael Jordan.
All of which gives him a unique perspective on which QB holds the advantage in specific areas of the game.
"I think Tom probably has the advantage in terms of length off the tee. Peyton pretty much hits one shot; he hits a draw, though occasionally he'll overreact and hit a push to the right. He's going to be more consistent off the tee; I think Tom maybe will have a bit more of a two-way miss," Donald surmised. "Peyton has a lot of shut-face taking it back and that can be problematic in the short game, so I'd probably give the edge to Tom on the short game. He seemed to have a little bit more of a neutral path and could hit that soft pitch shot a bit nicer."
On the eve of Manning and Brady competing under the brightest spotlight of their amateur golf careers, we do know one thing: This one should be more intriguing than previous matches for the sole reason that a couple of mid-single-digit handicappers could each potentially offer a great unknown on the course.
Listen to the personal accounts and pore through their stats, though, and maybe the golf games of these two quarterbacks aren't so unknown after all. You've just got to know whom to ask.
How would you rate this article?
This site contains commercial content. We may be compensated for the links provided on this page. The content on this page is for informational purposes only. Action Network makes no representation or warranty as to the accuracy of the information given or the outcome of any game or event.