Zerillo: A 500-1 Longshot to Consider Buying After MLB Trade Deadline
Credit:
Quinn Harris, USA Today Sports. Pictured: Marcus Stroman
After acquiring Zack Greinke, the Houston Astros are clear favorites to win the 2019 World Series.
Sean Zerillo breaks down the moves that were made and evaluates the futures market.
He points to three teams that could have value, including a 500-1 longshot.
In March, when MLB and the MLBPA announced a new, unitary July 31 trade deadline, eliminating August waiver trades, it was in an effort to increase fairness — with the expectation that it would force teams to take a more definitive stance with regards to their immediate future with one third of the season still left to play.
If you remember, Josh Donaldson and Andrew McCutchen were traded to the Indians and Yankees respectively on August 31 last season.
Right until 4:00 p.m. ET on Wednesday, the 2019 trading season had been a bit of a dud — with the Marcus Stroman deal and the Trevor Bauer / Yasiel Puig exchanges proving to be the only significant roster moves; but then a flurry of news came across the wire after the clock had run out – with reports that Nick Castellanos, Zack Greinke and others would be changing teams.
In all, the clubs made 20 exchanges involving MLB players on July 31, but which teams correctly bought to increase their World Series chances, and which teams should have been more aggressive in trying to sell assets?
Deciding whether to buy or sell isn't a function of proximity to the playoff race. For teams who have a high probability of winning their division and reaching the Divisional Series ("LDS"), buying should be an obvious move.
These teams have mostly solidified their World Series odds by positioning themselves to get into the crapshoot that is the MLB playoffs, and they're the ones likeliest to make use of any crucial deadline in additions in more than just a Wild Card game.
I took a composite of probabilities from various industry resources for the teams who had more than a 1.5% chance to either make the playoffs or win the World Series :
The Astros, Braves, Dodgers, Twins and Yankees are each very likely to win their divisions or to make the Wild Card Game if they don't, and all should have been adding as many pieces as possible.
The Athletics, Indians, Rays and Red Sox are essentially duking it out for the two AL wild-card spots, with Cleveland still having an outside chance of taking home a divisional crown.
The Brewers, Cardinals and Cubs are each within striking distance in the NL Central — easily baseball's best divisional race this season — and all should be pursuing a chance to capture a divisional crown and host a playoff series; with the runner-up likely to reach the Wild Card Game.
The Nationals and Phillies still have small divisional hopes in the NL East, but they'll also be duking it out with the third NL Central team, and longer shots like the Diamondbacks, Giants, Mets, and Reds the rest of the way.
Those latter four teams were all caught in no man's land with regards to buying or selling, and all had an interesting mix of trades.
Sellers That Failed to Act
You'll notice that the Los Angeles Angels and Texas Rangers didn't make the 1.5% playoff or World Series probability cut-off in the AL — as neither has a chance to win the AL West and either one would have to leapfrog too many teams in order to capture a Wild Card.
In the NL, the Padres, Pirates and Rockies barely missed the 1.5% cut, and those fan bases can start looking ahead to the offseason.
Along with those five teams, the Blue Jays, Marlins, Mariners, Orioles, Royals, Tigers and White Sox should have been the clear sellers.
Some pitchers from this group of teams that I was surprised to see not traded on Wednesday, included Matthew Boyd (Detroit), Alex Colome (White Sox), Mychal Givens (Baltimore), Ian Kennedy (Kansas City), Mike Minor (Texas) and Felipe Vazquez (Pittsburgh).
Save for the Braves outfield, most of the contenders are set offensively, and most were looking for starting or relief pitching prior to the deadline.
It's a surprise that Texas held onto Minor, but perhaps teams were scared off by his 5.15 FIP and 4.93 xFIP since the beginning of June.
As an organization, I also would have been looking to sell high on Lance Lynn, who has been terrific this season (2.94 FIP) but is a pitcher in his mid-thirties who could regress or get injured at any moment.
Minor is signed through next season, and Lynn is signed through 2021, but I cannot imagine the Rangers being a contender before that time – and they should have continued to add to the rebuild.
Colome (3.78 FIP) and Kennedy (2.23 FIP) are both signed through next season, and either would have made fit nicely in the middle innings of a playoff bullpen.
Kennedy is flying under the radar with a 2.19 FIP, and a career-best 28.7% strikeout rate as his fastball (94.6 mph) is up two full ticks working out of the bullpen
The Pirates asked for the world for Felipe Vazquez, but the Dodgers were (understandably) unwilling to part with a potential future all-star in Gavin Lux in exchange for a relief pitcher; albeit one who is signed for a modest salary with club options through 2023.
Matthew Boyd is also signed through 2023, which might mark the beginning of the Tigers next contention window. With a 3.46 FIP and 3.34 xFIP, while averaging more than 12 strikeouts per nine innings, Boyd is undoubtedly the type of pitcher that you can build around – but the Tigers are still years away from being competitive.
It would have been an aggressive move to deal the southpaw, but it also could have provided a haul that loaded up the Tigers for the next winning team.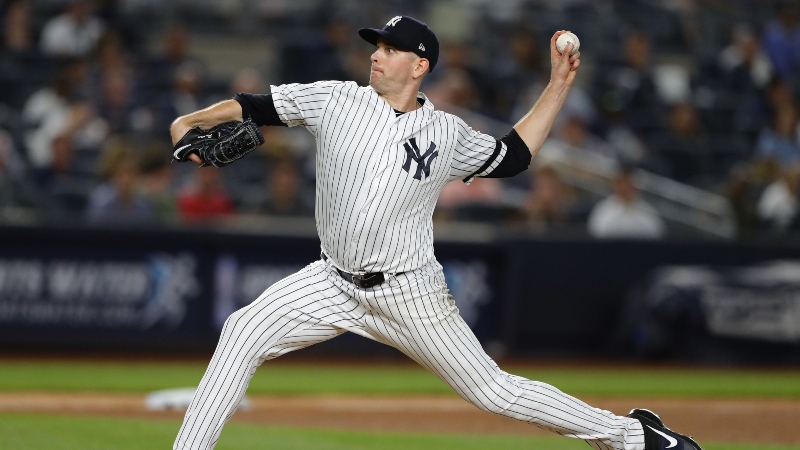 The Buyers That Failed to Purchase
Of the teams in the hunt, the Dodgers, Red Sox and Yankees were most guilty of omission.
Each had precise pitching needs and failed to address those needs with any significant moves. The Red Sox didn't make a trade, while the Yankees swapped minor league relievers with the Rockies.
The Yankees were aggressive in their pursuit of Robbie Ray but ultimately balked at Arizona's offer, which included Clint Frazier, an MLB ready outfielder (104 wRC+) that the Yankees have had buried in the minor leagues for far too long.
Where the Astros have been willing to let go of top prospects to acquire their targets, the Yankees have been fairly conservative.
The Yankees are hoping that Dellin Betances and Luis Severino can eventually provide a boost to their pitching staff, while the Red Sox are hoping that Nate Eovaldi can turn into a late-inning fireman; but both teams are now clearly behind the Astros in the AL pecking order.
The Dodgers made minor upgrades with Adam Kolarek and Jedd Gyorko, which gives them a good lefty reliever and a lefty-smashing versatile infielder; who can work as a stopgap until the Dodgers give Gavin Lux a shot at their second base job. The 21-year-old Lux is hitting .457 with a 1.046 OPS (12 doubles, four triples, 8 HR, 7 SB) in 25 games over the past month at Triple-A.
But they will need to use their extra starting pitchers, including Rich Hill, Julio Urias, and top prospect Dustin May (who will be called up to start on Friday) effectively as playoff relievers if they hope to win the World Series.
The Twins added Sam Dyson (2.73 FIP), and Sergio Romo (3.90 FIP) to their bullpen, but I feel like they could have done more and targeted one of the big-name starters.
Contenders Who Improved
Clearly, the Zack Greinke trade helps Houston. In a playoff series, you only need three or four starting pitchers, and you can push the remainder of your staff into the bullpen.
What's interesting to me, then, is that the Astros also acquired Aaron Sanchez from the Blue Jays.
Sanchez's recent outings have been dominant (16 K, 0 BB in his last 10.2 IP), and he has worked as an effective reliever in the past. The Astros are better than any team at optimizing pitchers, and I'm expecting Sanchez to turn into a postseason star in Houston:
Houston also picked up Joe Biagini in that trade. Biagini has doubled his cutter usage this season to over 30%, doubling his K-BB% in the process and turning him into an above-average reliever.
They also traded for pitch-framing master Martin Maldonado for the second straight season, a subtle pairing which will make the Astros aces even more deadly.
I thought the Braves did very well to add  Shane Greene, Chris Martin, and Mark Melancon to their bullpen mix. Greene's 221 wOBA is in the top 1% of pitchers, and though his 1.18 ERA contrasts with a 3.70 FIP and 3.80, and his .178 BABIP is due to regress (career .303), his ground-ball rate (54%) has also increased by 13% over 2018.
The Nationals also did well to add two solid veterans, Dan Hudson and Hunter Strickland, to their bullpen, while also adding an electric lefty in Roenis Elias. This team has elite starting pitching and a good lineup, and even an average bullpen will go a long way to helping solidify their roster.
I previously discussed the Trevor Bauer trade, but I think it makes complete sense for Cleveland to give up 1.5 years of Bauer, whose 2018 season looks like a clear outlier, in exchange for immediate offensive help and several long-term assets.
The Rays shook up their roster at the deadline last season, and they were the hottest team in baseball down the stretch. They added a bunch of depth to their roster with the additions of Jesus Aguilar, Nick Anderson and Trevor Richards, but they also gave up Kolarek and Ryne Stanek.
Anderson has a 37.1% strikeout rate, eighth-best in baseball, and Richards has one of the best changeups in MLB and is going to perhaps the best team at extracting extra velocity out of their pitchers:
Playing the Middle Ground Correctly
The Reds positioned themselves to have a rotation led by Luis Castillo and Trevor Bauer for next season, and they did a good job of selling of expiring assets like Scooter Gennett, Puig and Tanner Roark.
The Diamondbacks re-loaded their farm system with Greinke, taking back three of the Astros top-five prospects, and also reloaded their rotation with side deals for Mike Leake and youngster Zac Gallen.
Archie Bradley has struggled a bit this season and his value might have been depressed, but it is surprising that they didn't trade David Peralta, who ranks 6th in MLB with a 47% Hard-Hit Rate since the beginning of 2018.
The Giants held on to Madison Bumgarner, while trading Drew Pomeranz and Sam Dyson, and acquiring Scooter Gennett.
While this team is extremely unlikely to even make the playoffs, I think Farhan Zaidi played this correctly from a public relations standpoint; despite the fact that the Giants were clear sellers as of two weeks ago.
What Were They Thinking?
The Mets trading for Marcus Stroman was certainly curious, but while Simeon Woods-Richardson might turn into a star one day, the Mets can boast a rotation featuring Stroman, Jacob deGrom, Noah Syndergaard and Zack Wheeler for the remainder of 2019, and potentially into 2020 if they re-sign Wheeler.
The Mets are going to need to fix their league-worst defense, specifically as Stroman's career 59% ground-ball rate is one of the highest in baseball.
The Cubs addition of Nick Castellanos was a curious one. Per Fangraphs, he ranks 12th in MLB with a 46% Hard-Hit Rate since the beginning of 2018 and shows good road splits; but he's also a terrible defender which almost neutralizes his offensive value. 
The Marlins maybe pulled off the shocker of the day, exchanging Zac Gallen for Diamondbacks prospect Jazz Chisholm. Their organization has consistently targeted high-upside athletes, and in their minds, they are dealing an over-achieving pitching prospect for an under-achieving position player who can turn into an all-star.
It's the type of one-for-one challenge trade that you rarely see in sports anymore, and it will be interesting to see how that trade shakes out in a few seasons.
For prospect hounds, the trade was less shocking than it was for the baseball public overall:
Still, the Diamondbacks traded Zack Greinke, added a boatload of prospects, and then filled out their rotation with a competent veteran and a competent rookie.
Are they worse than they were yesterday?
Finding World Series Futures Value
Based upon the chart above, three teams presently show some value in the futures market — the Diamondbacks, Nationals and Twins.
If you're looking for a longshot, Arizona's odds should be around 270-1, and you can get them at 500-1. Keep in mind, they have the third-best run differential in the National League (+61), behind the Cubs (+72), but ahead of the Braves (+59) and Nationals (+47).
Minnesota's odds should be around 12-1, and you can get them at 16-1. They will have to slug their way past one or both of the Astros and Yankees in order to reach the World Series, but they have been breaking home run records all season.
The Twins are the first team in MLB history to hit at least 50 home runs in 3 different calendar months within a season. On July 26, they were they became the fastest team to hit 200 home runs in a single season.
The Nationals are likely my favorite play of the three. Their odds should be under 27-1, and you can still get them at 30-1.
They have a balanced offense featuring three all-star caliber players (Trea Turner, Anthony Rendon, Juan Soto) and the only starting pitching staff (Max Scherzer, Stephen Strasburg, Patrick Corbin) in the NL as deep as the Dodgers.
The Nationals have added four pieces to their bullpen this season (Elias, Hudson, Rodney, Strickland), and they'll have seven more head-to-head meetings with the Braves to try to make up a 6.5-game deficit in the NL East.
How would you rate this article?