2019 World Series Betting Picks: Our Staff's Favorite Bets for Nationals vs. Astros
Credit:
Troy Taormina, USA Today Sports. Pictured: Jose Altuve
2019 World Series Odds & Schedule: Washington Nationals vs. Houston Astros
Nationals World Series odds: +180
Astros World Series odds: -220
Game 1 date: Tuesday, October 22 in Houston
Nationals Game 1 odds: +179
Astros Game 1 odds: -200
The Houston Astros and Washington Nationals will meet in the 115th edition of the World Series, beginning on Tuesday, Oct. 22, in Houston.
This is the Astros' third World Series appearance, including their 2017 championship, while the Nats are playing in the Fall Classic for the first time.
This is how the World Series schedule breaks down:
Game 1: Tuesday, Oct. 22: WSH at HOU, 8:08 p.m. ET on FOX
Game 2: Wednesday, Oct. 23: WSH at HOU, 8:07 p.m. ET on FOX
Game 3: Friday, Oct. 25: HOU at WSH, 8:07 p.m. ET on FOX
Game 4: Saturday, Oct. 26: HOU at WSH, 8:07 p.m. ET on FOX
Game 5: Sunday, Oct. 27: HOU at WSH, 8:07 p.m. ET on FOX (if necessary)
Game 6: Tuesday, Oct. 29: WSH at HOU, 8:07 p.m. ET on FOX (if necessary)
Game 7: Wednesday, Oct. 30: WSH at HOU, 8:08 p.m. ET on FOX (if necessary)
As usual with big events, sportsbooks across the country have posted a wide menu of betting options, and these are our staff's favorite betting strategies for the 2019 World Series:
---
Check out PointsBet, where Action Network users can access an exclusive promotion to get a 200% deposit match (deposit $50, bet with $150).
---
Sean Zerillo
The Bet: Exact Series Result: Astros 4-1; Nationals 4-0
I projected the Astros as a -186 favorite (implied 65%) in the World Series against the Nationals, but noted that I would move the line to -335 (implied 77%) with a Game 1 win; so you might want to wait until Game 2 to find the best value on the Nats series price.
At listed odds of +200 (implied 33.3%), I currently see an expected value gap of 1.7% from my projection (+186, implied 35%) on the Nationals to win the World Series.
Down 0-1 in the series, I would consider a number closer to +400 (implied 20%) on Washington, which represents a three percent gap from my projection (+335, 23%).
Before the series starts, I would prefer to place a wager on the exact series result:
Compared to listed odds, I see value on two bets — Astros in five, and Nationals in four.
You can find the Nationals to sweep as high as +2500 (implied 3.8%), which represents a 0.2% gap from my projection at +2400 (implied 4%).
Alternatively, you can find the Astros to Win 4-1 at odds of +500 (implied 16.7%) which represents a gap of 1.3% in expected value from my projection at +456 (implied 18%).
I bet one unit on the Astros to win in five games at +500 and would look to buy the Nationals series price around +400 following a potential Game 1 loss.
Collin Wilson
The Bet: Astros -1.5, -2.5 Games; Nationals First-5-Innings at Plus-Money
I agree with Sean that there is value in playing an exact series result or taking the game-line on Houston in this series. However, I also plan on deploying the following strategy on a game-by-game basis.
Depending on the price, I will be looking to back Washington on the First-5-innings (F5) moneyline, as I think the Nats have the starting pitching to hang with Houston. This also means we get to avoid Washington's bullpen, which has been its Achilles' heel all season.
The Nats have relied on Daniel Hudson and Sean Doolitte, but they used Tim Rainey and Fernando Rodney for just three innings in the NLCS and we haven't seen Hunter Strickland or Wander Suero since Game 3 of the NLDS.
Dave Martinez has been much more comfortable calling on starter Patrick Corbin instead of going to his relievers.
This is a battle between the two best starting rotations in baseball and backing the Nats at plus-money on the F5 moneyline will serve as a way to invest in Washington without having to worry about the bullpen ruining things.
Matt LaMarca
The Bet: First To Four Runs in Game 1: Tie (+215)
This is essentially a wager on both starting pitchers in this contest. Betting the tie means I'm betting on neither team to score four runs, which I think has some value at +215.
The Astros send Gerrit Cole to the mound in Game 1, and he's been the unquestioned best starter in baseball this season. He's allowed two earned runs or fewer in each of his past nine starts, and he's allowed just one earned run over 22.2 innings during the postseason. Overall, Cole has allowed more than three runs in just six of 36 starts this season.
Even though he hasn't been quite as dominant as Cole, Max Scherzer is still one of the best starters in baseball. He destroyed the Cardinals in his last outing, limiting them to just one hit with 11 strikeouts over seven scoreless innings.
The Astros are obviously a much tougher test — they ranked first in baseball in wRC+ vs. right-handers this season — but Scherzer is capable of shutting down any offense when he's on his game. He allowed more than three runs in just five of 27 starts during the regular season.
You can bet the Under 7 at -124, but I think the odds on this bet are a little more appealing.
Danny Donahue
The Bet: Trea Turner To Win MVP (26-1)
If you've already taken a look at Game 1's odds, you're probably aware of the rare sub-7 over/under. It's just the second one this postseason on top of being the second since May.
Given the starting pitching on each of these sides, that's not too surprising — and I don't think it would come as shock to many if Game 1 isn't the only one with such a low total, especially if it stays under.
With the expectation of a low-scoring series, the question of where to look for MVP value changes a little bit, in my opinion at least. While it probably does increase the chance of a starter winning, I'm not one to take pitchers in this spot (only one of the past 10 winners has been one). I'd rather have a player with a chance to impact every game rather than one that may not even play in two in a short series.
I'm also steering clear of the more one-dimensional players, as there could be an emphasis on small ball if these games really are lacking in offense. All of that has led me to Jose Altuve and Trea Turner, and I don't want any part of a 6-1 payout on the former, especially because I think the price on Houston is a bit inflated.
If the Nats do pull off the "upset," this is the type of matchup that should highlight Turner's skill set. At 26-1, I'll bite.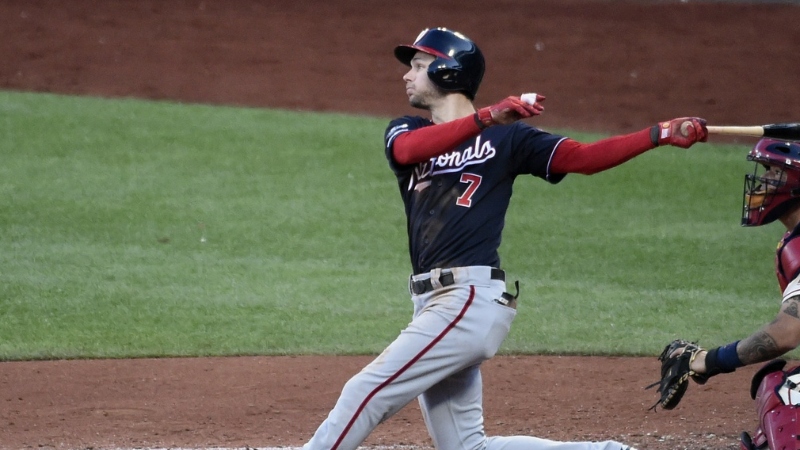 Michael Leboff
The Bet: Yordan Alvarez (25-1), Adam Eaton (70-1) To Win World Series MVP
I get a kick out of betting on the MVP for championships. Over the course of a 162-game season talent will almost always win out, but if you shorten that to a best-of-7 series, all hell can break loose — and what's more fun to gamble on than that?
If you look back at the last 15 World Series MVPs, you'll notice that the list is a mix of big names and solid professionals who got a couple of big hits, like last year's winner Steve Pearce.
Terrific starting pitching is definitely the theme of this Fall Classic, but with the way the matchups will unfold, I think there's a good chance that Gerrit Cole, Justin Verlander, Max Scherzer and Stephen Strasburg cannibalize themselves by splitting their head-to-heads.
Anibal Sanchez (80-1) was the only pitcher I was considering for this prop, as he could make a few appearances as a reliever in addition to a start in Game 4. Washington's bullpen is a mess, so don't be surprised if you see Sanchez handle a few important innings in Games 1 and 7.
If Yordan Alvarez wasn't struggling immensely, his odds would probably be in line with players like Alex Bregman (10-1), George Springer (10-1) and Juan Soto (14-1). But since Alvarez was last seen posting a .045 batting average in the ALCS, you're getting a nice discount on one of the best power hitters in this series at 25-1 (PointsBet).
My favorite Nationals' MVP bet is Adam Eaton at 70-1 (FanDuel). Eaton is a left-handed hitter with better numbers against right-handers, so he should stand a chance against Cole, Verlander and Zack Greinke. He also hits at the top of the lineup, so he should get plenty of opportunities to make his presence felt over the next week.
Eaton is the type of all-action player who can catch people's eyes by making a big play in the field or nabbing the extra base in a big spot, and that's what MVP voters look for when they cast their ballot.
John Ewing
The Bet: Gerrit Cole To Win MVP (4-1)
The Astros are the favorites to win the World Series. Houston is the better team but there is no value placing a bet at -228 odds as Sean Zerillo's model makes their true odds closer to -186. I think the Astros will win and a better option to cash in on their success is to bet Gerrit Cole (+400) to win the MVP.
Only one player from a losing team has ever won the award so if Houston comes out on top there is a good chance an Astros player will win MVP. If the Astros win a second championship in three seasons it will likely be because Cole continues his domination of opposing batters. This postseason the ace is 3-0 with an 0.40 ERA and 32 strikeouts in 22.2 innings.
The last pitcher to win the World Series MVP was Madison Bumgarner in 2014. In that Fall Classic, Bumgarner went 2-0 and recorded a save allowing one earned run over 21 innings pitched and striking out 17 batters. This seems very doable for Cole considering how he has pitched this season.
This World Series may be remembered for its historically great pitching cast. Cole, Justin Verlander, Zack Greinke, Stephen Strasburg, Max Scherzer, Patrick Corbin and Anibal Sanchez are all expected to start at least one game. Combined these pitchers have made 29 All-Star games, won five Cy Youngs and a MVP.
Of the bunch, Cole is pitching the best and is my pick to win MVP.
Mark Gallant
The Bet: Trea Turner to Win MVP (26-1)
This season, I bet on Trea Turner to win the National League MVP. It was looking like a stone cold lock until he broke his finger in the 5th game of the season – at which point he had a 1.257 OPS and four stolen bases.
It's time for Trea to redeem himself.
At +2600, I think this speedy shortstop oozes value. He bats leadoff, ensuring plenty of plate appearances, can hit for average and power, and can create runs on the basepaths. He's a super exciting player and if the Nats can pull off the upset, he'll likely be a big reason why.
How would you rate this article?