The Cubs are going to have one busy schedule the rest of the way. After two of the first three games of the series were postponed, they will (hopefully) take on the Cardinals on Thursday afternoon at Wrigley Field. The Cubs have had three games postponed since Sunday alone! And in total, Chicago has had five of the MLB April record 25 postponed games.
After watching (fingers crossed as the weather looks promising in Chicago) one of the most heated rivalries in baseball in the afternoon, we will turn our attention to an in-state rivalry in the evening, as the Phillies and Pirates kick off a four-game series at Citizens Bank Park. Philadelphia sports could do no wrong for the past few months, but reality has returned in the City of Brotherly Love. After the Sixers lost home-court advantage to the Heat, the Penguins beat down the Flyers to take a commanding 3-1 series lead. Hopefully, the baseball between the two cities on opposite ends of the Turnpike will be more competitive than the hockey.  — Stuckey
Let's take a closer look at each matchup:
---
St. Louis Cardinals (-102) at Chicago Cubs (-108) | O/U: N/A
Luke Weaver (2-0, 2.08 ERA) vs. Jon Lester (1-0, 4.40 ERA)
2:20 p.m. ET
Peak Velo: After a mediocre 2017, Lester's start to 2018 has been less than encouraging. While his .348 BABIP (batting average on balls in play) should regress, there are some red flags. Most notably, Lester has significantly less velocity through his first three starts.
Prior to 2017, Lester sat around 93-94 mph, but he's lost edge to his heater since. He has averaged only 91.5 mph on his numero uno this season. Normally, pitchers don't reach their peak velocity (or peak velo if you want to fit in at the cool kids' table) until much later in the year, but he had an average velocity of only 91.7 mph last year. Concerning to say the least. — Mark Gallant
Dream Weaver: Luke Weaver will never wow anyone with ridiculous "stuff" or velocity. Instead, the 24-year-old creates his success by picking spots and commanding pitches. He also effectively uses the outside of the plate to force batters to hit to the opposite field — his 37.8% opposite-field rate ranks fifth in the league. Just take a look at the graphs below via Brooks Baseball, which show how much he works on the outer half of the plate, especially vs. lefties (left graph).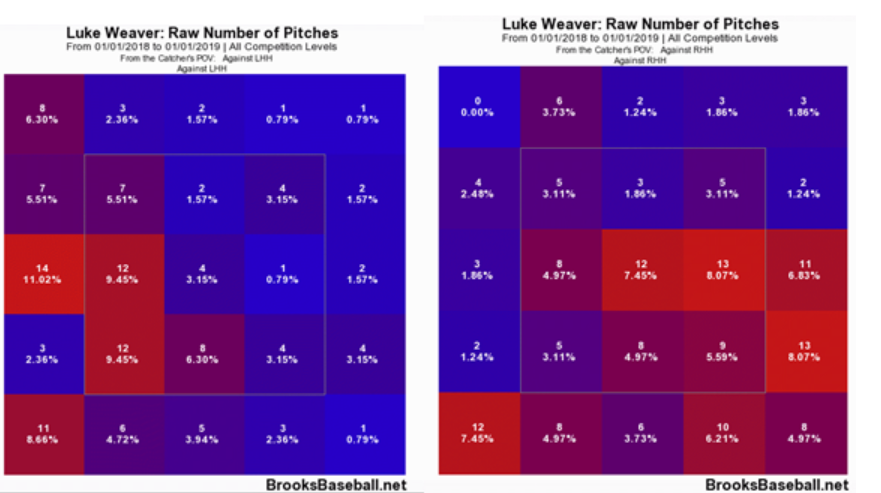 That approach should help against a Cubs lineup that ranks toward the bottom of the league in opposite-field batted balls and near the top in pulled batted balls, which was also the case last season. If Weaver is on his game, he should limit the Cubs' power and induce a number of rolled over ground balls.
By name recognition alone, casual bettors might jump at Lester at this price. However, Weaver is in much better form and also on the right side of the mountain. — Mark Gallant
Fantasy Focus: While Lester didn't have a great 2017, he did have success in five starts against the Red Birds, posting a 2.93 ERA, 1.24 WHIP and .248 BAA. For those of you who play daily fantasy, take note of the drastic career splits of the two Cardinals hitters who have seen Lester the most. I'd potentially target catcher Yadier Molina, who owns a .343 lifetime average (12-for-35) against the Cubs southpaw. Conversely, I'd avoid Matt Carpenter like the plague, as he is a putrid 5-for-34 with 11 strikeouts against Lester. The Cards third baseman has started out the year 2-for-12 against lefties — after hitting just .202 against them in 2017. — Stuckey
Cashing Tokens: Chicago opened -108. Since 2015, the Cubs have been token favorites (-110 or less) six other times at home. They won five of the six. — John Ewing
Leanin' On Lester: The Cubs enter this game with a 7-8 record. Since 2014, bettors backing Lester when his team sits at under .500 (Red Sox and Cubs) have gone 16-7 on the moneyline. Lester has won five of his last six starts in this spot during the day (2 p.m. ET or earlier). — Evan Abrams
START MY FREE TRIAL
model helps you find edges when betting moneylines and over/unders for the full game