Johnny Cueto has been shimmying, shaking and quick-pitching his way to a brilliant start in 2018.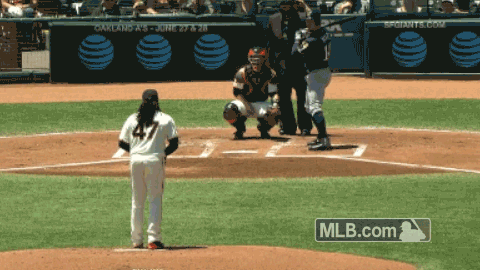 His stunning 0.35 ERA tops MLB, while his .65 WHIP (walks and hits per inning pitched) and .149 BAA (batting average against) both rank in the top five. Can he continue his dominance in Game 2 of a doubleheader against a Dodgers team that has become familiar with the crafty veteran in recent years? Let's take a closer look.
---
Los Angeles Dodgers (-123) @ San Francisco Giants (+112) | O/U: 7
Alex Wood (0-2, 3.72 ERA) vs. Johnny Cueto (2-0, 0.35 ERA)
10:05 p.m. ET
Over Opportunity: The current forecast for tonight's matchup calls for strong winds blowing out toward the outfield. Since Cueto arrived in San Fran in 2016, the over is 13-5-2 when the wind blows out in his starts. The total has soared over by an average of 2.2 runs in those 20 starts. — Evan Abrams
Dodger Damage: As Evan mentioned, Cueto hasn't had much success against the Dodgers in the past. Just take a look at the career splits of the four most successful current Los Angeles hitters against him:
Kemp has three home runs against the Giants righty and Seager has one.
(Man, I miss Vin Scully.)
The only other Dodgers to face Cueto are Austin Barnes (1-for-3), Yasmani Grandal (6-for-27) and the currently injured duo of Justin Turner (11-for-31) and Logan Forsythe (2-for-8). — Stuckey
Wood Buy: Despite an 0-2 record, Wood has pitched brilliantly in his first five starts of the year. He has simply had some of the worst luck in the majors. He has a decent 3.72 ERA, but that doesn't tell the story. Focus on his 2.49 FIP (Fielding Independent Pitching), 0.83 WHIP and .204 BAA to go along with 26 K and just 2 BB. That 13:1 K:BB ratio actually leads all qualified starting pitchers.
His 47.2 LOB% (left on base percentage) really illustrates his misfortune, as Wood has the lowest among all qualified starters. (No other pitcher has a LOB% under 50%.) That will improve naturally over time, potentially starting tonight against a Giants team that is hitting a league-low .177 with runners in scoring position.
While Brandon Crawford and Buster Posey have had success against the Dodgers southpaw in the past — a combined 12-for-30 — the Giants have struggled against lefties this season. They rank 24th in average (.225) and 28th in OBP (.290) in 2018. — Stuckey
Priced Out: Cueto has pitched absurdly well thus far, but his price tag on DraftKings has soared to unwarranted heights. After beginning the season at $7,900, his impressive start has fueled a rise to the $10,000 barrier. Fellas who don't strike out at least a batter an inning (which Cueto doesn't) haven't panned out at that price level historically, averaging a plus/minus of only -0.60, per Fantasy Labs. When those same pitchers have seen a salary rise of $2,500 or greater in a month like Cueto has, that number drops to -1.49. I'd avoid him like the plague in DFS tonight. — Mark Gallant
Let's Play Two: It has been profitable to bet the Game 1 winner if favored in the second game of a doubleheader. Since 2005, those teams have gone 104-63 (62%) since 2005. It's a small sample, but the sweet spot occurs when that first game winner is favored and on the road: 38-17 (69%) for a profit of $1,396 if you wagered $100 in all 55 spots. That's a robust ROI of 25.4%. If the Dodgers win the first game and are favored in Game 2, this situation will apply. — John Ewing
Bay Area Blues: As a Giant, Cueto has a 5.87 ERA and a 1.40 WHIP in five home starts against the Dodgers. For you first-inning bettors, Cueto has allowed 14 hits and 9 ER in the first frame of those games. — Evan Abrams
Credit:
Mark J. Rebilas-USA TODAY Sports. Pictured: Johnny Cueto.