Friday Sharp Report: Pro Players Hammering Three Moneylines
Credit:
Brad Mills-USA TODAY Sports. Pictured: Max Scherzer
Wiseguys bounced back in epic fashion on Thursday, cashing all three of their plays (Astros-Indians Over 8, Rays +113 and Royals -120). Now it's Friday, which is arguably the best day of the week for sharp MLB bettors. Public players are finishing their work week and more apt to get down on games (specifically favorites and home teams), which leads to increased ticket counts and more contrarian value.
This doesn't mean sharps double down on Fridays and risk multiple units, it just means that they're operating with an increased edge. As always, wiseguys stay the course and stick to flat betting.
After analyzing Friday's 15-game slate using Sports Insights' Sportsbook Insider Pro betting tools, I've pinpointed three MLB bets that professional players are focusing on, including games that start at 7:05 p.m. and 7:10 p.m. ET.
All data as of 3:30 p.m. ET
Toronto Blue Jays (+104) at Philadelphia Phillies
7:05 p.m. ET
The Jays are 23-27 and have lost nine of their last 11 games. The Phillies are 28-19, at home, and only laying a small number. Naturally, the public is heavy on Philly. However, despite nearly 66% taking the Phils, the line has moved away from them (-139 to -115). This reverse line movement indicates heavy sharp action on Toronto (+128 to +106). Wiseguys at Pinnacle steamed Jays +112, causing the market to move majorly in Toronto's favor. The Jays are also a road dog with a high total and an AL team in interleague play, two profitable spots since 2005.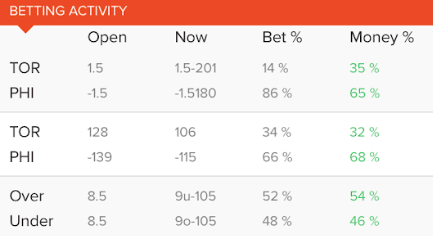 Chicago White Sox (-107) at Detroit Tigers 
7:10 p.m. ET
The White Sox are awful (15-32) and have cost bettors brave enough to bet them (-12.94 units). But that doesn't faze the Goodfellas. Chicago opened as a -119 favorite and of course the public pounced on Detroit +110 at home. Sharps waited for the public to bet the White Sox down to plus money. That's when they moved. Wiseguys hit Chicago four times between +100 and +104 (first at Pinnacle, then 5Dimes, and BetOnline). This heavy sharp action pushed Chicago back to a favorite. The White Sox are receiving only 39% of bets but 55% of dollars, another indication that smart money is on their side.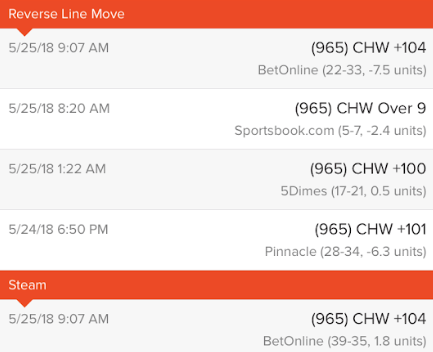 Washington Nationals at Miami Marlins (+218) 
7:10 p.m. ET
Max Scherzer against the last place Marlins (19-30). Easy Nats win, right? Despite receiving 75% of bets, Washington has fallen from -234 to -218. Why would the books drop the line to give public Nats backers a better number? Because pro players are buying low on the home divisional dog with the big payout. Wiseguys at Pinnacle got down hard on Miami +234 early, forcing the entire market to drop the line. The Marlins have played well recently, taking two of three from the Mets. They also fit two profitable Bet Labs systems: Bad Team After Win and MLB Betting Against the Public Report.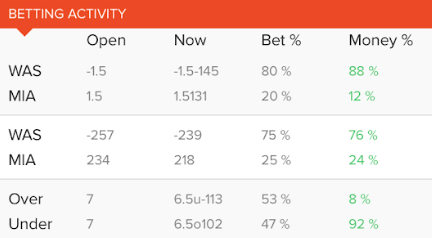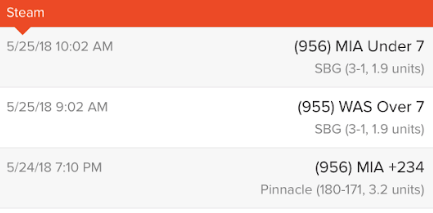 Remember: the betting market is fluid. Data changes as more action comes in. For updated odds and percentages, be sure to check out the Action Network MLB betting trends page. 
Looking for more in-depth betting analysis? Sign up for a Sports Insights Pro trial and join our Live Betting Hangouts where we break down the board every weeknight from 6:30-7 p.m. ET.
For more betting info and customer support, you can find me on twitter @Josh_Insights.