Monday Sharp Report: Pro Players Hammering Three Dogs
Credit:
Orlando Ramirez-USA TODAY Sports. Pictured: Eric Hosmer
While the sporting world was fixated on NBA and NHL playoffs and the Kentucky Derby, sharp MLB bettors quietly crushed over the weekend. Despite the disastrous Indians-Yankees Under Bad Beat (tied, 0-0, entering the 7th, then scored 11 runs in the 8th/9th), wiseguys still went a combined 4-2 with their Saturday and Sunday plays. Pro Players will look to keep the good vibes going today.
After analyzing Monday's small seven-game slate using Sports Insights' Sportsbook Insider Pro betting tools, I've pinpointed three MLB bets that professional players are focusing on, including games that start at 8:10, 10:05 and 10:10 p.m. ET.
All data as of 2:30 p.m. ET
Minnesota Twins (+115) at St Louis Cardinals
8:10 p.m. ET
The Cardinals are coming off a marathon 14-inning win Sunday night that finished off a 3-game sweep of the archrival Cubs. St. Louis is riding high and it's no surprise that the public is back on the Cards tonight. However, despite receiving 59% of bets, St. Louis has fallen from -138 to -125. This reverse line movement is evidence of sharp bettors getting down on the road dog Twins. Wiseguys at Pinnacle steamed Minnesota +129 and now they're down to +115. The Twins also enjoy a massive bets vs. dollars discrepancy — they're only getting 41% bets but 83% dollars. A cherry on top for sharp Twins backers: American League teams have dominated Interleague Play since 2005.

Houston Astros at Oakland Athletics (+122)
10:05 p.m. ET
The powerhouse Astros have lost two in a row and five of their last six. Meanwhile, Oakland has won three in a row and four of their last five. Naturally, the public is on Houston to bounce back tonight and the Athletics to fall back down to earth. Not the sharps. Oakland is only getting 23% bets but 44% dollars, indicating smart money on their side. Despite only getting one out of four bets, the Athletics have fallen from +127 to +122. Why would the Oakland payout get smaller if 77% of bets are on Houston? Because wiseguys hit the A's, creating sharp liability. Pro Players at CRIS got down on Oakland +128, causing market wide reverse line movement.

Oakland also fits a profitable Bet Labs System: MLB Betting Against the Public Report (+168.68 units since 2005).
Washington Nationals at San Diego Padres (+155)
10:10 p.m. ET
The Fathers took two of three from the Dodgers, but the public still wants nothing to do with them, especially with Strasburg on the mound. In the most lopsided game of the night, 83% of bets are laying the big -165 with the Nats. Not the sharps. They see a profitable buy-low spot with San Diego. Despite the overwhelming Nats betting, Washington hasn't moved far from the opener (-160 to -165). This is essentially a line freeze, with books reluctant to move any further and hand out a bigger plus money payout to wiseguy contrarian bettors. Sharps at SIA got down hard on San Diego +150. The Padres are only getting 17% bets but 39% dollars, another indication that wiseguy money is on the home dog.
The Padres also fit two profitable Bet Labs Systems: Bad Team After Win (+180.95 units since 2005) and New Series, All Signs Point To Opponent (+187.98 unit since 2005).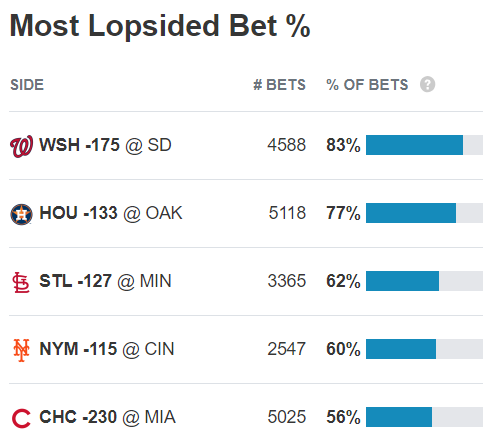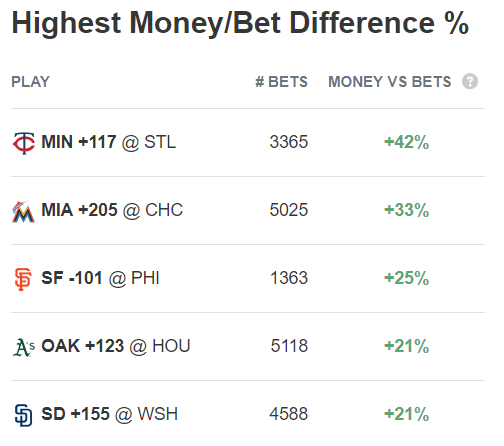 Looking for more in-depth betting analysis? Sign up for a Sports Insights Pro trial and join our Live Betting Hangouts where we break down the board every weeknight from 6:30-7 p.m. ET.
The Pro membership also gives you a fully customizable live odds page with lines from 50+ books, the number of bets on every game, best bet picks, steam and reverse line moves, Sharp Action Report, weather, injuries, line watcher, line predictor and more.
For more betting info and customer support, you can find me on twitter @Josh_Insights.
Pictured: San Diego Padres first baseman Eric Hosmer is congratulated after hitting a two-run home run