Wednesday Sharp Report: Pros Hitting Three Dogs, One Total
Credit:
Joe Nicholson-USA TODAY Sports. Bartolo Colon.
Wiseguys had a profitable Tuesday. They split their plays (2-2), but thanks to the Marlins (+165), they were able to turn a small profit overall (+0.65 units). It might not seem like much, but when you compound small winning days over the course of a six-month season, it adds up bigly in the end. Stay the course, think long term. Grinders with Blinders, always.
After analyzing Wednesday's 15-game slate using Sports Insights' Sportsbook Insider Pro betting tools, I've pinpointed four MLB bets that professionals are focusing on, including games that start at 7:05 p.m., 7:07 p.m., 7:10 p.m. and 8:05 p.m. ET
Data as of 3 p.m. ET
---
Los Angeles Dodgers at Pittsburgh Pirates Under 8.5
7:05 p.m. ET
We're seeing a classic Pros vs. Joes total play here. The public sees Dylan Ferguson making his MLB debut for the Dodgers and automatically assumes he will get lit up, leading to an easy Over. But sharps disagree. Nearly 60% of bets are going Over, but almost 60% of dollars are going Under. Wiseguys at Pinnacle and Buckeye got down on hard on the Under 8.5, which is notable considering they are two of the sharpest books on the market.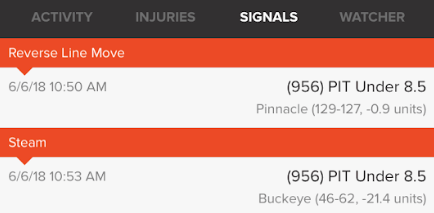 New York Yankees at Toronto Blue Jays (+128)
7:07 p.m. ET
Toronto let the wiseguys down last night (35% bets, 45% dollars, +143 to +128). The Jays held a 1-0 lead heading into the seventh but then imploded, giving up a grand slam before losing, 7-2. But wiseguys are back on Toronto tonight. The Jays are getting only 25% of bets but 47% of dollars. Wiseguys at The Greek steamed Jays +132, causing them to fall to +128 across the market. This is especially notable considering that The Greek is one of the top MLB moneyline steam moves this season (45-31, +11.3 units).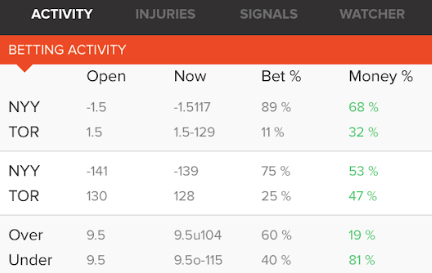 Colorado Rockies at Cincinnati Reds (+115) 
7:10 p.m. ET
Stop me if you've heard this before: Wiseguys are on the Reds. Cincy is getting only 29% of bets but 43% of dollars and the Reds have fallen from +123 to +115, two indications of smart money in their favor. Pro players at SIA and SBG got down hard on the Red Legs +125 and +126, respectively, causing market-wide reverse line movement toward the home dog.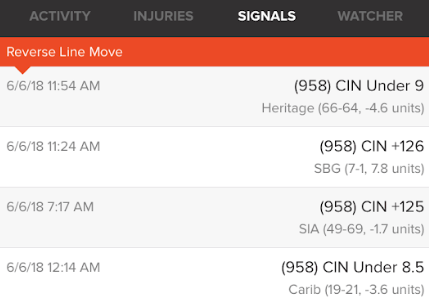 Oakland Athletics at Texas Rangers (+103) 
8:05 p.m. ET
The Rangers cashed (41% bets, +140) for contrarian wiseguys last night, and sharps are going back to the well tonight. The public sees 100-year-old Big Sexy on the mound and says auto-fade. However, despite nearly 80% taking Oakland, the Athletics have fallen from -130 to -110.
Why would the books drop the line to hand out a better number for public A's backers? Because sharps are all over Texas. Wiseguys at CRIS and The Greek hammered Rangers +114 and +109, respectively, causing massive reverse line movement. The Rangers are also a divisional dog with a high total (10.5), a highly profitable spot since 2005.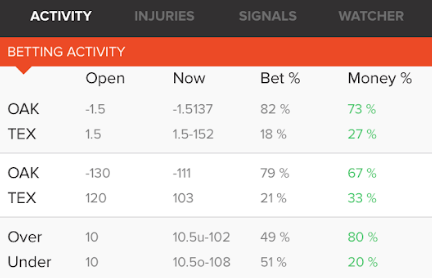 Remember: the betting market is fluid. Data changes as more action comes in. For updated odds and percentages, be sure to check out the Action Network MLB betting trends page. 
Looking for more in-depth betting analysis? Sign up for a Sports Insights Pro trial and join our Live Betting Hangouts where we break down the board every weeknight from 6:30-7 p.m. ET.
For more betting info and customer support, you can find me on twitter @Josh_Insights.
How would you rate this article?