The Indians, Giants, Cubs and Tigers are Due to Start Winning
Credit:
Joe Nicholson – USA TODAY Sports
Yesterday, I wrote about a few teams that were due to start losing. I mean, I'm not a genius or anything, but the two teams I wrote about that played last night did lose so …
Here are some teams that are due to start winning at a higher rate. Some have statistical anomalies that can explain their poor fortunes, others have been in the wrong place at the wrong time, and others just need to start winning because I said so.
Stats and records through Monday, April 16th.
Cleveland Indians (8-6)
The Indians are lucky their pitching staff is nails because their offense has been getting porked all season long.
They own MLB's worst Batting Average on Balls In Play (BABIP) by a wide margin at .234 (the Rockies are next at .256).
Here are the five qualified hitters on their team, ranked in order of BABIP along with their accompanying wRC+:
Francisco Lindor: .295 BABIP, 90 wRC+
Jason Kipnis: .220 BABIP, 31 wRC+
Yonder Alonso: .212 BABIP, 76 wRC+
Edwin Encarnacion: .138 BABIP, 61 wRC+
Jose Ramirez: .116 BABIP, 79 wRC+
When the bats at the top of the order are all getting garbage luck and producing much less than they are capable of, your offense is not going to do well.
Giants (6-9)
While the Indians are getting no luck regardless of the situation, the Giants are getting no luck at the worst possible times. They're posting a .205 BABIP with runners in scoring position, leading to a 30 wRC+ in that situation. That is easily the worst in the bigs, with the Rangers next in line at 66 (100 is average).
Three of their big bats are also underperforming, with Evan Longoria and Andrew McCutchen both producing at below-average clips. That can sort of be expected with their moves across the country. However, Hunter Pence and his 19 wRC+ have no excuses. Pence experienced the worst offensive season of his career last year, but nowhere near this bad. If Pence keeps it up, the Giants will need to send him and his scooter packing.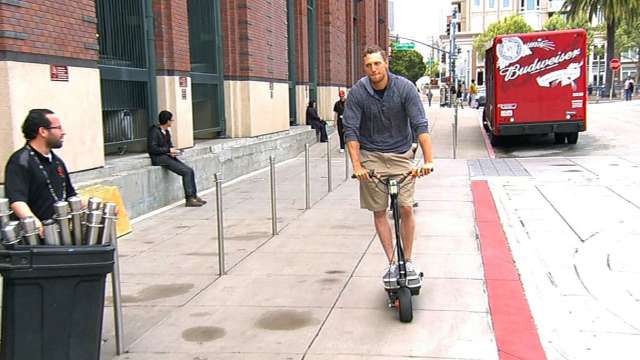 Cubs (7-7)
Stats indicate the Cubbies aren't actually underperforming by all that much. However, they have lost all three one-run games that they've played so far, something that tends to even out in the long run.
Yu Darvish and, to my dismay, Jose Quintana have also been very underwhelming so far. These two pitchers are too good to be sporting ERAs of 6.00 and 8.16, respectively, for any extended period of time.
Of course, they've also been without Anthony Rizzo for most of the year, which isn't going to help their chances … sorry, Victor Caratini.
… Tigers? (4-9)
As the Good Book states, thou shall not lie. And I'm not about to say the Tigers are good. The Tigers are bad.
Nevertheless, I believe they are definitely better than their 50-win pace suggests. Though, it wouldn't be the first time in my life they've won fewer than a 50-burger.
Their run differential is just -9, which is only three runs worse than the Rockies, who are 10-8. Neither deserves to be a winning team at this point if you're a believer in Pythagorean records, but the Tigers should be more like 6-7 than 4-9.
Their offense has been one of the worst in baseball, which can largely be attributed to their lack of dongs. They've homered on just 3.9% of their fly balls, which is the worst in MLB and about one-third of the average mark. Only one of their homers came with men on base, too.
Goodbye 50 wins, hello … 60 wins? 65?
Cleveland Indians designated hitter Edwin Encarnacion (10) runs the bases after hitting a solo home run against the Seattle Mariners during the fourth inning at Safeco Field.