Will Tim Tebow See Major League Action by the End of 2019?
Credit:
Steve Mitchell – USA TODAY Sports
Tim Tebow has one heck of a resume. National Champion. Heisman Trophy winner. NFL quarterback. Preseason New England Patriot. TV analyst. Diehard Christian.
New York Met?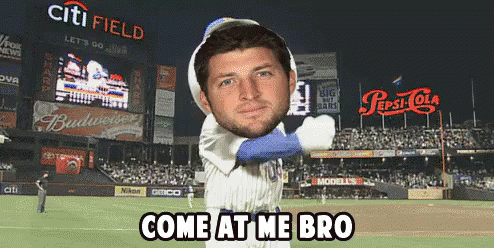 Oddsmakers have put a price on whether or not this baseball dream of his will come true. Tebow is listed at 10-1 to play in an MLB game during the next two seasons, with "no" at 1-30. He's also listed at 5-1 to play in a Triple-A game this year, with "no" available for 1-10.
This prop is entirely dependent on how bad the Mets are doing. Unless something drastic happens and he somehow wildly improves, Tebow shouldn't sniff an MLB roster. If he wasn't Tim Tebow, he wouldn't have even been in Single-A last season. You know why? Because 29-year-olds don't play Single-A baseball.
Tebow was 7.5 years older than the average player in the South Atlantic league and 6.2 years older than the average player in the Florida State League once he was called up to high-A ball. Anyone his age is either in the majors or Triple-A (or retired because they can't make it).
During that time, he put up a below average .656 OPS at the plate with a whopping 10 errors in 77 games in the outfield. No major league outfielder accumulated that many in 2017 in double the number of games.
Back to the Mets. Clearly, his performance is not MLB-worthy. If he were to make the MLB roster at any point, it would be a publicity stunt and I don't care what any one in the organization says about it. Almost any other player in the Mets' system deserves a shot ahead of him given his age and lackluster skills.
Therefore, if you think the Mets are going to tank at any point in 2018 and 2019, there is an outside chance that they will call him up to put butts in the seats.
I probably don't need to tell you this, but there's no reason to take either "no" option at such a terrible payout and lock up money for an extended amount of time.
Another book is also offering up some odds, as well as Spring Training props.
#Mets @TimTebow Prop Bets @BetDSI

Will he play in an #MLB game in 2018?
Yes +750
No -1300

2018 Grapefruit League Props

Batting Average
Over .160 -130
Under .160 +100

Record a hit
Yes -400
No +340

Hit a homer
Yes +700
No -1200

Strikeouts
Over 7.5 -150
Under 7.5 +120 pic.twitter.com/bZvOu1KX2a

— Josh Appelbaum (@Josh_Insights) February 20, 2018
These props are scary because we have no idea how many at-bats he will get at the major league camp. That has to be the lowest batting average prop I've ever seen in my life, but then again, I've never seen batting average props for a football player.
Top photo: Tim Tebow
Photo via Steve Mitchell – USA TODAY Sports