Zerillo's World Series Game 7 Live Betting Guide: Profitable Situations, Strategies to Know for Nationals vs. Astros
Credit:
Thomas B. Shea, USA Today Sports.
World Series Game 7 Betting Odds, Picks & Predictions: Astros vs. Nationals
Probable starters: Max Scherzer (11-7, 2.92 ERA) vs. Zack Greinke (18-5, 2.93 ERA)
Nationals odds: +125
Astros odds: -140
Over/Under: 7.5
First pitch: 8:08 p.m. ET on FOX
Odds as of Wednesday morning and via PointsBet, where Action Network users can access an exclusive promotion to get a 200% deposit match (deposit $50, bet with $150).
---
When considering how you should live bet on a baseball game, you should first predict how you see the game playing out in advance. And while it is impossible to script out a baseball game, there are stats, trends and other data points (i.e. managerial tendencies) that can help you identify a +EV betting opportunity in-game.
On Wednesday, Max Scherzer faces Zack Greinke in Game 7 of the World Series, after Scherzer was scratched from Game 5.
The Nats will likely use Patrick Corbin, and potentially even Stephen Strasburg (on zero rest) behind Scherzer in this winner-take-all game – while the Astros may deploy Gerrit Cole after his dominant Game 5 performance.
With so much uncertainty going into Game 7, what live-betting opportunities should you look out for in the final game of the 2019 MLB season?
Max Scherzer's Fastball Velocity
Even discounting the broken nose that he sustained (and pitched through) in June, Mad Max has had an injury-riddled 2019 campaign – taking two trips to the injured list in July with back (rhomboid strain) and shoulder (inflamed bursa sac) ailments.
He received a cortisone shot in his back before his July 25 start against the Rockies (5 IP, 4 H, 3 R, 2 BB, 8 K), but was placed on the injured list again after feeling discomfort the day after that outing.
Following a month off, Scherzer posted a 4.74 ERA (3.05 xFIP) in his final seven starts of the regular season, followed by a 2.16 ERA thus far in the postseason.
However, after three consecutive 100-plus-pitch efforts, Scherzer sustained a nerve irritation near his neck and needed another cortisone injection on Sunday.
After the first cortisone injection, Scherzer clocked in at 94.2 mph on his fastball in that July 25 outing, one of his lowest marks of the season: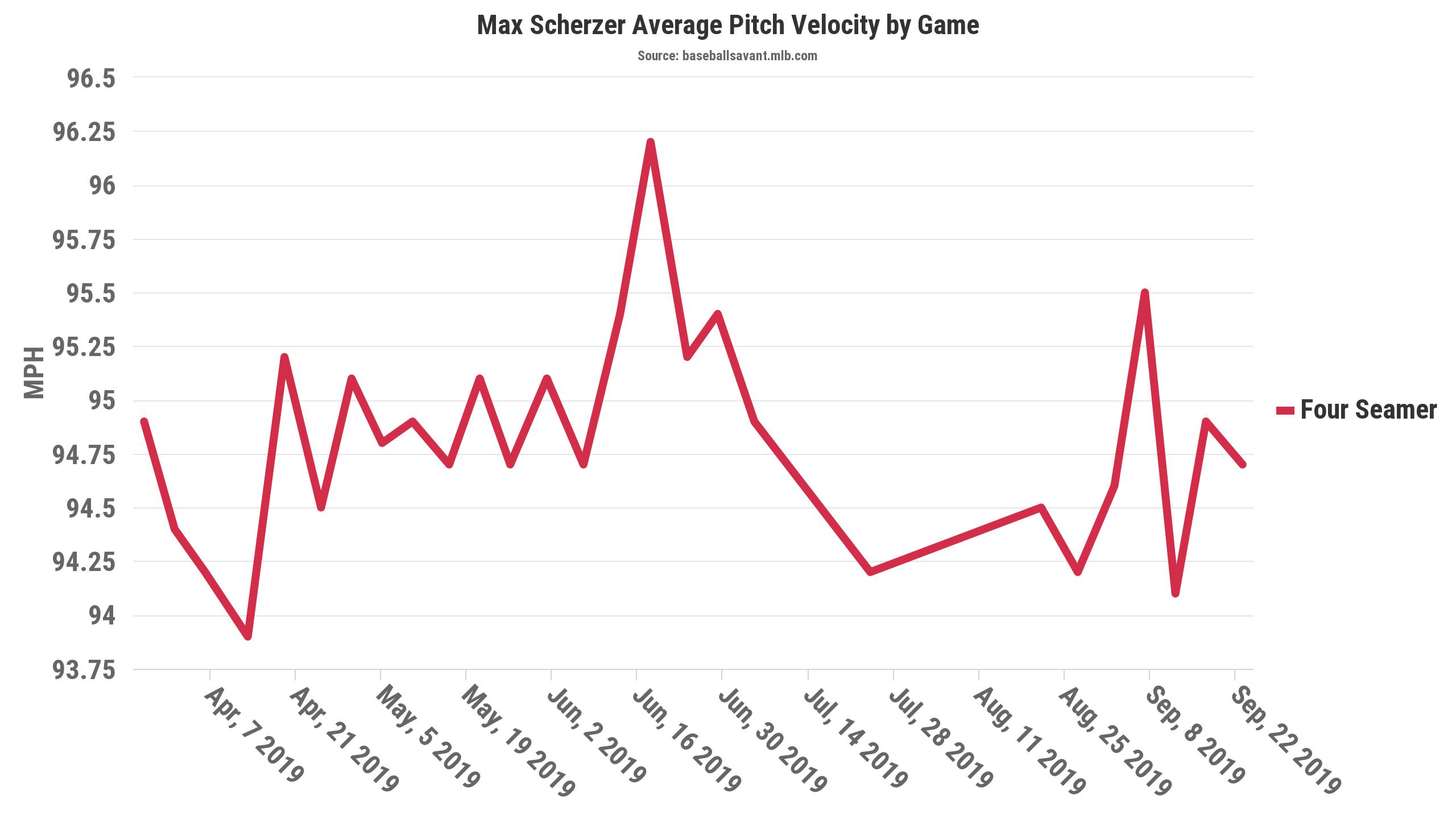 Before the second injection, he had brought his average fastball velocity back up to 95.6 mph in October (averaged 94.9 mph in 2019).
If Scherzer looks visibly uncomfortable or shows reduced velocity in the first inning, look to play the Astros moneyline or potentially the live over.
If, however, Scherzer looks comfortable on the mound and entirely in command with his fastball (around 94-96 mph), consider betting a live under.
The Nationals' Bullpen in a Tight Game
The Nats bullpen has been their Achilles heel all season, ranking 26th in FIP, 29th in xFIP and 23rd in K-BB%. They came into the postseason with the most relief losses and worst bullpen ERA ever recorded by a playoff team.
Their bullpen has continued to struggle in the playoffs, allowing a 4.82 ERA, 1.41 WHIP, and a 2.14 K/BB ratio – the second-worst mark amongst playoff bullpens.
Conversely, their starters are 11-5 with a 2.96 ERA and a 1.10 WHIP during this postseason. Strasburg provided a big boost by recording 25 of the 27 outs in Game 6. giving some extra rest to the Nats two key relievers.
But both Daniel Hudson (3 IP, 7 H, 4 R, 1 BB, 3 K) and Tanner Rainey (2.2 IP, 3 R, 4 BB, 1 K) have looked shaky thus far against Houston.
Patrick Corbin stands to pitch in relief in Game 7, but he struggled a bit in Game 4, and the Astros match up well against him.
Corbin has relatively significant splits, performing better against lefties (.229 wOBA) than righties (.299 wOBA). Not only is the Astros lineup mostly right-handed, but they also posted the best wRC+ against right-handed pitching dating back to 2002 – and are historically excellent at smashing southpaws,
Furthermore, Corbin also relies on getting whiffs outside of the zone, throwing the ball in the zone less frequently (36.3%) than any starter – but the Astros' contact rate on pitches outside of the zone was 68.2% — the best in baseball.
Lest you forget, Corbin allowed six runs in less than an inning in Game 3 of the NLDS against the Dodgers. Pitching in relief, for him, is still relatively unfamiliar territory.
After the fifth inning, with the Astros trailing by one run, I would consider betting their moneyline at even odds (+100) or better, as I have Houston winning this deciding game 52% of the time (implied odds of -108).
Down by more than one run, you can look to bet Houston on the game spread, to lose by one run or win outright. For example, if they're trailing 4-2 after five innings, bet the Astros +1.5 runs.
Early Fireworks and Live Totals
It seems like there have a lot of first-inning runs during this postseason, and that might be the case.
In this World Series, 20% (11 of 55) of the run-scoring has taken place in the first inning.
Between the ALDS and ALCS, the Astros scored 24% (10 of 41) of their runs in the first inning.
Before the World Series, the Nationals scored 22% (10 of 45) of their postseason runs in the first inning
Based upon the game total (7.5), 20% represents an expectancy of 1.5 runs in Wednesday's first inning, and if we see some early fireworks, the live under is worth a long look.
Unders are 13-12-2 in the Astros and Nationals 2019 postseason games, but 11-13-3 in the first five innings.
[In New Jersey? Check out PointsBet for World Series live betting]
How would you rate this article?