Nationals vs. Astros Game 7 Betting Picks, Odds & Predictions: Can Max Scherzer Pull Off the World Series Comeback?
Credit:
Brad Mills, USA Today Sports. Pictured: Max Scherzer
In a series where neither team has won a game at home, the Washington Nationals will attempt an improbable feat: win a Game 7 on the road in Houston after falling behind 3-2.
Sean Zerillo breaks down the pitching matchup, betting trends and more ahead of Wednesday's winner-take-all matchup.
World Series Game 7 Betting Odds, Picks & Predictions: Astros vs. Nationals
Probable starters: Max Scherzer (11-7, 2.92 ERA) vs. Zack Greinke (18-5, 2.93 ERA)
Nationals odds: +125
Astros odds: -140
Over/Under: 7.5
First pitch: 8:08 p.m. ET on FOX
---
Odds as of Wednesday morning and via PointsBet, where Action Network users can access an exclusive promotion to get a 200% deposit match (deposit $50, bet with $150).
---
On Wednesday, the Astros and Nationals will play the 40th Game 7 in World Series history, meaning that one baseball game will crown the 2019 MLB champion.
The road team has won all six games in this World Series, the first time in more than 1,400 best-of-7 postseason series amongst the MLB, NBA and NHL in which the road team won each of the first six contests.
Washington can credit Stephen Strasburg for their Game 6 win, as he continued one of the most dominant runs in postseason history (5-0, 1.98 ERA) with another spectacular pitching performance (8.1 IP, 5 H, 2 R, 2 BB, 7 K) — saving the Nats bullpen for Game 7 in the process.
Wednesday could mark Washington D.C's first World Series championship since the Senators (now the Twins) took the 1924 title. Before this season, the Nationals had one playoff series win in franchise history, a 1981 NLDS victory when they were still the Montreal Expos.
A win for Houston would cement their three-year-run as one of the best in baseball history, having won 101, 103 and 107 regular-season games, with two titles in three years.
How should you consider betting on Game 7?
The Starters
Max Scherzer winning Game 7 of the World Series, two days after receiving a cortisone injection because he couldn't turn his neck, would only add to his folklore.
In June, Scherzer pitched with a black eye the day after breaking his nose in batting practice, and had one of his best starts of the season (7 IP, 4 H, 0 R, 2 BB, 10 K):
Scherzer has apparently pitched with a broken finger all season and missed time in the second half with neck and shoulder injuries – and he still put up one of the best seasons of his career.
2019 was potentially his most efficient season ever, posting career-best marks in FIP, xFIP, K-BB%, and swinging-strike rate.
I used this graph before the NL Wild Card Game, but it's pretty telling. Scherzer had a worse ERA in 2019 than he did in 2017 or 2018, but his underlying metrics improved: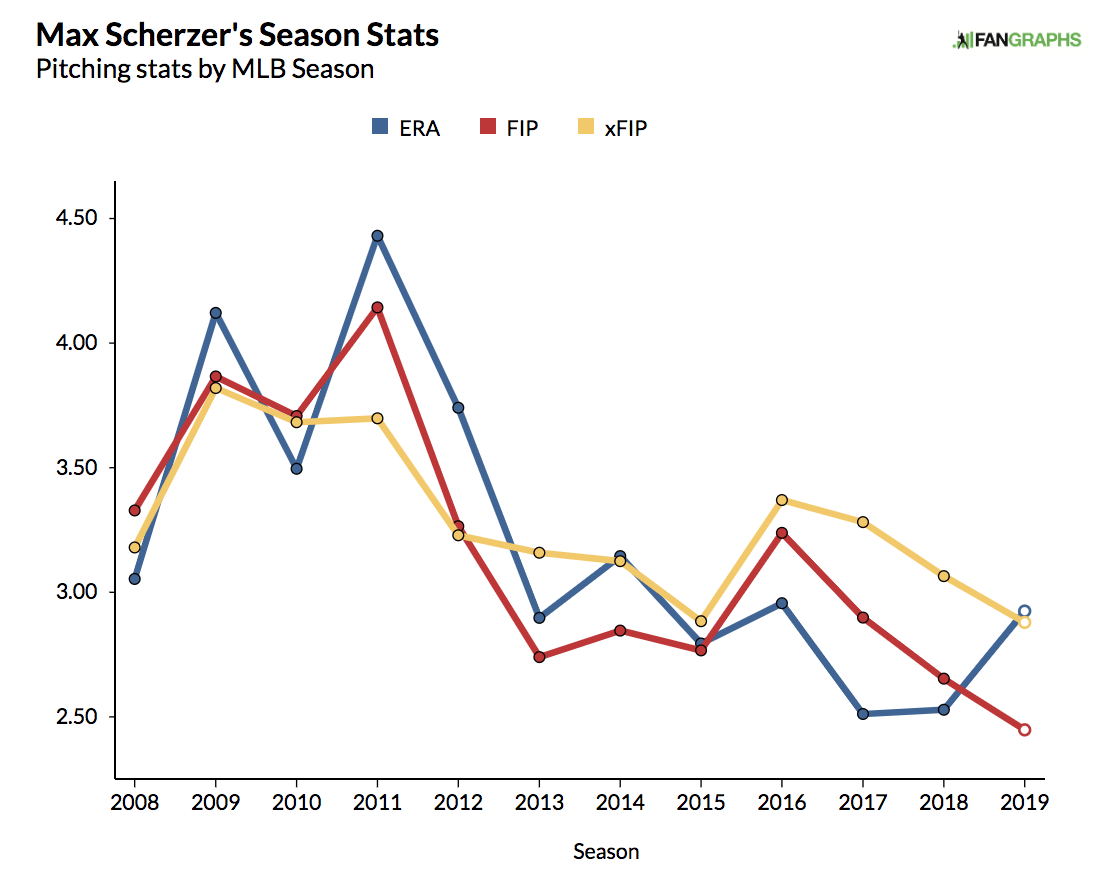 Max posted a 4.75 (3.05 FIP) over his final seven regular-season starts while showing reduced pitch velocity (down one mph) and seeing a spike in his HR/FB rate. Still, the velocity has returned, and the home runs have regressed in October.
On a per-pitch basis, Scherzer had the sixth-best fastball and the best slider in MLB this season among starting pitchers.
In Game 1 against the Astros, Scherzer generated eight whiffs with his slider and six with his fastball.
There are many gifs I could show to demonstrate how he effectively uses these pitches, but this one exemplifies what he probably considers an ideal at-bat against a left-handed hitter:

While this one shows just how effectively the slider dives away from a righty:
The quality of Scherzer's performance will likely dictate the Nats' chances early in this game. If he falters and Dave Martinez has to turn to Patrick Corbin and the Nats bullpen prematurely, it could be a long night for the NL pennant winners.
On the flip side, it's fair to say that Zack Greinke has not been sharp during the postseason, allowing 11 runs and eight walks in 18.2 innings failing to make it through the fifth inning in three of his four starts.
He went 8-1 with a 3.02 ERA with the Astros over the final two months of the regular season.
Before Game 3 against the Rays, both Game 1 and Game 4 against the Yankees, and Game 3 of the World Series, I noted the following things about the future Hall-of-Famer:
Elite command – third-best walk rate amongst qualified starters
Pounds the zone early (67% first-pitch strikes, seventh amongst qualified starters)
Ranks in the 11th percentile in fastball velocity
Has the same career chase rate or outside swing rate (33%) as Stephen Strasburg – but Strasburg induces whiffs on those swings about 10% more frequently
Adds and subtracts from his offerings, making some pitches indistinguishable until they start to move
Loves to utilize a slow curveball to keep hitters off balance
Won four consecutive gold gloves, and remains the best fielding pitcher in MLB
However, Greinke has had difficulty both generating swings outside of the zone and getting strike calls outside of the zone during these playoffs.
In the graphic below, compare his swing rate in the playoffs (left) with the 2019 regular season (right), and notice the area directly below the strike zone:
If he can get an extra inch or two on the corners, and force the Nats' hitters to chase his array of diving stuff, Greinke will look back in form:
The Bullpen
On the season, the Astros bullpen ranks 11th in FIP, first in xFIP and first in K-BB%. By the same metrics, the Nationals rank 26th, 29th and 23rd.
However, you can almost disregard those metrics with everyone necessarily available in a winner-take-all Game 7.
Strasburg has pitched like the playoff MVP, but the 8.1 innings (104 pitches) he tossed on Tuesday was especially vital — as it helped to give the Nats bullpen some extra rest heading into the deciding game.
Sean Doolittle has thrown 25 pitches over the past two games with a day of rest in-between and should be good to go (and perhaps deployed as a situational lefty) for Game 7.
Daniel Hudson, Tanner Rainey and Wander Suero have each had two days of rest, and I'm much less concerned about the group that I would have been in Game 6.
Though Hudson (3 IP, 7 H, 4 R, 1 BB, 3 K) and Rainey (2.2 IP, 3 R, 4 BB, 1 K) have both looked shaky against Houston.
Could the Nationals use Stephen Strasburg for an inning, on zero rest, like the Diamondbacks used Randy Johnson in Game 7 the 2001 World Series (retiring all four batters he faced)?
Washington will undoubtedly turn to Patrick Corbin for a stretch behind Scherzer.
The Game 4 Starter, is slider-dominant – throwing it more frequently (37%) than all but just a few pitchers, while ranking third in total pitch value, and eighth on a weighted basis.
Corbin focuses on throwing the pitch low and away to lefties, or down and in towards righties:
Two issues:
Corbin has relatively significant splits, performing better against lefties than righties – and the Astros lineup is mostly right-handed.
Corbin relies on whiffs outside of the zone, throwing the ball in the zone less frequently (36.3%) than any starter – but the Astros' contact rate on pitches outside of the zone was 68.2% — the best in baseball.
As for Houston, they could opt to deploy Gerrit Cole on two days of rest for an inning – something which seems more likely than not.
More likely is that their Game 4 starter, Jose Urquidy, pitches at some point.
The rookie tossed five shutout innings (2 H, 0 BB, 4 K) in that start and has allowed one run, eight hits, and a pair of walks against 12 strikeouts in 9.1 innings this postseason.
He features excellent command and a couple of filthy secondary offerings:
Projected Lineups
Data via FantasyLabs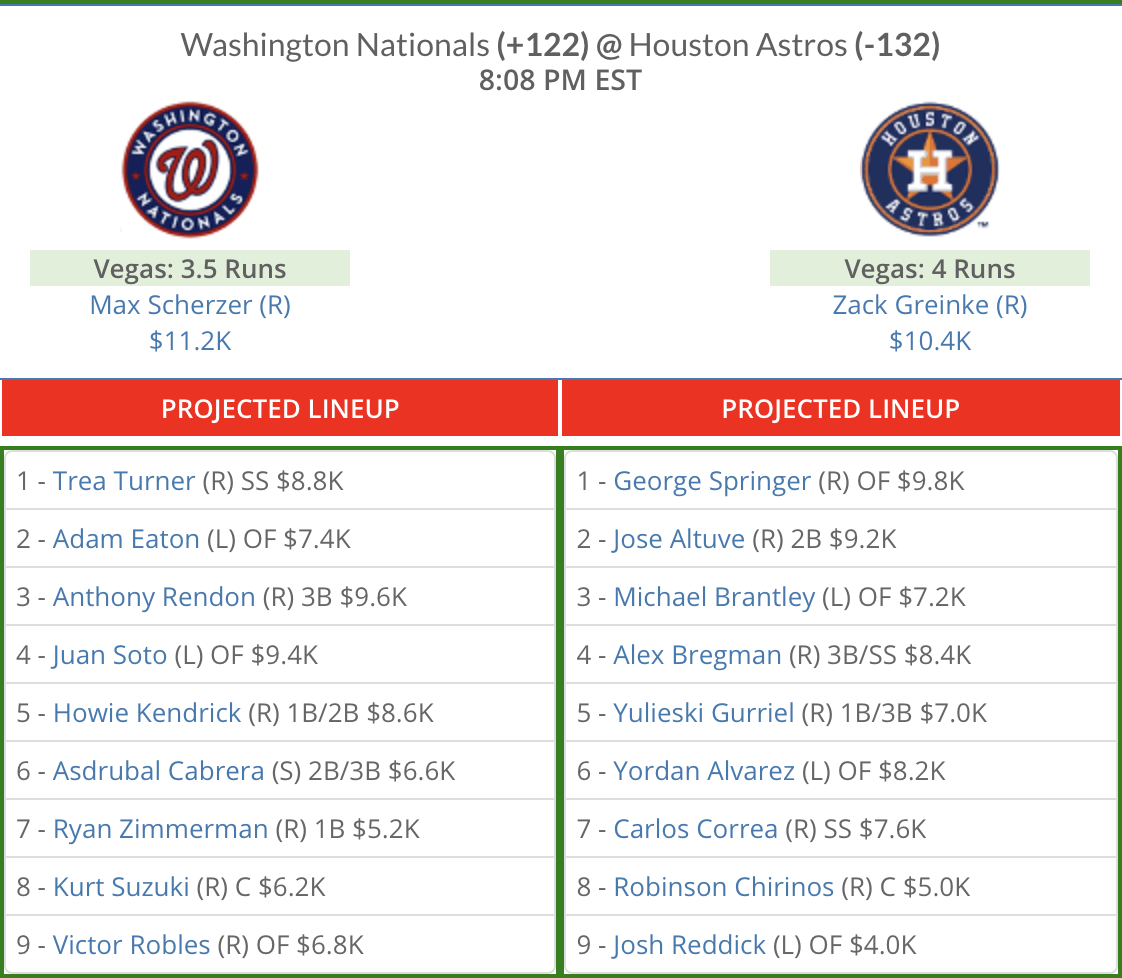 Kurt Suzuki has missed the past three games with a hip-flexor injury but is expected to rejoin the Nats' lineup for Game 7.
Umpire and Weather Report
Data via Sports Insights.
The last time that the Astros played a playoff game at home with the roof open was in 2005, and the dome will be closed again on Wednesday night.
Minute Maid Park is the third-most profitable park for unders in our database at 629-556-58 (53.1%), generating nearly +$4,499 for a consistent $100 bettor.
Jim Wolf, the brother of retired MLB pitcher Randy Wolf, will be the home plate umpire for Game 7.
Since 2005 Wolf is the fourth-most profitable umpire for overs, which have hit at a 53.6% clip (228-197-31) — generating +$2,233 for a consistent $100 bettor.
Per Mark Simon of the Athletic, "there were more strikeouts per nine innings in games umpired by Wolf than by any other umpire this season."
Wolf is a more aggressive strike caller than Game 6 umpire Sam Holbrook, a factor that could only stand to assist Zack Greinke.
Trends to Know
The American League owns a 66-48 head-to-head record against the National League in the World Series.
Road teams have a 20-19 edge in Game 7 of the World Series and have won the past three contests.
Max Scherzer is 28-34 (45.2%) as a moneyline underdog and 23-26-9 (46.9%) as an F5 underdog. He has never been a bigger underdog than he was in Game 1 (+175) against Gerrit Cole.
Underdogs, road teams, and their counterparts are each 5-5 in Game 7 situations since 2005. Unders are 6-4 over the same period.
As of writing, more than 80% of the bets and 75% of the cash is backing the Over, setting this game up for a contrarian Under:
That system is 102-85-9 (54.5%) in 2019, including an 8-6-1 record in the postseason.
Model Projected Odds: World Series Game 7
Favorite Bets
I projected the Astros as a -111 favorite in this game, and I set the total at 7.02 runs. Therefore, I see value both on the Nationals moneyline and the total. 
At listed moneyline odds of +125 (implied 44.4%), I see a three percent gap in expected value on the Nats moneyline, compared to my projection at +111 (implied 47.4%).
I would consider betting Washington's moneyline down to +128 (implied 43.9%), a 3.5% gap in expected value from my projection.
However, I played their series price at +600 before Game 6. I won't personally be adding more on or hedging against the Nationals to win Game 7.
My preference is to play the Nats on the F5 moneyline, and I set the cutoff price at +106 (implied 48.5%) — which represents a 3.5% gap in expected value from my projection (-108, implied 52%).
I put two units on the Nationals' F5 moneyline at +120 (a 6.5% edge) and would alternatively look at playing their F5 spread (+0.5) to -120 in a market where I project them as a small favorite.
Lastly, I played under 7.5 (+105) for a half-unit at 4.5% edge, and would also bet the under if it moved up to 8 (-110), a 4% edge.
How would you rate this article?