Stuckey: World Series Futures Bets With Value After MLB Trade Deadline
Credit:
Bill Streicher-USA TODAY Sports. Pictured: Los Angeles Dodgers shortstop Manny Machado
The Dodgers' moves at the MLB trade deadline -- most notably grabbing slugger Manny Machado -- make them the clear NL favorite to reach the World Series.
Atlanta's trades help put them in the driver's seat in the NL East and give them betting value at 16-1.
The Yankees made the best move by getting stud reliever Zach Britton, but their 6-1 odds are too steep to warrant an investment.
Many pundits called the Yankees losers of the 2009 MLB trade deadline after not doing much of anything. The Bombers' lone July move that year involved trading catcher Chase Weems to the Reds for utility man Jerry Hairston Jr — who will go down as nothing more than a trivia answer as the player who scored the winning run in the 13th inning of Game 2 of the ALCS against the Angels.
But those Yankees didn't really have a need to fill except for maybe starting-pitching depth in case of injury. They had an absolutely loaded roster and were rolling in July.
You could say the same for the 2008 World Series champion Phillies. Philadelphia didn't have too many holes outside of Adam Eaton, who was replaced in the rotation by Joe Blanton. He wasn't having a great year, but Blanton pitched decently in the postseason, including six innings of two-run ball in Game 4 of the World Series.
Not only did Blanton get the win to put the Phillies up three games to one, but who could forget his homer?
This season at the deadline, I didn't see a team dominant enough to stay put. Yes, the Red Sox seemingly never lose, but they have starting-rotation questions — and play in a loaded American League. That means the 2018 World Series might be won or lost with a key July acquisition — much like the past three seasons.
It doesn't necessarily have to be a marquee starting pitcher. A missing bat or clubhouse presence could also put a team over the hump, as we saw in 2012 when the Giants traded for Hunter Pence.
Simple bullpen help can also make all the difference. The Cardinals proved that in 2011 by acquiring Mark Rzepczynski, Edwin Jackson and Octavio Dotel. Those names didn't blow anybody away at the deadline, but all three contributed to St. Louis' World Series title.
It doesn't always work out as planned. Just look at the 2014 Detroit Tigers, who became one of the World Series favorites after the deadline with the top of their rotation featuring Max Scherzer, David Price and Justin Verlander. The Tigers won the AL Central that year, but then got swept by the Orioles in the ALDS.
With that in mind, let's examine the key July moves made by the likely postseason participants this season. I will not factor in prospects or moves for the future, which is a completely different analysis.
American League
First, it's important to note that the MLB futures market didn't really react to any of the American League trade-deadline moves. However, I think two of the four primary contenders clearly won the chess battle in July. Let's take a closer look by ranking the cumulative moves of each contender.
Yankees (6-1): Zach Britton, J.A. Happ, Lance Lynn
Indians (10-1):  Leonys Martin, Brad Hand, Adam Cimber
Astros (+450): Ryan Pressly, Roberto Osuna, Martin Maldonado
Red Sox (+450): Ian Kinsler, Nathan Eovaldi
AL East
The Yankees made the best move of any American League team by getting stud reliever Britton for two reasons:
It was a great defensive move, as it prevented Houston from securing the filthy lefty as its closer.
The Yankees now have a bullpen fully capable of dominating a playoff series — a formula we've seen work in recent years. While their rotation still has some questions outside of Luis Severino, they pretty much just need a few starters to go five innings with that pen.
Happ can now certainly fill the role of one those starters. And after the latest Sonny Gray debacle, maybe highly-touted prospect Justus Sheffield can fill the other along with CC Sabathia.
Nathan Eovaldi has nasty stuff, but the Red Sox's rotation issues persist. Can Price finally step up for Boston on the big stage? Is the Chris Sale injury anything to worry about? He has struggled down the stretch in the past.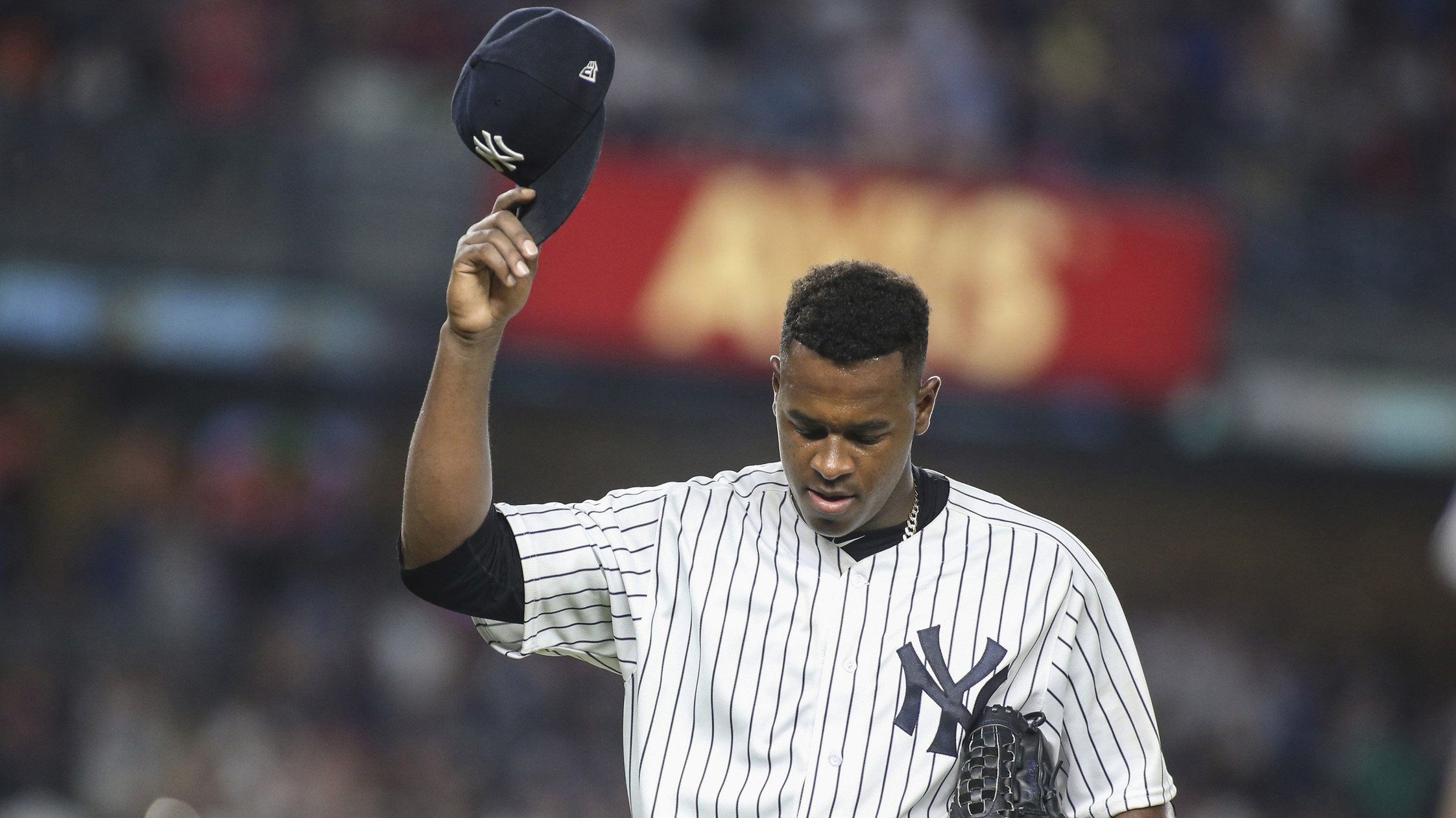 Wendell Cruz, USA Today Sports. Pictured: Luis Severino
AL West
I just don't see any other team in the division catching and passing the Astros, who did address their late-inning bullpen issues with the addition of Osuna. However, Osuna comes with a lot of baggage. It will be interesting to see how that plays out in the locker room.
AL Central
The day before the Indians secured Hand and Cimber, I wrote a column about their value at 15-1. I assumed they'd address their biggest weakness by adding a few relievers, which they did. And once Andrew Miller returns, they can compete in a series with any of the three AL powerhouses. Martin helps some with outfield offense, but they could still use another bat via waivers.
---
>> Download The Action Network App to get real-time MLB odds, track your bets and follow all of our experts' picks.
---
National League
The National League is wide open. I could potentially see nine teams realistically winning the pennant — five more than in the AL. All three division races are still up for grabs, which made July especially critical for more than half the teams in the league.
Dodgers (6-1): 

Manny Machado, Brian Dozier, John Axford, Dylan Floro

Braves (16-1): 

Adam Duvall, Kevin Gausman, Jonny Venters, Brad Brach, Darren O'Day

Diamondbacks (20-1): 

Eduardo Escobar, Matt Andriese, Brad Ziegler, Jake Diekman

Pirates (60-1): 

Chris Archer, Keone Kela

Brewers (16-1): 

Jonathan Schoop, Mike Moustakas, Joakim Soria

Phillies (12-1): 

Asdrubal Cabrera, Wilson Ramos, Aaron Loup

Cubs (6-1): 

Cole Hamels, Brandon Kintzler, Jesse Chavez

Rockies (25-1):

Seunghwan Oh

Nationals (30-1):

N/A
NL East
The Nationals didn't do anything other than hold onto Bryce Harper, while the Phillies added some decent veterans to their young group. But I think the Braves made the moves to become the clear favorite in the NL East.
I'm a big fan of Gausman, a veteran who usually excels in the second half of the season. (Read more about that here.) The Braves also got some much-needed help in the bullpen.
Overall, Atlanta added three Orioles, who I think will be rejuvenated moving from a last-place team to a pennant race. Lastly, don't sleep on the bat of Duvall, who brings some right-handed pop to add balance to that lineup.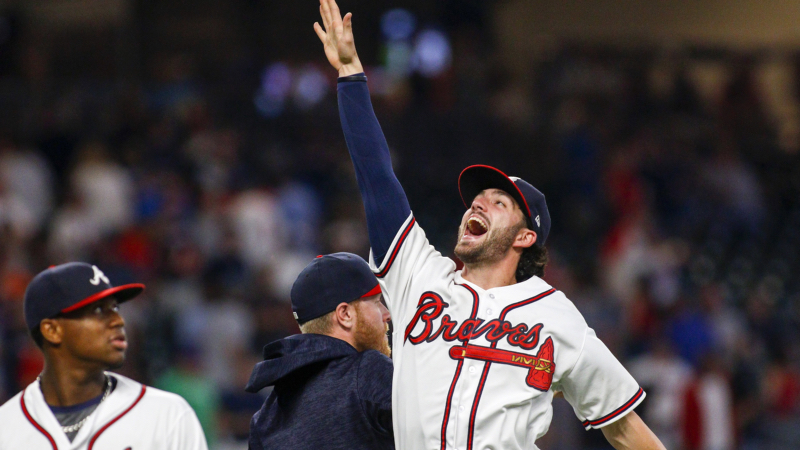 Credit: Brett Davis-USA TODAY Sports. Pictured: Atlanta Braves shortstop Dansby Swanson (7) celebrates a victory.
NL West
The Dodgers clearly had the best July with the additions of Machado and Dozier. When healthy, they now have the NL's best lineup. If their staff can also stay healthy, the Dodgers are clearly the favorite to get to the World Series.
Arizona added bullpen depth and another bat to a lineup with a lot of potential, but their rotation is still very top-heavy. The Rockies made only one key move with Oh, but he'll really help in the seventh inning, where Colorado has allowed the most runs of any team in baseball. Adding another starter and/or another bat would've gone a long way.
NL Central
I don't really like what any team did in the NL Central. The Brewers and Cubs still have excellent lineups, but didn't fully address their rotation holes. The Pirates are apparently going all-in a year after selling cornerstone pieces, but I don't think Archer and Kela give them enough to catch either Chicago or Milwaukee.
My Updated World Series Futures
Previously Pending
Mariners 30-1
Indians 15-1
Rockies 85-1
Post-Deadline Adds
Braves 16-1
I actually think the Yankees have the roster that is best suited for success in October, but I can't back them with the high likelihood of a wild-card game in their future. I still think the Indians, who should have the easiest path to the Division Series, hold slight value at 10-1. And at +450, I don't see any reason to back the Red Sox or Astros.
In the National League, I love my Rockies 85-1 number, but wouldn't recommend their current price of 25-1. However, I did add the Braves at their current number of 16-1. I clearly value their moves more than the market did — especially in relation to the teams they are competing with in the NL East.
How would you rate this article?