Stuckey: Two World Series Futures I'm Betting at the Break
Credit:
© Joe Camporeale-USA TODAY Sports. Pictured: Jose Ramirez and Francisco Lindor
The All-Star break provides a logical opportunity to reevaluate the MLB futures market.
I see significant value in one particular AL team that I think isn't being respected enough.
I also think a wide-open National League presents a good opportunity to throw a dart.
Before the season, I backed only one team in the World Series futures market. While I'm happy with the 30-1 price I got on the Mariners, I don't think they can sustain their pace — especially with new injury concerns surrounding ace James Paxton. They will get Robinson Cano back on Aug. 14, but he's ineligible for the postseason. And I'm still waiting for closer Edwin Diaz's arm to fall off.
I do see another American League team in the futures market that I think still holds significant value. I also took a flier on a longshot in the wide-open National League. Let's take a closer look at both.
American League
Barring catastrophic collapses or insurmountable injuries, we pretty much know four of the five AL playoff teams: Astros, Yankees, Red Sox and Indians.
From there, it's a battle for the second wild card — likely between the aforementioned Mariners (25-1), Athletics (80-1) and possibly the Rays. While my colleague sees value in the Rays at 750-1 (which does seem absurdly high), I don't see them making a run in a very top-heavy American League.
That leaves the four obvious choices.
I can't make a case for either the Yankees or Red Sox at around 5-1, especially since one will have to play in the wild-card game just to get to the ALDS. Anything can happen in a one-and-done scenario, but the winner will be at a staff disadvantage in the division series.
The Red Sox (+485) simply don't lose, but do you really trust their starting staff? Chris Sale has faded down the stretch in the past, while David Price's struggles on the big stage are well-documented. Boston doesn't look invincible by any stretch.
The Yankees (+535) might end up being the most complete team come October, but I think they finish with a wild-card berth — despite likely getting 100+ wins. If they survive, they probably wouldn't have Luis Severino available for Game 1 of the ALDS. That's big.
The Astros (+410) obviously look great again, but they still have major late-inning bullpen issues. Ken Giles clearly doesn't work at closer, which could come back to haunt Houston — as it nearly did numerous times last season. No thanks on 4-1 odds in the AL gauntlet.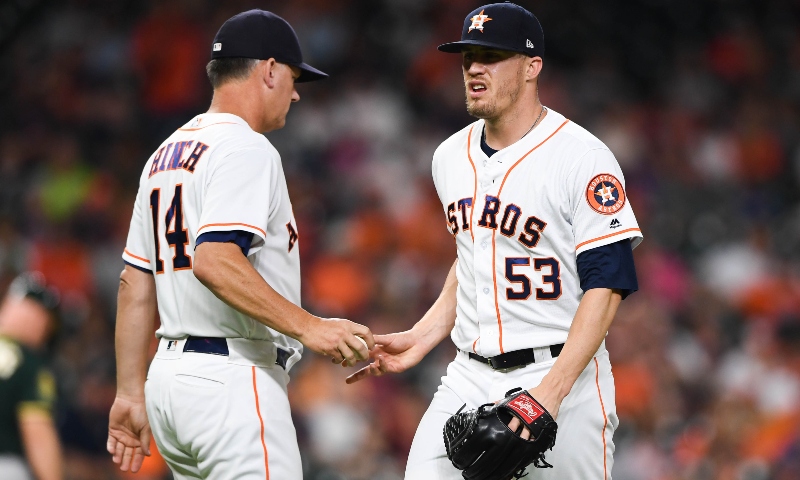 Credit: Shanna Lockwood-USA TODAY Sports. Pictured: Ken Giles (53).
That leaves the Indians (15-1). While certainly flawed in their own right — their bullpen owns the second-worst ERA in baseball — they can compete in the elite echelon. They have a deep, well-balanced offense (primarily their top six) and a starting rotation built for a playoff series format.
I'm also confident Cleveland will add an outfielder (or two) to fill out their lineup, and bolster their pen by the deadline. Plus, they should eventually get a healthy Andrew Miller back — and if so, he'll be fresh for high October usage. That's dangerous. A bullpen stable of Miller, Noe Ramirez, Tyler Olson, Cody Allen and one or two deadline arms can work in the postseason.
As it stands right now, the Tribe would face the Astros in the ALDS. Would I favor the Astros? Certainly. But do I think Cleveland can win that series? Absolutely. I ultimately just think 15-1 offers too much value for the team with the easiest path to the Division Series. To me, the Indians are much closer in class to the Sox, Yanks and Astros than their futures odds imply.
Something to keep in mind for August: The Indians almost certainly will be the gatekeeper for the AL contender waiver claim process. They'll be ahead of the Red Sox, Yankees, Astros.

— Buster Olney (@Buster_ESPN) July 15, 2018
Not only do the Indians have the largest division lead, they sit ahead of the Yankees, Red Sox and Astros in the waiver claim process.
AL Added Future: Indians 15-1
---
National League
The NL is completely wide-open in my opinion — which I think provides an opportunity to throw a dart.
The Dodgers (+950) would be a clear favorite if they land Manny Machado, which seems to be the current consensus. However, I still don't fully trust their staff, which has dealt with injuries all season. Ross Stripling helped carry the rotation in the first half, but he'll likely move back to the bullpen. There are many performance (and health) questions around Rich Hill — and who knows if Clayton Kershaw can stay healthy.
Many might point to the Cubs (+950) as a legit threat, but I don't trust their pitching. Jon Lester has oodles of regression coming his way and Kyle Hendricks is hit-or-miss. I also don't expect Mike Montgomery's arm to hold up, while Jose Quintana and Tyler Chatwood wouldn't scare anybody in a series. The same can be said for the Brewers (+2150). Milwaukee has to worry about lineup injuries and bullpen fatigue in the second half — although I do see GM David Stearns being aggressive at the deadline.
If the Nationals (+2250) stay healthy (Stephen Strasburg and Ryan Zimmerman return on Friday) and find a way to win the NL East, they'd become dangerous with that lineup and a three-headed rotation monster in Strasburg, Max Scherzer and Gio Gonzalez. But I'm just not sure they get there, as something seems off with them this year. (But maybe it's  just Washington's year.)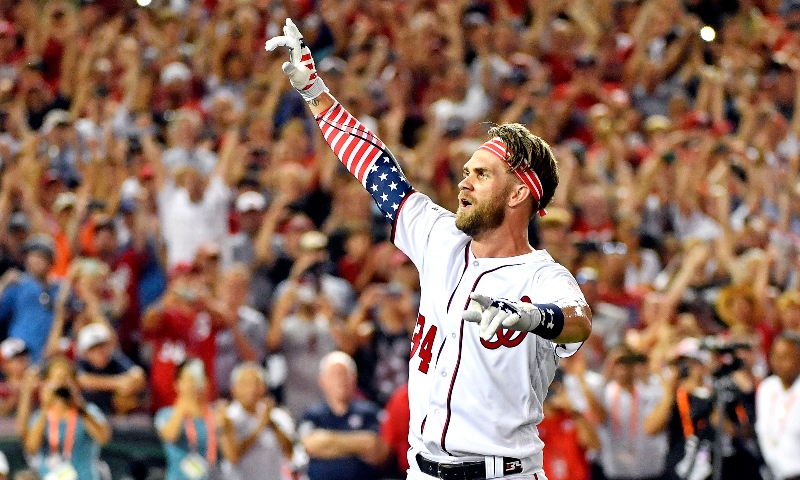 Credit: Brad Mills-USA TODAY Sports. Pictured: Bryce Harper.
As a Phillies fan (+1625), I still think they're a year away from seriously contending for an NL pennant. The Braves (+2150) are more intriguing to me, but certainly have question marks of their own.
That leaves the Diamondbacks (20-1) and Rockies (85-1) as the only other NL teams I could envision making a run — and the two I considered investing in. Sorry Cardinals (50-1) and Giants (40-1) fans — yes, I know it's an even year.
Arizona has the NL's best bullpen ERA, an above=average lineup and two reliable starters in Patrick Corbin and Zack Greinke. Meanwhile, the Rockies have a unique home-field advantage, a relentless top-half of the lineup and a strong setup man/closer duo.
The significant futures price discrepancy between the two clubs led me the Rockies, but so did Jon Gray's most recent performance. The stuff will always be there, but it looked like he simplified his approach in that July 14 start against the Mariners. It was only one start, but I loved what I saw. If he truly figured some things out in Triple-A, he can anchor that rotation down the stretch.
Colorado likely won't overcome a lack of lineup depth, weak middle relief and inexperienced starters, but 85-1 offers too much value on a team sitting two games out of first in a vulnerable NL West.
NL Added Future: Rockies 85-1