Cardinals vs. Nationals Betting Picks, Odds & Predictions: Is Game 1 a Must-Win for St. Louis?
Credit:
Jayne Kamin-Oncea-USA TODAY Sports. Pictured: Washington Nationals right fielder Adam Eaton (2) and left fielder Juan Soto (22) celebrate a grand slam by second baseman Howie Kendrick (47)
Game 1 of the NLCS opens on Friday night with the Washington Nationals traveling to face the St. Louis Cardinals. The betting odds for Game 1 opened with St. Louis as a slight favorite (-118 moneyline odds) and the Nationals at +108 odds.
The over/under for the game opened at 8.5, but has since been bet down quite a bit to the current number of 7.5.
Which team has the edge in Game 1 -- and how should you approach betting on the series? MLB expert Sean Zerillo breaks down all the angles and gives his pick.
Cardinals vs. Nationals Betting Picks, Odds & Predictions for Game 1
Probable starters: Anibal Sanchez (11-8 3.85 ERA) vs. Miles Mikolas (9-14 4.16 ERA)
Nationals odds: +100
Cardinals odds:  -120
Over/Under:  8
First pitch:  8:08 p.m. ET on TBS
Odds as of Thursday evening and via PointsBet, where Action Network users get an exclusive 200% deposit match (deposit $50, bet with $150).
---
The St. Louis Cardinals (+125) and Washington Nationals (+180) each pulled series moneyline upsets in the Divisional Round, with both teams winning on the road in Game 5.
The Cardinals offense ended the Braves season with a bang, scoring 10 runs before the second out of the game while cruising to a champagne celebration.
Meanwhile, the Dodgers season ended with a playoff whimper for the seventh consecutive year.
Wednesday marked the Nationals' second playoff series victory in franchise history and their first since 1981 — when they were still the Montreal Expos.
The Nationals appear to be exorcising some playoff demons too, rallying late to defeat Josh Hader and the Brewers in the NL Wild Card game before rallying again to knock off the Dodgers — the team who eliminated the Expos in that 1981 NLCS, and the Nationals in Game 5 of the 2016 NLDS.
In this NLCS against the Cardinals, the Nats will also have a shot at revenge against the club that beat them in Game 5 of the 2012 divisional series — one of many NLDS Game 5 losses suffered by the franchise.
St. Louis won the season series 5-2 and held the Nationals to fewer than 2.5 runs per game. They will also have home-field advantage in this series, but with Washington's three aces lined up for Games 2 through 4, the Cardinals probably view Game 1 as a must-win.
The Redbirds played for the NL Pennant for four consecutive years between 2011 and 2014. Can they secure an early lead at home in their first NLCS appearance since then?
The Starters
Mikolas allowed one run in Game 1 against the Braves over five effective innings and earned the win in Game 4 after tossing a clean top of the 10th inning.
Before Game 1 in Atlanta, I highlighted a few things about Mikolas as a pitcher, including:
His high number of balls in play allowed, as a result of his having the fourth-best walk rate and the 12th-worst strikeout rate amongst 61 qualified starters
The fact that a high number of those batted balls (47%) are ground balls
2019 regression, as a result of decreased slider effectiveness amongst his otherwise average arsenal
Mikolas is an awkward pitcher, with pretty ugly mechanics.
Notice how stiff that plant foot is, along with the fact that it's holding his entire body back as he strides towards the plate? That's not ideal.
Mikolas has also been losing fastball velocity since the middle of last season.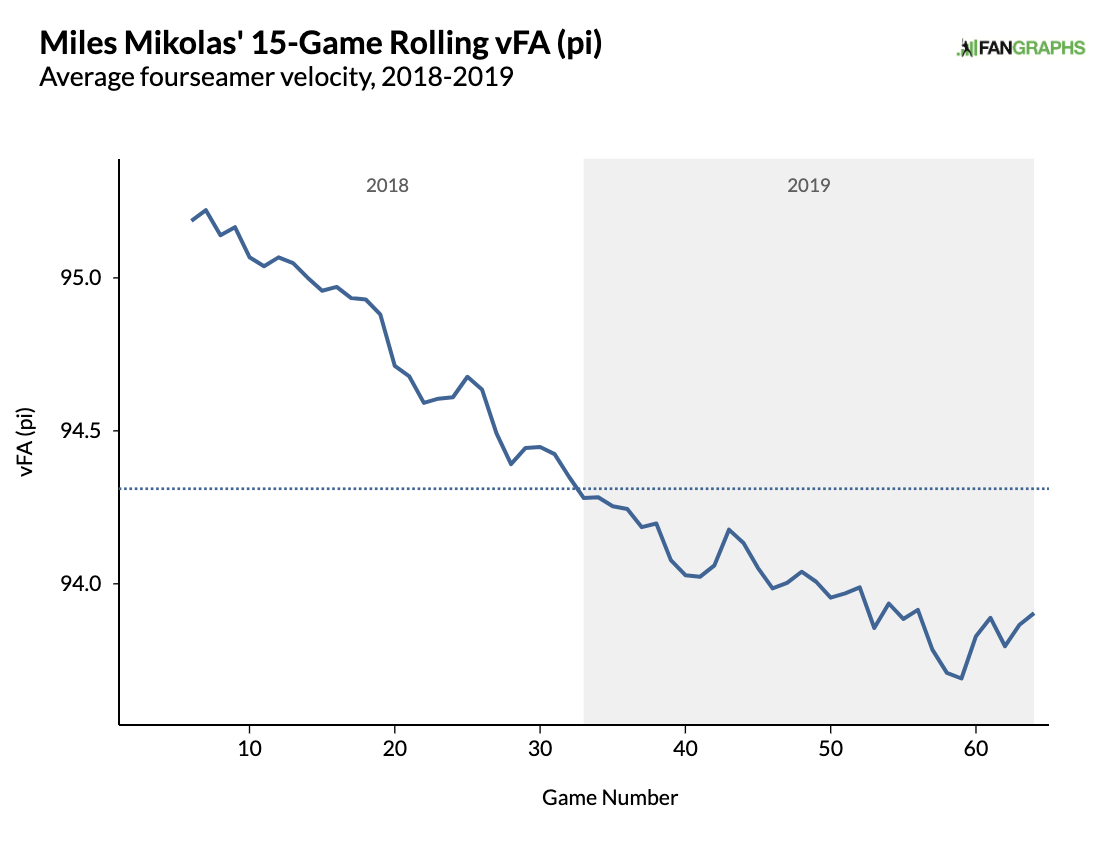 However, he has still been effective at controlling the strike zone, posting a 54:11 strikeout to walk ratio over his final 58 regular-season innings. But well-struck batted balls and home runs have undermined his 2019 season.
The Nationals won't have their three aces available for Game 1 and will have to return to NLDS Game 3 starter, Anibal Sanchez.
Before that game, I discussed:
Sanchez's declining strikeout to walk ratio, which is 3.59, 3.21, an 2.31 over the past three seasons
His signature cutter, which he didn't begin to throw until 2015
And his reliance on six different pitches, most of which are fastballs or off-speed
Sanchez was masterful in that NLDS Game 3 outing, recording nine strikeouts over five innings, with 13 swinging strikes.
His changeup and splitter forced a lot of ugly cuts from the Dodgers offense, generating 10 of those 13 whiffs.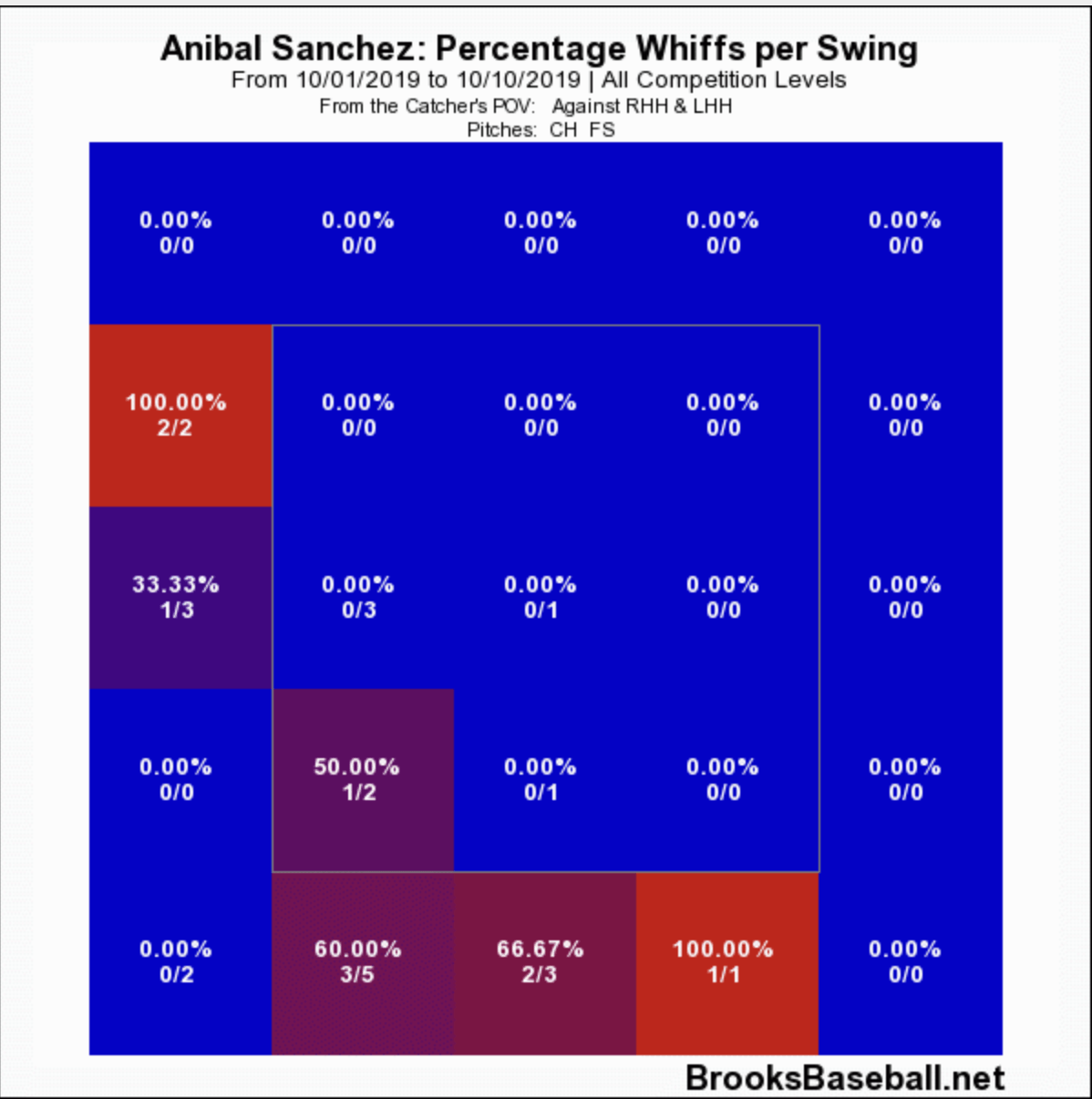 The Bullpens
On the season, the Cardinals bullpen ranks 11th in FIP, 12th in xFIP and 15th in K-BB%. By the same metrics, the Nationals rank 26th, 29th and 23rd.
Neither bullpen performed particularly well in the divisional round.
Cardinals: 14.2 IP, 4.44 ERA, 1.55 WHIP, 8 BB, 18 K
Nationals: 15 IP, 8.40 ERA, 1.80 WHIP, 9 BB, 22 K
The Nationals numbers would be more comparable to the Cardinals if you took out the six-run shellacking that Patrick Corbin suffered in less than an inning in Game 3 against the Dodgers.
Sean Doolittle, Daniel Hudson and Tanner Rainey were the only Nationals relievers to pitch in three out of their five NLDS games, but they also probably won't be able to deploy Stephen Strasburg or Max Scherzer in relief until the later stages of this series.
The Cardinals used five pitchers (John Brebbia, Giovanny Gallegos, Carlos Martinez, Andrew Miller, and Tyler Webb) three times each in their series against the Braves.
Martinez was the only pitcher to throw more than 20 pitches in any single appearance, but he also struggled, allowing three runs each in Games 1 and 3 while taking the loss in the latter.
He rebounded after putting himself into more trouble during the top of the 9th inning in a tied Game 4, retiring his final three batters following a leadoff double to Ronald Acuna.
Mike Schildt still trusts Martinez (2.86 FIP), but he's very much much a cardiac closer, and a total enigma in pressure moments.
Projected Lineups
Data per FantasyLabs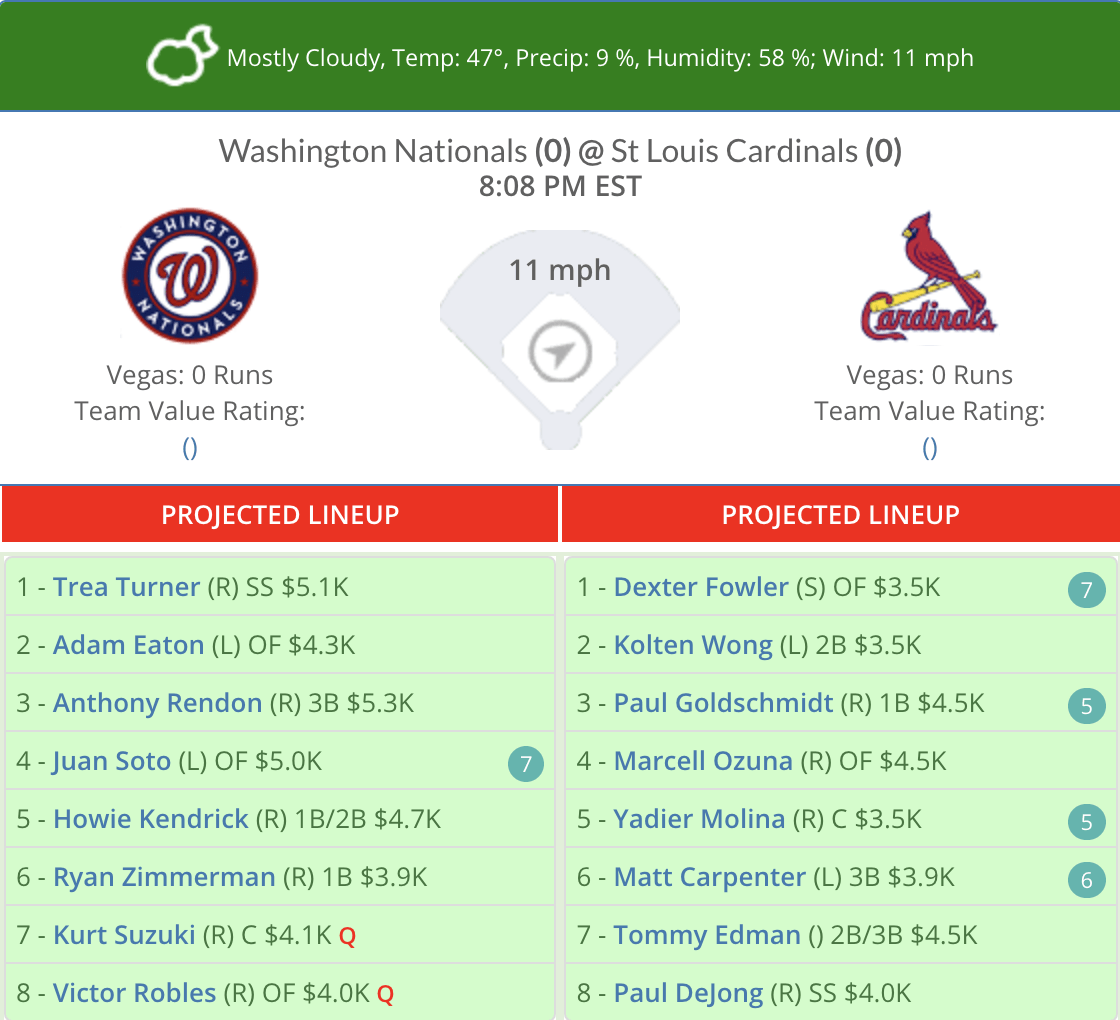 Stadium and Weather Report
Data per Sports Insights

Since 2005, Busch Stadium is the third-most profitable stadium in our database for unders between the regular season and the postseason, at 641-554-64 (53.6%).
Unders are 25-19-1 (56.8%) in Busch Stadium playoff games.
Based upon the projected weather conditions on Thursday (wind blowing out to RF, 10+ mph) unders are 14-13-2 at Busch Stadium.
Trends to Know
In Games 1 and 2 of all postseason series (divisional round or further) dating back to 2015, home teams are 47-17 (73.4%) netting a consistent $100 bettor +$1,877 (29.3% ROI).
Home favorites are 37-11 (77.1%) in those games, while underdogs are 10-6 (62.5%).
Home teams are also dominant in the final two rounds of the playoffs in general, though that isn't the case in the divisional round.
Between the ALCS, NLCS, and World Series (dating back to 2005), home teams have won at 59.4% clip (139-95, +$1,952).
As you can see below, that trend has been profitable nearly every season:

One split to note is that while home favorites have dominated in the best-of-seven rounds (60.8%), home underdogs have been profitable plays only in the league championship round (26-16, 62%) and not in the World Series (9-12, 43%).
Series Moneyline Corner
I projected the Nationals as a -122 favorite in this series, an implied probability of 55%, even though they begin (and could potentially finish) the series on the road, and without one of their three primary starters in Game 1.
Oddsmakers opened the Nationals as -120 series favorites, so I don't see any series moneyline value on either team as of yet. However, I suspect that you might find some value on the Nationals if they lose Game 1.
Even if they do drop the opening game in this series, I would still project the Nationals as +138 underdogs (implied 42%) to win four out of the final six games, and I suspect that you will find value when the series price re-opens with Washington down a game on the road.
If they pull a Game 1 upset, the Nationals will become a firm favorite in my projections at -270, an implied probability of 73%.
As a result, the Cardinals stand to gain 13% in series win probability with a Game 1 win but could lose 18% in series win probability with a loss.
Model Projected Odds
Favorite Bet
I projected the Cardinals as a -133 favorite in this game, and I set the total at 8.53 runs. Therefore, I see value compared to the moneyline, but no value compared to the total.
I played the Cardinals moneyline for one unit at -115, an implied probability of 53.5%, and a gap of more than 3.5% in expected value between my projection and the listed odds.
I'm comfortable playing the Cardinals up to -125, particularly with the abundance of dominant trends for home teams at this stage of the playoffs.
I also played the Cardinals F5 moneyline at -109 for a half unit and would play it up to -115. At -109, an implied probability of 52.2%, I see an expected value gap of 3.5% from my projection (55.7%).
I would lean to the over with the total at 8, but I wouldn't play it unless I saw a plus-money price.
How would you rate this article?