Zerillo's Cubs-Pirates Mega Guide: How to Bet Sunday Night Baseball
Credit:
Quinn Harris-USA TODAY Sports. Pictured: Chicago Cubs starting pitcher Jose Quintana (62)
Sunday Night Baseball Betting Odds: Chicago Cubs and Pittsburgh Pirates
Probable starters: Jose Quintana (10-7, 4.11 ERA) vs. Mitch Keller (1-1, 7.94 ERA)
Cubs odds: -152
Pirates odds: +141
Over/Under: 10
First pitch: 7:10 p.m. ET on ESPN
---
On Sunday night, the Cubs (65-58) and Pirates (51-71) will take part in the third annual MLB Little League Classic, located at BB&T Ballpark at Historic Bowman Field in Williamsport, Pennsylvania.
In the 2018 edition, the Mets defeated the Phillies 8-2, and in the inaugural 2017 game, the Pirates beat the Cardinals 6-3. The Orioles and Red Sox will continue the series in 2020.
The Cubs lead the season series over the Pirates seven to five, outscoring their divisional rival by 12 runs (62-50). The teams have split the first two games of the current series, which began in Pittsburgh.
Chicago is 18-15 in the second half of the season with a +9 run differential and wins over sub .500 opponents like the Pirates are crucial as they are in a dead heat with the Cardinals for the NL Central crown.
Meanwhile, the Pirates are in free-fall, losing 26 of 33 games since the All-Star Break with a minus-57 run differential.
Reportedly, the Pirates are a mess behind the scenes too, with constant trouble in the clubhouse and infighting between teammates.
Can they pull it together on a national stage and win the game, and this series over the Cubs in primetime?
The Venue
Before the 2017 Little League Classic, BB&T Ballpark at Historic Bowman Field was modified to conform to MLB standards, and now sports dimensions of 323-411-331 from left to right field.
Dead center at Bowman Field is slightly deeper than at most MLB parks, meaning that the power alleys are also slightly deeper than you would expect due to the park's cookie-cutter layout.
There is no perfect MLB park comparison for Bowman Field, but its dimensions and outfield walls are most similar to the Great American Ballpark (328-404-325) in Cincinnati, and Kaufmann Stadium (330-410-330) in Kansas City.
Those two parks rank ninth and 10th, respectively, in my park factor rankings, with either playing about between 4.5% to 5% above the league average run environment.
PNC Park in Pittsburgh plays about 8% below league average, so the change in the venue tacks a bit more than one run onto the game's projected total for this evening.
The Starters
Mitch Keller has only made four major league starts, so there's not much sense in comparing him directly to Jose Quintana. Instead, let's begin by comparing Jose Quintana's 2019 and 2018 seasons to his career marks:
You can probably tell why I chose to include Quintana's 2018 season, as he has more or less been the same pitcher for the past two years.
He still has the same command over the strike zone that he used to, but has been victimized more by hard contact as his fastball velocity has slipped by a couple of ticks over two seasons:
Until 2017, Quintana was adept at avoiding the home run ball, and still has a rate of just 0.93 HR/9 allowed for his career (on a 10.3% HR/FB rate).
However, beginning in 2017, Quintana became more susceptible to the long ball:
2017: 1.10 HR/9; 13.2% HR/FB
2018: 1.29 HR/9; 14.7% HR/FB
2019: 1.13 HR/9; 12.5% HR/FB
The good news for him on Sunday? The Pirates have the worst offense in baseball (75 wRC+) against left-handed pitching. He couldn't ask for a better matchup.
As for Mitch Keller, I previewed him before his most recent start on August 12. 
That day, he had a solid if unspectacular outing (5 IP, 5 H, 2 R, 2 BB, 4K) while facing the Angels and DH in an interleague matchup.
Keller was coming off of a 12-strikeout performance in Triple-A, where he has nothing left to prove; though his command still needs further refinement.
That said, there are more encouraging signs under the hood; Keller recorded 70% first-pitch strikes against the Angels and has maintained an 11% swinging-strike rate in the bigs while throwing 49% of his pitches in the zone.
He uses his big four-seam fastball (average 95.7 mph) more than 60% of the time, followed by a slider (18%) curveball (13%) and changeup (6%)
In that last start, he made future Hall-of-Famer Albert Pujols look silly on a couple of sliders:
Whereas Quintana is pretty steady, I don't know what to expect tonight from Keller.
He could go out and completely dominate and become the storyline, and we might remember this as the night that a future ace emerged on the big stage. Or the moment and the Cubs offense might be too much for him, and he could be in for a rough outing.
Either way, I'd prepare for some exciting stuff from the Pirates' No. 1 prospect.
The Bullpens
The overall assessment of these bullpens certainly favors the Pirates.
By FIP, the Pirates are 16th (4.62), and the Cubs are 17th (4.64) on the year, and the Pirates also have a 1.9% edge in strikeout minus walk rate (15th vs. 24th).
Since the All-Star Break, the Cubs have pitched as a clear bottom 20 bullpen, while the Pirates rank closer to a top 10 bullpen by most any measure.
The Cubs will activate closer Craig Kimbrel before Sunday's contest. He has been erratic (eight walks, eight runs in 12.2 IP with a 6.77 FIP) thus far, and if he's healthy, he'll provide a needed boost to the back end of the Cubs relief corps.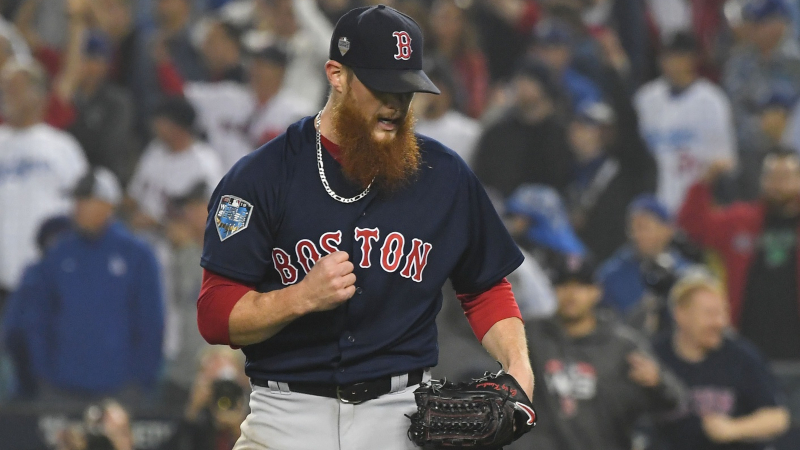 Their bullpen has already been a storyline in this series, with Brandon Kintzler walking the tying and winning runs in the ninth inning on Friday. But everyone should be available for tonight's game based upon recent rest.
The Pirates should also have their entire bullpen available for tonight's game, though it's worth noting that Felipe Vazquez has already pitched in three games this week.
Umpire Report
Stu Scheurwater is a young (36 years old), and relatively neutral umpire, who is part of a crew led by Gary Cederstrom.
The under has gone 51-49 (51%, +1.7 units) and home teams have a 53-51 record (51%, -7.98 units) with Scheurwater as the plate umpire during the regular season.
Teams have averaged 7.9 runs scored in those games.
Trend to Know
A couple of system plays are viable for tonight; one for the Pirates' moneyline and the other for the under.
With the Pirates, you are betting against the public with a team coming off of a loss. This system is 51-47 in 2019, generating a profit of +28 units:
As for the total, you're riding an under streak for both teams in a situation where the public is following the gambler's fallacy, expecting that such a streak will be inevitably be broken:
Favorite Bet
I projected the Cubs' fair odds in this game at -177, which is consistent with the opening number of -180.
Despite a bit less than 80% of the public backing the Cubs on the moneyline, this line has moved towards the Pirates, and you can currently get the Cubs at a number where I see line value.
It's very rare when I show moneyline value on a favorite, and particularly one priced in the range that the Cubs are, but I'm more than happy to back Quintana in a best-case-scenario matchup against a club that is fighting in the clubhouse and struggling on the field.
The Pick: Chicago Cubs Moneyline (-155)
How would you rate this article?