Dodgers vs. Red Sox Sunday Night Baseball Betting Guide: Hyun-Jin Ryu, L.A. Have the Edge?
Credit:
Credit: Kelley L Cox-USA TODAY Sports
Sunday Night Baseball Betting Odds: Los Angeles Dodgers at Boston Red Sox
Dodgers odds: -104
Red Sox odds: -106
Over/Under: 9
Probable starters: Hyun-Jin Ryu (10-2, 1.73 ERA) vs. David Price (7-2, 3.24 ERA)
First pitch: 7:05 p.m. ET on ESPN
---
This series between last season's World Series opponents is split heading into Sunday night's showdown. Hyun-Jin Ryu will take the mound for the Dodgers while the Red Sox will look to David Price to follow-up Saturday's 11-2 loss. Which team has the overall edge?
Our experts breakdown the pitching matchup, bullpens, umpire impact, trends and their favorite bets.
---
>> All odds as of 3:30 p.m. ET. Download The Action Network App to get real-time MLB odds and track your bets
---
The Starters
By Sean Zerillo
Ryu just started the All-Star Game for the National League, and leads all of baseball with a sparkling 1.73 ERA, while Price (3.24) hasn't pitched in an ASG since 2015.
But how much better has the Dodgers' lefty — who is pitching on a one-year, $17.9 million qualifying offer — actually performed than Boston's $31 million man in 2019?
Under the hood, not much separates the pair of southpaws.
Ryu has stranded 87.2% of the runners who have reached base against him, 8.5% higher than his career average, while allowing a .266 batting average on balls in play (BABIP) — 31 points below his career average.
Price has actually been victimized a poor BABIP (.313 vs. .288 career) in this midst of a resurgent 2019 campaign. His swinging strike rate dipped by 2% in 2018 but has seen a return to 12%, and his strikeout minus walk rate (and FIP) are at their best indicators since 2014.
Price throws one of the most regularly misclassified pitches in baseball. His 88-89 mph offering is often mistaken for a slider, but it's actually a cut-fastball. His best pitch is his circle-change, and he also throws a knuckle-curve.
Ryu also throws a devastating changeup, and ranks third in MLB (behind Luis Castillo and Andrew Cashner) with a pitch value of +14.3 on the offspeed offering in 2019.
---
The Bullpens
By Stuckey
Most teams still have pretty fresh bullpens following the All-Star Break. So this comes down to arm talent, and the Dodgers have the clear edge here.
From a pure numbers perspective, L.A.'s relievers have been about a 0.5 run better in terms of ERA for the season.
Also, because the Dodgers' starters have been better this year, their pen hasn't had to work as hard: L.A. relievers have pitched a total of 288.2 innings, the third-fewest in MLB behind only the Nats and Tribe. On the flip side, the Sox pen has thrown 357.1, the eighth-most in baseball. That could prove significant later this summer.
The bottom line for tonight: If these two explosive offenses are tied going into the seventh inning, the Dodgers have the advantage.
Umpire Report
Pat Hoberg will call balls and strikes behind the dish. In a short sample set behind the plate, Hoberg is 75-75 for -6.04 units to the under and 78-81 for -13.39 units to the home team. His runs per game comes to 8.7, just shy of the 9 posted for Ryu and Price.
Per BetLabs, Hoberg has gone 4-1 to the under on Sundays in 2019, while his lifetime trend in Chavez Ravine is 6-3 to the under.
---
Trends to Know
Los Angeles snapped Boston's five-game winning streak with Saturday's 11-2 victory.
Since 2005, teams to lose the game before hosting Sunday Night Baseball are 126-82 (60.6%), winning by 0.8 runs per game. When both teams are above .500 for the season, like the Dodgers and Red Sox are, the home team off a loss is 63-37 (63%), winning by a full run per game. — Evan Abrams
Can Boston bounce back? Since 2005, the Red Sox are 72-36 when playing their next game at home after losing at home by five or more runs. A $100 bettor would have returned a profit of $1,578 wagering on Boston in this situation. — John Ewing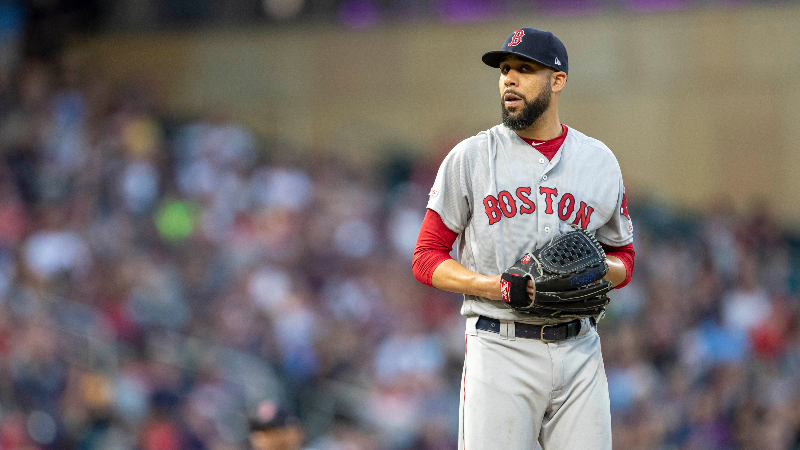 Price has opened at a price of +100 or higher just eight times over his career. His team is 8-0 in those spots, winning by 3.13 runs per game. This is just the second time he'll pitch in this spot for the Red Sox, doing so in Game 2 of the 2018 AL Championship Series against the Astros (Boston won 7-5). — Abrams
---
Staff Favorite Bets
Wilson: Over 9 ( -115)
Despite the universal rule of looking for value in Sunday unders, this game features two offenses capable of hitting left handed pitching.
Ryu and Price have xFIPs higher than their current ERA, and each team could take advantage. We can chalk up Ryu's start against the Rockies to simply being Coors Field, but the Dodgers ace has an xFIP of 3.10 in contrast to his 1.73 ERA. The Dodgers also sport the biggest Line Drive percentage in MLB since June 1, which could register plenty of whacks against the Green Monster.
Zerillo: Pass
I'm personally not going to bet this one, but I do think that the Red Sox are the clear side in this spot.
Price is the boring 33-year-old veteran while Ryu is the hot new 32-year-old on the block who everyone wants to hang out with after seeing him start the ASG. Price has pitched nearly as well has Ryu in 2019 — don't let the ERA fool you.
Abrams: Red Sox -106
I loved L.A. on Saturday, when the Dodgers exploded for 11 runs and knocked around Chris Sale for five earned. But I like Boston on the bounce back with Price on the mound against Ryu.
Ryu allowed seven earned runs in his last road start (in Coors). We won't see that against Boston, but I think there's value for Price up until the -110/-115 range thanks to Ryu's season and the Dodgers' record.
How would you rate this article?