Fantasy Baseball Waiver Wire Adds: Akil Baddoo, Jed Lowrie Highlight Week 3 Pickups (April 19)
Credit:
Frank Jansky/Icon Sportswire via Getty Images. Pictured: Akil Baddoo
Jeff Hicks highlights his favorite fantasy baseball waiver wire adds for Week 3.
Akil Baddoo has lit the American League on fire with his play. Jed Lowrie has revitalized his career in Oakland after a forgettable stop in New York.
We've got those two and other waiver wire targets for fantasy baseball this week.
The window is closing on adding some of the breakout players of the opening month of baseball — there's one whose buying window is still shrinking and a few veterans still yelling that they're "still here."
A few of the names below appear to be solid additions as injuries and COVID continue to change the baseball landscape. This piece is also specifically focused on position players — we'll be back on Sunday with a starting pitcher planner to help you get ready for next week.
Have other questions regarding roster construction? Find me on Twitter at @_jeff_hicks_.
Fantasy Baseball Waiver Wire Pickups
Akil Baddoo, OF, Tigers
Yahoo: 66%; ESPN: 73%
Baddoo has lit the American League on fire with his play. His hot spring led him to show on some fantasy analyst's radars and has become a thing. The rookie will eventually see his production trend down (.375 BABIP), but he has already hit the ball to all fields (35% of hits to right field) and has some draft pedigree as the 74th pick in 2016.
I ignored Baddoo's spring training and regret not buying more into him late in drafts.
Jed Lowrie, 2B, Athletics
Yahoo: 22%, ESPN: 11%
The veteran's most productive seasons have come with Oakland, so it makes sense that detour to New York did not pan out well.
Lowrie has been an injury risk for most of his career (four seasons with 100-plus games played) and is more an insurance policy than a league-winner. I just cannot pass on his previous and current success out west — he already has a batted ball with an exit velocity of 107.1, which would be his second-best maximum in a season if it ended today.
Jazz Chisholm, 2B/SS, Marlins
Yahoo: 24%, ESPN: 15%
I added Chisholm to the 'I Am Skeptical' section last week and he clearly read the column. The power stroke was on display last week against Jacob deGrom of all pitchers and had five-game walk streak broken Thursday. I also think Chisholm's three stolen bases is just scratching the surface — his 0.6 BsR (FanGraphs' baserunning metric) is tied for second-best in baseball.
Adam Frazier, 2B/OF, Pirates
Yahoo: 6%, ESPN: 35%
I was not sure if Frazier was a victim of the unique 2020 scheduling, and so far in 2021, he has shown he was.
Frazier has hit at least .276 in four major league seasons (min. 60 games in 2016) and has already walked eight times. There's also some room for positive regression in the power department as Frazier's 13.5% Hard Hit Rate is 13% lower than his career percentage.
Ty France, 2B/3B, Mariners
Yahoo: 52%, ESPN: 52%
Ty France can hit. It is that simple.
France is almost on a 30 home run pace, which is his ceiling, but having 20 long balls on your waiver wire is criminal. Like many of the hotter hitters to start the season, his production will tail off, but his Expected Slugging Percentage and Expected Weighted On-Base Average are almost in line with his current numbers — France is producing on par with what is expected.
Waiver Wire Adds Worth A Look
Wilson Ramos, C, Tigers
Yahoo: 39%, ESPN: 32%
Ramos is the second hitter to rebound after leaving the Big Apple. His power stroke is connecting at an astronomical rate, even from him, but his BABIP is below his career numbers despite his average aligning with his past seasons.
The Tigers have a few offensive weapons who could stick for the season, and the long-time backstop has upside at a shallow position. Catcher is the most volatile position in fantasy baseball, so what is the worst that happens with Ramos?
Adam Eaton, OF, White Sox
Yahoo: 38%, ESPN: 58%
New White Sox manager Tony La Russa likes rewarding veterans for sticking around in the majors (see: Nick Williams before he was designated for assignment April 15). Eaton started the season hitting in the bottom-third of the Sox order but has spent a fair number of games atop it with Tim Anderson out. He hit second on Thursday and could be the unwarranted beneficiary of additional at-bats atop a loaded, albeit inconsistent offense early in 2021.
Jeimer Candelario, 3B/1B, Tigers
Candelario struggled after being traded from the Cubs in 2017 and showed why he ranked so high in their system as a Tiger in 2020. Like a lot of last season, it was difficult to gauge how to translate his production going forward.
I like that his strikeout and walk rates have not fluctuated enough from his previous rates to pinpoint his early success in 2021 as luck. He is also good enough defensively to stick in the Tigers' lineup over rough stretches.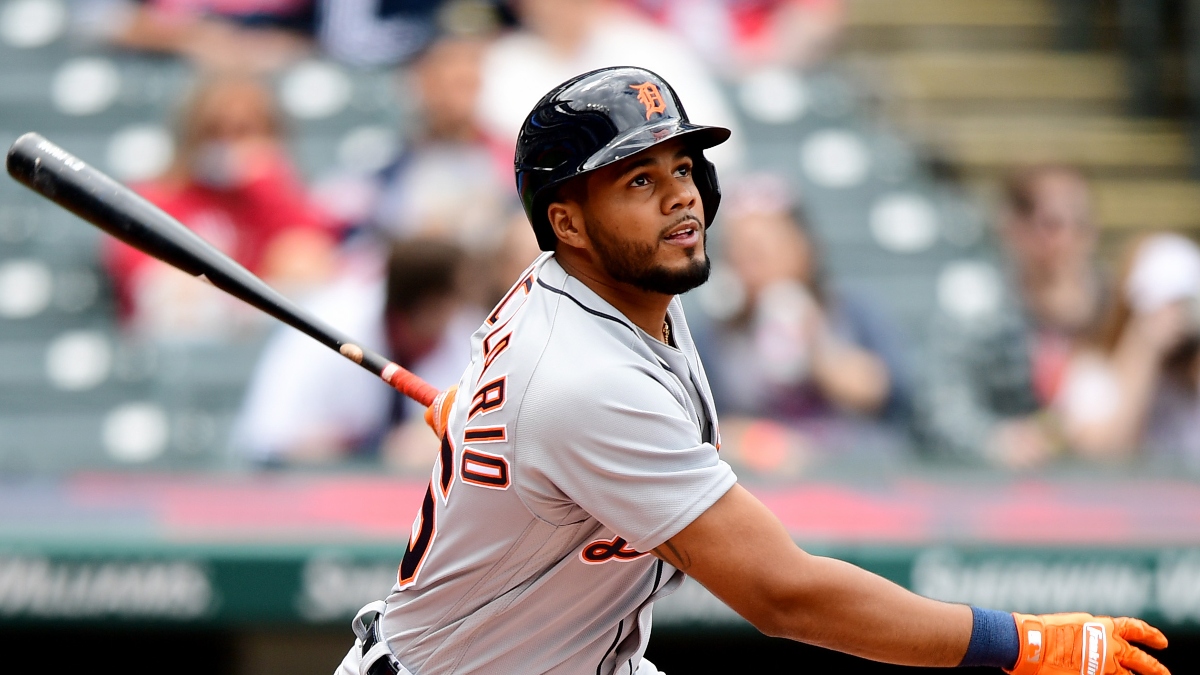 Omar Narvaez , C, Brewers
Yahoo: 34%, ESPN: 23%
Narvaez is also back on the list for a second straight week. The 29-year old is the starter for one of the better teams in what should be a competitive National League Central.
Pitchers have not taken facing Narvaez lightly so far in 2021 because he has seen more breaking pitches than fastball variants in 32 plate appearances. He's a plus-hitting catcher for his career according to his 9.8 Offensive WAR.
---
Short-Term Solutions
Adam Duvall, OF, Marlins
Yahoo: 23%, ESPN: 13%
His addition does not have to do with two-homer, seven RBI game and more about his ability to hit for power over an extended period.
Duvall has hit 30 home runs in a season while being replacement-level on offense, and that is okay! The number of injuries and addition of COVID to players missing games means Duvall's power is perfect for plugging in your lineup. Miami is not expected to be a hotbed for offense, but the team has already shown it can get hot for a week, a tide potentially lifting all boats.
Asdrubal Cabrera, INF, Diamondbacks
Yahoo: 14%, ESPN: 23%
Cabrera may be the most vanilla player I recommend in this column, but the veteran continues to hit and be a bench option in season-long fantasy. He is hitting in the heart of Arizona's lineup, driving in runs and is useful in on-base percentage leagues — his .354 OBP is 120 points higher than his average.
Since turning 30 in 2016, Cabrera has had three seasons with a Weighted Runs Created Plus (wRC+) over 110 and is on his way to a fourth.
Myles Straw, OF, Astros
Yahoo: 14%, ESPN: 23%
The Astros put majority of their starting lineup on the IL for … undisclosed reasons. Okay.
The first thing I caught with the roster overhaul was Myles Straw's insertion in the top of the lineup. He does not hit for average, but he is going to steal bases. More at-bats means more chances to get on base, which means more steal attempts. It is a nice boost for however long it lasts.
I Am Skeptical
Jurickson Profar, INF/OF, Padres
Yahoo: 19%, ESPN: 28%
I liked Profar's lineup boost and near lock in the everyday lineup. I also preferred if he hit and got on base. Fernando Tatis Jr. is expected back as soon as April 16 despite his ongoing shoulder woes, which damages Profar's upside short-term and potentially long-term as long as Tatis battles through his injury.
Michael A. Taylor, OF, Royals
Yahoo: 34%, ESPN: 54%
A change of scenery was necessary for the longtime Nationals prospect. I do not believe in the month he has shown potential with the Royals that he figured out how to cut his strikeout rate by 10% and nearly double his career Barrel Percentage (Barrel%). I will also be okay if I am wrong and this is the year Taylor figures it out.
How would you rate this article?
This site contains commercial content. We may be compensated for the links provided on this page. The content on this page is for informational purposes only. Action Network makes no representation or warranty as to the accuracy of the information given or the outcome of any game or event.