MLB Betting Picks: Our Favorite Bets for Marlins vs. Cubs (Friday, Oct. 2)
Credit:
Mark Brown/Getty Images. Pictured: Sixto Sanchez
Against all odds, the Miami Marlins could advance to the National League Divisional Series with a win over the Chicago Cubs on Friday. The bookmakers aren't giving Miami much of a chance, but our analysts think that there's some fantastic value on the underdogs on Friday afternoon.
Here are our favorite bets for Miami vs. Chicago on Friday:
Sean Zerillo: Miami Marlins F5 Moneyline (+200) and Full Game Moneyline (+185)
Odds available at Draftkings [Bet Now]
First pitch: 2:08 p.m.
The Game 1 injury to Starling Marte (109 wRC+ in 2020) was a big blow to the Marlins, but they have overcome on the fly personnel changes to an extreme degree this season.
It's truly a wonder that Miami made it to the postseason in general, let alone the fact that they were baseball's first team to experience a COVID outbreak – losing a good chunk of their roster for two weeks in early August, and forced to play double headers down the stretch to make up for lost time.
Despite a 1-0 series lead against the NL Central champion Cubs, now comes a Game 2 pairing against one of the three favorites for this season's National League Cy Young Award, Yu Darvish, who has posted 2.52 ERA with a 2.62 xFIP, and a 217:21 (11.88) strikeout to walk ratio since July of 2019.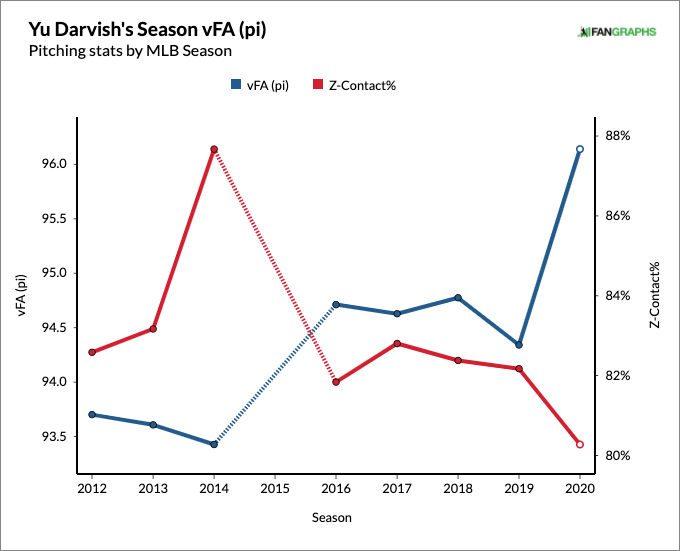 Yu has never been better in MLB – nor has he been able to sustain this much consistency over such an extended period of time. Darvish's cutter, second curveball (which he "borrowed" from Shane Bieber), and changeup have each become a bigger part of his arsenal this season – and while he has dialed back his fastball usage, it's also coming out of his hand harder than ever before – partially leading to less contact on his pitches inside of the strike zone:
But the Marlins have a potential Ace of their own in Sixto Sanchez, whose average fastball velocity (97.6 mph) ranked third amongst all starting pitchers – fourteen spots ahead of Darvish.
Sanchez has excellent command (4.6 strikeouts per walk in the minors) and secondary stuff, highlighted by his changeup and slider:
Three time Cy Young Award-winner Pedro Martinez has called Sixto, "a mini-me, with better stuff." High praise from the Hall-of-Fame righty – but the comparisons are obvious; an undersized righty with impeccable command of triple-digit heat, and a wicked cambio – what's not to love?
Unfortunately, Sanchez will make his postseason debut coming off of his worst start in the bigs (3 IP, 4 H, 4 H, 4 BB, 2 K) on Sept. 23 against the Braves – and his final three outings (9 BB, 8 K) were significantly shakier than his first four MLB starts (25 K, 2 BB) – but Sanchez has the arm talent to hang with any pitcher in the game on his best day – and he'll continue to find more consistency with age.
I project the Marlins as a 40.9% underdog (implied odds of +145) for Friday's Game 2, and I would bet their moneyline down to +167 (implied 37.4%) which represents a 3.5% edge. I'll split that bet with their F5 moneyline, which I would play down to +169 at a comparable edge.
[Bet Marlins F5 ML at DraftKings and get a $1,000 sign-up bonus.]
BJ Cunningham: Marlins First-5-Innings (+200)
Odds available at DraftKings [Bet Now]
First pitch: 2:08pm ET
Although Sixto Sanchez's numbers aren't fantastic, he throws some electric pitches. He usually sits in the upper-90s with his fastballs, he has a two-seamer that has crazy run and sinking action on it and a four-seamer that tops out above 100 MPH.
Even though his fastball has amazing action, his best pitch so far in the big leagues has been his changeup. He throws it more than any other pitch (26.7% of the time) and opposing hitters haven't been able to touch it, accumulating a .148 average against it.
The good news for Sanchez is the Cubs really have struggled this year versus right-handers and fastballs. Additionally, Chicago hit for a measly .195 average with a .281 wOBA over the last two weeks of the season. Considering how high Sanchez's ceiling is, it's not inconceivable that the Marlins only need one run through the first five innings against Darvish to cash this bet.
That is easier said than done as Darvish has been one of the best pitchers in baseball this season, posting a 2.82 xFIP and racking up a 11.01 K/9 rate.
Darvish has a ton of different pitches, but he mainly uses his cutter, which has surprisingly been his least effective pitch this season. Hitters have amassed a .305 wOBA against that pitch.
Darvish has really been excelling with his fastball and slider. He's allowed only twelve hits on 345 fastballs or sliders and is producing over a 40% whiff rate on those two pitches. He'll have a good matchup against a Marlins offense that boasts a bottom-10 wOBA against right handed pitching.
Even though the Marlins offense has been poor this year, getting +200 for the first-5-innings on Sixto Sanchez is fantastic value. Especially against a Cubs lineup that is in a major slump at the moment.
[Bet Marlins F5 ML at DraftKings and get a $1,000 sign-up bonus.]
How would you rate this article?