MLB Expert Predictions for Tuesday: Our Staff's Favorite Bets, Including Phillies vs. Giants
Credit:
Charles LeClaire, USA Today Sports. Pictured: Rhys Hoskins
Our MLB experts examine their four favorite bets of the Tuesday night, including a tilt between the Philadelphia Phillies vs. San Francisco Giants (7:05 p.m. ET first pitch).
Josh Appelbaum: San Francisco Giants at Philadelphia Phillies
Tyler Beede (3-4, 4.98 ERA) vs. Drew Smyly (1-5, 7.69 ERA)
Giants Moneyline: +111
Phillies Moneyline: -122
Over/Under: 10.5
First pitch: 7:05 p.m. ET
When betting Over/Unders it's a good practice to build a checklist in your head, think of it like how a lawyer builds a case. Look at the percentage of bets vs. dollars, line movement, bet signals, weather, umpire and historical data and if they are all pointing one way, you probably have yourself a good bet.
The over in tonight's Giants-Phillies game ticks off a lot of boxes. The total opened at 10 and, at the time of writing, 59% of bets and 90% of the dollars are on the over. That indicates a slight public lean, but more importantly, heavy sharp action from respected bettors. We've also tracked a pair of reverse line moves on the Over (10) with no conflicting under plays, which means that sharps are in agreement.
The game should also feature near-perfect hitting conditions. It's going to be a hot, clear night at Citizens Bank Park and the wind is howling out to dead center at 10 mph.
According to our Bet Labs database, the over has cashed at a 54% clip (+93.82 units) since 2005 when there are at least 8-mph winds blowing out. "Windy Overs" are even more profitable at Citizens Park. When the wind is blowing out to center in Philadelphia, the over has gone 128-90 (61.5%) since 2005, winning +43.75 units.
The PICK: Over 10.5
Danny Donahue: Minnesota Twins at Miami Marlins
Jake Odorizzi (11.5, 3.84 ERA) vs. Zac Gallen (1-2, 2.76 ERA)
Twins Moneyline: -138
Marlins Moneyline: +128
Over/Under: 8
First pitch: 7:10 p.m. ET
Judging by the moderate moneyline, you probably wouldn't expect this game to be between two teams boasting respective win percentages of .610 and .394. Maybe the underdog has a proven stud on the mound that could keep them in the game against a better squad. Not so fast. Miami's Zac Gallen has made just six career starts.
So it's already pretty easy to understand why 80% of bettors are backing the Twins tonight, but there's another factor that's likely having an impact. The Marlins, despite their horrid record, have won two straight. To the casual bettor, that means one thing: they're due for a loss. Oddsmakers, however, clearly aren't concerned with the mini winning streak, and history has shown that if anything, it's been more profitable to fade the public and bet on the bad team's streak continuing.
Since 2005, when sub-.400 teams (through at least a quarter of the season) receive less than 25% of bets after coming off a win, they've gone 318-412, winning 91.4 units for a 12.5% ROI.
The PICK: Marlins +128
Sean Zerillo: Atlanta Braves at Washington Nationals
Julio Teheran (5-7, 3.42 ERA) vs. Erick Fedde (1-1, 3.40 ERA)
Away Moneyline: -109
Home Moneyline: -101
Over/Under: 10.5
First pitch: 7:05 p.m. ET
With a 3.42 ERA, Julio Teheran has confounded this season, with a 4.45 FIP and 5.15 xFIP that isn't too far off from his 2018 (3.94 ERA, 4.83 FIP, 4.72 xFIP) or 2017 (4.49 ERA, 4.95 FIP, 4.96 xFIP) seasons.
His July results have been better (1.14 ERA, 3.27 FIP, 4.33 xFIP) than his overall 2019 results, as Teheran has had three quality starts in four outings, and he'll face a righty-heavy Nationals lineup on Tuesday.
Based on his season averages of 23.1 batters faced per game, with a 21.3% strikeout rate, a quick projection would place Teheran at around 4.9 strikeouts.
However, the average offense that he has faced this season has a strikeout rate of 23.4% vs. righties, 2.1% higher than Teheran's season average.
If you adjust the Nationals 2019 strikeout rate vs. righties (22.1%) downward by 2.1%, that equates to a projection of 4.62 expected strikeouts for Teheran.
You should note, however, that umpire Brad May will be behind the dish, and May averages 21 strikeouts per game, the third-highest mark in MLB.
Teheran's total is appropriately set at 4.5 based upon the talent matchup but fails to account for the umpire, in my opinion.
The Action Network projects Teheran for 5.2 strikeouts, and I'm inclined to agree.
The PICK: Julio Teheran, Over 4.5 Strikeouts (-114)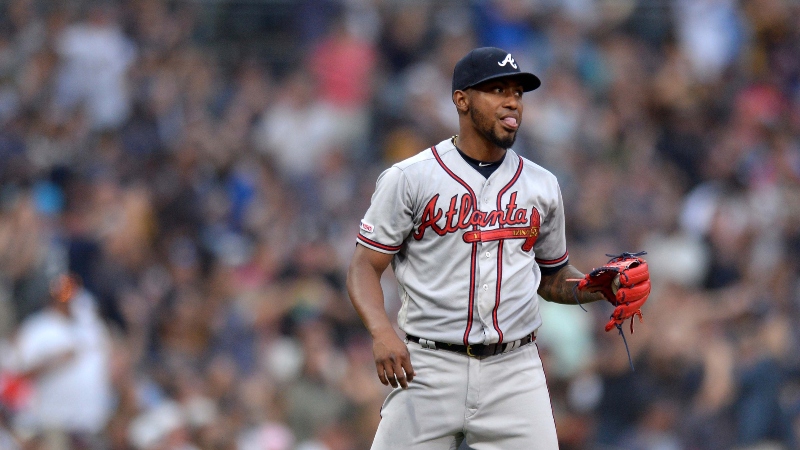 Stuckey: Mets at White Sox
Noah Syndergaard (Record, 7-5, 4.33 ERA) vs. Reynaldo Lopez (5-9, 5.52 ERA)
Mets Moneyline: -150
White Sox Moneyline: +135
Over/Under: 9
First pitch: 8:10 p.m. ET
I'm not sure what Reynaldo Lopez did over the All-Star Break but it apparently worked. The Chicago righty sports an ugly 5.52 ERA for the season but has been electric in three starts since the ASB.
Over his last three starts, Lopez has allowed only four total runs in 21.0 innings — good enough for a 1.71 ERA. But the strikeout numbers are what has impressed me the most. The 25-year-old has fanned 25 batters over those 21.0 innings.
And it hasn't just been a totally fluke stretch, as his velocity has significantly increased of late. His fastball has been living around 97 mph the past few starts — up a few ticks from his season average of around 95.
He's definitely trending up and should come in with plenty of confidence against a Mets lineup that struggles much more against righties than it does vs. lefties.
Opposing Lopez is Noah Syndergaard, who will take the mound for the Mets on Tuesday night. Thor has actually been a little unfortunate this season (.315 BABIP/68.1% LOB%), so should see some positive regression over the final two months of the season. The velocity is still there.
We have started to see that turnaround as of late, as the righty has gone 7.0 innings in all three starts since the All-Star Break, allowing three or fewer runs and striking out eight or more batters in each.
Expect that to continue tonight against a poor White Sox offense, especially against right-handers. Chicago is one of only three teams with a sub-.700 OPS against righties this year, leading only the anemic offenses in Miami and Detroit.
The ChiSox also come in ice cold with a league-worst .511 OPS over the past seven days, having scored 12 total runs over their past six games.
Two right-handed starters that I see trending in the right direction facing two subpar offenses that struggle against righties. Sign me up for the under. You can also add in a day of rest for each respective pen that certainly won't hurt.
The PICK: Under 9
How would you rate this article?