Stuckey: The 5 Unluckiest Pitchers of 2019 and If You Should Bet Them
Credit:
Brad Mills-USA TODAY Sports. Pictured: Marlins pitcher Pablo Lopez
Stuckey takes a closer look at five of the unluckiest pitchers of 2019 and makes a verdict on how to bet each in the near future.
I recently highlighted five of the luckiest pitchers who I'll look to potentially bet against in the near future. Well, it only makes sense to now look at the other side of the coin and focus on five of the unluckiest hurlers so far this season.
You'll find some household names below, and maybe one or two you're not very familiar with. I'll take a closer look under the hood at each and come up with a verdict as to why now may or may not be the time to jump on in the betting market.
A lot of the stats I'll examine are independent of defense — and defense can play a big role in how lucky or unlucky a pitcher might look in a vacuum independent of fielding.
Let's get things started with a southpaw on the scuffling Sox.
Eduardo Rodriguez, Boston Red Sox
I have to start this list with Rodriguez.
Per FanGraphs, the southpaw has the largest ERA-FIP discrepancy among qualified starters. He just simply doesn't deserve his 5.00 ERA, which is almost 1.5 runs higher than his 3.68 xFIP.
Eduardo has just had terrible luck to start the season, highlighted by three stats in particular:
.347 BABIP (Batting Average on Balls In Play): Fourth highest in MLB among qualified starters
68.5% LOB% (Left On Base %): 10th worst
Extremely unlucky 15.6% HR:FB ratio (Home Runs per Fly Ball)
Those are especially unlucky considering batters rarely get good contact off a pitcher who owns top-five hard-hit and soft-contact rates.
The 26-year-old southpaw features an elite changeup and almost all of his pitches miss bats. Among qualified starters, Rodriguez ranks in the top 25 in both swinging strike percentage (12.1%) and strikeout rate (25.7%). He's one of only 19 qualified starters averaging double-digit Ks per nine innings.
His fastball velocity is down slightly, but I haven't seen anything worth worrying about. I haven't seen much value in the betting market on the Red Sox this year, but it might be time to jump on the defending champs when Rodriguez toes the rubber over the next few weeks.
Verdict: Look to Bet
Zack Wheeler, New York Mets
There's no doubt that Wheeler has been unlucky by almost all peripheral measures of luck. It's why his 3.83 xFIP is drastically lower than his very poor 4.87 ERA. The one that jumps out is his strand rate of 65.1% — the third-worst among qualified starters this season and significantly lower than his career LOB% of 73.2%.
There's no doubt Wheeler has dealt with misfortune this season. His .313 BABIP is also a tad unlucky. However, it could possibly be self-inflicted.
Yes, he still has strikeout stuff. Thanks to an electric fastball, Wheeler is one of only 19 qualified starters with a double-digit K rate. The velocity on his heater is actually up this year at 97.3 mph, and he has a career-best swinging strike percentage.
He also boasts the eighth-lowest hard-hit percentage. However, even though he doesn't give up hard contact overall, Wheeler continues to be plagued by the long ball.
How? Why?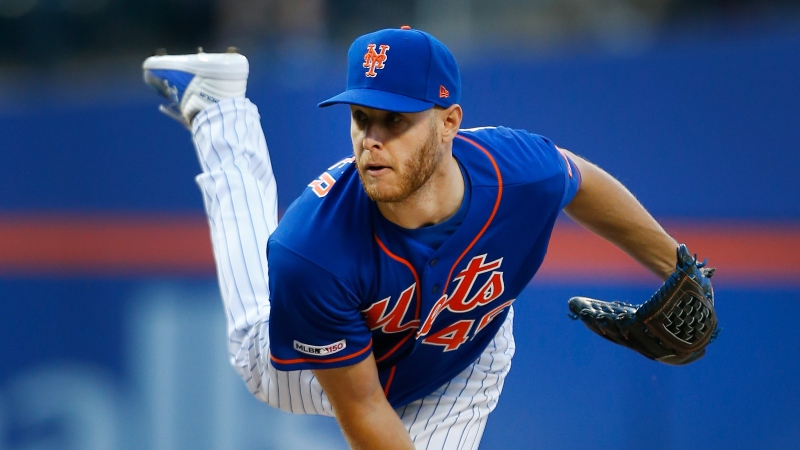 Well, his walk rate is also way down. That sounds like a positive for a guy who has struggled with command in the past, but maybe it's not.
I think he might be in the zone too much as he focuses on limiting his walks. Wheeler's Zone % is up from 43.3% in 2018 to 48.8% in 2019. As a result, that is leading to more hittable pitches in hitter's counts, which could explain some of his home run issues, despite promising splits across the board.
And when you can sit on a fastball (especially as hard as Wheeler's) in a hitter-friendly count, it can travel a long way.
He might also be trying to throw too hard, focusing too much on striking guys out. His two-strike fastball heat map this year compared to last confirms this. Wheeler appears to just be ripping it down the middle when he gets to two strikes.
2018 Two-Strike Fastball Heat Map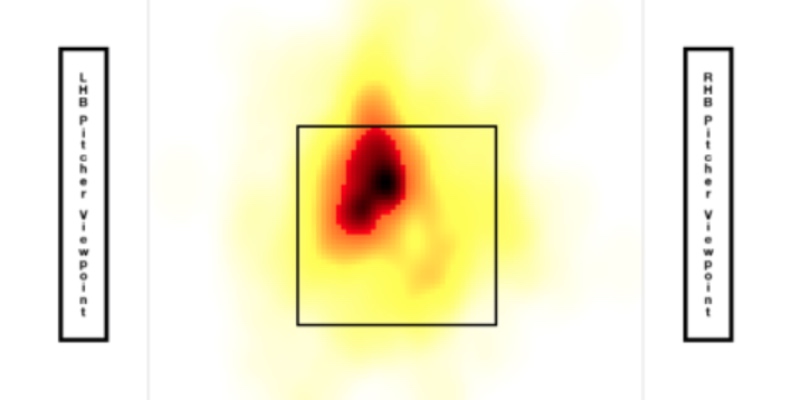 2019 Two-Strike Fastball Heat Map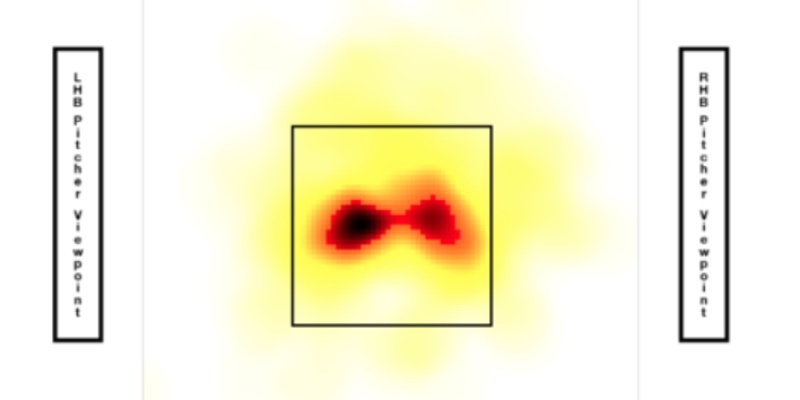 The Mets also have a terrible defense, which will certainly hurt his BABIP.
I need to watch more Wheeler starts to see exactly what is going on, but he's a guy I would rather play than fade in the near future as of writing.
Verdict: Be cautious
---
Pablo Lopez, Miami Marlins
I think Lopez is one of the most underrated starters in baseball. He uses his sinker to get a ton of ground balls and features an excellent changeup in an arsenal that effectively misses barrels.
He currently sports a 4.26 ERA, which is significantly higher than his 3.61 FIP. Part of that discrepancy can be explained by an extremely unlucky 68.3% LOB% (percentage of runners stranded on base). It's particularly unfortunate since, like Rodriguez, batters don't make hard contact off Lopez — who owns  a top-20 hard-hit percentage among qualified starters.
Pablo's surface numbers aren't horrible, per se, but his very average-looking ERA is really inflated by one poor outing on May 10 when he allowed 10 earned runs in just three innings against the Mets. If you remove that start, his ERA drops to 3.13 — even with some bad luck with men on base. (Although he does have seven crooked innings this year, so it could speak to a larger problem.)
He also just doesn't put too many people on base as evidenced by his top-20 walk rate and 22nd-lowest WHIP (Walks and Hits per Inning Pitched) among qualified pitchers.
I'll be looking to bet Lopez, who I think will continue to be undervalued in the market in the near future — especially since he plays for the lowly Marlins.
Verdict: Look to bet
Ivan Nova, Chicago White Sox
Nova has been one of the unluckiest pitchers in MLB this year. Look no further than his league-high BABIP and extremely low strand rate of 66.8%. That's partly why his astronomical 6.28 ERA sits  way above his xFIP of 4.63.
Everything that gets put in play (which is always going to be a lot against Nova) is seemingly finding a hole, which partly describes his MLB-worst 1.62 WHIP and everyone that gets on base seems to find their way home.
BABIP doesn't always tell the whole story; it's just one small piece of information to use when evaluating a pitcher. Some pitchers will naturally have higher BABIPs if they allow harder contact and vice versa. The league average for a pitcher in the modern era is about .300.
Things should get a little better for Nova, but I'm lukewarm on the prospects of riding him. Ultimately, I think he could have some very minor betting value in the short term, but I just hate the fact that he doesn't miss bats. He also pitches in front of an absolutely atrocious defense — the White Sox and Mariners are the two-worst defensive teams in my book — which will naturally cause a higher BABIP and lower LOB%.
Also, keep in mind that lefties absolutely HAMMER Nova. Avoid him like the plague against teams that can stack decent left-handed batters against him.
Verdict: Be cautious
Gerrit Cole (Astros)
Yes, Cole makes this list with a 3.72 ERA. That doesn't look bad on the surface, but it should be much lower for a guy that leads all qualified starters with a 38.6% strikeout rate. His xFIP (which adjusts FIP for a league-average home run rate) of 2.37 actually leads MLB. The Houston flame-thrower also possesses a top 5 K:BB ratio.
Most of Cole's ERA-xFIP differential can be explained by some bad luck with men on base and negative home run variance. His strand rate (LOB%) of 69.2% should creep more toward his career average of around 75% (77.9% last season). He's also allowed an extremely high 1.59 homers per nine innings in 2019, which is drastically higher than his career rate of 0.85.
His stuff looks the same, if not better, than it has in the past. His strikeout numbers are actually up while his walk numbers are down. He has the same relative pitch mix and his velocity is steady. He also will benefit from an outstanding defense behind him.
You might not get much betting value with the former UCLA product on such an elite team but his luck should change for the better. I personally will be looking to get involved in some Houston unders in Cole's next few starts.
Verdict: Look for Cole unders
How would you rate this article?