MLB Expert Predictions: Our Staff's Favorite Wednesday Bets, Including Yankees-Athletics
Credit:
Credit: Cary Edmondson-USA TODAY Sports. Pictured: Oakland Athletics infielder Mark Canha (20), Matt Olson (28) at Oakland Coliseum.
Our experts give out their favorite bets for Tuesday's slate, including Nationals-Pirates (7:05 p.m. ET), Tigers-Astros (8:10 p.m. ET) & Yankees-A's (10:07 p.m. ET).
Danny Donahue: Washington Nationals at Pittsburgh Pirates
Patrick Corbin (9-5, 3.34 ERA) vs. Joe Musgrove (8-11, 4.59 ERA)
Nationals Moneyline: -150
Pirates Moneyline: +130
Over/Under: 9
First pitch: 7:05 p.m. ET
The Pirates surprised most bettors by pulling off a win last night behind only a 13% backing. And what better way to celebrate a contrarian victory than by going right back for another round?
Once again, Pittsburgh is drawing 13% of bets at the time of writing, and I believe last night's win has put them in an even more valuable spot than they were in yesterday.
The Nats are likely drawing a decent chunk of their support from bettors who are taking them for no other reason than the fact that the lowly Pirates won last night. That game should have no impact on tonight's outcome, however, and history even says that the opposite way of thinking is more profitable.
The 13% of bettors on the Pirates are also generating 18% of actual money, which is significant not only because it's a higher percentage, but because it's still plenty low enough that we're on the same side as both bigger (probably sharper) bettors and sportsbooks.
The PICK: Pirates +135
Mark Gallant: Detroit Tigers at Houston Astros
Daniel Norris (3-10, 4.82 ERA) vs. Justin Verlander (15-4, 2.81 ERA)
Tigers Moneyline: +425
Astros Moneyline: -550
Over/Under: 8.5
First pitch: 8:10 p.m. ET
If you're not betting on the Tigers in some form or another, you're just not doing it right. In fact, there are so many great ways to bet on them I'm having trouble deciding what to take!
You may have seen the news, but Justin Verlander and the 'Stros are the biggest favorites we've ever tracked. At minus five bills, this moneyline is looking more like a football or basketball game than a baseball game.
The thing about baseball is, anything can happen. It's lucky, random, wacky, etc. I can't really point to anything about the Tigers that suggests they should win tonight. They shouldn't.
I just can't get over the payouts. I believe any MLB team has greater than a 20% chance to win any given game, but the implied odds on +430 are just 18.9%.
I'm going to split up one unit and divvy it up among a few Tigers bets. I'll be taking the standard +1.5 runline at +192, the moneyline at +430 and the good old reverse runline at +733 in honor of Matt Mitchell.
The PICK: .33U Tigers +1.5 (+192), .33U Tigers +430, .33U Tigers -1.5 (+733)
John Ewing: Detroit Tigers at Houston Astros
Justin Verlander will start for the Astros tonight. The ace is 5-0 with a 2.30 ERA in his past seven starts. Oddsmakers list Houston as a -500 favorite against the Tigers — the worst team in baseball.
Verlander is the largest favorite since at least 2005 according to Bet Labs. If the odds keep trending in this direction, it would be just the third time that a team has closed above -450, with Verlander doing so twice in his last three starts including Wednesday's outing.
Verlander is expected to dominate a Tigers team that is last in the majors in scoring (447 runs). The total for tonight's game is 8.5. Since 2005, the under has gone 7-3 in games with a favorite of -400 or greater.
It is a small sample to base a bet on, but there are other reasons to think tonight's game will be low scoring. A reverse line movement bet signal has been triggered on the under, which is an indication of sharp money and according to Sean Zerillo's model these teams on average combine for 8.02 runs.
With the pros and history pointing to the under, I'll bet the teams combine for eight or fewer runs.
The PICK: Under 8.5
Sean Zerillo: New York Yankees at Oakland Athletics
J.A. Happ (10-7, 5.40 ERA) vs. Mike Fiers (11-3, 3.46 ERA)
Away Moneyline: -105
Home Moneyline: -115
Over/Under: 9.5
First pitch: 10:07 p.m. ET
Since July 1, 2018, the Oakland Athletics have had the second-most potent offense against left-handed pitching on a park-adjusted basis (118 wRC+).
Over this span, they rank behind only the Astros, who are historically great (as in, the best that wRC+ has tracked dating back to 2002).
Overall, the Athletics have been the most profitable team for bettors to back over the past two years (169-118, +40 units, 14% ROI),
Against left-handed starters, they are 40-19 (67.7%, +17 units) since July 2018, accounting for over 40% of their two-year profit margin in just 20% of their games.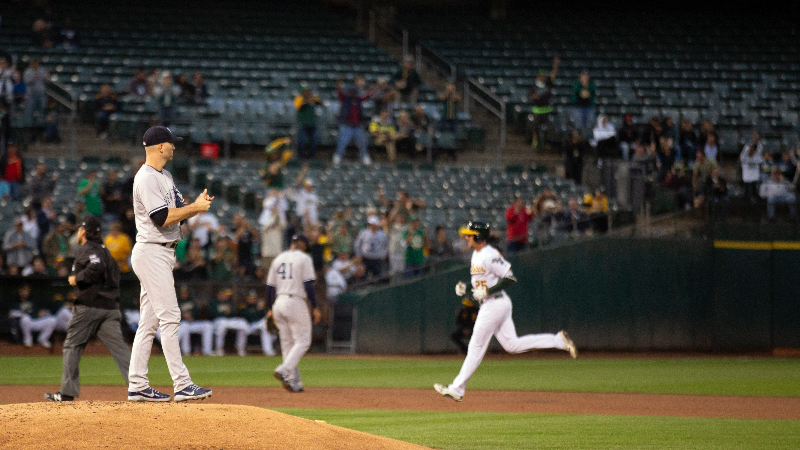 Today, they will face a struggling southpaw in J.A. Happ, whose 5.40 ERA is confirmed by a 5.55 FIP. Happ's strikeout rate has regressed from his 2018 peak, and he's giving up significantly more hard contact than he has in previous seasons.
Normally in such a scenario, I would recommend playing the over on Oakland's team total, but there are a few profitable systems that point to this game going under its total; and umpire Mike Muchlinski has a slight under lean (151-133, +14.6 units).
The A's and Rays currently deadlocked for a Wild Card spot, and Oakland has two games in hand — so each of the 37 games remaining on their schedule are crucial.
The PICK: Oakland Athletics Game Moneyline
How would you rate this article?