MLB Expert Predictions: Our Staff's Favorite Bets for Athletics-Giants, 4 More Tuesday Games
Credit:
Credit: Gary A. Vasquez-USA TODAY Sports
Our experts detail their favorite bets for Tuesday's MLB slate, including the Astros at White Sox (doubleheader) and A's at Giants (9:45 p.m. ET).
Mark Gallant: Houston Astros at Chicago White Sox (Doubleheader)
Game 1: Zack Greinke (11-4, 3.08 ERA) vs. Dylan Cease (2-4, 6.00 ERA)
Astros Moneyline: -300
White Sox Moneyline: +270
Over/Under: 9.5
First pitch: 4:40 p.m. ET
Game 2: Gerrit Cole (14-5, 2.87 ERA) vs. Ivan Nova (7-9, 4.80 ERA)
Astros Moneyline: -350
White Sox Moneyline: +305
Over/Under: 9
First pitch: 8:10 p.m. ET
My White Sox +1.5 pick got rained out last night, but luckily, they're playing the same game today and I can get better odds!
In case you missed yesterday's analysis, I'm a big fan of taking teams +1.5 at a big plus-money price, specifically +140 or higher. Runlines at this price used to be a rare occurrence, but have become much more popular over the past couple seasons.
Tonight, the ChiSox will be getting a run and a half at huge plus-money payouts for both games of their doubleheader. And guess what?
I'm doubling down and taking both.
In Game 1, the struggling-but-highly-touted prospect Dylan Cease is getting +175 on the runline as opposed to the +155 I took on Monday. After that, the White Sox are +1.5 +180 against Cy Young candidate Cole. That's the seventh-highest juice on +1.5 that we've ever tracked.
You might assume that Houston will blow the doors off the White Sox after losing to Baltimore, but it doesn't always happen that way. This season, these big spread dogs have gone 17-19 for more than seven units of profit.
If Chicago can keep it close in one of the games, you can tack on another three quarters of a unit.
GAME 1 PICK: White Sox +1.5 (+175)
GAME 2 PICK: White Sox +1.5 (+180)
---
John Ewing: Cincinnati Reds at Washington Nationals
Alex Wood (1-0, 5.65 ERA) vs. Joe Ross (2-3, 6.75 ERA)
Reds Moneyline: +110
Nationals Moneyline: -120
Over/Under: 10.5
First pitch: 7:05 p.m. ET
Did you know that overs went 8-0 on Monday? A majority of tickets are on the over in all but one of Tuesday's MLB contests. One of the games with lopsided action on the over is Nationals-Reds.
More than 60% of tickets are on the over 10.5, but there's a larger percentage of dollars than tickets on the under, which is an indication of sharp action. Historically, it's been profitable to bet under when there is more than a 10% difference in dollars and tickets.
Following this system, under bettors have gone 192-139-18 (58%) since 2016, when we began tracking dollar percentages. A $100 bettor following this strategy would have returned a profit of $4,540.
The public likes the over but with a greater percentage of dollars than tickets on the under the pros are expecting a lower scoring game than the oddsmakers.
THE PICK: Under 10.5
---
Danny Donahue: Texas Rangers at Toronto Blue Jays
Lance Lynn (14-7, 3.60 ERA) vs. Thomas Pannone (2-5, 6.83 ERA)
Rangers Moneyline: -132
Blue Jays Moneyline: +122
Over/Under: 9.5
First pitch: 7:07 p.m. ET
The Jays fit one of my favorite simple betting strategies tonight: Taking bad teams after a loss.
To the public, it's very easy to look at last night's 19-4 win from a .410 team as a reason to bet the other way tonight. It feels very unlikely for a bad team to pull off two wins in a row … and it is. The problem with that way of thinking, though, is that the first win has already happened.
Tonight's game should be looked at independently from last night's outcome.
Since 2005, taking teams below .420 (through at least a quarter of the season) when they're coming off a win has resulted in a profit of 91.6 units. Because of the number of games that fit such a simple system, the ROI is a measly 3.2%. But there are plenty of more specific situations that can be added to increase that number … including the margin of the previous victory.
When the bad team is coming off a blowout win, which might seem like even more of a fluke, they've been even more kind to bettors. A previous win of more than five runs generates a 7.5% ROI, and a win of more than 10 creates a ridiculous 27.9% ROI on a 33-22 record.
THE PICK: Blue Jays +122
---
Evan Abrams: New York Mets at Atlanta Braves
Zack Wheeler (9-6, 4.20 ERA) vs. Max Fried (13-4, 4.11 ERA)
Mets Moneyline: +115
Braves Moneyline: -125
Over/Under: 9.5
First pitch: 7:20 p.m. ET
Even after their loss on Sunday, the Mets are the talk of the town. New York has won 15 of its last 17 games overall and has crawled to within a single game of the final wild card spot in the National League. Through games on July 24, the Mets were a full eight games out of the final wild card spot.
Fast forward to Tuesday night and the Mets begin a three-game series in Atlanta and start the set with Wheeler on the mound. Wheeler hasn't allowed a run in two weeks (2 starts, 15 IP) against the Marlins and White Sox, but now faces a different test.
This will be Wheeler's third start in Atlanta this season and fourth over the past two season and the results have not been pretty: 6.11 ERA, 24 hits in 17.2 IP, .324 opp BA.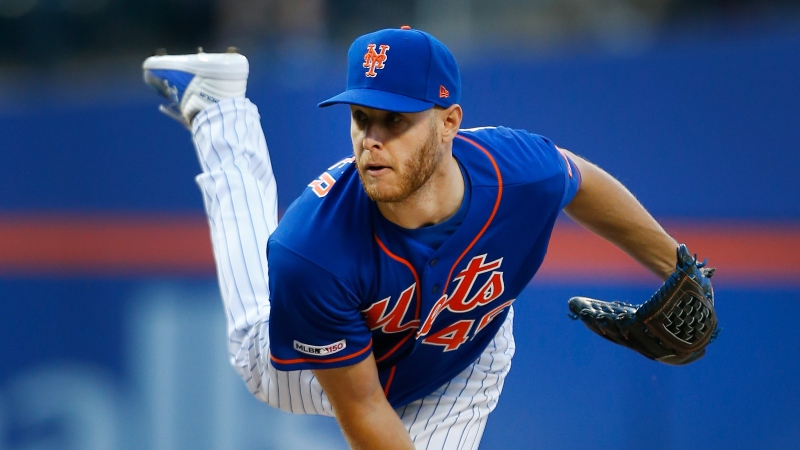 Those struggles from Wheeler are illustrated when looking at his splits vs. key Atlanta hitters:
Freddie Freeman: 12-24 (.500), 3 2B, 2 HR, 6 RBI
Ronald Acuna Jr: 3-9 (.333), 2B, HR
Josh Donaldson: 6-10 (.600), 2B
On the flip side, Braves are tossing Fried on the mound, who has performed better at home than on the road in his career and has handled the Mets just fine, owning a 2.49 ERA in 25.1 IP, including not allowing a home run in his career against New York.
In Fried's 31 career starts, the Braves are 21-10 on the moneyline and are averaging 7.01 runs per game, which is tied with Rick Porcello for the highest run support average in baseball the past two seasons (minimum 150 innings pitched).
THE PICK: Braves (-125); Braves -1 (+110)
---
Sean Zerillo: Oakland Athletics at San Francisco Giants
Brett Anderson (10-7, 3.99 ERA) vs. Madison Bumgarner (7-7, 3.74 ERA)
Athletics Moneyline: +105
Giants Moneyline: -125
Over/Under: 8
First pitch: 9:45 p.m. ET
The Athletics have been an extremely profitable team to back against left-handed starting pitchers this season, with a 21-9 record (+10 units, 33.4% ROI) and an average margin of victory of 1.6 runs.
Note that they also went 19-9 against southpaw starters during the second half of 2018, putting the Athletics on a 40-18 run vs. lefties since July 1, 2018.
Oakland averaged 5.3 runs scored per game in those 28 games vs. lefty starters from July to September of last season, and has scored 5.6 runs per game in its 30 games vs. southpaw starters this season.
I projected the Athletics for 4.3 runs on Tuesday, and they would be 23-7 against their listed team total of 3.5 runs this season.
With a roster full of right-handed and switch hitters, they own fairly dramatic offensive splits this season:
vs. RHP: 12.3% K-BB% (5th) .740 OPS (20th), .314 wOBA (20th), 97 wRC+ (14th)
vs. LHP: 10% K-BB% (3rd), .823 OPS (5th), .343 wOBA (6th), 116 wRC+ (3rd)
Both teams are also coming off of a day and a half of rest — a spot which traditionally leads to more overs. I played the Athletics on the moneyline, but I actually prefer the over on their team total here.
THE PICK: Athletics Team Total Over 3.5 Runs
How would you rate this article?