MLB Home Run Props & Picks Today | Connor Joe, Bobby Witt Jr, Mookie Betts (Friday, August 11)
Credit:
Getty Images. Pictured: Connor Joe, Mookie Betts, Bobby Witt Jr.
Baseball betting is one of a kind. Each day diving into a full slate is grueling and sometimes edges are nowhere to be found within a side or total. But opportunities to fade pitchers at a lesser degree remains a constant. One of the areas in which I've tapped into this season has been the player prop market. More specifically, looking at hitters and their total bases/home runs props.
Whether it's a positive split or the wind blowing out in double-digit force, there's always opportunities to back some of MLB's best hitters to find the outfield seats. These bets are rarely not (+) money and home run props can often reach the 6-700 mark, providing plenty of value at a small cost.
That leads us to my new regular feature here at Action Network: DiSturco's Triple 7s. In each article, I will give out my three favorite total bases props and pair that with the odds for those same players to hit a home run.
The idea of Triple 7s comes from the slot machines. That's the ultimate jackpot and it's important to note the rarity of notching that feat. Similar to slots, parlaying all three players below to hit a home run is nothing more than a lottery ticket.
It's important to bet responsibly, and while I do bet every player o1.5 TBs (.5u) and to hit a HR (.1u), you shouldn't overextend yourself with a parlay of all three. It's a long shot for a reason.
But if you're feeling confident or have no plans and want to try and hit Triple 7s, pull the lever and cross your fingers. Today's lottery ticket comes with +14915 odds.
Visit our MLB Props page for a full list of props and odds for every player on the MLB slate each and every day.
Connor Joe, Pittsburgh Pirates
Reds vs. Pirates | 7:05 p.m. ET | Opposing starter: Andrew Abbott (LHP)
Andrew Abbott takes the mound for Cincinnati on Friday and he's had quite the interesting start to his season. He burst onto the scene with a 1.21 ERA over five June starts and, despite consistent base runners, was able to mitigate damage and walk out unscathed. 
Through his first few months as a big leaguer, though, there has been one major concern: exit velocity. The left-hander is in the bottom 10% of all pitchers in that category, and even in Triple-A he gave up nearly 2 HR/9. 
Abbott is a fly ball pitcher — 54.1 FB%, 200.2 LD% — which  makes him vulnerable to the long ball. While his xBA remains a dominant .220 and his strikeout rate remains high, I love targeting Connor Joe here in the home run market. 
Joe has been extremely mediocre against right-handed pitching, but it's southpaws where he has found plenty of success. His OPS in his positive split is .840 and he's first on the Pirates in isolated power (.202) and second in wRC+ (130), behind Jason Delay. 
A lot of Joe's hits have gone for extra bases — 45.2% extra base hit rate against LHP — so targeting him in multiple markets is smart. Joe's recent form is why I'm targeting him, however. 
Over the last two weeks, Joe has hit a pair of home runs and his OPS sits right around 1.000. What's been most impressive is the skyrocket in both hard-hit rate and fly balls.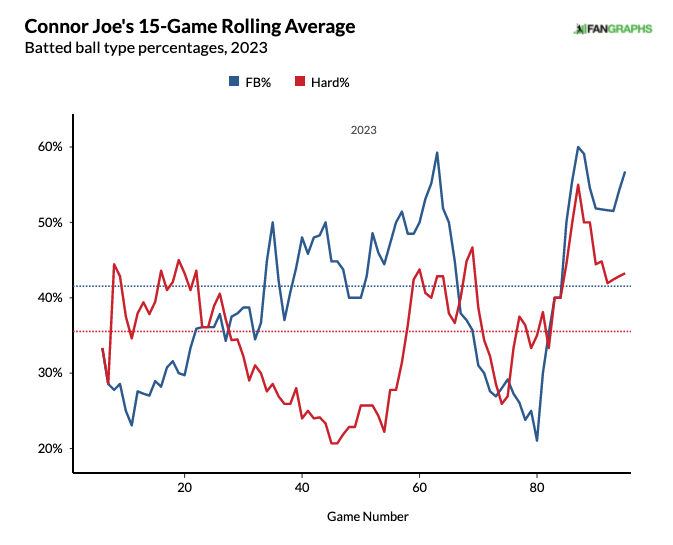 He has only struck out four times in the last couple of weeks and has been putting the ball into play with force. With Abbott's exit velocity concerningly high and Joe being the most consistent Pirates against southpaws, I'm targeting Joe here. 
Joe is +680 at FanDuel but is not offered elsewhere at the time of this writing. Be sure to shop around when Joe is announced in the starting lineup and odds begin to populate. 
Bobby Witt Jr., Kansas City Royals
Cardinals vs. Royals | 8:10 p.m. ET | Opposing starter: Adam Wainwright (RHP)
Adam Wainwright is rapidly approaching the end of his career, but until he hangs it up, the 41-year-old should be a consistent fade. 
Wainwright ranks in the bottom 1% of all pitchers in xBA, xSLG and strikeout rate. He doesn't generate any chases like he used to and his barrel rate is a career-worst 11.4%. In fact, he has the seventh-worst barrels/PA% in MLB. 
As his arsenal has lost effectiveness and Wainwright isn't generating chases on low pitches, his ground ball rate has sharply declined. For the majority of his career, he sat around that mid-to-high 40% range. This season? 37.9. 
Keeping that in mind, I am targeting a red-hot Royal to add in the Triple 7s. Bobby Witt Jr. is on a tear right now and over the last 15 days, the righty has a .420 average and .1253 OPS. Not typically known for his power, Witt has four home runs and a 43% extra base hit rate. 
Aside from Freddy Fermin, Witt is also the best Royal against right-handed pitching both in isolated power (.202) and wRC+ (104). His fly ball rate has slowly risen and his isolated power has skyrocketed over the last couple of weeks. 
I'm looking to capitalize on Witt's hot streak by fading Wainwright here. He is not the same pitcher he once was and his near-double barrel rate jump from last season is a prime example of just that. 
Witt Jr. is +525 at Bet365 to hit a HR tonight.
Mookie Betts, Los Angeles Dodgers
Rockies vs. Dodgers | 10:10 p.m. ET | Opposing starter: Austin Gomber (LHP)
Any time Austin Gomber takes the mound, I feel obligated to find a way to fade the southpaw. 
Gomber's numbers remain a huge concern. He's in the bottom 10% of all pitchers in xBA, xSLG and strikeout rate. He rarely generates swings and misses or chases outside of the zone and has a career-worst 44.0% hard-hit rate. 
While he hasn't given up a home run since mid-July and just three over his last eight starts — six quality starts in that span — his underlying metrics do not give me any reason to believe Gomber is in the midst of a turnaround. His HR/9 rate still remains a career-worst 1.65.
Who else to anchor the Triple 7s than Mookie Betts? He is quite literally a lefty killer, boasting an OPS of 1.073 and a 70% extra base hit rate. He is second on the team in wRC+ (180) behind Freddie Freeman and first in isolated power (.398) in his plus split. 
Since the month of June, Betts has been otherworldly. He has an average above .300 and an OPS above 1.000 in both months. To say he's crushing the ball is an understatement. 
He is +285 at FanDuel to hit a HR. 
---
DiSturco's Triple 7s Home Run Bets for Friday, August 11th
Connor Joe (+680)
Bobby Witt Jr. (+525)
Mookie Betts (+285)
If you like all three plays and want to try a spin at hitting triple 7s, a $10 parlay of these three home run props at FanDuel comes in at $1,491.50.
How would you rate this article?
This site contains commercial content. We may be compensated for the links provided on this page. The content on this page is for informational purposes only. Action Network makes no representation or warranty as to the accuracy of the information given or the outcome of any game or event.