MLB Home Run Props Today | Corey Seager, Fernando Tatis Jr. & More (Wednesday, July 5)
Credit:
Photo by Dylan Buell/Getty Images. Pictured: Fernando Tatis Jr. (Padres)
Baseball betting is one of a kind. Each day diving into a full slate is grueling, and sometimes edges are nowhere to be found within a side or total.
But opportunities to fade pitchers at a lesser degree remains a constant.
One of the areas in which I've tapped into this season has been the player prop market. More specifically, looking at hitters and their total bases/home runs props.
Whether it's a positive split or the wind blowing out in double-digit force, there's always opportunities to back some of MLB's best hitters to find the outfield seats. These bets are rarely not (+) money and home run props can often reach the 6-700 mark, providing plenty of value at a small cost.
That leads us to my new regular feature here at Action Network: DiSturco's Triple 7s.
In each article, I will give out my three favorite total bases props and pair that with the odds for those same players to hit a home run.
The idea of Triple 7s comes from the slot machines. That's the ultimate jackpot, and it's important to note the rarity of notching that feat. Similar to slots, parlaying all three players below to hit a home run is nothing more than a lottery ticket.
It's important to bet responsibly, and while I do bet every player o1.5 TBs (.5u) and to hit a HR (.1u), you shouldn't overextend yourself with a parlay of all three. It's a long shot for a reason.
But if you're feeling confident or have no plans and want to try and hit Triple 7s, pull the lever and cross your fingers.
Today's lottery ticket comes with +12542 odds.
Visit our MLB Props page for a full list of props and odds for every player on the MLB slate each and every day.
Corey Seager, Texas Rangers
Rangers vs. Red Sox, 7:10 p.m. ET
Opposing starting pitcher: Brayan Bello (RHP)
If it weren't for Shohei Ohtani, we could be looking at Corey Seager as the front-runner for the AL MVP.
Despite missing a month due to injury, Seager's numbers are eye-popping. He's hitting .347 with 10 home runs and 50 RBI in just 54 games.
In the month of June, he had a 1.083 OPS and a near-50% extra-base hit rate with 25 RBI.
Look at his Baseball Savant profile and it's all bright red circles at the top. He's in the top 1% of all hitters in xwOBA, xBA, xSLG and average exit velocity. And he's in the top 3% in hard hit rate and barrel%. 
Since he hits in a daunted Rangers lineup littered with All-Stars, opponents can't pitch around the lefty. He really has settled in as a superstar and is also as split-proof as it gets. 
He'll face Brayan Bello on Wednesday, and despite a dominant June from the right-hander — when he posted a 2.14 ERA across five starts with no home runs allowed — I expect him to fall down to earth a bit as the season trudges on. 
Bello's xERA is up at 3.85, and while he's shored up on his command this season, his barrel% and hard-hit rate have both taken a step back. He's about league average in average exit velocity and both strikeout and whiff rate. 
All this to say that I think we're getting good value on Seager. Bello will not overpower the lefty, and his high hard-hit rate plays perfectly in Seager's favor. 
Seager has torn right-handed pitching apart this season, with a team-best 189 wRC+ and .278 isolated power. He's also a doubles machine and has a 51% extra-base hit rate against righties. 
I'm throwing .5u on Seager to get over 1.5 total bases (-115) and .1u on a HR (+500) at bet365. 

Vlad Guerrero Jr, Toronto Blue Jays
Blue Jays vs. White Sox, 8:10 p.m. ET
Opposing starting pitcher: Lance Lynn (RHP)
In mid-May, Vlad Guerrero Jr.'s power was zapped after suffering an apparent knee injury. While he would avoid the injured list and play through the discomfort, he would hit just five home runs over the next six weeks. 
When looking at his rolling graphs, you can see a slow decline up until around 10 games ago. Then it's a sharp jump forward with better plate appearances and more power.
The 24-year-old phenom has four home runs in the last 10 games — nearly 33% of his entire production in 2023 — and I'm expecting that to continue in a great matchup with Lance Lynn. 
The cliff Lynn has fallen off has been sad to watch. There's not a clear reason as to why — some hypothesize the pitch clock has hurt him, similarly to Alek Manoah — but he's posted career lows across the board in his eighth big league season. 
Lynn's barrel rate has reached double digits — it sat above 6% just once in his career — and opponents have a .254 xBA and .456 xSLG against the right-hander. While strikeouts are up, so are walks and he enters just shy of a 5.00 xERA. 
Guerrero is a player that I'm looking to buy plenty of stock in as the second half of the season quickly approaches. Despite battling the injury, Guerrero is in the top 2% of all hitters in average exit velocity and hard hit%. He has elite plate discipline and all the power in the world. 
Among all the Blue Jays, Guerrero ranks third against right-handed pitching in wRC+ (123) and isolated power (.202).
I will continue to fade Lynn, who's given up 10 home runs in his last six starts. That's especially true in the current weather conditions. 
WeatherEdge projects double-digit winds to left center field and a projected +34.8% increase in home runs and +13.2% increase in runs, based on a 66-game sample. 
I'm throwing .5u on Guerrero over 1.5 total bases (-110) and .1u on a HR (+330) at bet365.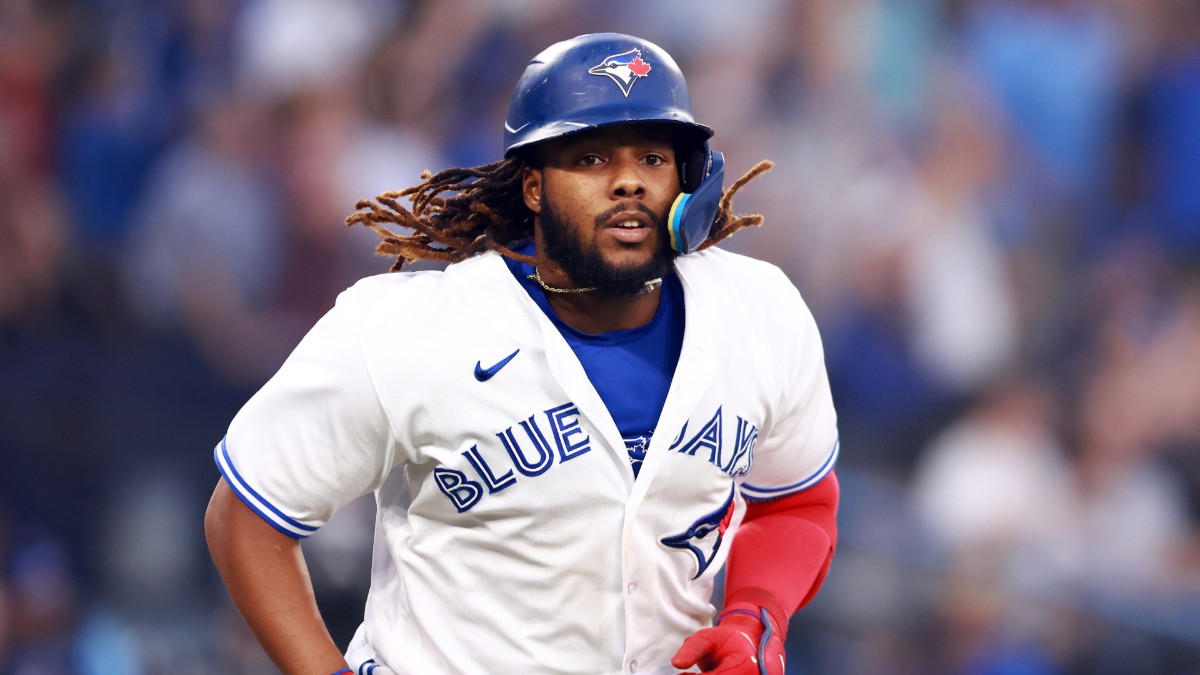 Fernando Tatis Jr, San Diego Padres
Angels vs. Padres, 8:40 p.m. ET
Opposing starting pitcher: Patrick Sandoval (LHP)
Though he was snubbed from the All-Star Game, there are few players that have had as impressive a season as Fernando Tatis Jr. Despite nearly a year and a half away from baseball, Tatis seamlessly transitioned back and hasn't missed a beat. 
The righty has 16 home runs in 66 games and a near 45% extra-base hit rate. While his OPS has dipped slightly from years past, he ranks inside the top 3% of all hitters in xBA. 
Tatis remains an elite bat that can do it all. His elite speed not only helps on the defensive side in right field, but he can turn a single into a double, too.
What's been most impressive has been the decline in his strikeouts — he's been much more efficient at putting the ball in play. 
Patrick Sandoval takes the mound on Wednesday for the Angels, and after being a player I was so high on over the last two years, it seems like the southpaw has fallen down to earth. He ranks in the bottom 20% of all pitchers in xBA and his strikeout rate has nearly dropped 7%. 
While Sandoval is still above average at limiting hard hits and barrels, he's taken a step back across the board and has a .408 xSLG — his worst since the 2020 COVID year when he had a 5.64 ERA. 
This is a great matchup for Tatis. He's the best Padres hitter against left-handed pitching, with a 185 wRC+ — 100 is considered average — and a .338 isolated power. His OPS is above 1.000 and 60% of his hits against lefties have gone for extra bases. 
This is the perfect time to continue to back the Padres' bats. Tatis was held hitless yesterday against Ohtani, but he had been on a tear — 7-for-13 with three extra base hits — prior to that.
I expect a bounce back game for Tatis in a favorable matchup, and I'm throwing .5u on over 1.5 total bases (+105) at DraftKings and .1u on a HR (+390) at bet365.
---
DiSturco's Triple 7s Home Run Bets for Wednesday, July 5
Corey Seager (+500)
Vlad Guerrero Jr. (+330)
Fernando Tatis Jr. (+390)
If you like all three plays and want to try a spin at hitting triple 7s, a $10 parlay of these three home run props at bet365 comes in at $1,254.20
How would you rate this article?
This site contains commercial content. We may be compensated for the links provided on this page. The content on this page is for informational purposes only. Action Network makes no representation or warranty as to the accuracy of the information given or the outcome of any game or event.