MLB Home Run Props Today | Ha-Seong Kim, Lars Nootbaar, Matt McLain (Wednesday, Aug. 2)
Credit:
Getty Images. Pictured (left to right): Ha-Seong Kim of the San Diego Padres, Lars Nootbaar of the St. Louis Cardinals and Matt McLain of the Cincinnati Reds.
Baseball betting is one of a kind.
Each day diving into a full slate is grueling, and sometimes edges are nowhere to be found on a side or total. But opportunities to fade pitchers at a lesser degree remain a constant. One of the areas in which I've tapped into this season has been the player prop market. More specifically, looking at hitters and their total bases/home runs props.
Whether it's a positive split or the wind blowing out in double-digit force, there are always opportunities to back some of MLB's best hitters to find the outfield seats. These bets are rarely not plus-money and home run props can often reach the +600-700 mark, providing plenty of value at a small cost.
That leads us to my new regular feature here at Action Network: DiSturco's Triple 7s.
In each article, I will give out my three favorite total bases props and pair that with the odds for those same players to hit a home run.
The idea of Triple 7s comes from slot machines. That's the ultimate jackpot, and it's important to note the rarity of notching that feat. Similar to slots, parlaying all three players below to hit a home run is nothing more than a lottery ticket.
It's important to bet responsibly, and while I do bet every player o1.5 TBs (.5u) and to hit a HR (.1u), you shouldn't overextend yourself with a parlay of all three. It's a long shot for a reason.
But if you're feeling confident or have no plans and want to try and hit Triple 7s, pull the lever and cross your fingers. Today's lottery ticket comes with +25212 odds.
Visit our MLB Props page for a full list of props and odds for every player on the MLB slate each and every day.
---
Ha-Seong Kim, San Diego Padres
Padres vs Rockies, 3:10 p.m. ET
Opposing starting pitcher: Kyle Freeland (LHP)
If you want to talk about one of the most underrated players in baseball, Ha-Seong Kim has to be mentioned.
Not only has the middle infielder provided defensive stability, but he has the second-highest OPS and best batting average on the Padres. Kim has quietly outproduced Fernando Tatis Jr. and Xander Bogaerts, among others, en route to a career year.
Kyle Freeland takes the mound on Wednesday for Colorado, and he's a pitcher whom Kim has seen extremely well to date. Kim is 5-for-16 against the southpaw with four doubles. In a hitter-friendly atmosphere like Coors Field, I expect Kim to continue his success here.
Freeland ranks in the bottom 10% of all pitchers in xBA and xSLG and has posted a career-low 14.1 K% this season. He's always been a pitch-to-contact left-hander, and that's not a recipe for success against a patient Padres offense, especially at Coors.
As a result, the Padres' odds are juiced down completely. Tatis is mostly +200 to hit a HR today, and Manny Machado is sub-300 across the board, too. Both of their total base props sit around 2.5, too.
But Kim, who is third on the team in wRC+ against left-handed pitching and isolated power with a minimum of 20 plate appearances, sits closer to Bogaerts' odds.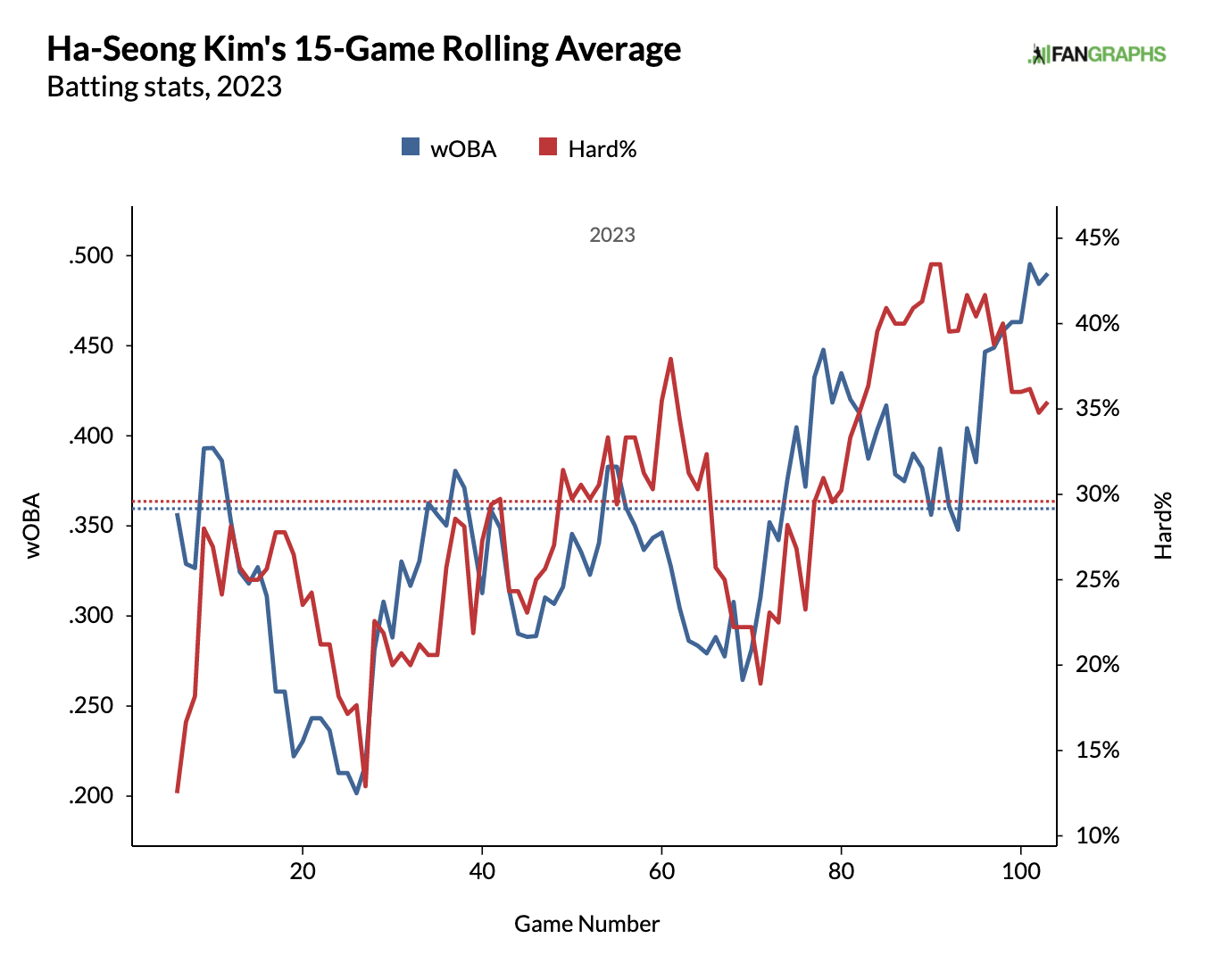 This season, Kim is hitting .311 with a .937 OPS against southpaws. He's hit six home runs, has a 42% extra-base hit rate and enters on an eight-game hit streak.
Back Kim to continue his success against lefties in Coors' friendly confines. He also sits at +525 to hit a home run at bet365.
Other possible alternatives: Luis Campusano (+550), Manny Machado (+290)
Pick: Ha-Seong Kim to Hit a HR
---
Lars Nootbaar, St. Louis Cardinals
Twins vs Cubs, 7:45 p.m. ET
Opposing starting pitcher: Joe Ryan (RHP)
Despite the Cardinals' struggles all season long, one bright spot over the last month has been the development of Lars Nootbaar. The lefty is quickly becoming a well-rounded hitter with an excellent eye and great pop.
Hitters since 7/1 with
]]~~
– 60+ PA
– Contact% above 80%
– Brl% above 10%
]]~~

Ordered by PAs
1. Lars Nootbaar (10.5% Brl%, 80.8% Cont%)
2. Nolan Arenado (10.6%, 80.3%)
3. Ronald Acuna Jr. (10.1%, 81.1%)
4. Max Kepler (11.6%, 80.0%)
5. Henry Davis (10.1%, 81.0%)
6.…

— Jon Anderson (@JonPgh) August 2, 2023
Over the last 30 days, Nootbaar is hitting .322 with a .975 OPS. Four of those home runs have come in the last two weeks as his barrel rate continues to rise.
Nootbaar ranks inside the top 2% of all hitters in chase rate and has seen his hard-hit rate increase by 5% from a season ago. He's above average in nearly every important hitting metric and has a career-best .435 xSLG.
Joe Ryan takes the mound for Minnesota on Wednesday, and while his strikeout numbers remain elite, the right-hander has seen a huge decline over his last six starts. Since his complete game shutout against the Red Sox, Ryan has thrown 28.1 innings of 24-run ball with 13 home runs allowed.
Ryan's O-swing% has slowly declined over the last few starts, while his hard-hit rate has noticeably jumped. Last year, Ryan threw a career-high 147 innings, and he has been quickly approaching that mark. His decline could be a byproduct of his workload, where he's struggled to locate and has been hit hard because of it.
Nootbaar is right behind Paul Goldschmidt in wRC+ against right-handed pitching and ranks fourth on the Cardinals in isolated power. He's +575 to hit a homer at bet365.
Alternative Options: Paul Goldschmidt (+475), Nolan Arenado (+430)
Pick: Lars Nootbaar to Hit a HR
---
Matt McLain, Cincinnati Reds
Reds vs Cubs, 8:05 p.m. ET
Opposing starting pitcher: Drew Smyly (LHP)
The wind will be slightly blowing out at Wrigley Field for a battle of southpaws. A day after 29 total runs were scored by these two NL Central foes, I'm going right back and targeting 34-year-old Drew Smyly.
Smyly started the season incredibly hot and posted back-to-back months with an ERA of 3.21 or better. He was limiting hard contact and base runners. But that soon began to unravel, and the southpaw has been tattooed since June.
In his last 10 starts, Smyly has thrown 48 innings of 36-run ball. He's given up 12 home runs in the process and has seen his command take a hit, too (23 walks).
The lefty also has noticeable home-road splits, dominating away from Wrigley Field. At home, Smyly's ERA is over 2.5 runs higher (5.94) than on the road (3.26).
That brings me to the Cincinnati offense. Elly De La Cruz has received all the hype since his promotion, but Matt McLain has flown under the radar as one of the best rookie bats in the bigs.
McClain has been far and away the best hitter against left-handed pitching for the Reds (180 wRC+) and has the second-highest isolated power behind Luke Maile. He hits .364 with a 1.068 OPS with plenty of extra-base power.
Of his 24 hits against southpaws, four have left the park. Another seven have gone for doubles. I was between the duo of him and Spencer Steer (154 wRC+, .282 ISO), but McLain has a way better barrel% (10.5 vs. 5.6) and xSLG (.430 vs. .404) than Steer.
Though not a large sample size, McLain is 3-for-3 with a double against the soft-tossing Smyly. He sits at +500 to hit a home run at bet365 today.
Alternative Options: Spencer Steer (+425), Nick Senzel (+700)
Pick: Matt McLain to Hit a HR
---
DiSturco's Triple 7s Home Run Bets for Wednesday, August 2
Ha-Seong Kim
Lars Nootbaar
Matt McLain
If you like all three plays and want to try a spin at hitting triple 7s, a $10 parlay of these three home run props at bet365 comes in at $2,521.20.
How would you rate this article?
This site contains commercial content. We may be compensated for the links provided on this page. The content on this page is for informational purposes only. Action Network makes no representation or warranty as to the accuracy of the information given or the outcome of any game or event.