MLB Picks Today | Odds, Expert Projections for Thursday, June 29
Credit:
Getty Images. Pictured: Alex Bregman, Luis Robert Jr., Nicky Lopez
Welcome to Opening Pitch, my column that you'll find daily throughout the 2023 MLB season.
My goal for Opening Pitch is to highlight my top daily projection edges for MLB moneylines and totals, share my favorite bets and provide some betting notes and analysis, mainly as I react to opening and overnight lines while using my baseball betting model.
I will look to release a new version of Opening Pitch daily between midnight and 3 a.m. ET; after I enter my overnight bets in the Action Network App and update the MLB projections. Hopefully, you will use it as your morning betting guide to get ahead of the baseball markets.
You can find my projections for every MLB game in the Action App (on both the PRO Projections tab and the game pages) and our Projections Hub (which you can bookmark).
You can also shop for the best lines on our odds page.
Expert Picks for Thursday, June 29
San Diego Padres vs. Pittsburgh Pirates
Joe Musgrove vs. Luis Ortiz
First Pitch: 12:35 p.m. ET
My model continues to believe in Luis Ortiz, with his plus sinker (110 Stuff+) and slider (112 Stuff+). The 24-year-old has shown flashes of brilliance, but his command (10.8% BB%) is inconsistent.
I expect Ortiz to figure things out eventually. He's only made nine starts at Triple-A (seven this season) and is still relatively inexperienced, but the Pirates see the obvious arm talent. They are letting him grow and develop at the major league level. His underlying indicators should eventually improve.
Joe Musgrove is experiencing a dip in strikeout rate for the fourth-consecutive season (33.1% in 2020, 27.1% in 2021, 24.9% in 2022, and now 21.4%) but his expected ERA or xERA (3.12) remains in line with last year (3.27). His velocity and pitch mix is essentially the same, and his pitch modeling numbers are virtually identical.
Still, even projecting Musgrove as a high-end No. 2 starter — and Ortiz closer to a No. 4 or No. 5 pitcher, I see value on the Pirates for Thursday; bet their moneyline at +156 or better.
Additionally, I set the total at 9.05; bet Over 8.5 to -111.
Cleveland Guardians vs. Kansas City Royals
Shane Bieber vs. Zack Greinke
First Pitch: 2:10 p.m. ET
Zack Greinke (4.95 xERA) is getting hit just as hard as last season (4.78 xERA), but his K-BB% (14.8%) has nearly doubled compared to last year's mark (7.9%), causing his xFIP to drop from 4.54 to 4.19. He's allowing more home runs, but perhaps the pitch clock — and a quickened pace — has allowed him to take advantage of hitters for more backward K's.
Greinke's Stuff+ is down a couple of points, and his location is up a couple of points, putting his overall Pitching+ at 100 – league average (99 Pitching+ in 2022).
Those models put him on par with Shane Bieber (99 Pitching+), whose Stuff+ dropped dramatically (from 110 to 98) after MLB banned the sticky stuff.
Bieber's underlying indicators have declined drastically since his 2020 Cy Young campaign (2.62 xERA, 2.04 xFIP, 34% K-BB%). He is nearly unrecognizable at current levels (4.95 xERA, 4.08 xFIP, 12% K-BB%), aside from continuing to outpitch those ERA estimators (3.69 ERA).
I projected Kansas City as +126 underdogs (44.2% implied odds) in this matchup; bet the Royals' moneyline at +137 (42.2% implied) or better.
Chicago White Sox vs. Los Angeles Angels
Lance Lynn vs. Patrick Sandoval
First Pitch: 4:07 p.m. ET
Lance Lynn (4.70 xERA) and Patrick Sandoval (4.60 xERA) have struggled this season for different reasons. Lynn's command (18.6% K-BB%) remains on par with last season (20.5% K-BB%, 3.62 xERA); however, he's allowing home runs (1.9 HR/9) at more than double his career rate (0.95 HR/9), thanks to a 10.1% barrel rate — easily his highest of the statcast era (career 5.6%).
Perhaps Lynn's struggles with the pitch clock have led to a case of gopher-itis (19 HR allowed in 90 innings), in addition to a slight velocity dip and decline in stuff (Stuff+ down from 97 to 93 years over the year).
Still, pitching models view him as a league-average arm and a better pitcher than Sandoval (98 Pitching+), whose K-BB% has declined from 16% in 2021 to 14.3% last season and now a well-below-average 8% across 14 outings in 2023.
Sandoval's velocity is down (by one mph relative to the 2021 season), and his strikeout rate has dipped by nine percent in two years.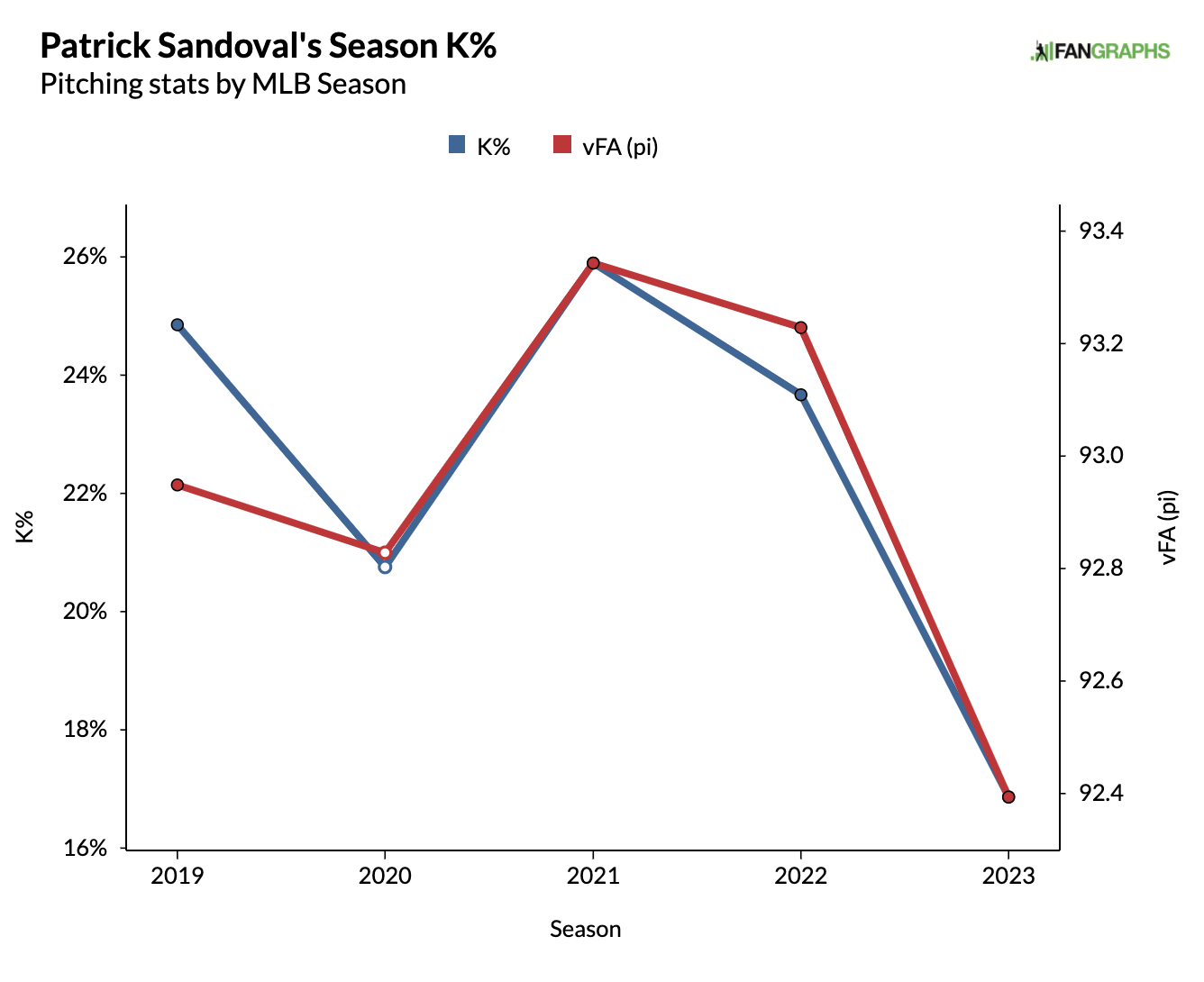 He'll also put the White Sox in their superior split; Chicago ranks and projects better against lefties than they do against righties.
I set the White Sox around +115 underdogs in both halves, bet Chicago's F5 (first five innings) moneyline to +123, and play their full game line to +127.
Houston Astros vs. St. Louis Cardinals
J.P. France vs. Adam Wainwright
First Pitch: 7:15 p.m. ET
After a poor start in London, Adam Wainwright (6.84 xERA, 4.5% K-BB%) has to be a couple of more bad outings away from getting DFA'd (or forced into retirement.)
The 42-year-old righty has seen his average fastball velocity dip by two mph, year-over-year, and his strikeout rate has halved in two years.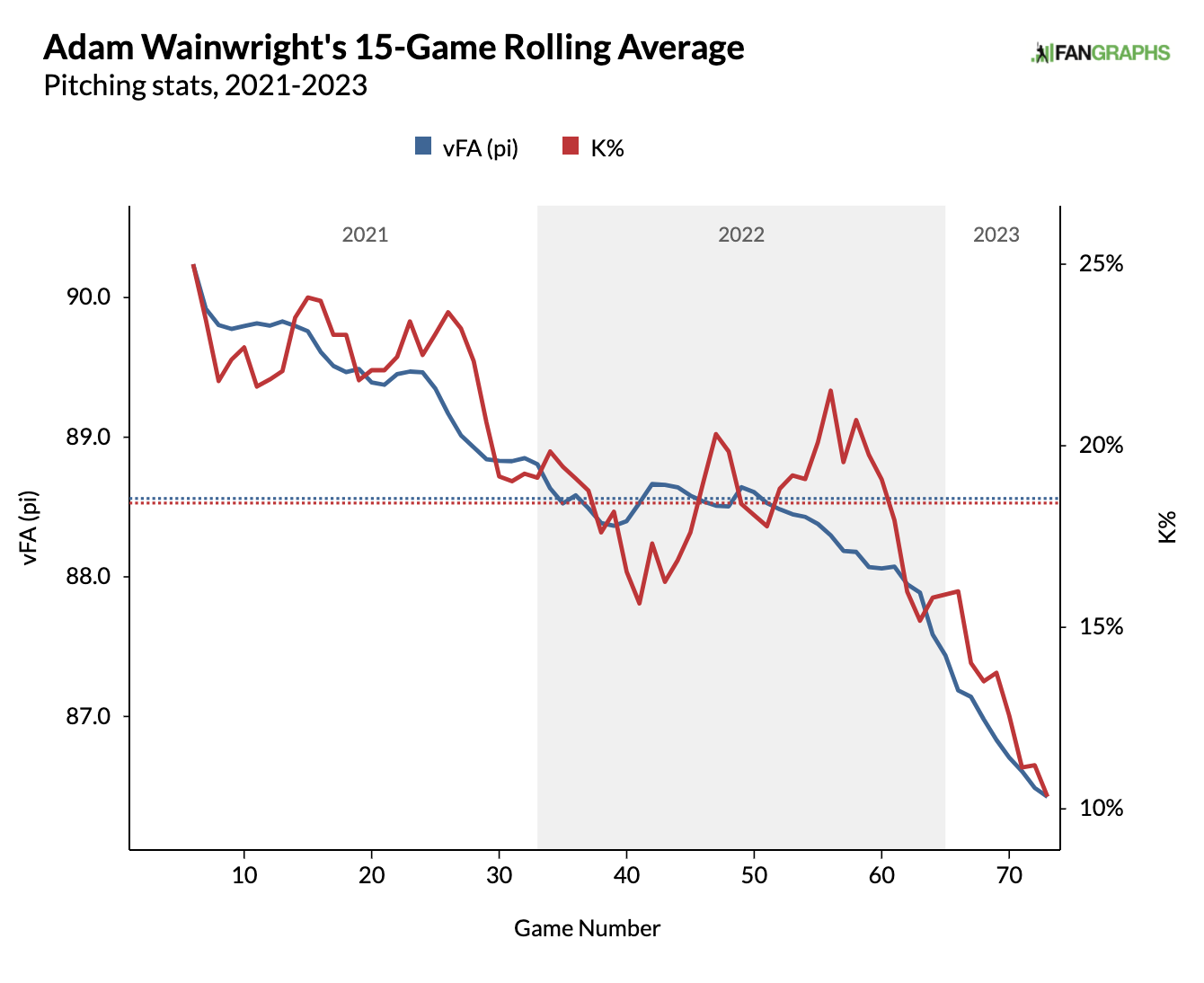 J.P. France (105 Stuff+) has a significantly higher ceiling at this stage of their respective careers. France potentially has four-above average pitches – as rated by Stuff+ – he needs to harness his command.
Wainwright is extremely umpire dependent. His fastball is essentially batting practice when he falls behind in the count. Still, if a generous umpire gives Wainwright called strikes on the edges – particularly the bottom of the strike zone with his curveball – he can survive for a start. However, Wainwright looks frustrated and eventually unravels if he isn't getting those calls.
I projected France and the Astros as -123 F5 favorites; bet Houston's first-half moneyline to -114.
Zerillo's Bets for Thursday, June 29
For additional bet notifications, follow me in the Action Network App. 
Chicago Cubs / Philadelphia Phillies, Under 10 (-112, 0.5u) at FanDuel (bet to -118 or 9.5, +100)
Chicago White Sox F5 (+126, 0.5u) at FanDuel (bet to +123)
Chicago White Sox (+135, 0.5u) at WynnBet (bet to +127)
Detroit Tigers F5 (+130, 0.5u) at WynnBet (bet to +130)
Detroit Tigers (+145, 0.5u) at WynnBet (bet to +138)
Detroit Tigers / Texas Rangers, Under 9.5 (-120, 0.5u) at DraftKings (bet to 9, -118)
Houston Astros F5 (-106, 0.5u) at FanDuel (bet to -114)
Kansas City Royals (+145, 0.5u) at WynnBet (bet to +137)
Miami Marlins / Boston Red Sox, Over 8.5 (-120, 0.5u) at DraftKings (bet to -125 or 9, -105)
New York Mets F5 (-205, 0.5u) at WynnBet (bet to -210)
Pittsburgh Pirates (+166, 0.5u) at FanDuel (bet to +156)
Pittsburgh Pirates / San Diego Padres, Over 8.5 (-105, 0.5u) at WynnBet (bet to -111)
Tampa Bay Rays / Arizona Diamondbacks, Under 10 (-105, 0.5u) at DraftKings (bet to -111)
How would you rate this article?
This site contains commercial content. We may be compensated for the links provided on this page. The content on this page is for informational purposes only. Action Network makes no representation or warranty as to the accuracy of the information given or the outcome of any game or event.