MLB Picks Tuesday | Odds, Expert Projections & Predictions for August 22
Credit:
Getty Images. Pictured: Ezequiel Duran, Rafael Devers, Spencer Steer.
Welcome to Opening Pitch, my column that you'll find daily throughout the 2023 MLB season.
My goal for Opening Pitch is to highlight my top daily projection edges for MLB moneylines and totals, share my favorite bets and provide some betting notes and analysis, mainly as I react to opening and overnight lines while using my baseball betting model.
I will look to release a new version of Opening Pitch daily between midnight and 3 a.m. ET; after I enter my overnight bets in the Action Network App and update the MLB projections. Hopefully, you will use it as your morning betting guide to get ahead of the baseball markets.
You can find my projections for every MLB game in the Action App (on both the PRO Projections tab and the game pages) and our Projections Hub (which you can bookmark).
You can also shop for the best lines on our odds page.
Expert Picks for Tuesday, August 22
San Francisco Giants vs. Philadelphia Phillies
Kyle Harrison vs. Taijuan Walker
First Pitch: 6:40 p.m. ET
The Giants will promote MLB pipeline's No. 20 overall prospect, southpaw starter Kyle Harrison, to make his major league debut on Tuesday, just 10 days after his 22nd birthday.
Harrison, a third-round draft selection in 2020, posted an incredible 37.4% strikeout rate in the minors but struggled with command (12.3% walk rate), leading to a 1.31 WHIP. He owns marks of 115 Stuff+, 91 Location+, and 93 Pitching+ at Triple-A this season but has seemingly found a groove over the past month (combined 11 1/3 IP, 8 H, 5 R, 4 BB, 17 K) and earned a call to the show.
Harrison throws from a low arm slot — which seems particularly troublesome for same-sided hitters — and he has a strong feel for three different pitches, combining a plus fastball and slider with an average changeup. The elite Stuff+ readouts suggest that Harrison has ace potential as his command improves.
Conversely, Taijuan Walker has seen his fastball velocity and Stuff+ dip in recent starts. Walker averaged 93.5 mph on the pitch last season and has sat closer to 94 mph for his career, but he's down to 92.8 mph this season and has averaged just 91.2 mph, 91.5 mph and 90.8 mph in his past three outings.
In the second half, Walker has pitch model ratings of 91 Stuff+, 98 Location+, and 94 Pitching+ — alongside a 92 mph fastball — compared to 94, 102 and 99 marks with a 93 mph fastball in the first half.
Bet the Giants to +120 for the first five innings (F5) and +118 for the full game.
Additionally, despite the blowup possibility for either or both starting pitchers, I set the total at 8.6 runs, with 8 mph winds blowing in from center field. Bet Under 9 to -105.
Colorado Rockies vs. Tampa Bay Rays
Ty Blach vs. Zach Littell
First Pitch: 6:40 p.m. ET
I don't see an advantage for Colorado on paper anywhere in this matchup. However, I still expect them to win Tuesday's game at least 35% of the time, and they are one of my more significant projected moneyline edges for Tuesday's slate.
Zack Littell will make his fifth consecutive start for the Rays, and while his 2.78 ERA over the past four weeks is shiny, the pitch modeling metrics (88 Stuff+, 101 Location+, 101 Pitching+) suggest that he's a league-average arm.
That's still a significant improvement upon Ty Blach (58 Stuff+, 104 Location+), a soft tosser with one of the lowest strikeout rates in modern baseball (12.6% career).
I see a similar gap between these two bullpens, yet I couldn't get the Rays above -185 in this matchup; bet the Rockies at +200 or better.
Toronto Blue Jays vs. Baltimore Orioles
Hyun-Jin Ryu vs. Grayson Rodriguez
First Pitch: 7:05 p.m. ET
Since returning from the minors on July 17, Grayson Rodriguez has entered breakout mode (3.03 ERA, 3.79 xFIP, 13.9% K-BB%) while posting absurd pitch modeling metrics (128 Stuff+, 102 Location+, 110 Pitching+).
Over that span, Rodriguez ranks sixth in Stuff+ (128), just behind Corbin Burnes, and 12th in Pitching+ (110).
I set Tuesday's total at 7.8, with slightly favorable pitching weather. Bet Under 8.5 to -118 or Under 8 to +100.
Los Angeles Dodgers vs. Cleveland Guardians
Bobby Miller vs. Noah Syndergaard
First Pitch: 7:10 p.m. ET
The Noah Syndergaard revenge game? The Dodgers sent Thor to Cleveland for Amed Rosario before the trade deadline, and he'll get a chance at revenge on Tuesday night.
Syndergaard has posted an 81 Stuff+, 103 Location+ and 98 Pitching+ line across 21 1/3 innings in Cleveland, and with his stolen base issue (permitted 31 of the past 32 base stealers, dating back to last season), he allows more runners in scoring position that you might typically expect.
Bobby Miller (131 Stuff+, 103 Location+, 111 Pitching+ in the second half) rates as highly as any starter by pitch modeling indicators. His actual results (3.73 xERA, 15.4% K-BB%) are closer to average. Still, I expect to see Miller's ascension as a top-of-the-rotation arm by the end of next season, if not earlier.
I projected the Dodgers' F5 line at -205; bet the Dodgers' F5 moneyline to -190.
Boston Red Sox vs. Houston Astros
Tanner Houck vs. Justin Verlander
First Pitch: 8:10 p.m. ET
I have highlighted the apparent signs of decline for the 40-year-old Verlander throughout this season, but I will quickly reiterate and summarize them as follows:
Verlander's fastball velocity is down slightly this season, as are both his Stuff+(107 vs. 118 last season) and command ratings (102 Location+ vs. 107 last season). His strikeout rate is also down (from 33.% in 2020 to 27.8% last season and 20.2% in 2023), and his xERA has climbed from 2.66 to 3.55.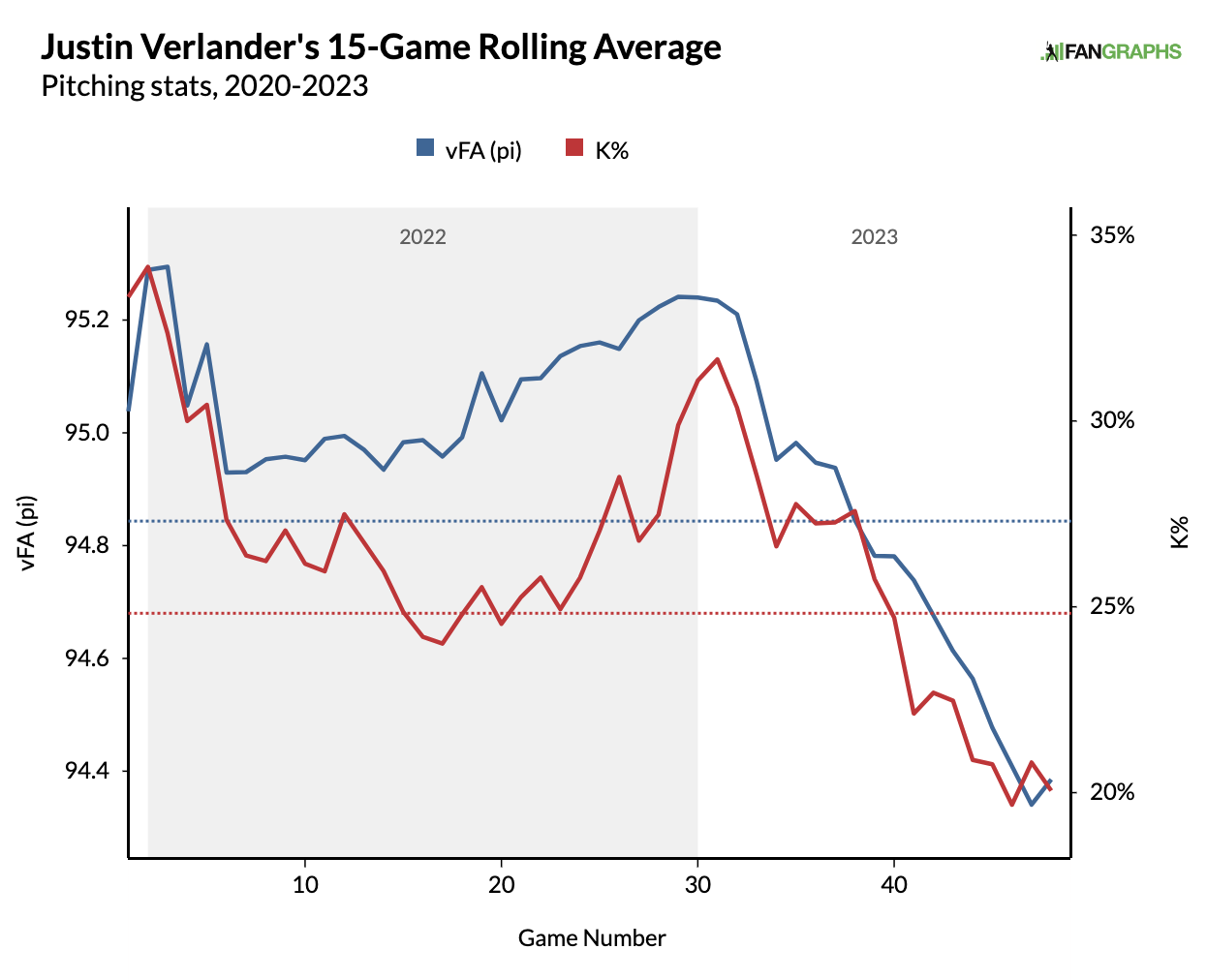 Tanner Houck (3.92 xERA, 102 Stuff+, 102 Location+, 100 Pitching+) will return from a two-month IL and rehab stint on Tuesday, but he showed reasonably comparable indicators (3.92 xERA) to those of Verlander before the lengthy layoff.
Bet Boston at +135 or better against the future Hall-of-Famer.
Cincinnati Reds vs. Los Angeles Angels
Graham Ashcraft vs. Lucas Giolito
First Pitch: 9:38 p.m. ET
Since June 30, Graham Aschraft (5.05 xERA) has pitched to a 2.17 ERA while recording a quality start in eight of nine outings.
Pitching models have always been fond of Ashcraft's slider (165 Stuff+), which raises his overall arsenal (127 Stuff+), and encouraging results are finally following.
Over that same nine-start stretch, Ashcraft posted a 130 Stuff+ figure — tied with Corbin Burnes for the best in baseball — a 101 Location+ number, and a 105 Pitching+ figure (tied for 14th with Freddy Peralta and Burnes).
Much of the projected edge on this game depends on whether Mike Trout — still experiencing discomfort as of Monday — will return to the Angels' lineup on Tuesday.
I wouldn't have a bet on this game with Trout in the lineup for the Angels. However, given recent reports, I'm speculating that he won't be in the lineup; if that's the case, bet the Reds to +118.
Texas Rangers vs. Arizona Diamondbacks
Jon Gray vs. Zac Gallen
First Pitch: 9:40 p.m. ET
I'll reiterate what I said before his start last Thursday:
"I'm still waiting for Zac Gallen to slip up and help cash our longshot Cy Young tickets on Blake Snell. While Gallen continues to churn out quality starts, the underlying indicators suggest that he's due for regression and — while above-average — potentially isn't a true ace (4.06 xERA, 106 Stuff+, 105 Location+, 108 Pitching+).
I don't put much faith in Jon Gray (4.23 xERA), who has seen his fastball velocity and Stuff+ ratings dip this season while his xERA has climbed from 3.59 to 4.23. And his pitch modeling ratings (95 Stuff+, 99 Location+) have fallen to below-average territory after sitting at 100 and 102, respectively, last season.
I projected the Rangers as +103 underdogs; bet Texas on the moneyline down to +112.
Zerillo's Bets for Tuesday, August 22
For additional bet notifications, follow me in the Action Network App. 
Baltimore Orioles F5 (-115, 0.5u) at WynnBet (bet to -117)
Boston Red Sox (+137, 0.5u) at WynnBet (bet to +135)
Chicago White Sox (+140, 0.5u) at Caesars (bet to +135)
Cincinnati Reds F5 (+125, 0.5u) at WynnBet (bet to +123)
Cincinnati Reds (+124, 0.5u) at FanDuel (bet to +118)
Colorado Rockies (+230, 0.5u) at WynnBet (bet to +200)
Detroit Tigers (+105, 0.5u) at Caesars (bet to +105)
Los Angeles Dodgers F5 (-182, 0.5u) at FanDuel (bet to -190)
San Francisco Giants F5 (+128, 0.5u) at FanDuel (bet to +120)
San Francisco Giants (+134, 0.5u) at WynnBet (bet to +118)
San Francisco Giants / Philadelphia Phillies, Under 9 (+100, 0.5u) at Caesars (bet to -105)
St. Louis Cardinals / Pittsburgh Pirates, Under 10 (-110, 0.5u) at Caesars (bet to -115)
Texas Rangers (+115, 0.5u) at WynnBet (bet to +112)
Toronto Blue Jays / Baltimore Orioles, Under 8.5 (-115, 0.5u) at FanDuel (bet to -118 or 8, +100)
How would you rate this article?
This site contains commercial content. We may be compensated for the links provided on this page. The content on this page is for informational purposes only. Action Network makes no representation or warranty as to the accuracy of the information given or the outcome of any game or event.