Monday Sharp Report: Pros Getting Down On 2 Dogs
Credit:
Danny Valencia. Credit: Dan Hamilton-USA TODAY Sports
It's been a struggle for MLB wiseguys this season. The public is enjoying their best year since 2005 as favorites getting 70% or more of tickets are hitting at a 65% clip, +9.2 units this season. From 2005-17 they hit at a 59% clip, -366.5 units.
With basketball and hockey over, baseball is now the only game in town. The sharps are confident this will lead to increased public action, elevated contrarian value and big regression to the historical norm.
After analyzing Monday's small eight-game slate using Sports Insights' Sportsbook Insider Pro betting tools, I've pinpointed two MLB bets that professionals are focusing on, starting at 7:05 p.m. and 7:10 p.m. ET.
Data as of 3 p.m. ET
Boston Red Sox at Baltimore Orioles (-100)
7:05 p.m. ET
Boston owns the second-best record in baseball (44-22) and Baltimore has the worst (19-45). The public sees an easy Red Sox win, but wiseguys are buying low on Baltimore. The O's are getting only 16% of bets in the most heavily bet game of the night, yet the O's have fallen from +119 to -100 since opening.
This massive reverse line movement was caused by sharps at BetUs, Pinnacle, BetOnline and SIA all hammering Baltimore, causing the line to fall bigly in their favor (+119 to -102). Baltimore also matches the profitable Betting Against the Public Bet Labs Pro system (+168.13 units since 2005) as well.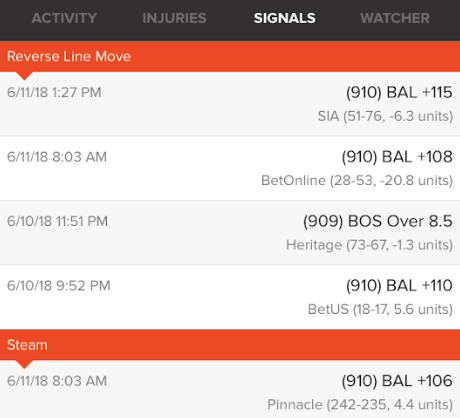 Update: Manny Machado is not in today's starting lineup (rest) and Mookie Betts (abdominal) is in the lineup. This has moved the Orioles from -100 to +113 and the Sox from -108 to -122. 
San Francisco Giants at Miami Marlins (+144) 
7:10 p.m. ET
The Giants just took two of three from the Nats, including a massive contrarian hit against Max Scherzer on Sunday (SF received only 20% bets and closed +262). With Madison Bumgarner toeing the rubber against the lowly Fish tonight, nearly 80% of bets are laying the big minus number with San Fran.
Early heavy public betting pushed the Giants up from -165 to -180, providing the wiseguys a better number on the Fish.  Pro players hit Miami +170 at BetUs and then +155 at 5Dimes, bringing the Marlins all the way down to +144 across the market.
Miami also enjoys one of the top smart money discrepancies of the night: the Marlins are getting only 22% of bets but 45% of dollars. This means that the majority of SF money comes from Average Joes, but the bigger wagers are taking a shot on the home dog.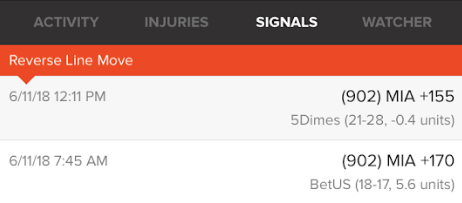 Remember: the betting market is fluid. Data changes as more action comes in. For updated odds and percentages, be sure to check out the Action Network MLB betting trends page. 
Looking for more in-depth betting analysis? Sign up for a Sports Insights Pro trial and join our Live Betting Hangouts where we break down the board every weeknight from 6:30-7 p.m. ET.
For more betting info and customer support, you can find me on twitter @Josh_Insights.