MLB Props Odds, Picks, Predictions: 6 Bets For Dinger Tuesday, Including Austin Riley, Yordan Alvarez (August 2)
Credit:
Mitchell Leff/Getty Images. Pictured: Austin Riley
Each Tuesday, FanDuel runs a popular promotion that allows each user to bet $25 on one player in every MLB game played that day to hit a home run. Regardless of whether or not the player you bet on homered, you receive $5 in free bets back for each home run hit in the game, with a max return of $25.
Given the average number of home runs in an MLB game in 2021 was 2.44, you will receive an average of $12.20 in free bets back for each $25 home run bet you make, without accounting for the loss in expected value on the vig of the home run yes prop.
Even though home runs have been down in the 2022 season thus far, the promotion remains +EV, and there are signs that homers are trending up in the warmer months again.
If you want to learn more on how Dinger Tuesday works, here's an explainer.
Here are my favorite selections for Tuesday's slate.
Mariners at Yankees, 7:10 p.m. ET
Pick: Gleyber Torres +440
If you want to pick Aaron Judge here, who am I to say you shouldn't? This promo is supposed to be fun and the bonus homers make it totally fine to play Judge. At +172, though, I'm looking elsewhere. Seattle starter Logan Gilbert has the highest average exit velocity allowed among qualified MLB starters this season.
Gilbert has a bunch of regression coming and I like the profile of Gleyber Torres. He has a 10.2% barrel rate for the season, well above league average. He has maintained that throughout the month of July. His barrel rate in July was 10% and he's especially hit sliders well. Gilbert and the Mariners bullpen feature a ton of sliders for him to potentially take advantage of.
Phillies at Braves, 7:20 p.m. ET
Pick: Austin Riley +320
The Phillies are going with a bullpen game, so it's difficult to project how they'll manage the pitching for all nine innings. But you can expect to see both Nick Nelson and Mark Appel as the main bulk pitchers. Both project to have hard-hit and home run issues, so I'm targeting the Braves instead of the Phillies, who are facing dominant flamethrower Spencer Strider.
I was surprised to see that Riley didn't have the best odds on the Braves, given that his 17.3% barrel rate is clearly the highest on the team. He's showing significant increases in barrel and hard-hit rates this season and is one of the best sluggers in MLB. I'd play Riley down to +300.
All of the hitters with similar or better barrel rates — Aaron Judge, Yordan Alvarez, Kyle Schwarber and Luke Voit — are lined cheaper than Riley, despite a favorable pitching matchup and ballpark. Riley's barrel rate in July was tops in the National League.
Tigers at Twins, 7:40 p.m. ET
Pick: Jose Miranda +470
Jose Miranda has taken some significant steps forwards in the last month, cutting his strikeout rate and improving his wOBA considerably. It's pretty common for a rookie to struggle in his MLB debut and then eventually start to figure some things out, and that appears to be the case for Miranda. The Twins have a deep lineup of intriguing hitters for Dinger Tuesday, but Miranda has a 10% barrel rate since July began.
That's a considerable improvement on his barrel rate prior to that and his season long number that is a more pedestrian 6.3%. I'm going to ride one of the hottest hitters in the Twins lineup against a mediocre right-hander in Matt Manning.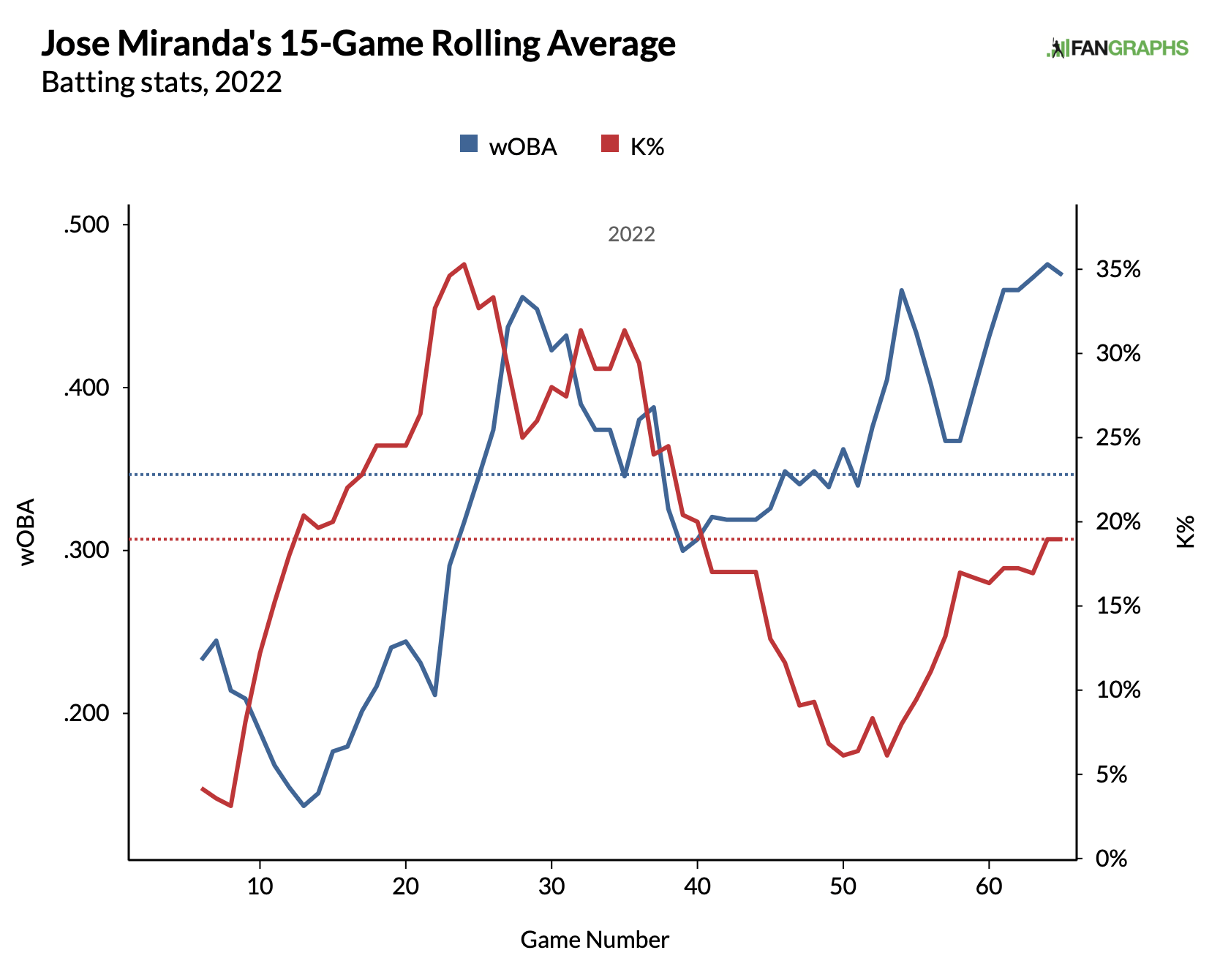 Royals at White Sox, 8:10 p.m. ET
Pick: Vinnie Pasquantino +430
Pasquantino has been on my list before and he's likely to continue to stick there in the weeks to come. His plate discipline is elite, he doesn't chase bad pitches and sacrifice quality of contact because of that. His 50.6% hard hit rate, 11.2% barrel rate and 112.7 max exit velocity all suggest he has plus power. He hasn't really shown all of that yet, but he's hitting the ball really hard and gets a great matchup with the struggling Lucas Giolito.
Giolito has allowed 1.68 HR/9 this season and even though he profiles as a reverse splits guy because of his changeup, he's still allowed five homers in 150 at-bats against lefties this season. Pasquantino is a major buy-low guy across the board and has underperformed his xwOBA more than any other hitter in MLB thus far.
Orioles at Rangers, 8:10 p.m. ET
Pick: Anthony Santander +400
Spencer Howard vs. Jordan Lyles is one of the worst starting pitcher matchups on the board today and that puts this game near the top of the card. Howard has allowed an 11% barrel rate at this point in 2022 and his lack of command and locations leaves him in the middle of the zone quite often.
Santander had a mediocre start to the 2022 campaign but just finished off his best month with a .916 OPS and five homers in 95 at-bats. So while someone with similar barrel rates and numbers Ryan Mouncastle, is appealing too at +370, I'm going to ride the hot hitter who posted a barrel rate of 11.4% in July.
Red Sox at Astros, 8:10 p.m. ET
Pick: Yordan Alvarez +250
There's no clear option that jumps out on either roster for me, especially with the possibility that J.D. Martinez is traded by the trade deadline at 6 p.m. ET. Alvarez actually has a comparable barrel rate to Judge in the last month, and ranks second in the American League. It's only +250 and that's not some huge pay out, but he's the clear best option from an EV perspective in this game.
Lines in this game aren't great to play generally, but sometimes, it's better to take the favorite slugger instead of reaching for a -EV long shot. I think this is one of those times. It's a game in a good park with two solid HR pitchers and good offenses.
If I had to take a long shot, it'd be Bobby Dalbec, who is barreling more in July and showing some power, despite his strikeout issues.
Other picks: Rowdy Tellez +360 (MIL)
How would you rate this article?
This site contains commercial content. We may be compensated for the links provided on this page. The content on this page is for informational purposes only. Action Network makes no representation or warranty as to the accuracy of the information given or the outcome of any game or event.