Tuesday Sharp Report: Pros Betting Padres-Mets, Three Other Games
Credit:
Orlando Ramirez-USA TODAY Sports. Pictured: Eric Hosmer
Pro players went 2-1 on Monday, improving Sharp Report plays to 10-4 (+6.5 units) since the All-Star break.
Two NL West road teams are seeing massive movement in their favor tonight.
Wiseguys are also eyeing two interleague plays: a Contrarian Under and a home dog.
Wiseguys continued their hot streak yesterday, cashing two of their three Monday plays. Pros are starting to get breaks that eluded them in the first half. At Wrigley Field, the Diamondbacks raced out to a 5-0 lead in the first inning, but the Under 9 still hit. With the Red Sox-Orioles Under 9 cashing as well, Contrarian Unders (fewer than 40% of bets with a total of 8 or higher) are now 338-257 (56.8%), +66.9 units overall and +10.7% ROI this season alone.
After analyzing Tuesday's 15-game MLB slate using Sports Insights' Sportsbook Insider Pro betting tools, I've pinpointed four MLB bets that professionals are focusing on, starting at 7:05 p.m., 7:10 p.m. and 8:40 p.m. ET.
---
>> All data as of 2:30 p.m. ET. Download The Action Network App to get real-time MLB odds and track your bets
---
Betting Terms to Know

Steam Move: Sudden, drastic and uniform line movement across the market caused by an overload of sharp action from respected players.
Reverse Line Movement: When the betting line moves in the opposite direction of the betting percentages. It's a top smart money indicator.
Line Freeze: When one side is getting heavy betting but the line won't budge, indicating sharp liability on the other side.
Juice: The tax or commission that bettors must pay the sportsbook in order for them to accept your wager. A -115 juice means a bettors would have to wager $115 to win $100.
Los Angeles Dodgers at Philadelphia Phillies
Sharp angle: Dodgers -111
First pitch 7:05 p.m. ET
The Dodgers (56-44) and Phillies (55-44) have almost identical records, but because the Phils are at home and send ace Aaron Nola (12-3, 2.30 ERA) to the mound, the public is siding with Philadelphia. As always, sharps zig when the public zags.
Despite getting only 42% of bets, the Dodgers have moved from dogs to favorites, going from +116 to -111. This massive reverse line movement is a clear indication that wiseguys got down hard on Kenta Maeda (7-5, 3.12 ERA) and Los Angeles.
---
>> Follow Josh Appelbaum in The Action Network App to get free alerts on all his MLB bets.
---
San Diego Padres at New York Mets
Sharp angle: Padres +125
First pitch 7:10 p.m. ET
The public doesn't know which way to go in this one, but wiseguys have taken a clear side. Moneyline bets are 52/48 in favor of San Diego, but the Padres are getting 71% of dollars, signaling big smart money. The line has also plummeted toward the Fathers (+148 to +125).
In a vacuum, a line shouldn't move more than a cent or two if the bets are split. So we know this movement was caused by big sharp action.
Pittsburgh Pirates at Cleveland Indians
Sharp angle: Under 9
First pitch 7:10 p.m. ET
Despite 68% of bets taking the Over, the total has fallen from 9.5 to 9 across the market. Why would the books drop the number to give public Over backers an extra half run? Because wiseguys got down hard on the Under, creating big liability.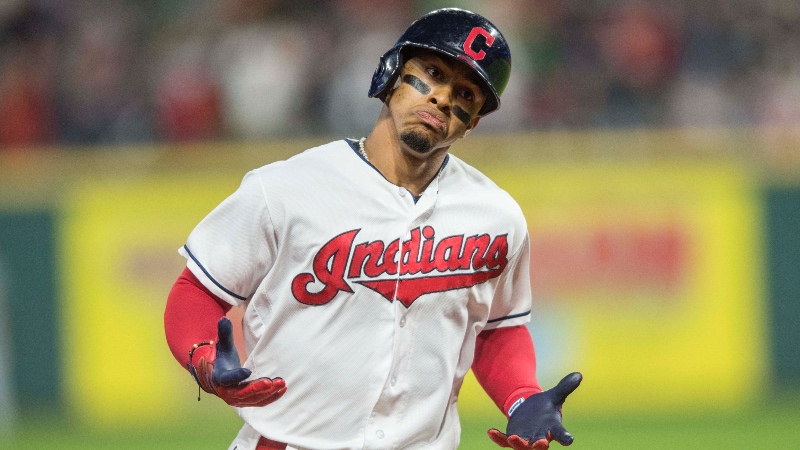 Ken Blaze-USA TODAY Sports. Pictured: Cleveland Indians shortstop Francisco Lindor
The Under 9 is also juiced up to -120, which means the total may even fall further to 8.5. This Under also matches the profitable Bet Labs system Contrarian Unders for Winning Teams (+181.36 units since 2005).
Houston Astros at Colorado Rockies
Sharp angles: Rockies +130
8:40 p.m. ET
The Astros are public favorites anytime they take the field. With Gerrit Cole (10-2, 2.52 ERA) on the mound, Average Joes sees a guaranteed lock. But not the sharps. Despite 74% of bets taking Houston, the Astros' line has barely budged (-139 to -140). Typically, a team getting 70% or more bets would move from -139 to -149 or -159. The fact that Houston hasn't become a larger favorite indicates heavy liability on the home dog Rockies.
Colorado is getting only 26% of bets but 56% of dollars, another sign of smart money in the Rockies' favor.
---
All bets risking one unit, not to win one unit. All plays Listed Pitcher, not Action.
Looking for more in-depth betting analysis? Sign up for a Sports Insights Pro trial and join our Live Betting Hangouts where we break down the board every weeknight from 6:30-7 p.m. ET.