Nationals-Orioles Betting Preview: Look for Runs to Come Early
Credit:
Tommy Gilligan-USA TODAY Sports. Pictured: Trea Turner
Baltimore Orioles at Washington Nationals, 7:05 p.m. ET
Orioles (Andrew Cashner): +175
Nationals (Gio Gonzalez): -195
Over/under 9.5
---
Bet to Watch:
First 5 Innings over 5
Last night's series opener was a 9-7 Nationals victory, which smashed the over by 6.5 runs. Personally, I couldn't care less about what happened in a previous matchup — especially in baseball — but if it helps you justify riding this bet, at least there's some proof that these teams have working bats.
Here are some things I do care about: sharp money, umpires, weather and historical data — all of which have pointed me toward this first-half total.
Let's start with the sharp money. It's still too early to judge the sharp side in tonight's games, but we've already got two bet signals triggered on the over and none on the under.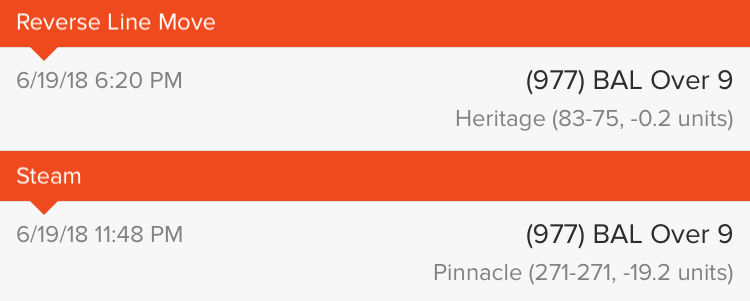 Both signals are on the full game total, but it's still reassuring to be on the same side. As for why I'm picking out the first five innings, let's take a look at the umpire.
In games Jerry Meals has been behind the plate, the over has gone 214-197-28, a modest win percentage that's profited just nine units since 2005. His first five innings over record, however, is 162-130-14 since 2009 (the furthest that our first-half data goes back). He's won more than 20 units for first-half over bettors, making him the sixth-most profitable ump in our database for the situation.
Onto the forecast. Take a look at how the weather is expected to change throughout the game.

Opening in the mid-80s with a breeze blowing straight out to center, this game will see an increasingly greater chance of precipitation as the innings wear on. The wind direction is also expected to move toward left field, and temperatures will dip into the 70s, so it certainly seems like the early portion of the game will be more conducive to runs.
Given the lack of familiarity in interleague matchups, offenses tend to perform slightly better, a trend I'm counting on holding up tonight. Oh, and Bryce Harper has struck out only once since he shaved his beard, so you can consider that slump over.
---
Editor's note: The opinion on this game is from the individual writer and is based on his research, analysis and perspective. It is independent of, and may not always match with, the algorithm-driven Best Bets from Sports Insights.