Stuckey: Why I'm Betting the Oakland Athletics to Win the World Series
Credit:
Pictured: Athletics third baseman Matt Chapman. Photo by Sean M. Haffey/Getty Images
It's been a long time, but we are (hopefully) less than a week away from the start of the 2020 MLB Season. Needless to say, this shortened season presents bettors with plenty of unique opportunities in both the day-to-day and futures market.
In case you missed it, we spoke about some longshot player props worth a look during our MLB betting preview podcast episode, but today I'm going to talk about my favorite World Series future. Hopefully, we can run it back after cashing in on the Nationals 30-1 last year. Thank you again, Juan Soto and Anthony Rendon.
---
Want to bet a World Series future? Good news: DraftKings is offering a FREE $25 bet for Opening Day when you bet at least $25 on a team to win the title. BET NOW
---
Back to Oaktober?
The Athletics quietly backed up their 97-win campaign in 2018 with another 97 wins last season. Even more impressive, they did so despite losing two of their most important starters for large portions of the season. Frankie Montas was handed an 80-game suspension in June and Sean Manaea was only able to make five starts.
The A's also had to battle through a slump-season from Khris Davis, who slugged just .387 after four straight seasons above .500, and an injury-riddled campaign from Stephen Piscotty.
The A's also managed to withstand 30 blown saves despite having a top-10 bullpen by almost every advanced metric.
I'm encouraged by what the A's have accomplished in the recent past, but let's look ahead and highlight why I think Oakland is live for a World Series bet in 2020.
High Ceiling and Deep Pitching
Oakland didn't make any splashes in free agency but it really didn't need to. The A's lost three 2019 starters in Homer Bailey, Tanner Roark and Brett Anderson but that was by design more than anything else. They should upgrade at each starter spot with two young lefties in Jesus Luzardo, and A.J. Puk — in addition to the return of the aforementioned Manaea and Montas.
Expect those four and Mike Fiers to make up the five-man rotation when healthy. While Fiers is a prime regression candidate with an xFIP (see below for definition) north of five in 2019, the ceiling of this rotation is significantly higher than last season.
The A's rotation could actually stand to benefit from the short season. Oakland can unleash its young arms without restriction. In a 162-game season Puk and Luzardo would have been limited, but not under these circumstances.
Luzardo, the franchise's No . 1 prospect, is currently out after testing positive for coronavirus. While it's a bit of a concern early on, he could be back by the first week of the season. The good news is the A's have a steady replacement for Luzardo in Chris Bassitt, who can slide in until Luzardo is back up to speed.
Bullpens are tough to project on a year-to-year basis but the A's do have a top-end closer, Liam Hendriks, and solid depth in front of him. On paper, it looks like a top-10 group.
With so much uncertainty expected for this MLB season, pitching depth should reign supreme and the A's have plenty.
Also, don't be surprised if Billy Beane, general manager David Forst and manager Bob Melvin get creative in this shortened season.
Underrated and Balanced Lineup
Now, let's get to the offense.
In my opinion, Oakland boasts one of the most balanced and underrated lineups in all of baseball. The A's finished fifth overall in wRC+ in 2019 and that was without any significant contribution from Davis.
And if talented prospect Sean Murphy lives up to expectations at catcher and Franklin Barreto can be productive at second base, look out.
Conservatively, this is a top-10 offense with top-5 upside.
---
FIP or Fielding Independent Pitching measures what a pitcher's ERA would look like if the pitcher experienced league-average defense and luck. xFIP  is a regressed version of FIP that adjusts or "normalizes' the home run component based on park factors.

wRC+ or Weighted Runs Created Plus takes the statistic Runs Created and adjusts that number to account for critical external factors — like ballpark or era. It's adjusted, so a wRC+ of 100 is league average, and 150 would be 50 percent above league average.
---
Top-Notch Defense
My colleague Sean Zerillo always talks about how defense is overlooked by MLB bettors and pundits when it comes time to make predictions.
Well, it's hard to ignore the A's defense, which is led by two Gold Glovers on the corners in Matt Olson and Matt Chapman. Shortstop Marcus Semien isn't far behind, as he was a Gold Glove finalist in 2019.
Chapman was especially impressive in 2019, accounting for 18 DRS (Defensive Runs Saved) —15 more than the next highest by an AL third basemen.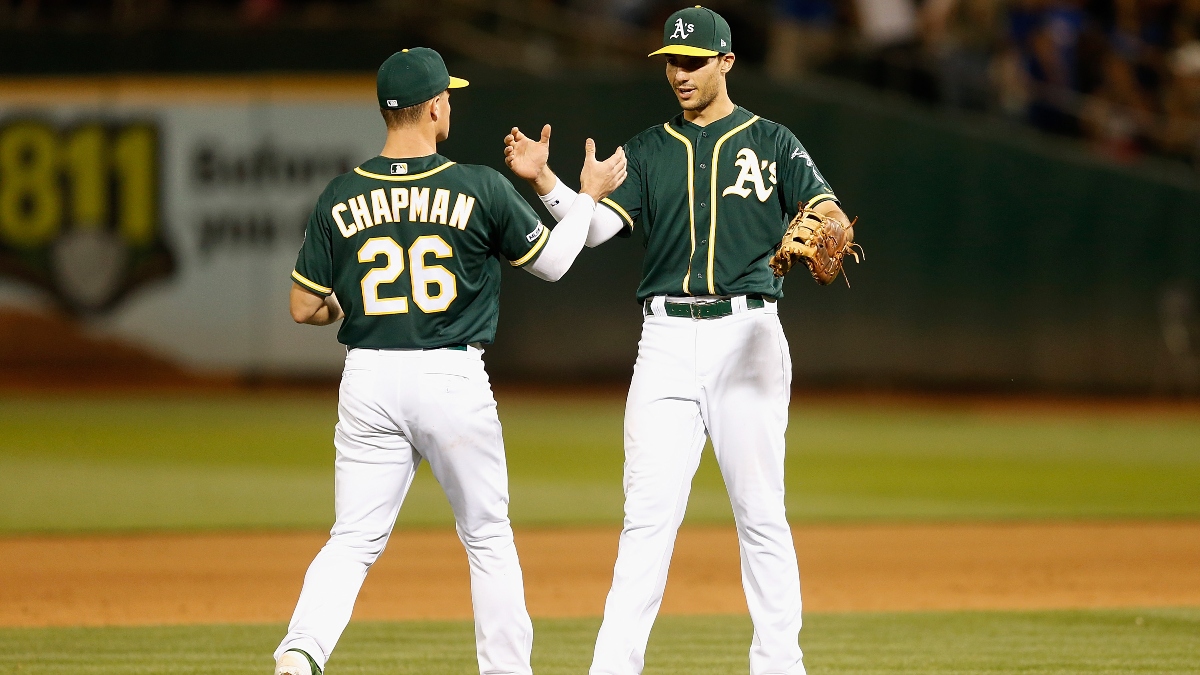 Favorable Schedule
It's very important to keep team schedules in mind this season. Some clubs will catch a break with the scheduling, while others will not. It looks like Oakland will catch a big break with how its itinerary pans out.
The A's play 21 of their first 29 games in the Bay Area and they'll be home for 13 of their final 21 contests. They'll also get more home games than road games against the Astros. For a team that perennially gets the short end of the schedule stick, this is some good karma.
Speaking of the Astros, a major mystery remains with how much of a drop-off they'll experience without any assistance from their trash cans. It's hard to say for sure but, if the 'Stros struggle to cope, the A's will stand to benefit.
It is worth noting that Oakland has notoriously been a slow-starting team over the past decade. The A's have made the postseason five times over the past 10 years but that number would have dropped to just two if the MLB played a 60-game schedule.
The A's essentially played .500 ball before the All-Star Break the past two seasons before going on big second-half runs.
A slow start could be a death sentence in a 60-game season, but I can't figure out any reason why the Athletics would be more prone to slow starts than other teams. Therefore, I just chalk up the recent sluggish starts to random noise.
The Pieces Are in Place
All of the pieces are there for the A's to make a run in this high-variance 60-game sprint. I love the overall team depth and pitching potential. Throw in a top-10 lineup and defense and I'm buying the upside.
For World Series futures, I show an edge at anything 20-1 or better but make sure you price shop to get the best number possible. That holds true for tickets on the A's to win the American League Pennant and the AL West, both of which I've invested in.
Pick:
Oakland Athletics To Win World Series +2500
More MLB Betting Previews
How would you rate this article?