Rays vs. Astros Betting Picks, Predictions & Odds: Will Tampa Pull Off a Massive Upset?
Credit:
Thomas B. Shea-USA TODAY Sports. Pictured: Gerrit Cole
The betting odds for Thursday's ALDS Game 5 between the Rays and Astros opened with Houston as a massive favorite (-290 moneyline odds), compared to +250 for Tampa.
Since then, the odds have moved a bit in the Rays' favor, but are the Astros still getting too much respect in the betting market with ace Gerrit Cole on the mound?
Our MLB betting analyst Sean Zerillo gives his complete breakdown for the series-defining game, including picks for the moneyline and over/under.
Rays vs. Astros Game 5 Betting Picks, Predictions & Odds
Probable starters: Tyler Glasnow (6-1, 1.78 ERA) vs. Gerrit Cole (20-5, 2.50 ERA)
Rays odds: +220
Astros odds: -280
Over/Under:  7
First pitch:  7:07 p.m. ET on FS1
Odds as of Wednesday evening. Check out PointsBet, where Action Network users get an exclusive 200% deposit match (deposit $50, bet with $150).
---
The Tampa Bay Rays are one win away from upsetting the Houston Astros and advancing to the ALCS, where they would travel to play their division rival New York Yankees — the only team yet to lose a playoff game.
To get there, the Rays will have to do something offensively against Gerrit Cole, who generated 15 strikeouts over 7.2 shutout innings against the Rays in the Astros' 3-1 Game 2 win.
Tampa Bay will counter with Tyler Glasnow, its best overall pitcher this season, in addition to a bevy of bullpen arms, and potentially starters Blake Snell and Charlie Morton in this winner-take-all game.
The Astros offense appeared frustrated against the Tampa Bay bullpen in Game 4, unable to get comfortable looks at any single arm due to constant pitching changes.
Will the Rays staff continue to frustrate Houston's hitters as their lineup settles in against Cole, or can the Astros reassert their dominance before the Yankees come into town for the league championship series?
The Starters 
Cole put on one of the most dominant pitching performances in playoff history in Game 2, with an eye-popping 33 swinging strikes:
Fourteen swinging strikes for the fastball, 10 with the curveball, eight for the slider, and one for his changeup.
Before Game 2, I highlighted how Cole eliminated his sinker usage with the Astros, opting for more four-seam fastballs and secondary offerings.
It has turned him into arguably the best strikeout pitcher in the game, with the second-hardest fastball velocity and the highest swinging strike rate (16.8%) amongst any qualified starter.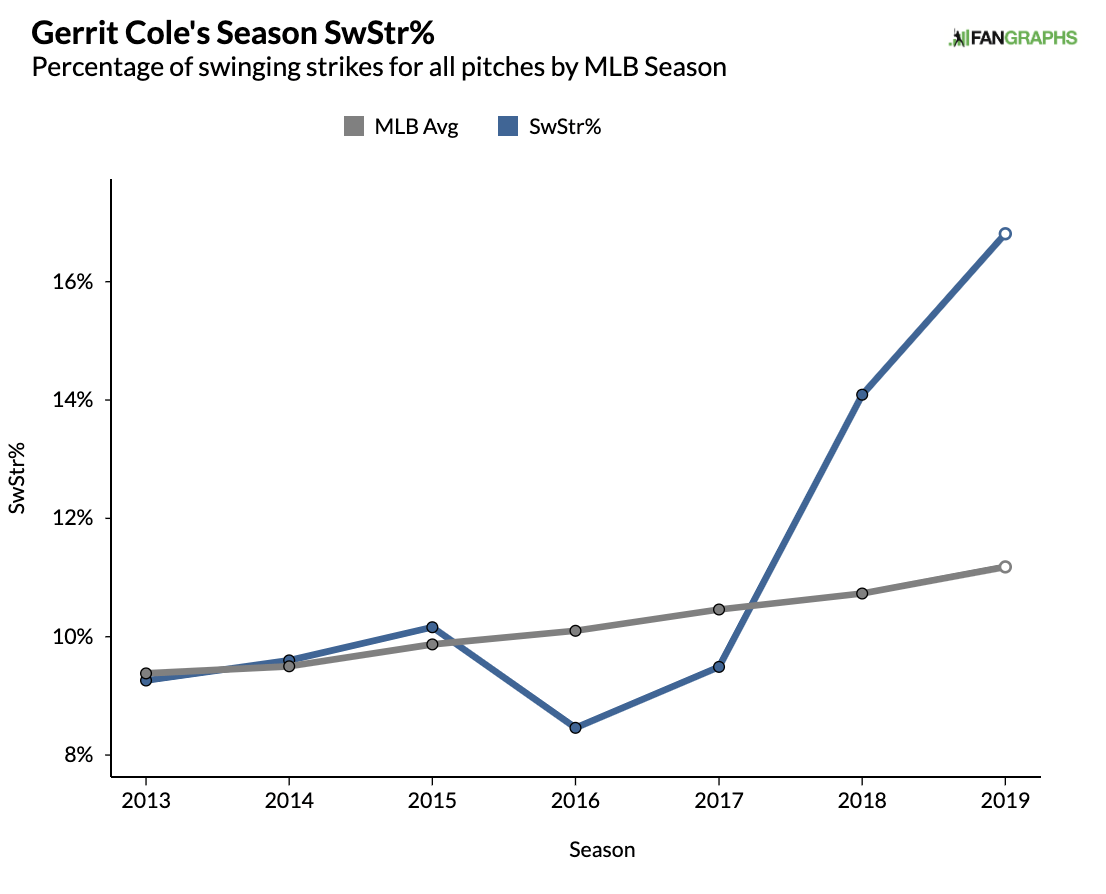 Cole led the AL in FIP (2.68), xFIP (2.48), WAR (7.4) and strikeouts (326), and has reached a level that few starters even possess the upside for.
He generates swings and misses all over the zone, and it's difficult to project the Rays scoring more than a run or two of off Cole if he's on his game.
He kept the Rays guessing all over the zone in Game 2.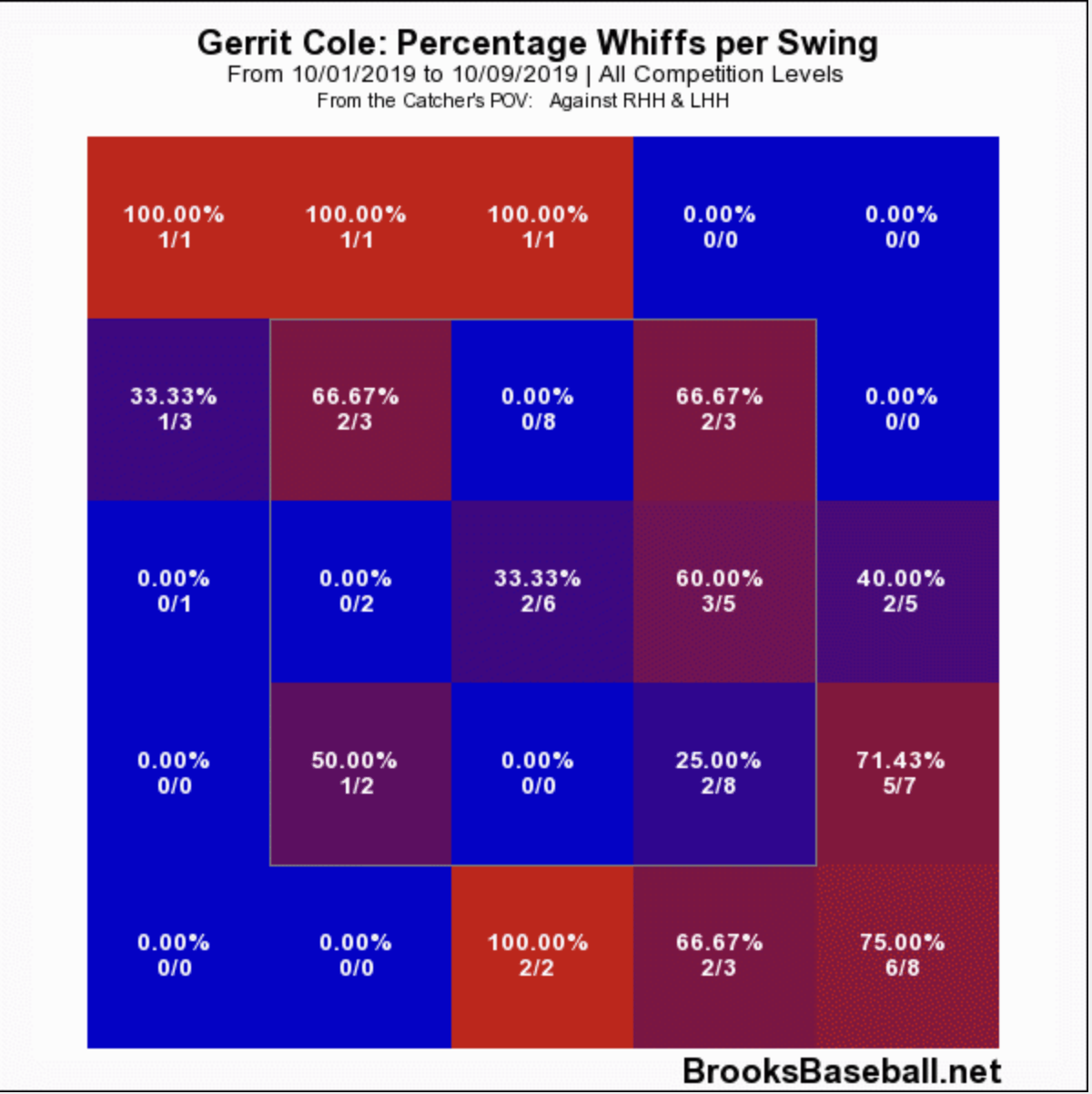 But note that the Rays did score four runs against Cole in each of their two regular-season meetings.
For Tampa Bay, Tyler Glasnow will have an extra day of rest after starting Game 1, when he allowed two runs over 4.1 innings.
More importantly, Glasnow ramped up his pitch count to 76 in his fifth start back from a midseason forearm strain.
Pitch counts in his previous outings, working backward, were 66, 52, 51 and 41, meaning that he should be permitted 85 pitches or more on Thursday.
In Game 1, he continued to paint with his elite fastball, which has an average fastball velocity (97 mph) only slightly below Cole.
Glasnow also ranks in the 95th percentile in curveball spin rate, and he is essentially a two-pitch pitcher.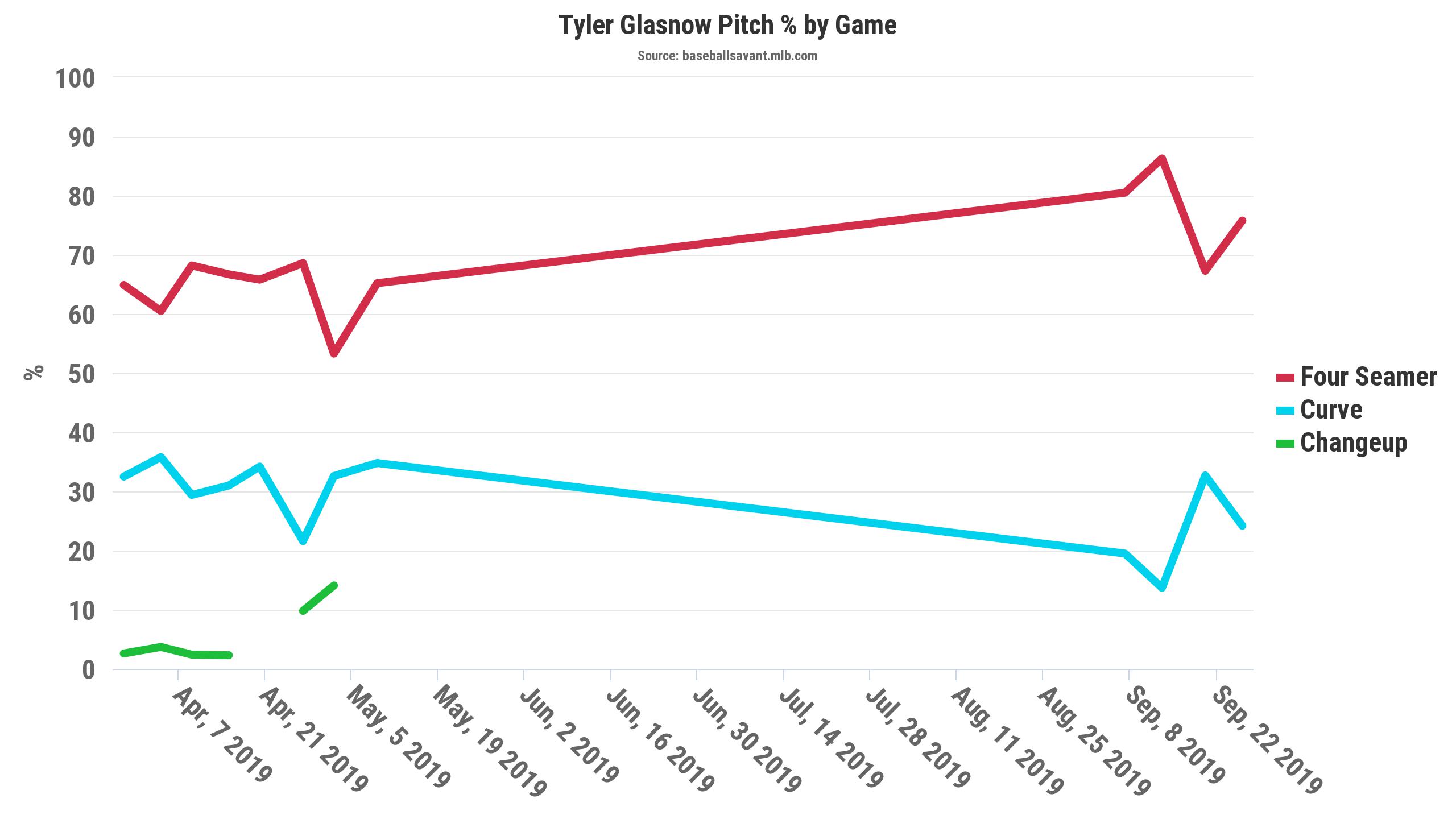 But when both offerings are this good and complement one another so well, you don't need much else:
The Rays will hope that Glasnow can go toe to toe with Cole for five innings before they hand the game off to their bullpen.
The Bullpens
On the season, the Astros bullpen ranks 11th in FIP, 1st in xFIP and 1st in K-BB%. By the same metrics, the Rays rank 1st, 3rd and 2nd.
Tampa Bay utilized Blake Snell (eight pitches) to close out Game 4. Had he not pitched in relief, he would be on regular rest for Game 5 after tossing 58 pitches in Game 2.
Snell had arthroscopic elbow surgery in late July but returned in September to stretch his arm out from 26 pitches on Sept. 17 to more than 50 pitches in each of his past three outings.
Before Game 1, I discussed Snell's unlucky 2019 and the gains that he has made relative to last season. His changeup is extremely useful against the Astros' righty bats.
The Rays can probably get a complete game between Glasnow and Snell if they stretch each one out one a bit more on Thursday.
However, they will have their full arsenal of relief pitchers available once again. That could also include Game 3 starter Charlie Morton, who would be pitching on two day's rest.
Colin Poche has entered all four games in this series, but no Rays reliever besides Diego Castillo has thrown more than 25 pitches in a single appearance over the past week as Kevin Cash has kept the Athletics and Astros off-balance with new looks while keeping all of his pitchers fresh: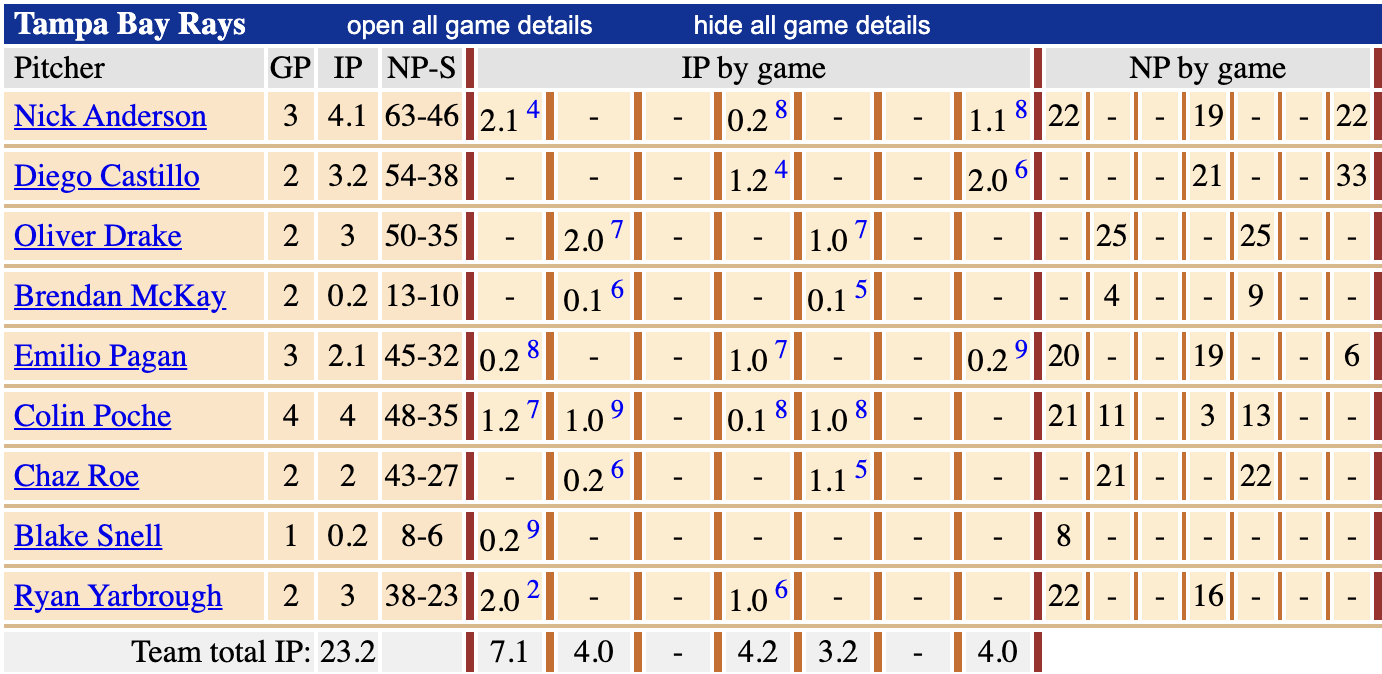 Cash masterfully fit the puzzle together in Tuesday's bullpen game and will have to do the same thing once again behind Glasnow on Thursday.
Will Harris is the only Astros reliever who has pitched in at least three games in this series.
I would expect Wade Miley (63 pitches in Game 3) and Jose Urquidy (47 pitches in Game 4) to be on the "emergency only" list for Game 5. Maybe Miley comes in to face one left-handed hitter.
The Astros have teased with Hector Rondon throughout the series, letting him throw five total pitches where he allowed a hit and a run. His lack of in-game action could blow up in a prominent spot.
Houston's bullpen has looked shaky overall against the Rays, allowing 19 hits, five walks and six runs over 12 innings.
While it has also recorded 12 strikeouts, the group is much more vulnerable than Cole, and the Rays have the pitching edge if this game is tied late.
Projected Lineups
Data per FantasyLabs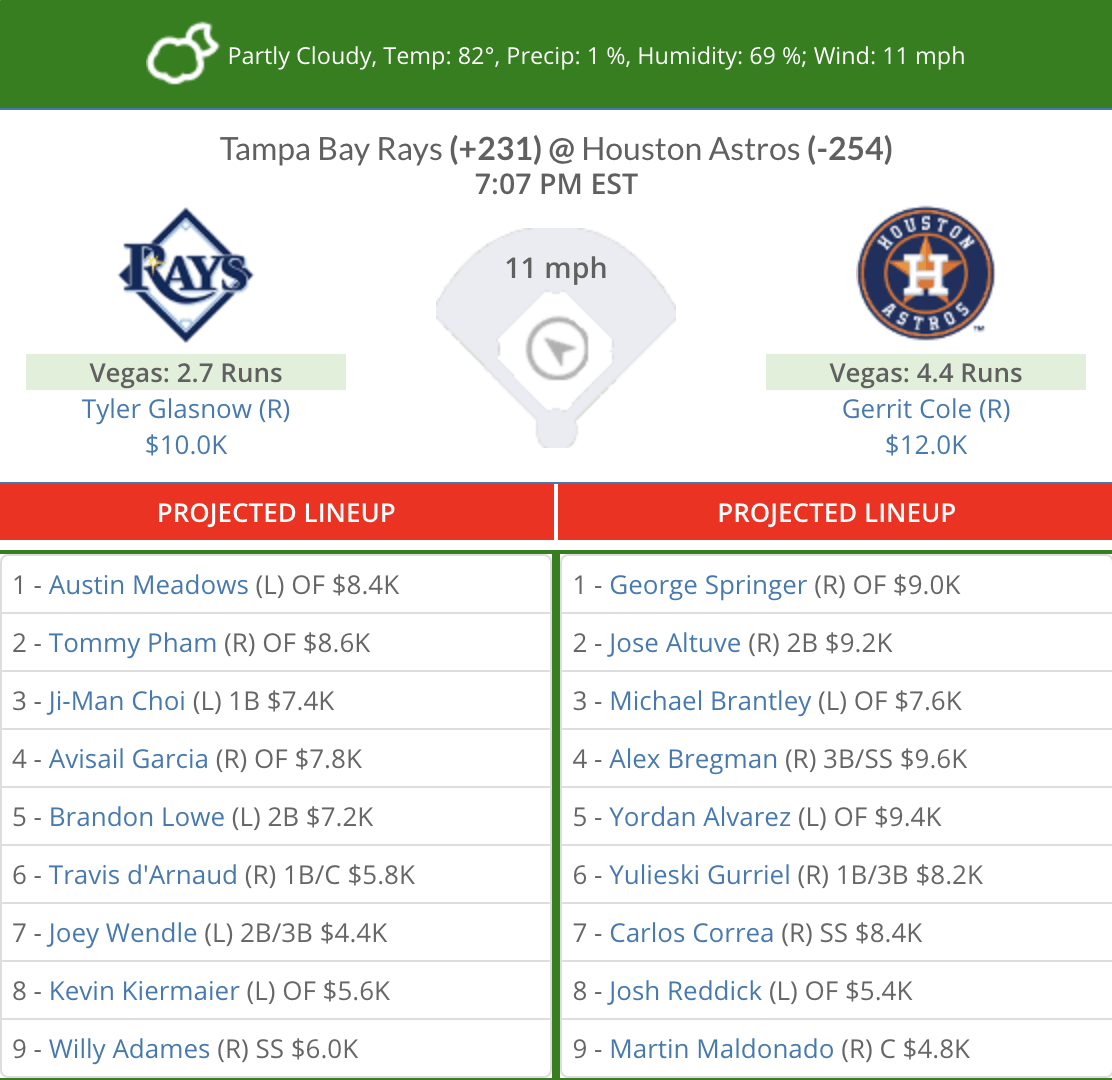 Umpire and Weather Report
Data per Sports Insights

The last time that the Astros played a playoff game at Minute Maid Park with the roof open was in 2005, so expect to see another closed dome on Thursday.
Jerry Meals is relatively neutral with regards to totals (50.8% to the over), with a 3-1 record in playoff games.
Trends to Know
Minute Maid Park is the second-most profitable park for unders in our database at 627-552-57 (53.2%), generating $4,710 for a consistent $100 bettor. Unders are 11-13-1 in the postseason, however.
Unders are 14-6-4 (70%), covering by a margin of 1.2 runs, in games started by Tyler Glasnow since his 2018 breakout.
It could be regression, but unders have hit at a 60% clip (54-36-5) with Meals behind the dish over the past three seasons, netting a consistent $100 bettor $1,564.
Jerry Meals is a great umpire for underdog bettors: 225-265 (45.9%), +$3,833 (7.9% ROI)
Specifically, road underdogs: 151-179 (45.8%), +$3,461 (10.5% ROI).
Model Projected Odds
Favorite Bet
I projected the Astros as a -204 favorite in this game, and I set the total at 6.16 runs. Therefore, I see some value on the Rays moneyline, and also some value on the under. 
I bet one unit on the under 7 at -105, and I would play it to -110.
But I have yet to play the Rays moneyline for Game 5 because I have both a Rays series moneyline ticket at +250, and a longshot (+3300) World Series future each still alive.
And the betting value on this game is not nearly as substantial as it was in Games 3 and 4 at the Trop.
But if you're playing this game straight up, consider a small wager on Tampa Bay if the moneyline price climbs north of +240.
At an implied win probability of 29.4%, that would represent a 3.5% expected value gap between listed odds and my projection (+204 or 32.9%).
The Rays have the arms to frustrate the Astros offense again for nine innings and eke out a road win in Game 5. Their chances shouldn't be underestimated.
How would you rate this article?