Rays vs. Yankees Betting Preview: Can Sabathia Help Yanks Bounce Back Against Tampa?
Credit:
Credit: Brad Penner-USA TODAY Sports
Betting odds: Tampa Bay Rays at New York Yankees
Rays moneyline: +140
Yankees moneyline: -150
Over/Under: 9.5
First pitch: 7:05 p.m. ET
---
>> All odds as of Tuesday morning. Download The Action Network App to get real-time MLB odds and track your bets
---
What an incredible Monday night at Yankee Stadium …
The Yankees trailed 2-1 in the 7th inning before Gio Urshela tied the game with a solo home run with two outs.
In the bottom of the 8th, Edwin Encarnacion hit a two-run home run to give the Yanks a 4-2 lead.
In the top of the 9th, Travis d'Arnaud hit a three-run homer off Aroldis Chapman to give Tampa the lead for good.
On Tuesday, CC Sabathia takes the mound for New York looking to bounce back after a tough loss.
This season, the Yankees are 8-6 in Sabathia's 14 starts, with CC owning a 4.03 ERA. Amazingly enough, Sabathia will face the Rays for the fifth time this season.
The Yankees are 2-2 in those previous four starts by CC, but more importantly, 2-0 at Yankee Stadium, the site of Tuesday's game.
This season, Sabathia has been a completely different pitcher in the Bronx versus on the road. He has a 2.31 ERA at home, which would be his lowest home ERA in a full season as a Yankee.
Over the last three seasons, the Yankees are 27-10 (73%) in Sabathia's home starts, winning by more than two runs per game.
During that span, Sabathia is the third-most profitable home starter in all of baseball, behind just Mike Fiers and Chris Stratton.
Sabathia profited bettors $950 on a $100 per game basis, while the rest of the Yankees starters combined to profit bettors just $60 at a 63.9% win pct.
After Monday night's loss, the Yankees have the perfect starter on the mound in Sabathia.
Since 2009, when Sabathia signed as a free agent in New York, the Yankees are 86-53 (61.9%) with CC on the mound after a loss in their previous game.
In those almost 140 starts, bettors have profited $1,441, making Sabathia the most profitable starter for the Yanks in that spot and the seventh-most profitable starter in all of baseball.
Over the last three seasons, when CC has pitched at Yankee Stadium off a loss, the Yanks are an incredible 14-3 (82.4%), beating their opponents by 2.8 runs per game.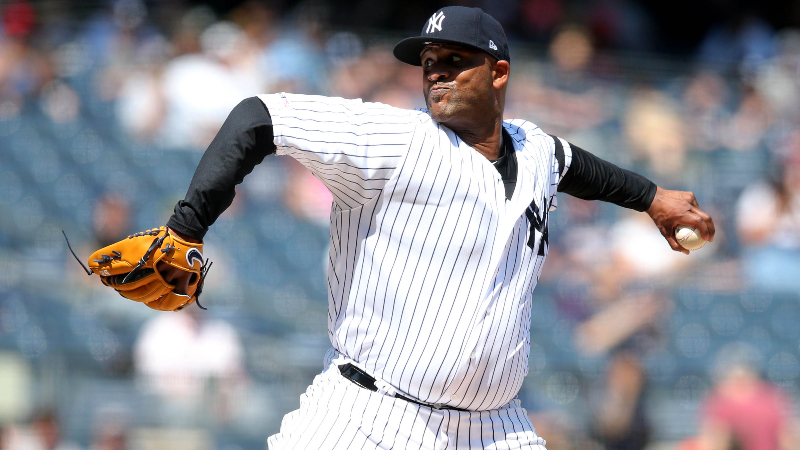 If you look at Tampa's lineup from Monday night, Sabathia has dominated a stretch of Rays players in the fourth through eighth spots.
Yandy Diaz, Avisail Garcia, Kevin Kiermaier, Guillermo Heredia and Willy Adames are a combined 19-of-90 (.211) against Sabathia in their careers.
The Yankees as a team are also very used to this spot. New York is 32-13 (71.1%) at home against the Rays over the last five seasons, beating Tampa by 1.5 runs per game in the 45-game sample size.
When the Yanks have lost a home game to Tampa, they are 11-1 in their following home game against the Rays since 2015.
How would you rate this article?