Saturday MLB Picks & Predictions: How We're Betting Blue Jays vs. Phillies, Nationals vs. Marlins & Royals vs. Brewers (Sept. 19)
Credit:
Lawrence Iles/Icon Sportswire via Getty Images. Pictured: Ryan Braun
Looking for MLB bettng picks on Saturday's slate? You're in the right place.
Our crew has assembled their three favorite picks for this evening, along with in-depth analysis for each.
Check out how we're betting Blue Jays vs. Phillies, Nationals vs. Marlins and Royals vs. Brewers below.
As will likely be the case every Saturday for the rest of the fall, most bettors aren't all that concerned with today's MLB slate. But while it may be competing with a more popular sport, it's certainly not lacking in the value department.
Our staff has targeted three games in particular as their favorite baseball bets tonight. You can find them all below.
Odds as of 12:45 p.m. ET.
---
Advanced Stats Glossary
FIP or Fielding Independent Pitching measures what a pitcher's ERA would look like if the pitcher experienced league-average defense and luck. xFIP is a regressed version of FIP that adjusts or "normalizes' the home run component based on park factors.
wRC+ or Weighted Runs Created Plus takes the statistic Runs Created and adjusts that number to account for critical external factors — like ballpark or era. It's adjusted, so a wRC+ of 100 is league average, and 150 would be 50 percent above league average.
wOBA or Weighted On-Base Average is a catch-all hitting metric with more predictive value than on-base percentage. An average MLB hitter can be expected to post a .320 wOBA. xwOBA is a regressed version of wOBA that accounts for variables like park factors.
---
Danny Donahue: Blue Jays vs. Phillies Under 8 (-105)
I'm a little late to this party, there's no denying that. But as long as I can get away with a push at 8 I'm still willing to take a shot on this under.
The reason? Wind. And more specifically, wind at Citizens Bank Park.
In our database, games with wind blowing in at 5+ mph have hit the under at a 55.0% rate on a sample of more than 1,700 games. The 932-764-86 record to the under has returned a profit of 108.0 units — a 6.1% ROI — and Citizens Bank Park has been among the most affected ballparks within that sample.
The Phillies home stadium has a 34-18-3 record to the under in such games, returning the third-highest unit total in the league (+13.7), good for a 24.9% ROI.
With wind speeds of 5-7 mph forecasted throughout the game coming straight in from center, I'll put my faith in Hyun-jin Ryu and Vince Velasquez to keep the bats in check.
Sean Zerillo: Marlins Moneyline (-110) vs. Nationals
It's almost unbelievable to see the Miami Marlins favored for a third-consecutive game against the reigning World Series champion Washington Nationals — but I suppose anything is possible in 2020.
The Marlins (26-24) currently sit in second place in the NL East — one half game ahead of the Phillies — despite a -16 run differential. And with 10 games to go in this shortened regular season, FanGraphs puts Miami's current playoff chances at 72%.
If they do make the playoffs and enter into a three-game playoff series, the Marlins could be competitive with a young and fun starting staff, led by Sixto Sanchez, Sandy Alcantara and Saturday's starter, Pablo Lopez.
The 24-year-old righty thrives with a fastball/changeup pairing, and his effectiveness has increased in 2020 while reducing his curveball usage (-12%), increasing his changeup frequency (+7%) and adding a cutter to the mix (9%).
The tweak has led to small rate improvements in swinging strikes, strikeouts (+2.7% over career) and ground balls (up 4.9% over career), leaving Lopez with a career best 3.60 xFIP — which is consistent with his 3.39 xERA per Statcast.
Meanwhile, Patrick Corbin has seen a 1.5-mph velocity decrease in 2020, and his corresponding swinging-strike rate (-3.2%), strikeout rate (-6.8%) and hard-hit rate (+7.4%) are each trending in the wrong direction.
Last season, batters had an expecting batted average (xBA) of .246 against Corbin's four-seam fastball, with an expected slugging percentage (xSLG) of .490. In 2020, those numbers have increased to .352 and .757 — and batters are actually hitting .405 on the pitch (15 for 37).
Corbin's xFIP (3.96) and xERA (5.25) are at their worst marks since the 2016 season — before the southpaw started to take his peak form — but lesser velocity could lead to a quick downfall, and I don't see a quick fix coming: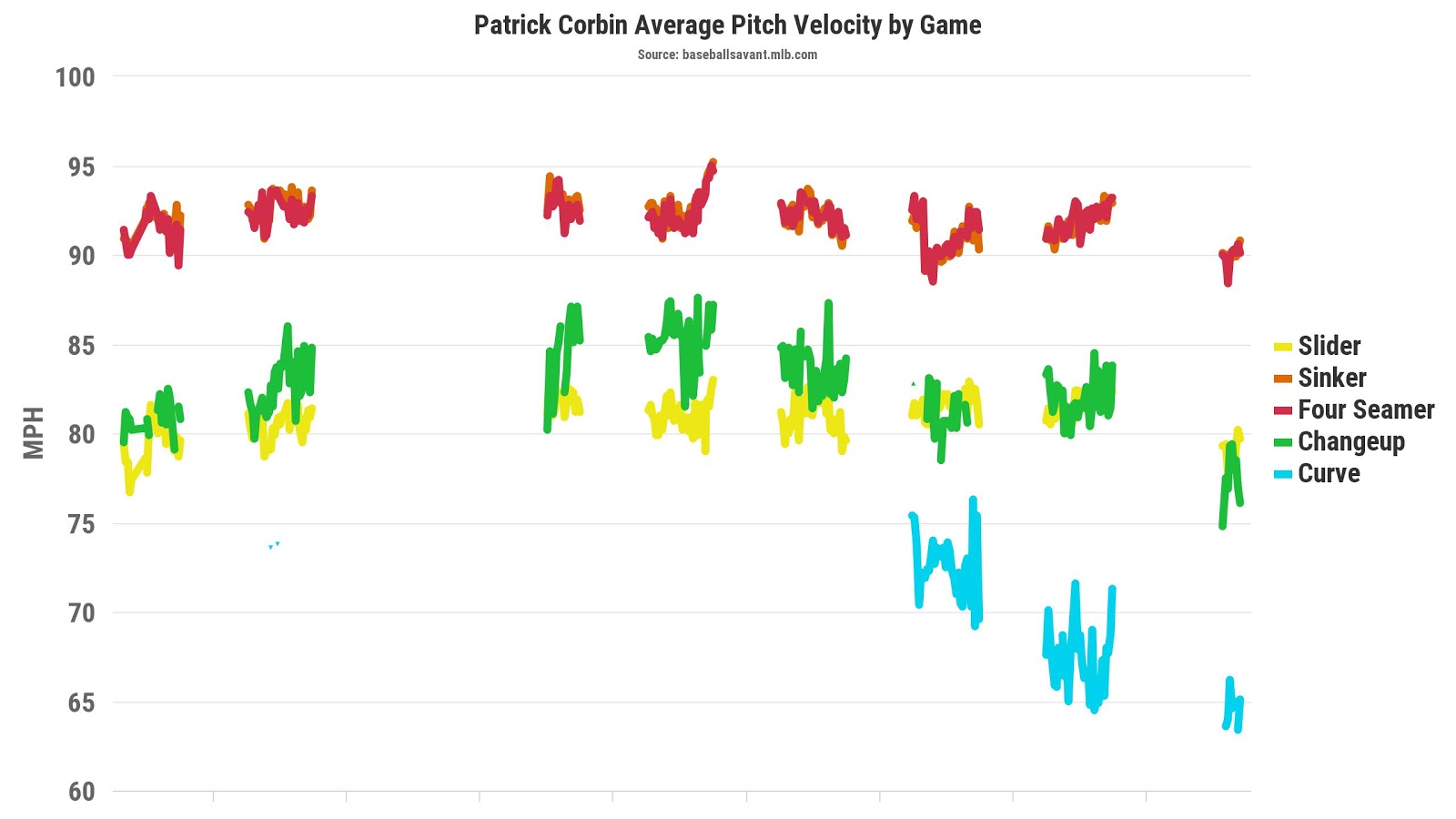 BJ Cunningham: Brewers F5 -0.5 (-139) vs. Royals
Corbin Burnes has been fantastic so far in 2020, posting a 1.98 ERA and 3.11 xFIP through 50 innings. He's been a strikeout machine, racking up a 13.32 K/9, which ranks in the top 10 of MLB. He's been really effective with his secondary pitches, all of which are allowing a wOBA under .280 and producing a whiff rate over 30%. More specifically, Burnes' slider and curveball have quite literally been untouchable. They have allowed a combined .067 average to opponents and are generating whiff rates of over 50%.
The Royals have struggled mightily against right-handed pitchers this year, accumulating a .307 wOBA and 90 wRC+. They also have been a one-trick pony offensively, as fastballs are the only pitch they've been successful against this season.
Kris Bubic probably wouldn't have been in the majors this season under normal circumstances. He's struggled so far through his first eight starts, posting a 4.50 ERA and 4.57 xFIP. He's mainly a fastball/changeup pitcher, but neither pitch has been very successful, as he's allowed a wOBA above .310 on both. Another big concern is his hard-hit rate is all the way up at 43.5%. That won't bode well against this Brewers lineup that has been crushing lefties to the tune of a .347 wOBA.
The starting pitching matchup is a complete mismatch in this game. Burnes should be able to shut down the Royals weak lineup and the Brewers offense should be able to get to Bubic early. I am going to back the Brewers -0.5 for the first five innings at -139.
How would you rate this article?