Saturday MLB Betting Picks, Predictions: Mets vs. Blue Jays, Reds vs. Cardinals (Sept. 12)
Credit:
Justin Berl/Getty Images. Pictured: Tejay Antone
Your focus may be elsewhere on the first sizable college football Saturday of 2020, but there's still value to be had on today's baseball board.
Our staff has picked out a pair of plays on Mets vs. Blue Jays and Reds vs. Cardinals this evening. Check 'em out below.
Note: Odds as of 2 p.m. ET
---
Advanced Stats Glossary
FIP or Fielding Independent Pitching measures what a pitcher's ERA would look like if the pitcher experienced league-average defense and luck. xFIP is a regressed version of FIP that adjusts or "normalizes' the home run component based on park factors.
wRC+ or Weighted Runs Created Plus takes the statistic Runs Created and adjusts that number to account for critical external factors — like ballpark or era. It's adjusted, so a wRC+ of 100 is league average, and 150 would be 50 percent above league average.
wOBA or Weighted On-Base Average is a catch-all hitting metric with more predictive value than on-base percentage. An average MLB hitter can be expected to post a .320 wOBA. xwOBA is a regressed version of wOBA that accounts for variables like park factors.
---
BJ Cunningham: Mets F5 -0.5 (-132) vs. Blue Jays
Seth Lugo has been the Mets best reliever over the past two years, posting a 3.24 xFIP in 2019 and a 2.17 xFIP through 22 innings this season. He mainly has a three-pitch arsenal of fastball-curveball-sinker that he uses really effectively. All three pitches have generated a whiff rate over 30% and held hitters to a .147 average. It'll be interesting to see if his effectiveness continues once hitters consistently see him a second or third time, but nonetheless he's still one of the best pitchers the Mets have.
Despite their 21-24 record, the Mets' offense has been really good so far this season. They have the second-best wOBA (.352) and the best wRC+ (124) in MLB. Even though they've had most of their success against right-handed pitching, they've still been really good against lefties, accumulating a .340 wOBA and 116 wRC+.
Robbie Ray has been one of the worst starters in MLB this season. He has a 7.15 ERA and 6.20 xFIP through 38.1 innings. He's had serious issues with his control, posting an embarrassing 8.22 BB/9 and 2.42 HR/9 rate this season. His biggest issue by far has been his fastball, which he's allowed a .465 wOBA against this season. That won't bode well for him tonight against this Mets lineup that has been crushing fastballs this season (25.0 weighted fastball runs).
With how good Lugo and the Mets offense have been, I think they have a significant advantage against Robbie Ray for the first five innings. So, I am going to back the Mets -0.5 for the first five innings at -132.
Sean Zerillo: Cincinnati Reds (+123)
I project the Reds as small favorites (50.9%, implied odds of -104) for Saturday's game, and I set their chances for the first five innings (F5) even higher (57.7%, implied odds of -136).
It's easy to get lost on a pitching staff that includes Trevor Bauer, Luis Castillo and Sonny Gray, but 26-year-old rookie Tejay Antone has impressed in 2020, recording a 33:11 strikeout-to-walk ratio with a 51% ground-ball rate in 25.1 innings pitched (eight appearances, three starts).
The righty has paired an above-average sinker (96 mph, 41.1%) with a sharp slider (83.6 mph, 42.2%), solid curveball (90.3 mph, 13.2%) and a still developing changeup (87.4 mph, 3.2%).
The Statcast metrics really jump off the page. Antone ranks in the 98th percentile for fastball spin rate, and the 94th percentile for curveball spin. He is, undoubtedly, a pitcher whose development is worth monitoring: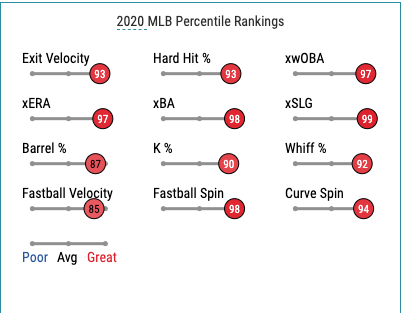 To date, Antone has been significantly more effective against righties (.199 wOBA) than lefties (.304 wOBA), and I suspect that he'll try to use the change up a bit more frequently against lefties moving forward.
The Cardinals offense doesn't present a particularly difficult matchup, however. They rank 19th against right-handed pitching with a 97 wRC+, and they can deploy only four left-handed or switch-hitting bats: Kolten Wong, Tommy Edman, Brad Miller and Matt Carpenter. The Cardinals stack a bunch of righties into their lineup, however — which is why they rank sixth against southpaw pitching (125 wRC+).
For Saturday, I would bet the Reds F5 moneyline to -115, and their full-game moneyline to +110.
How would you rate this article?